Lotus ambassador Jean Alesi reflects on the Chinese Grand Prix…
Kimi Raikkonen slid from second to 14th in the closing laps – where did it all go wrong? Well, first of all what a fantastic race. China was really thrilling right to the end, and it was thanks to the different tyre strategies the teams adopted. Kimi's strategy was quite optimistic, staying out on his third set of tyres. I was so shocked when he lost all those positions in just a couple of laps. He did a great job of keeping those cars behind him as long as he did, but suddenly there was a big drop-off of grip and when Sebastian Vettel got past, Kimi was forced to go off line and picked up the discarded rubber marbles. He had no chance to clean his tyres and everyone else passed him. Fernando Alonso suffered more or less the same thing, but there weren't so many cars behind him and he only lost a couple of places. The two-stop strategy seemed to work better for Romain Grosjean, who rose from tenth to sixth… Yes, he had good race pace. After his accidents in Australia and Malaysia he had to be more careful, he knew he needed to get to the end. I was quite happy with what he did, at a track he's never driven on before.

The car is capable of more though. It must be frustrating for them not to be on the podium yet… It's really tough when your results don't match your performance. Ferrari has a car that is uncompetitive, but after two rounds Fernando was leading the world championship. At Lotus, things are the other way around. They have a very competitive car but they haven't pulled it all together. In this situation, it is important to stay cool and acknowledge they have the car, they trust the drivers, and the results will come. Unlike last year, when the Red Bull RB7 dominated, this season there isn't a clear frontrunner and that means it's all about detail. Because it's so close out there, the winning team will be the one that makes no mistakes. One little detail missing, and the results won't come. So Lotus need to stay calm, but keep an eye on every detail.
Recent Articles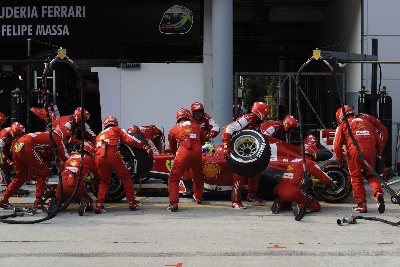 THE HORSE WHISPERER – TYRED AND EMOTIONALThese are difficult times for people with poor memories. Maybe it's because of the huge amount of information available today that people are too quick to talk, forgetting things that happened pretty much in the recent past. Or maybe the brain cells that control memory only operate selectively, depending on the results achieved on track by their owners.

A classic example of this is the current saga regarding the number of pit stops. Voices have been raised to underline the fact that various ....
DOMENICALI: 'A WIN WITHOUT IFS OR BUTS'Maranello, 14 May – Good traditions are always upheld and there is no exception to that rule at Maranello. That's why, after yesterday's flag raising, today it was time for the buffet with the men and women of the Scuderia, who all gathered together in the Logistics building to celebrate Fernando Alonso's win and Felipe Massa's third place in the Spanish Grand Prix.

'It's always nice to come together at moments like this, but it's important not just because of the result pure and simpl....
FDA: FUOCO DOES THE DOUBLE AT IMOLAImola, 12 May –16 year old Antonio Fuoco wanted to have his say on what has been a very special Sunday for Scuderia Ferrari. On the same weekend that Fernando Alonso and Felipe Massa made it to the Barcelona podium, Fuoco did an amazing double, winning both races in the Formula Renault Alps series at the Imola circuit.

Fuoco, at only his second ever event in the category, collected the maximum points available. In qualifying, he took a peremptory pole position, setting a time no less ....
SPANISH GP - THE RED PHONE RINGS IN MONTMELOMontmelo, 12 May – There were telephonic shenanigans before the Spanish Grand Prix podium ceremony. While Stefano Domenicali was climbing the steps along with the drivers, he knew he had an urgent mission to complete, namely calling President Montezemolo. The first, traditional call made every day at the end of every session or race between the two men had already been dealt with, but the Team Principal knew how keen Montezemolo was to congratulate his two drivers, without having to wait ....
SPANISH GP - FIRST DOUBLE PODIUM OF THE YEARMontmelo, 12 May – The Spanish crowd got what they wanted today at the Catalunya circuit, as Fernando Alonso drove brilliantly to secure his first win here in Barcelona since 2006. Adding to the delight in the Prancing Horse garage, Felipe Massa made sure that two Ferrari drivers were on the podium for the first time this season with a fantastic drive from a grid-penalised ninth place to third at the end of the 66 laps. Splitting the two men in red was the Flying Finn, Kimi Raikkonen. The....
RED BULL IS FOURTH AND FIFTH AS ALONSO REIGNS IN SPAINSebastian Vettel retained his lead in the fight for the Formula One Drivers' Championship with fourth place at the Spanish Grand Prix, while Mark Webber improved from seventh at the start to a well-deserved fifth place.

After qualifying third, Seb made a great start to pass Lewis Hamilton for second place and set about chasing down pole winner and leader Nico Rosberg. However, in his first stop Sebastian lost his position to Alonso and dropped back. Alonso soon passed Rosberg for the lead and....
SPANISH GP - A TEAM VICTORYStefano Domenicali: 'I am really happy with this great team result! We did a great job, both here at the track and back in Maranello. It was a very tense race, in which the slightest little detail could make a big difference. On this front, we read the race very well, when one considers how tyre management and calling the pit stops today made the difference and I can say without being presumptuous, that the team of engineers didn't put a foot wrong. I think that is down to Pat Fry, even he wasn'....
SPANISH GP - A GOOD STARTMontmelo (Barcelona,) 10 May – The first European event of the Formula 1 World Championship, following on from the opening two sets of back to back races, got off to a wet start in Montmelo. In changing conditions with the track drying out patchily after rain started falling around one hour before the start of the session, Fernando Alonso was fastest for Ferrari in a time of 1.25.252, ahead of team-mate Felipe Massa, who posted a 1.25.455. Third fastest was Jean-Eric Vergne (1.25.667) for Toro R....
2014 LaFerrari Ferrari
---
2014 Q50 Infiniti
---
2013 FX Vettel Edition Infiniti
---
2013 E21 Lotus
---
2013 RB9 Red Bull
---
2012 A5 DTM Audi
---
2012 458 Spider Ferrari
---
2012 F2012 Ferrari
---
2012 EMERG-E Concept Infiniti
---
2012 FX Sebastian Vettel Edition Infiniti
---
blog comments powered by

Disqus