Jamie Green on front row as new DTM era begins
Jamie Green (Mercedes AMG C-Coupé) is the best-placed Mercedes-Benz driver in qualifying for tomorrow's race at the Hockenheimring. (Start: 14.00 CEST with live coverage from 13.40 on ARD) The winner of the 2011 grand finale at Hockenheim starts from second on tomorrow's grid at the same race venue. Green posted a time of 1:34.895 minutes to qualify alongside pole-sitter Mattias Ekström (Audi / 1:34.680). The opening race of the 2012 season sees a Mercedes-Benz driver claim a place on the front row of the grid for the 215th time since 1988. The new DTM Mercedes AMG C-Coupé has also booked a place on Row 1 in its very first race. The C-Coupé is the successor to the AMG Mercedes C-Class which, with 85 victories from 159 races, is the most successful car in DTM history. Gary Paffett (THOMAS SABO Mercedes AMG C-Coupé) secured sixth fastest time – 1:34.287 minutes – in the first qualifying session of the new DTM season. He starts the season opener from row three on Sunday. Qualifying 1: Ralf Schumacher secured the best time of the eight Mercedes-Benz drivers in the first qualifying session – 1:34.550 minutes. Just a single second covered positions one to twenty in Q1. Former Formula 1 driver David Coulthard (DHL Paket Mercedes AMG C-Coupé / 1:34.932), DTM rookie Roberto Merhi (Junge Sterne Mercedes AMG C-Coupé / 1:35.167) and Susie Wolff (TV Spielfilm Mercedes AMG C-Coupé / 1:35.776) will be in positions 18, 20 and 21 respectively on the grid for the first race of the season.
Qualifying 2: Ralf Schumacher (Mercedes AMG C-Coupé / 1:34.390) will start the opening race of the new DTM-era on Sunday from position eleven on the grid. Canadian DTM rookie Robert Wickens (stern Mercedes AMG C-Coupé / 1:34.538) and Christian Vietoris (Mercedes-Benz Bank AMG C-Coupé / 1:34.783) will be in positions 13 and 15 respectively for the start of the race. Just eight-tenths of a second separated P1 and P15 in Q2. Comments on qualifying: Jamie Green (Mercedes AMG C-Coupé), Second (1:34,895): "A respectable start to the new season. Obviously, I would prefer to be going into the new DTM era in pole position, but I'm also very satisfied with a place on the front row. Qualifying was a close-fought encounter and I was hard pushed to get into Q4. My Mercedes AMG C-Coupé handles like a dream, and it's great fun taking the development one step further with every outing. Today, we showed that the car is fast, and I'm sure that we are in with a good chance in tomorrow's race. I've been a part of the Mercedes-Benz DTM family for quite a few years now, and it's fascinating to watch this race series carry on growing and developing.' Gary Paffett (THOMAS SABO Mercedes AMG C-Coupé), Sixth (1:34,287): "Sixth on the grid isn't too bad, but obviously I would rather be starting from nearer the front. Our THOMAS SABO Mercedes AMG C-Coupé is performing very well on this first race weekend of the season. It looks very tight, with all three constructors apparently well matched, so it promises to be a very interesting season. We are in for an exciting race tomorrow, and I'm really up for it. Our car is fast and I'm aiming to do even better tomorrow.' Ralf Schumacher (Mercedes AMG C-Coupé), Eleventh (1:34,390): "We will see for the first time this weekend how the teams compare in the new DTM-era. In the free practice sessions, things didn't go brilliantly for me, but I'm pleased that we improved from session to session. It should certainly be an exciting season opener on Sunday. Overtaking in the new car will be even easier this year than was the case in the past – so there's still everything to play for.' Robert Wickens (stern Mercedes AMG C-Coupé), 13th (1:34,538): "P13 is a decent start position for me in the DTM, but I always set myself high goals and I know that there is still a lot of potential for improvement. The team has prepared my stern Mercedes AMG C-Coupé very well and I'm looking forward to my first DTM race on Sunday. Hopefully, I can then do even better.' Christian Vietoris (Mercedes-Benz Bank AMG C-Coupé), 15th (1:34,783): "For the whole of the weekend, I've had good speed in my C-Coupé, but I wasn't able to get the full benefit it qualifying. Unfortunately, I made an error that probably cost me a place in the Top Ten. Now I have to wait and see how my closest rivals line up in the race and then go flat out on Sunday to get a decent result at the start of the new season.' David Coulthard (DHL Paket Mercedes AMG C-Coupé), 18th (1:34,932): "We have a brand new car and so I didn't have any great expectations for this opening weekend here in Hockenheim. Of course, I'm not satisfied with my qualifying result, but we've learned a lot about the new vehicle and now want to improve our performance bit by bit. Hopefully, we can put on a good show for the spectators in the race.' Roberto Merhi (Junge Sterne Mercedes AMG C-Coupé), 20th (1:35,167): "Temperatures were very different in qualifying just now, compared to Friday's practice sessions. I didn't find it all that easy to quickly adapt to the change, nor was I totally satisfied with the car's setup. We're still working on it. Now I'm hoping for a decent result in my first DTM race.' Susie Wolff (TV Spielfilm Mercedes AMG C-Coupé), 21st (1:35,776): "Of course, I'm not satisfied with 21st place on the grid. I was hoping for a much better result in the first qualifying session of the new DTM season. The car has a lot of potential that we must tease out. It won't be easy in the race to move up to the front of the field, but I will do my best.' Norbert Haug, Vice President Mercedes-Benz Motorsport: "What a fantastic start to the 2012 DTM season. Pole position was there for the taking, as Jamie Green showed by posting the best time in Q3. After a braking error in Sector 1, he retook the lead once again in the middle sector by the smallest margin possible, just one thousandth of a second, but then, at the Motodrom, things didn't quite work out. So it just remains for me to offer my congratulations to Mattias Ekström and to Abt-Audi on claiming pole. There's not much separating the three manufacturers. It's a wonderful thing for the fans that the new generation of DTM coupés from Audi, BMW and Mercedes-Benz are so very closely matched. I want to express our thanks to everyone from ITR, Audi and BMW for their cooperation in building such strong foundations on which to base a brilliant future for the DTM. On the first day of competition for the new generation of DTM cars, I would also like to thank in particular all our team members, who have worked so hard to get the new cars up and running. We have put in a lot of hard work and effort to get this far and now's the time to reap the rewards. Hopefully, we will do exactly that tomorrow.'
DTM at Hockenheim
Gary Paffett (THOMAS SABO Mercedes AMG C-Coupé) won the 2012 DTM season opener at Hockenheim from sixth place on the grid with a 4.7- second lead on Jamie Green (Mercedes AMG C-Coupé). It was Paffett's 18th Victory in the DTM and his fourth at Hockenheim. It was the British driver's 26th podium in the 82nd DTM race of his career and his seventh in a DTM race at Hockenheim. With 18 wins and a winning rate of 22%, Paffett has achieved the greatest number of victories among those drivers currently contesting the DTM. Paffett and Green secured the 100th one-two victory for Mercedes-Benz in the DTM....
Recent Articles
AUDI RS 5 DTM ON FRONT ROW AGAIN◾Mike Rockenfeller takes grid position two at Brands Hatch
◾Four Audi RS 5 DTM cars on the first five rows
◾Jamie Green with misfortune in qualifying at home round

Ingolstadt/Brands Hatch, May 18, 2013 – Just like in the season opener at Hockenheim, an Audi RS 5 DTM will again be starting from the front row at the second race of the 2013 DTM season at Brands Hatch (Great Britain).

Mike Rockenfeller in the Schaeffler Audi RS 5 DTM of Audi Sport Team Phoenix missed the pole posit....
Audi Customers At Nürburgring On Grid Positions One And Three◾Frank Stippler posts best time in Audi R8 LMS ultra of Phoenix Racing
◾Christian Mamerow for Prosperia C. Abt Team Mamerow on second row
◾Three Audi R8 LMS ultra cars in top five

Ingolstadt/Nürburg, May 18, 2013 – The quickest Audi customers have completed their preparations for the 24-hour race at the Nürburgring with a very good qualifying result on the first three rows of the grid. The team of Ernst Moser is particularly happy: In the Eifel, the squad with the Audi R8 LMS ultra o....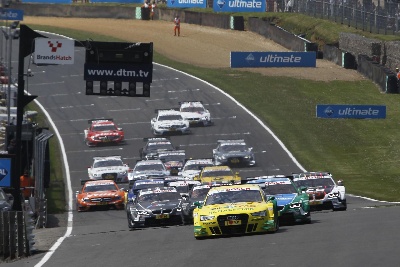 AUDI ENDS BMW STRING OF VICTORIES IN THE DTM◾Commanding triumph by Mike Rockenfeller at Brands Hatch
◾Audi driver new overall leader after two races
◾Mattias Ekström and Timo Scheider in the points too

Ingolstadt/Brands Hatch, May 19, 2013 – Two races, two pole positions – and now the first victory of the season plus the lead of the standings: The Audi RS 5 DTM was unbeatable at the second race of the 2013 DTM at Brands Hatch (Great Britain). Audi thus put an end to a four-race string of victories by BMW.

From the pole p....
Audi Customers Pass Tough Eifel Test◾Race interruption and high retirement rate due to extreme weather
◾G-Drive Racing by Phoenix best Audi customer team in fifth place
◾Three Audi R8 LMS ultra cars among the top ten

Ingolstadt/Nürburg, May 20, 2013 – The customer teams of last year's winner Audi experienced one of the toughest events of the Nürburgring 24 Hours this year. Heavy rain forced race control during the night to interrupt the race for more than nine hours. Numerous accidents caused a treacherous mix of oil, ....
Mille Miglia, participants go across the Emilian region that was hit by the earthquakeMirandola, Medolla, Moglia, Guastalla. These are some of the Emilian city centers most affected by the 2012 earthquake. Today – almost a year away – the Red Arrow visits the places hit by a tragedy that is still so felt by the Emilian population.

Reggio Emilia, 18 May 2013 – It is the only real deviation from the traditional Mille Miglia race route, the one that the 24 historic speed editions followed from 1927 al 1957. About one year has passed since the earthquake severely hit Emilia....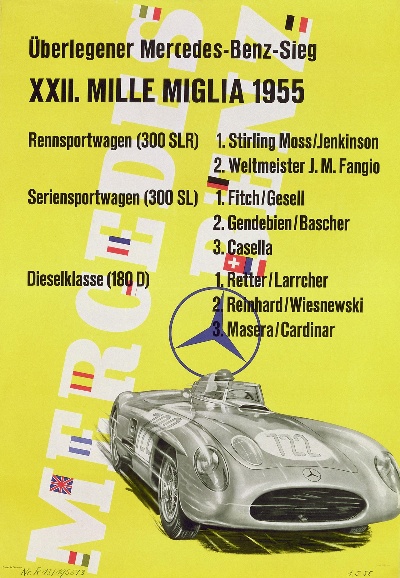 MILLE MIGLIA: MERCEDES-BENZ AS MAIN AUTOMOTIVE SPONSOR- Green light given for long-term partnership
- Another brand ambassador at Mille Miglia 2013: Marcel Tiemann

Mercedes-Benz is the main automotive sponsor of Mille Miglia. The corresponding agreement was reached between Mercedes-Benz Classic and 1000 Miglia S.R.L. in Brescia (Italy), with the aim of establishing a long-term collaboration. Mercedes-Benz Classic will be represented at this year's event with a number of vehicles, as well as five famous faces taking up their position at the star....
Vettel And Coulthard Versus The Sochi CircuitSebastian Vettel, Infiniti's Director of Performance, and David Coulthard drive much of Russia's new Sochi Circuit, which is still under construction, in a pair of Infiniti M cars and give their thoughts and comments ahead of the Krasnodar Krai region's inaugural Grand Prix in 2014.

Once complete, the 3.7 mile Sochi Olympic Park Circuit, which will host the 2014 Winter Olympic Games, will be the third longest circuit on the Formula One calendar behind Spa-Francorchamps in Belgium and Silverst....
TEST COMPARISON BETWEEN FORMULA 1 AND MERCEDES-AMG CARS• Nico Rosberg, Bernd Schneider, Karl Wendlinger and Bernd Maylander

• Mercedes-AMG Performance Drive: Formula 1 versus Mercedes-Benz A 45 AMG, E 63 AMG, SLS AMG Black Series and SLS AMG GT3

• Nico Rosberg in Mercedes-Benz SLS AMG Black Series: 'It will be interesting to see how long Michael can delay starting before catching up with us at the finish.'


As part of the programme for the 24-hour race on 19th May 2013, Mercedes-Benz will put on a special event highlight for....
blog comments powered by

Disqus