Monaco Association Against Muscular Dystrophy
Blancpain, classicdriver.com and RM Auctions are delighted to announce the offering of the 2011 Lamborghini Gallardo LP600 GT3 Racing Car, chassis 09825, at RM's upcoming Monaco sale, May 12 at the Grimaldi Forum. Offered by luxury Swiss watch manufacturer, Blancpain, the Lamborghini on offer is the racing car in which Blancpain President and CEO, Marc A. Hayek, won the 2011 Amateur-Class championship in the ADAC GT Masters Series. 100 percent of proceeds from the vehicle's sale, including auction commissions, will be donated to AMM in its fight against Duchenne muscular dystrophy. Built for competition by the Lamborghini Motorsport Department Reiter Engineering (DEU), this model Gallardo LP600 GT3 competed during the 2011 season in the Blancpain Endurance Series and in the ADAC GT Masters. Piloted by Marc A. Hayek and Peter Kox, it competed on some of Europe's most prestigious race tracks including the Autodromo Nazionale Monza (ITA), Silverstone (UK), Spa-Francorchamps (BEL) and Höckenheim (GER). It was indeed on the legendary Höckenheim circuit that Marc A. Hayek was crowned the 2011 amateur champion at the final of the ADAC GT Masters. Blancpain was the first watch manufacturer to commit to supporting the Monaco Association Against Muscular Dystrophy. Over the past decade, the Manufacture in Le Brassus has aided AMM's endeavours through participation in various activities including the first 'Monthematic' projects in the early 2000s through to the latest Only Watch auction held in September 2011. Blancpain is now pleased to extend its support for AMM through the auction of this highly desirable Lamborghini Gallardo LP600 GT3 racing car.
The 2011 Lamborghini Gallardo LP600 GT3 racing car joins more than 90 blue-chip automobiles at RM's upcoming Monaco sale on May 12. The weekend, which coincides with the Grand Prix de Monaco Historique, will also include the sale of more than 100 Ducati motorcycles on May 11. The two-day sale is expected to be one of the most important collector car and motorcycle auctions to be held in Europe this year. Complete event details are available online at www.rmauctions.com or by calling +44 20 7851 7070. For those interested in participating in the auction but unable to attend in person, RM offers a wide range of remote bidding options, including absentee, Internet and telephone bidding, and the auction will stream live online at www.rmauctions.com to provide real-time coverage of the event. Lamborghini Gallardo LP600 GT3: technical specifications 605 bhp 5.2-litre, mid-rear mounted D0HC V-10 engine with four valves per cylinder, six-speed sequential gearbox transmission, four-wheel independent suspension, and hydraulic four-wheel disc ceramic brakes. Wheelbase: 2,560 mm (100.8') Monaco Association against Muscular Dystrophy. Created in April 2001, Association Monégasque contre les Myopathies - AMM (Monaco Association against Duchenne Muscular Dystrophy) aims at collecting funds to finance research, organize scientific roundtables and improve the quality of life of the children, teenagers, and young adults affected by Duchenne Muscular Dystrophy (DMD). Organizing scientific roundtables and International Collaborative Efforts (ICE), helping people suffering from Duchenne Muscular Dystrophy to benefit from better medical care, Increasing public awareness of this genetic disease to better integrate in society these patients, promoting and accelerating the scientific and medical research to find treatments as fast as possible in order to slow down and eventually heal Duchenne Muscular Dystrophy. Blancpain has been making mechanical watches that set standards of excellence since 1735. A custodian of watchmaking tradition, Blancpain nevertheless seeks to surprise with its spirit of innovation and taste for the provocative. At Blancpain, respect for our own watchmaking tradition is not felt as a barrier to innovation. On the contrary, the past history of the Manufacture of Le Brassus is an inexhaustible source of ideas. This taste for boldness and provocation finds expression in the latest creations of the brand. With a high proportion of its components and tools designed and made in-house, training of specialists and craftsmen, manual assembly of each movement by a single watchmaker, the strength of the Manufacture lies in its capacity to create timepieces that are at once innovative and loyal to the grand Swiss watchmaking tradition. classicdriver.com is the leading international online journal and marketplace for demanding, opinionated and affluent gentlemen – those who live the good life and are passionate about rare cars, remarkable products, art and collectibles. Since its launch in 1998, classicdriver.com has grown to be regarded as an influential online publication that reaches discerning readers and connoisseurs worldwide. The Classic Driver Marketplace offers one of the most exclusive selections of rare and valuable cars for sale around the globe, and from all periods of motoring history. RM Auctions is the world's largest auction house for quality automobiles. With over three decades of experience in the collector car industry, RM's vertically integrated range of services, from restoration to private treaty sales, auctions, estate planning and financial services, coupled with an expert team of car specialists and international footprint, provides an unsurpassed level of service to the global collector car market. RM proudly holds five of the top 10 all-time records for the most expensive motor cars sold at auction. RM's restoration division has achieved unprecedented accolades earning 'Best of Show' honours at the world's top concours events. For further information, visit www.rmauctions.com. **Photo caption: 2011 Lamborghini Gallardo LP600 GT3 Racing Car, chassis 09825 (credit: © Blanpain).
Recent Articles
1958 British Grand Prix: A Brit Finally Triumphs at SilverstoneBy the start of the 1958 Formula One season there had been two British victories at the home grand prix. However, the post-war home of the British round of the World Championship was yet to be conquered by a native driver. Only Aintree had served British euphoria. However, that would change on the 19th of July courtesy of Peter Collins.

In the minds of the British, the greatest victory to that point in Formula One history, at least in the British Grand Prix, had come in 1957 when Stirling Mos....
STAR-STUDDED GUEST LIST EXPECTED AT MY YACHT™ CLUB DURING FORMULA 1™ GRAND PRIX WEEKEND IN AUSTIN, NOVEMBER 15-17Featuring Most Expensive Club Table in Texas and Special Golden Presentation to Winning Driver

(AUSTIN, TEXAS – November 13, 2013) My Yacht™ Group, an international luxury events creator recognized for hosting exclusive gatherings on super yachts around the world, returns to Austin withits three-night Monaco-style nightclub – My Yacht Club-- during the 2013 Formula 1 United States Grand Prix™ weekend, November 15-17. My Yacht Group once again transforms the Ballet Austincomplex into a....
ERIC VIGOUROUX AND 'BALLISTIC' BJ BALDWIN WITH NEW EVR PROTO VX-101 RALLY RAID CONCEPT IN LE DAKAR 2014◾Experienced and spectacular desert raid drivers team up for victory in 2WD category
◾Totally new rally pickup truck with powerful V8 engine
◾EVR and Jefferies Racing have joined forces
◾High potential for top team

APPLE VALLEY, USA, November 8, 2013 - Eric Vigouroux Racing has announced their participation with two new developed pickup trucks in Le Dakar 2014 in collaboration with Jefferies Racing. Experienced Dakar pilot Eric Vigouroux from France, living in California will team u....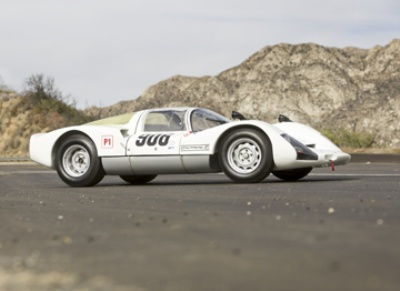 Sports and Racing Rarities Lead Early Highlights For RM's Two-Day Arizona Sale• RM Auctions returns to the Arizona Biltmore Resort & Spa in Phoenix from January 16–17 to kick off its 2014 collector car season
• Expanded to two days in 2014, the well-established sale will celebrate its 15th year by lifting the gavel on approximately 120 handpicked motor cars
• Early highlights span the spectrum of the market, led by a superb trio of sports and racing Porsches
• Annual sale kicks off RM's 2014 international auction calendar, which includes the company's highly anticipate....
THE 2014 AMELIA ISLAND CONCOURS D'ELEGANCE HONORS FIFTY YEARS OF McLARENMcLaren's 50th anniversary will be celebrated at the 19th annual Amelia Island Concours d'Elegance on March 9, 2014, with a display of rare and significant McLaren racers from five decades of competition.

McLarens were not only victorious in the world's richest and most prestigious races, the company changed motorsport through a relentless pursuit of perfection and brought a strictly professional approach to a sport that had been more of a glamorous hobby than a true business. Today McLaren....
NEW BUGATTI DEALERSHIP IN MONACOMolsheim / Monaco, 18 October 2013. Bugatti arrives in Monaco. The Monaco Luxury Group has become the French luxury brand's official sales partner for the Cote D'Azur region. Vehicles will be presented in a temporary showroom while the Bugatti showroom is under construction.

'Like Bugatti, Monaco is exclusive and unique. Due to its wonderful history and unique appeal, this location is very important to us.' says Dr Stefan Brungs, member of Bugatti Automobiles S.A.S. management respons....
1958 Monaco Grand Prix: An Unlikely Frenchman Steals the Show…AgainIn 1955, perhaps the most unlikely of drivers would survive the attrition and the beckoning Monaco harbor to claim his only victory in Formula One. Some three years later, and more unlikely than ever to even win a second race at any circuit, the same Frenchman would steal the crown jewel to become just the second man in Formula One history to earn two or more victories on the streets of the principality.

Maurice Trintignant's victory in the chaotic and drama-filled 1955 Monaco Grand Prix was....
1955 Monaco Grand Prix: Trintignant 'Awash' in Monegasque PraiseHeading around Tabac for the final time, Maurice Trintignant would be greeted by an enthusiastic Monegasque population. He would be the unlikely victor, but a little dip in the Mediterranean would make sure his name joined an exclusive list of Formula One race winners.

Maurice Trintignant had started his racing career just prior to the outbreak of the Second World War. Before the war would start he would take his Bugatti and would go on to earn an impressive victory in the 1939 Grand Prix des....
2014 Bentley Continental GT V8 S
---
2014 Bentley Continental GT V8 S Convertible
---
2014 Citroen C-Elysée WTCC
---
2014 Mercedes-Benz CLA 45 AMG Racing Series
---
2014 Mercedes-Benz SLS AMG GT Final Edition
---
2014 Porsche 911 GT3
---
2013 Bentley Continental GT3
---
2013 Caterham Superlight R600
---
2013 Ferrari 599 GTB Fiorano
---
2013 Hyundai Elantra Coupe
---