Vintage Racing Ushers In The 2012 Season At Road America
It has been 62 years since racers tore through the streets of this tiny village about 60 miles north of Milwaukee. Still, every spring you would swear that the town speed limit doesn't exist when the sounds of historic racecars from days gone by seem to echo throughout the hillside. May 18-20 the Spring Vintage Weekend returns to Road America and kicks-off the start of a summer full of racing, from vintage and historic cars to motorcycles and even NASCAR. Racing came to Elkhart Lake in 1950, with cars competing against the backdrop of the countryside course. The next two years, drivers maneuvered through the tiny village itself, past waving spectators who needed only to sit on their porches to get a glimpse of the action. In 1953, auto racing was banned on open roads in Wisconsin and as a result, the need for a real racetrack became apparent. Road America was designed by Clif Tufte as an adaptation to the existing hillside commonly known in eastern Wisconsin as the Kettle Moraine - complete with 14 challenging turns, corners and straightaways that have taken on names of their own, based mainly on their configuration but more often the intimidation level. 'Racers, fans and even the media have a fond affinity for Road America,' said George Bruggenthies, track president and general manager. 'It has a special appeal like no place else, for many fans Road America was their first racing experience and now coming back every summer is a tradition, plus you can't beat the appeal of Elkhart Lake, the surrounding scenery and the off-track hospitality that the local area provides. For racers, the track layout has remained unchanged since it was first built and mastering its daunting twists and turns has become a formidable challenge for any driver.' Road America's layout is like the Swiss Army knife of racetracks and the power, grace and terror begins with corner three - a downhill curve that tends to produce high speeds and lumps in the throat. Then there is the Moraine Sweep, the fastest part of the course, which is located about the middle of the four-mile circuit. Corner five is especially challenging because of its 90-degree left angle and downhill grade immediately after the Moraine Sweep. The Hurry Downs are a series of treacherous downhill, weaving turns, which leave little room for error. The Carousel is a sweeping, high-speed half-circle curve that is over 180 degrees. The drivers hang on, and hang on as the g-forces are constant and because it seems to go around forever, just like a carousel.

The Kink - perhaps the most challenging corner in American road racing is turn 11, a very quick snap turn to the right shortly after exiting the Carousel. Many braver souls take this flat out, which is a test of courage but if you lose control here, it is a big one. Many top drivers have gone wide and hit the wall. Those who stay on the right side of the wall usually play billiards; going back and forth between the walls - it is a corner of legend. Then there is Thunder Valley, a gentle incline with wooded scenery that runs in a valley between two steep rises where the sounds of race engines seem to bounce and echo from side to side, hence the name Thunder Valley. During the first two weekends in June American Motorcycle Association (AMA) Pro riders will push the edge of the envelope on two wheels during the AMA Subway SuperBike Doubleheader, June 1-3 and the following weekend, June 8-10; the American Historic Motorcycle Racing Association (AHRMA) riders will compete in the Vintage Motorcycle Classic. Throughout the AHRMA weekend, three off-road courses will feature vintage and post-vintage motocross, cross-country and observed trials. Other event features include a large vintage swap meet, club corrals, seminars and special guest activities. One of the first events to ever grace the racing surface at Road America back in 1955 was the Chicago Region Sports Car Club of America (SCCA) June Sprints. Now a Road America centerpiece, the WeatherTech® Chicago Region SCCA June Sprints® return June 14-17 and remain a special place in the hearts of racers everywhere. Phil Hill, a rising star out of Santa Monica, Calif., won the inaugural June Sprints event and racing legends such Carl Haas and Roger Penske honed their driving prowess while competing at the June Sprints. The annual event continues to highlight the competitive opportunities available for a variety of car makes and ten race groups will feature non-stop action over four days of qualifying and racing, it is a can't miss spectacle for any racing enthusiast. The following weekend, Road America will be the first road course on the 2012 NASCAR Nationwide schedule as the series continues its streak of racing in Wisconsin, June 21-23. Road America hosted its first NASCAR-sanctioned race when the track was just a year old in 1956 and the event was won by Tim Flock, in the rain, at a top speed of 71.4 mph. Now in 2012, set-up strategy is vital for the NASCAR Nationwide teams due to the intense speeds, elevation changes and undulating turns, all of which will test driver skill to the maximum. The weekend will also be filled with incredible wheel-to-wheel racing from the GRAND-AM Sports Car Series 250 Driven by VISITFLORIDA.com, and the GRAND-AM Continental Tire Sports Car Challenge. Another annual tradition for the tiny village of Elkhart Lake, The HAWK vintage event with Brian Redman, will take center stage July 12-15 as the area will spring to life with a blend of art-on-wheels as part of a Concours d'Elegance presented by Road & Track in downtown on Friday and Saturday evening. The HAWK will also feature a Historic CAN-AM, which is the highlight of this year's event as an impressive field of cars is expected to gather in celebration of CAN-AM's 46th Anniversary. Everything from cult favorites to priceless limited production model racecars and a Lola T70 marque are schedule to participate. In an effort to recognize the significant presence of active competition models, Friday's racecar concours entries will be limited to cars also entered in race groups. The American Le Mans Series (ALMS) and Corvette World Tribute (CWT) return on August 16-19. The ALMS main feature includes an exciting four-hour race on Saturday and fans will have the chance to experience an open ALMS grid, autograph opportunities, fan forums, tech talks and a Tour de RA bike event. In addition to the ALMS action the International Motor Sports Association (IMSA) GT3 Cup, IMSA Lites, USF2000, SCCA Pro Racing Trans-Am and Unlimited Racing Championship will tackle the four-mile circuit. On Sunday, a Corvette-only day will include racing and touring plus a concours with pro and popular judging, special guests and presentations and a vendor marketplace. All racers, performance enthusiasts, collectors, hobbyists and fans are invited to participate. September 7-9 marks the return of the Elkhart Lake Vintage Festival ® featuring races for closed-wheel cars, a special session for open-wheel cars, plus a Trans-Am B-sedan race and historic road course re-enactment. The professional racing season at Road America concludes with the SCCA National Championship Runoffs®, September 20-23. The event determines the season's best drivers within 28 classes of competition and always provides fans with great racing action. The number of classes at the SCCA National Championship Runoffs® draws over 600 entries, making it the largest annual amateur road-racing event in the world. For many of the competitors, it's an opportunity to earn a championship where their racing heroes did the same. Discounts on advance tickets are still available and additional information is available at www.roadamerica.com or by calling 800-365-7223. Races run rain or shine and kids 12 and under are free with an adult. About Road America: Established in 1955, Road America is located midway between Milwaukee and Green Bay in Elkhart Lake, Wisconsin. Its legendary four-mile, 14-turn road circuit has challenged the world's best racers for over 55 years. The 640-acre, park-like grounds offer amazing viewing opportunities, fantastic concessions and high-speed excitement to thousands of spectators each year. In addition to public race weekends, Road America offers Group Event Programs, the Blain's Farm & Fleet Motorplex for karting and supermoto, and the Road America Motorcycle and Advanced Driving Schools. For more information, visit www.roadamerica.com Follow Road America on www.facebook.com/RoadAmerica and on Twitter: @roadamerica or call 800-365-7223.
Recent Articles
MAZDA6 SKYACTIV-D CLEAN DIESEL RACECARS TO TACKLE THUNDERHILL 25-HOURDecember 3, 2013 (IRVINE, Calif.) — There have always been rivalries: Yankees versus Red Sox. Beta versus VHS. Coke versus Pepsi. Tom versus Jerry. In the automotive retail world, that rivalry is Factory Guys versus Dealers. To finally put to bed who's faster, Mazda North American Operations (MNAO) has thrown down the gauntlet, entering three specially modified-for-racing 2014 Mazda6s in the longest endurance race in America, the National Auto Sport Association (NASA)'s US Air Force....
2014 Season Event Tickets go on Sale Dec. 4• Sports Car and Motorcycle Racing Highlight the Calendar


MONTEREY, Calif., Dec. 2, 2013 – Time to program the Mazda Raceway Laguna Seca ticket office number into the phone and get ready to use speed dial. The world-renowned race track starts selling tickets for its 58th year of competitive racing on December 4.

'This season truly emphasizes the essence of motorsports, from the inaugural TUDOR Championship, with state of the art endurance sports cars, to Ferrari Racing Days....
World Champions Audi second in Bahrain• Audi achieves 15th podium place in eight races

• Fassler/Lotterer/Tréluyer finish finale as runners-up

• Retirement of Duval/Kristensen/McNish



Audi finished the year in the FIA World Endurance Championship (WEC) in Bahrain in second place. The World Championship winning team* had to admit defeat only for the second time in eight races and can look back on a highly successful sporting season.

Until shortly before the race's midpoint, Audi Sport Team Joest was in....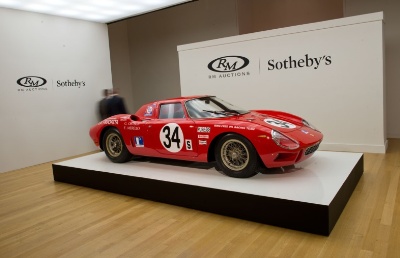 RM Auctions and Sotheby's Stun the Market with Incredible $63 Million 'Art of the Automobile' Sale in New York• RM Auctions and Sotheby's momentous Art of the Automobile auction generates $62,797,500 of sales in two hours of furious bidding
• Records tumble with the historic 1964 Ferrari 250 LM by Carrozzeria Scaglietti achieving $14,300,000 while the stunning 1938 Talbot-Lago T150-C SS Teardrop Cabriolet by Figoni et Falaschi sells for $7,150,000
• 93 percent of all lots sold to an international audience of bidders representing 17 countries
• Full results are available online at www.rmauctions.c....
Chrysler Group Llc Brings Celebrities And More Than 25 Hot Rides To The 80Th Mcdonald'S Thanksgiving Day ParadeNovember 20, 2013 , Chicago - While the turkeys are being stuffed on Thanksgiving Day, Chrysler Group vehicles will transport celebrities, dignitaries, floats and even Santa down State Street as part of the 80th McDonald's® Thanksgiving Parade in downtown Chicago, Thurs., Nov. 28 from 8 a.m. to 11 a.m. (CST). Chrysler Group will also showcase its celebrity partners and media drivers in addition to providing the horsepower for the parade.

The 'Ram Weekend Workbench' host Ryan Salzwede....
INTERNATIONAL MOTORSPORTS CENTER IN DAYTONA BEACH BECOMES NEW IMSA HOMEDAYTONA BEACH, Fla. (Nov. 20, 2013) – A legacy that began when NASCAR founder Bill France Sr. and John and Peggy Bishop co-founded the original International Motor Sports Association (IMSA) in 1969 took a step into the future today at the International Motorsports Center (IMC).

IMSA and International Speedway Corporation (ISC) Chairman Jim France – the son of Bill France Sr. – joined IMSA CEO Ed Bennett and NASCAR President Mike Helton to unveil the addition of IMSA logos to signage ou....
2014 Acura MDX
---
2014 Dodge SRT Viper GT3-R
---
2014 Ford George Follmer Edition Mustang
---
2014 Lexus IS F CCS-R
---
2013 BMW M5 Competition Package
---
2013 BMW Z4 GTE
---
2013 Chevrolet Camaro
---
2013 Chevrolet Camaro 1LE
---
2013 Chevrolet Corvette Z06
---
2013 Dodge Viper GTS Launch Edition
---