1961 Targa Florio: Porsche Dominance, Ferrari Victorious
By: Jeremy McMullen
The first race held on the island of Sicily that included an automobile would take place between the car, a bicycle and a horse. Although the gentleman on the bicycle would drop out rather early due to leg cramps constantly going up and down on the mountainous roads, the battle between the de Dion motor tricycle and the horse would be an intriguing one. In the end, the same principles that played out in that first race would come into play many years later when the island hosted the 1961 Targa Florio. Vincenzo Florio would lose the race with the horse but it would not stop him from thinking about a career in motor racing. Being a wealthy man himself, Florio would attract Fiat's Felice Nazzaro to remain with Florio to not only look after his growing number of automobiles, but also, to prepare racing cars for him to race. Nazzaro's experience would be needed as Florio was underage and prohibited by family from racing. He would even be denied the opportunity by Fiat from purchasing one of their race cars, but it would not stop him. He would eventually buy a dismantled Panhard and would turn to Nazzaro to make it into a proper race car. Florio would take part in a number of the long distance races of the period like the Paris to Madrid race. Soon, however, he would be encouraged to organize a race in his native Sicily. This would intrigue Florio. It would intrigue him so much so that in 1906 Sicily would host the first Targa Florio.

The automobiles of the very early 20th century were very fragile machines in their own right, but Florio's idea of a race would be a torture test that would be so destructive that even fifty years later cars would still struggle to finish the event. It would be a never-ending labyrinth of hairpin turns and deadly sheer cliffs. It would be a crucible of the tallest order and any mistake likely exacted the toll of death. The first race covered a total of 277 miles and featured just 3 laps of a 92 mile course. And after nine hours it would finally come to an end with Alessandro Cagno taking the victory with an average speed of only 29 mph. Throughout its years of existence each running of the Targa Florio would inevitably produce scores of memorable stories and it would be these memorable stories and the sheer challenge of the race that would see it survive, albeit sporadically at times, all the way up into the early 1970s. By the 1960s, the numerous different courses used around the Sicilian island would be quite a bit shorter than the original one but would still feature very tight and twisty roads that would keep the average speeds well down and would place a premium on handling, torque and braking. After Mercedes-Benz brief period as the dominant sportscar manufacturer during the mid-1950s, it would be Porsche that would take over the reigns in the years afterward. And by the early 1960s Porsche were developing some of the best sportscars in the world and were routinely challenging the might of Ferrari and others for victories. Throughout the later part of the 1950s Porsche had been developing a mid-engined spaceframe chassis design that could be used in single-seater racing. However, the design would be easily adaptable and could be designed and made into competitive sportscars. The 718 would be used by Edgar Barth and Wolfgang Seidel to win the 1959 Targa Florio. Its small but powerful engine, combined with the car's lightweight design and agility would make it a very competitive car. From the 718 would evolve and become the RS 60 that would earn the overall victory for Jo Bonnier and Hans Herrmann in the 1960 Targa Florio. Therefore, Porsche knew it had the car to compete on the twisty mountainous roads of Sicily's Targa Florio and it would lead Stirling Moss, who would partner with Graham Hill to drive an RS 61 in the 1961 Targa Florio, to be very confident heading into the race. The RS 61 would be nearly an identical match to the RS 60 of the previous year but there would be an important evolution that would offer Moss all the more reason to be confident. The year before Porsche had taken the victory in the Targa Florio driving a 1.6-liter 718 RS 60, for 1961, the engine size would be increased to 2.0-liters giving the car more power and, more importantly, more torque and acceleration. As Stirling Moss would say concerning the RS 61, 'with a 2 liter engine that offered enhanced torque, this Porsche was pretty much the perfect car for the Targa Florio.' It seemed to be a slam dunk for Porsche. Their cars seemed destined to earn the manufacturer back-to-back victories. Ferrari, with its Dino 246 SP certainly seemed competitive, and yet, no match for Porsche at the same time. Nonetheless, Ferrari would enter three cars for the 447 mile race. Two of the three would be Dino 246SPs. The Third car entered by the team would be a 250 Testa Rossa. In spite of being known for some erratic driving, Wolfgang von Trips had earned a solid reputation in sportscars. He had earned top results in sportscar races and had even finished 5th overall in the 1956 24 Hours of Le Mans. For the 1961 Targe Florio he would be joined by Olivier Gendebien driving chassis 0790. The team's second Dino 246SP would be driven by the pair of Phil Hill and Richie Ginther. Ever since the first Targa Florio held in 1906 the race would be held over a number of different courses throughout the island. There were times when the race consisted of just one lap of a course more than a couple of hundred miles in length. However, the majority of the courses were 'shorter' and the race would consist of a few laps of those shorter courses. The course used for the race in 1961 would measure 44.739 miles in length. The race would consist of 10 laps of the 44.739 mile Madonie circuit and would, therefore, cover a total of 447 miles. Starting just a few miles away from the town of Castello, the Madonie Circuit would feature a long blast down toward the coast before twisting through Campofelice and heading back south and uphill toward the tightly packed village of Collesano. The circuit would continue to wind and twist its way past the mountains and toward another cramped village called Caltavuturo. After Caltavuturo, the circuit was nothing but an endless array of twisting switchbacks making its way slowly all the way back through Cerda and onto the start/finish line. As the cars prepared for the event it seemed a little reminiscent of the very first battle between Florio and his tricycle and the bicycle rider and the rider and his horse. Comparing the obvious advantages of the Porsche to the competition it was clear there were some that were going to be like the bicycle and that would drop out early due to cramps of a more mechanical nature. But then there would be those that were like the rider and his horse. While they may seem outdated or unable to perform at the same level as the Porsches they still needed to be respected. The early part of the race would play out like that first one would as well. Stirling Moss would be at the controls first and would take his 718 RS61 immediately to the lead. Moss' lead would eventually build up to around a minute and a half, but it would be another Porsche, that of Jo Bonnier and Dan Gurney, that would be in 2nd place. The Ferrari of Wolfgang von Trips and Olivier Gendebien would be trailing along further behind yet and it seemed more than obvious the Dino 246 SP just could not match the overall performance of the light, quick and nimble Porsche. After a few laps, Moss would hand the car over the Graham Hill. Hill's inexperience in the race was coming into play. While he would stay out of trouble and would have a decent pace it would not be fast enough as von Trips and Gendebien surprised many an onlooker by taking the overall lead by nearly a minute and twenty seconds. Still, Hill had done his job. He would complete a couple of laps and would turn it back over to Moss for the remainder of the race. Moss had some work to do. Gendebien and von Trips were still in the lead while Bonnier and Gurney fell back to 3rd overall. Moss knew he had the better car and would use it to his advantage. Picking up the pace quite dramatically, Moss would soon find himself right back up with the Ferrari. Moss wasn't going to be stop, at least not by means under his control anyway. He would power his way by and back into the lead of the race. Sixty-four cars had entered the race. However, after accidents in practice and other mechanical maladies, fifty-three cars would manage to take the start of the race. There would be many that wouldn't manage to complete even a couple of laps around the 44 mile circuit. Phil Hill and Richie Ginther would be one of the first ones out of the race after suffering an accident on the very first lap of the race. Only thirty cars would remain by the halfway mark in the race. Wolfgang von Trips would amazingly set the fastest lap of the event with an average speed of 67 mph. At that speed he would complete the lap in forty minutes and three seconds. Still, heading into the final lap of the race, von Trips followed Moss in the running order. Moss headed into the final lap of the race with a lead of more than a minute over von Trips. He had overtaken the Ferrari a while back and steadily had built up a comfortable margin. In fact, the lead was such that Moss knew he just had to bring the car home safely and he had enough of a lead to do so without pushing too hard. Moss was within a handful of miles of taking the victory. By this point in the race he had covered more than 440 miles and had largely overshadowed the pairing of von Trips and Gendebien despite the fact the pair in the Ferrari set the fastest lap of the race. The Ferrari had looked impressive and von Trips and Gendebien had put together solid performances behind the wheel, but still, against the Porsche they just couldn't make a way past. Therefore, Providence would do it for them. Just like the race between Florio's tricycle and the horse. The Porsche proved to be too fragile. Just five miles away from the finish line the differential failed in Moss' Porsche. The car was done, almost within sight of the finish. All of the effort had come to naught. But for von Trips, the sight of the Porsche with the yellow nose parked by the side of the road was the most wonderful sight von Trips could have ever beheld amongst the already scenic beauty of northern Sicily. The Ferrari, on this day, would prove to be as dependable as that old horse. The Dino 246 SP would round the bend and cross the line to take the victory, one of the greatest performances in von Trips' and Gendebien's careers. In spite of the fact two Porsche 718 RS61s would come through to finish in 2nd and 3rd place, it was a Ferrari that withstood the challenge of the Porsche revolution. In an era that would see Porsche rise to the top of sportscar racing, on that hot and dry day in April, it would be Italian red that would win the battle. Von Trips and Gendebien would take the victory completing the race distance, which was around 40 percent longer than the first Targa Florio, in a time of six hours, fifty-seven minutes and thirty-nine seconds. The margin of victory over the Porsche of Bonnier and Gurney would be nearly four and a half minutes. Another twelve minutes would be the difference from Bonnier and Gurney's Porsche back to the Porsche of Hans Herrmann and Edgar Barth. For von Trips, the 1961 Targa Florio victory would be just one great moment in a season filled with them. Unfortunately, the season would end with von Trips' most tragic. Still, the '61 Targa Florio would have to be considered one of von Trips' greatest victory in motorsports. He had been overshadowed by Moss and the Porsches all throughout, and yet, it was he that would emerge on top. As a result, the race that year will always be remembered in association with his name and his achievement on that day, the 30th of April. Sources:
'Targa Florio', (http://www.grandprixhistory.org/floria.htm). Dennis David and Family. http://www.grandprixhistory.org/floria.htm. Retrieved 3 May 2012.

'1961 Targa Florio', (http://www.teamdan.com/archive/wsc/1961/61tf.html). 1961 Targa Florio. http://www.teamdan.com/archive/wsc/1961/61tf.html. Retrieved 3 May 2012.

'The Cars: Porsche 718 RS 60', (http://www.stirlingmoss.com/node/430). Stirling Moss. http://www.stirlingmoss.com/node/430. Retrieved 3 May 2012.

'Event: Targa Florio', (http://www.racingsportscars.com/photo/Targa_Florio-1961-04-30.html). Racing Sports Cars. http://www.racingsportscars.com/photo/Targa_Florio-1961-04-30.html. Retrieved 3 May 2012.

'Circuits: Europe', (http://theracingline.net/racingcircuits/racingcircuits/Italy/index.html). Racing Circuits.net: Motor Racing Circuits Database. http://theracingline.net/racingcircuits/racingcircuits/Italy/index.html. Retrieved 3 May 2012.

Wikipedia contributors, 'Targa Florio', Wikipedia, The Free Encyclopedia, 27 April 2012, 07:51 UTC, http://en.wikipedia.org/w/index.php?title=Targa_Florio&oldid=489437872 accessed 3 May 2012

Wikipedia contributors, 'Porsche 718', Wikipedia, The Free Encyclopedia, 11 March 2012, 00:31 UTC, http://en.wikipedia.org/w/index.php?title=Porsche_718&oldid=481242617 accessed 3 May 2012
Recent Articles
Italian Sports And Racing Exotics Head To RM's Eagerly Anticipated Monterey Sale• RM Auctions announces stunning early roster of blue-chip Italian exotics for its flagship Monterey sale, August 16–17 in California
• No less than 21 Ferraris already consigned alongside two spectacular Maseratis
• Eight Ferraris offered without reserve from the Estate of William H. Tilley
• Additional early highlights include a fabulous 1931 Duesenberg Model SJ Murphy Convertible Coupe and a 1935 Hispano-Suiza K6 Brandone Cabriolet
• Frequently updated list of entries available online a....
Aston Martin Celebrates Centenary At Nürburgring 24 HoursNürburgring, 20 May 2013 – Aston Martin's weekend of centenary celebrations at the ADAC Zurich Nürburgring 24 Hours (N24) concluded this evening (Monday 20 May) with a thrilling top-ten result for its Bilstein-liveried V12 Vantage GT3 and a historic finish for its unique Hybrid Hydrogen Rapide S in one of the most grueling 24-hour races in recent years.

In a weekend that started with the British luxury sports car maker entering the history books with a zero CO2 emissions hydrogen-power....
Aston Martin Wows The Crowds At Nürburgring 24 HoursAston Martin's global centenary celebration programme powered into Germany yesterday (Sunday 19 May) as the great British sports car maker marked its first 100 years with a 100-plus car parade at the Nordschleife.

Just ahead of the start of the 41st ADAC Zurich Nürburgring 24 Hours a cavalcade of more than 100 Aston Martin sports cars took to the infamous road circuit for a celebratory parade lap.

Led by Aston Martin CEO Dr Ulrich Bez at the wheel of the stunning new CC100 Speedster Concep....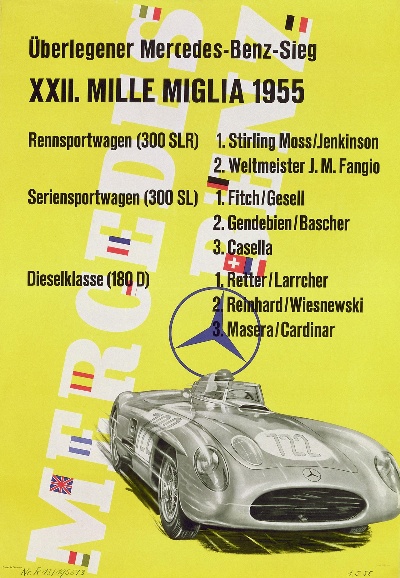 MILLE MIGLIA: MERCEDES-BENZ AS MAIN AUTOMOTIVE SPONSOR- Green light given for long-term partnership
- Another brand ambassador at Mille Miglia 2013: Marcel Tiemann

Mercedes-Benz is the main automotive sponsor of Mille Miglia. The corresponding agreement was reached between Mercedes-Benz Classic and 1000 Miglia S.R.L. in Brescia (Italy), with the aim of establishing a long-term collaboration. Mercedes-Benz Classic will be represented at this year's event with a number of vehicles, as well as five famous faces taking up their position at the star....
Stars Of Film, Fashion, Sport And Motorsport To Drive With Jaguar Heritage Racing In Mille Miglia 2013- Jaguar previews its entry into the 2013 Mille Miglia with short film featuring David Gandy, Yasmin Le Bon, Norman Dewis and Alex Buncombe: http://www.youtube.com/watch?v=eEkckuR8E-k&feature=youtu.be
- Jaguar Heritage Racing enters three C-Type and three XK120 classic cars into famous event
- Jaguar 'Bloodline' of sports cars to be celebrated with new F-TYPE joining the 1,000 mile tour

(MAHWAH, N.J.) - May 10, 2013- Jaguar has curated a unique team of drivers for its Jaguar Herita....
1970 Monaco Grand Prix: A Reversal of FortunesIn gambling and sports there is one word that seems to be absolutely foundational to both—luck. Heading into the 1970 season Jack Brabham had had his share of luck. Jochen Rindt, on the other hand, seemed to have none of it. This would all change on the 10th of May, 1970.

Jochen Rindt had come into Formula One during the mid-1960s and was certainly fast straight-away. Often one of the quickest drivers on the circuit, Rindt would find his choice of teams to be his biggest letdown as the reliab....
2014 LaFerrari Ferrari
---
2013 4C Alfa Romeo
---
2013 4C Launch Edition Alfa Romeo
---
2013 CC100 Speedster Concept Aston Martin
---
2013 R8 Audi
---
2013 R8 Spyder Audi
---
2013 R8 V10 Audi
---
2013 R8 V10 Plus Audi
---
2013 458 Italia Grand Am Ferrari
---
2013 F12berlinetta Ferrari
---
blog comments powered by

Disqus