Mazda And SCRAMP Confirm Mazda Raceway Laguna Seca Partnership Through 2016
Mazda North American Operations (MNAO) today announced it has extended its naming rights agreement for Mazda Raceway Laguna Seca with the Sports Car Racing Association of the Monterey Peninsula (SCRAMP) for another five years. The agreement was ratified by the Monterey County Board of Supervisors and extends the two organizations' relationship, which began in 2001, through 2016. The world-famous Monterey, Calif., facility is home to one of the finest natural road-racing courses in the world, and has been a mainstay of professional auto and motorcycle racing since 1957. Mazda's support has helped enable SCRAMP, operators of the Raceway, and Monterey County to make Mazda Raceway Laguna Seca one of the finest racing facilities in the world. Over the past decade, the circuit has received such major improvements as permanent pit lane garages, permanent luxury hospitality suites and expanded track runoff areas, plus spectator enhancements ranging from a new scoring trylon with hi-definition monitors to radar-controlled speed signs over the track's two straightaways. Jay Amestoy, Vice President, Public Affairs and Motorsports for MNAO, said, 'We first fell in love with this track and the Monterey peninsula as fans in the 1970s and '80s when Mazda was new to the U.S. and we were establishing our name with the American public and race fans. Our successful partnership with SCRAMP and the Monterey County Parks Department during the last dozen years has made the raceway our home-away-from-home. At Mazda, we don't have company picnics, we have track days. We are enthusiasts at heart, and it shows in the vehicles we build. No Mazda reaches the showroom without extensive development and testing at Mazda Raceway Laguna Seca.' During its 50-plus years of racing, Mazda Raceway Laguna Seca has established itself as the premier road-racing track in North America. Worldwide, it is mentioned in the same breath with other historic tracks such as Le Mans, Nurburgring, Monaco and Silverstone. It is common for overseas tourists to visit Mazda Raceway even when there are no on-track activities. One of the reasons is that it is home to one of the most famous series of turns in motor racing, the Corkscrew, turns 8a and 8b, which has a heart-pounding six-story drop in elevation.

According to John Pinio, Monterey County Director of Parks, the relationship between Mazda and the County has been one of harmonious cooperation. 'The County receives a tremendous boost from Mazda's ongoing participation in the facility,' Pinio said. 'Mazda has been an ideal corporate partner and honestly care about supporting the community in ways that go beyond a traditional sponsorship.' 'I can't begin to say enough about our partnership with Mazda. Through the support of Mazda North American Operations, and its dedicated management who share our passion for motor racing, Mazda Raceway Laguna Seca is able to attract world-class racing to California's Central Coast. It is one of the primary economic engines for the Monterey Peninsula,' said Gill Campbell, CEO/general manager of Mazda Raceway Laguna Seca. 'A dozen years of working together has raced by, and we are looking forward to what will hopefully be another dozen.' The latest information and event tickets for Mazda Raceway Laguna Seca can be found at www.MazdaRaceway.com.
Recent Articles
2014 Season Event Tickets go on Sale Dec. 4• Sports Car and Motorcycle Racing Highlight the Calendar


MONTEREY, Calif., Dec. 2, 2013 – Time to program the Mazda Raceway Laguna Seca ticket office number into the phone and get ready to use speed dial. The world-renowned race track starts selling tickets for its 58th year of competitive racing on December 4.

'This season truly emphasizes the essence of motorsports, from the inaugural TUDOR Championship, with state of the art endurance sports cars, to Ferrari Racing Days....
1958 British Grand Prix: A Brit Finally Triumphs at SilverstoneBy the start of the 1958 Formula One season there had been two British victories at the home grand prix. However, the post-war home of the British round of the World Championship was yet to be conquered by a native driver. Only Aintree had served British euphoria. However, that would change on the 19th of July courtesy of Peter Collins.

In the minds of the British, the greatest victory to that point in Formula One history, at least in the British Grand Prix, had come in 1957 when Stirling Mos....
JOEY BICKERS WINS 2013 MAZDA CLUB RACER SHOOTOUTMoorpark, Calif. College Student Turns Pro in 2014 Thanks To Mazda Scholarship

November 13, 2013 (IRVINE, Calif.) The latest Mazda Motorsports success story is 21-year-old Joey Bickers from Moorpark, Calif. After a grueling day of on- and off-track tasks, Joey edged out four other Mazda-powered club racers to win $75,000, the largest prize in all of grassroots motorsports, at the annual Mazda Club Racer Shootout.

'Wow, what a day! I am so excited to be chosen as the winne....
MAZDA BRINGING GAME-CHANGING SKYACTIV-D SMART DIESEL TECHNOLOGY TO TUDOR UNITED SPORTSCAR CHAMPIONSHIP FOR 2014Mazda Motorsports Announces Return to Elite Racing Prototype Program

IRVINE, Calif., Nov. 14, 2013 - At Mazda, 'Never Stop Challenging' isn't just a catchphrase, it's a company maxim. After nearly two years of planning, Mazda Motorsports will field a pair of factory-backed SKYACTIV-D Smart Diesel-powered racecars in the top Prototype Class for the 2014 TUDOR United SportsCar Championship (USCC), beginning with the Rolex 24 at Daytona on January 25-26, 2014. This is a major step ....
STAR-STUDDED GUEST LIST EXPECTED AT MY YACHT™ CLUB DURING FORMULA 1™ GRAND PRIX WEEKEND IN AUSTIN, NOVEMBER 15-17Featuring Most Expensive Club Table in Texas and Special Golden Presentation to Winning Driver

(AUSTIN, TEXAS – November 13, 2013) My Yacht™ Group, an international luxury events creator recognized for hosting exclusive gatherings on super yachts around the world, returns to Austin withits three-night Monaco-style nightclub – My Yacht Club-- during the 2013 Formula 1 United States Grand Prix™ weekend, November 15-17. My Yacht Group once again transforms the Ballet Austincomplex into a....
Mazda Raceway and Naval Postgradute School FoundationRunning Club to Host Inaugural Turkey Trot on Thanksgiving
• All Proceeds Benefit the Food Bank for Monterey County


MONTEREY, Calif., Nov. 13, 2013 – Before the big games and the big meal, why not get in a little exercise? Start a healthy new Thanksgiving Day tradition at Mazda Raceway Laguna Seca's inaugural 'Turkey Trot.' It's an event the whole family will enjoy.

On Thursday, November 28 from 7-11 a.m. the 2.238-mile world-renowned circuit will serve as an open tra....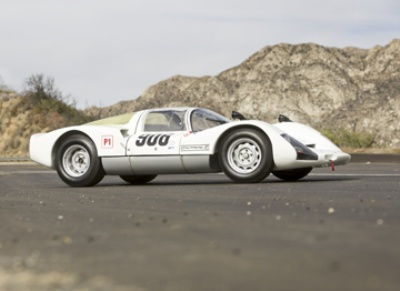 Sports and Racing Rarities Lead Early Highlights For RM's Two-Day Arizona Sale• RM Auctions returns to the Arizona Biltmore Resort & Spa in Phoenix from January 16–17 to kick off its 2014 collector car season
• Expanded to two days in 2014, the well-established sale will celebrate its 15th year by lifting the gavel on approximately 120 handpicked motor cars
• Early highlights span the spectrum of the market, led by a superb trio of sports and racing Porsches
• Annual sale kicks off RM's 2014 international auction calendar, which includes the company's highly anticipate....
THE 2014 AMELIA ISLAND CONCOURS D'ELEGANCE HONORS FIFTY YEARS OF McLARENMcLaren's 50th anniversary will be celebrated at the 19th annual Amelia Island Concours d'Elegance on March 9, 2014, with a display of rare and significant McLaren racers from five decades of competition.

McLarens were not only victorious in the world's richest and most prestigious races, the company changed motorsport through a relentless pursuit of perfection and brought a strictly professional approach to a sport that had been more of a glamorous hobby than a true business. Today McLaren....
2014 Bentley Continental GT V8 S
---
2014 Bentley Continental GT V8 S Convertible
---
2013 Hyundai Elantra Coupe
---
2013 Hyundai Genesis
---
2013 Infiniti IPL G Convertible
---
2013 Mazda CX-5
---
2013 Renault Twin Run Concept
---
2012 Ferrari 458 Spider Monaco Edition
---
2012 Infiniti G25 Sedan
---
2012 Infiniti IPL G Coupe
---