RM Auctions at the Monaco Historics
RM Auctions, the world's largest collector car auction house for investment-quality automobiles, continued its record-breaking sales run in Europe this past weekend, generating a spectacular €33,521,710 in sales* ($43,410,615 million USD**) with 86 percent of all lots sold at its biennial Monaco sale at the Grimaldi Forum. Held during the same weekend as the Grand Prix de Monaco Historique, the two-day auction presented a magnificent collection of more than 90 blue-chip automobiles, 100 Ducati motorcycles and three boats. As many as ten motor cars achieved individual prices exceeding €1 million, with four lots surpassing €2 million. In addition, the sale boasted several new all-time records for a number of specific cars and motorcycles sold at a public sale. The spectacular results rank the sale as one of the most successful collector car auctions ever staged in Europe as well as RM Europe's highest grossing sale to date, eclipsing the strong results achieved by the Company at both its debut sale in Monaco in 2010 as well as the highly successful 2007 Ferrari Leggenda e Passione event. Illustrating RM's extensive international client base, bidders hailed from 33 countries around the world, including as far away as China, Brazil and the United Arab Emirates.
'Monaco 2012 has been a fantastic success. With in excess of 33.5 million sold, this sale rates as one of Europe's highest grossing collector car sales of all time and most certainly the highest grossing collector car auction in Europe this year. Once again, RM has proved itself to be the preeminent force in the collector car auction scene,' says Max Girardo, Managing Director, RM Europe. Reinforcing RM's reputation as the global leader in the presentation of important and historic Ferraris at auction, examples from the Modenese Prancing Horse dominated the top seller's list. In total, the sale lifted the gavel on 22 different examples spanning over 60 years of production. Headlining the group was the exceptionally rare, one of two 1957 Ferrari 625 TRC Scaglietti Spiders, chassis 0680 MDTR, which was offered for sale the first time in 30 years. The rarest of all TRs produced, 0680 MDTR attracted spirited bidding in the room and on the phones, selling for a remarkable €5,040,000, a record for the model. Another wonderful Ferrari competition car entering the history books was the 1952 Ferrari 225 Sport Spyder 'Tuboscocca', chassis 0192 ET, one of only 12 Vignale Spyders produced, which realized an incredible €2,520,000 to establish a new world record for a 225 S sold at auction. The historically significant 1966 Ferrari 206 S Dino Spyder, chassis 006, also drew fierce bidding to achieve the same sales price of €2,520,000. Other Ferrari highlights included the 1971 Ferrari 365 GTS/4 Daytona Spyder, chassis 14415, one of only 18 European-specification, LHD examples for €1,008,000; the Ferrari F1-2000 Racing Car, chassis 204, raced by Michael Schumacher on his way to the 2000 Driver's Championship for €806,400; and, the highly anticipated 1953 Timossi-Ferrari 'Arno XI' Racing Hydroplane for €868.000, a record for a Hydroplane sold at auction. In addition to the Ferraris, Alfa Romeos performed extremely well at RM's Monaco sale with two highly coveted Tipo 33 sports racing cars selling for record prices. The hotly contested1969 Alfa Romeo Tipo 33/3 Sports Racer, chassis 105 800 23, built and raced by Autodelta, well surpassed its pre-sale estimate selling for an all-time record sum of €1,232,000. The ex-Nino Vaccarella, Teodoro Zeccoli 1968 Alfa Romeo Tipo 33/2 'Daytona', chassis 75033.029, also sparked enthusiastic bidding, achieving an impressive €1,008,000. In a sale led by a terrific series of competition cars, another highlight joining the top seller's list was the 2007 Peugeot 908 V-12 HDi FAP Le Mans Racing Car with its incredible diesel engine which took the car to several victories in the 2007 season. Offered directly from the Peugeot family, it achieved a record price of €1,680,000, the highest price ever paid for a Peugeot at auction. The auction also saw RM join forces with luxury Swiss watch manufacturer Blancpain and classicdriver.com for the presentation of the 2007 Lamborghini Gallardo LP600 GT3 Racing Car which was campaigned successfully last season by Mark Hayek, the President and CEO of Blancpain. Following a visit from H.S.H. Prince Albert II of Monaco to inspect the car the morning of the sale, it later sold in front of a packed house for a strong €155,000, almost double its pre-sale estimate,, with 100 percent of proceeds benefitting the Monaco Association against Muscular Dystrophy. RM Monaco lots exceeding €1 million: Lot 321 – 1971 Ferrari 365 GTS/4 Daytona Spyder- €1,008,000 Lot 333 – 1968 Alfa Romeo Tipo 33/2 'Daytona'- €1,008,000 Lot 345 - 1957 Ferrari 625 TRC Scaglietti Spider - €5,040,000 (world record for a 625 TRC at auction) Lot 353 – 1936 Mercedes-Benz 540 K Sport Cabriolet A- €2,324,000 Lot 357 – 1996 Ferrari 206 S Dino Spyder- €2,520,000 Lot 362 – 1952 Ferrari 225 Sport Spyder 'Tuboscocca'- €2,520,000 (world record for a 225 S at auction) Lot 367 – 1948 Ferrari 166 Inter Spyder Corsa- €1,010,000 Lot 373 – 1969 Alfa Romeo Tipo 33/3 Sports Racer- €1,232,000 (world record for an Alfa Tipo 33 at auction) Lot 382 – 2007 Peugeot 908 V-12 HDi FAP Le Mans Racing Car- €1,680,000 (world record for a Peugeot at auction) Lot 385 – 2006 Ferrari FXX Evoluzione- €1,338,400 As a prelude to the automobile offering, RM hosted its first full -day motorcycle sale on 11 May which celebrated the Ducati brand and featured the world-famous Carlo Saltarelli Collection. The 96 lots represented a cross section of Ducati's history, headlined by the 1972 Ducati 750 Imola 200 Corsa Replica for €70,200. For Ducati enthusiasts, the sale also featured a unique opportunity to purchase two factory Desmosedici GP machines, which set new, all-time world records for Ducati motorcycles sold at auction. The race-winning GP10 machine raced by world champion Casey Stoner in the 2010 season, achieved an incredible sale price of €251,550 while the 2011 season GP11 bike raced by the legendary Valentino Rossi, made an equally impressive €235,200. This was the first time the Factory Ducati Corse racing department had offered such bikes directly to auction, and the sale represented a unique opportunity to collectors. 'We are very happy for the two new owners of these precious, high-tech racing motorcycles. It was great experience working with the RM team and to see that the bikes generated so much attention and interested bidding from collectors around the world,' commented Diego Sgorbati, Ducati Motor Holding spa following the sale. Girardo added, 'The addition of motorcycles to our Monaco sale represents RM's versatility in the marketplace. Any motorcycle sale that achieves in excess of one million euros and which also sees significant records tumble, can only be judged as a fantastic success. In addition, the sale enabled us to successfully reach a new audience of buyers, with thirty-four percent of bidders at the sale representing first-time clients.' RM's next European auction, the Aalholm Automobile Collection featuring 175 vehicles offered 'without reserve', will be held 12 August in Southern Denmark, followed by RM's highly anticipated UK sale at Battersea Evolution in central London, 31 October. • RM Auctions achieves more than €33.5 million in sales with 87 percent of all lots sold at its Monaco sale, May 11 - 12 • Two-day auction represents RM's highest grossing auction to date in Europe • Top seller: 1957 Ferrari 625 TRC Spider, one of just two built, achieves a record €5,040,000 • Ten lots exceed €1 million with four lots surpassing €2 million • Motorcycle offering headlined by 2010 and 2011 Ducati factory grand prix machines • Clients hail from 33 countries around the world; 34 percent of bidders represent first time clientele *Results are inclusive of 12% buyer's premium for automobiles / boats and 17% for motorcycles. **Exchange rate used €1 = $1.295 USD
8th Grand Prix de Monaco Historique
The annual Monaco Grand Prix Formula One event, held on the Circuit de Monaco, began in 1929 and has become one of the most prestigious automobile races in the world. The narrow streets of Monaco serve as the temporary 2.075 mile track, featuring tight corners, elevation changes, and even a tunnel. Today, drivers still navigate the uphill climb to Casino Square, before turning down to Mirabeau and the Loews Hairpin, before entering the famous tunnel that runs into the harbor-side chicane, a notorious spot for accidents. From there, drivers sprint past many of the harbor's large yachts toward L....
Recent Articles
Usually In The Red In MonacoMaranello, 20 May – It's been many, too many years since the roulette wheel has stopped on Red in Monte Carlo. The last time a Ferrari won the Monaco Grand Prix was back in 2001, when Michael Schumacher and Rubens Barrichello secured an amazing one-two. Since then, no Ferrari has been first past the chequered flag, even in those years when Maranello's technical superiority seemed beyond doubt, such as 2002 and 2004.

However, there have been plenty of podium finishes in the past eleven....
Infiniti And Red Bull Racing: Monaco Grand Prix PreviewMONACO – Monaco is an unmissable spectacle – for the race itself with fans able to get closer to the cars than at any other circuit and of course for the glamor and history of Formula One's most iconic venue. It's the shortest yet most demanding track on the calendar, and the drivers love the challenge of this street race that's been hosting motor races since the 1920s.

With Mark Webber leading from the start of last year's Grand Prix to finish on the top step of the podium, and teamma....
Grand Prix Circuits: Pau CircuitSome grand prix circuits just have a mythical status about them. Besides the drivers and great races, a lot of the equation comes down to how memorable the circuit truly is. In the case of the Pau Circuit, its sheer place in motorsport history and lore makes this tight, twisting circuit a true legend.

From its very beginnings, Pau would be at the heart of travel and transportation. Situated in a rather deep valley with the Pyrenees mountains lending an imposing back-drop, the area that would ....
Felipe Massa surprises fans in a Scuderia Ferrari Formula OneTM car at the Shell V-Power Nitro+ show in WarsawFelipe Massa brought Warsaw to a standstill today as he drove a Ferrari Formula One car through the city streets as part of the Shell V-Power Nitro+ Show.

There was a fantastic atmosphere as over 30,000 Ferrari fans turned out to witness Shell's first ever street demonstration with a Ferrari Formula One car in Poland and celebrate the launch of Shell's new gasoline, Shell V-Power Nitro+.

Massa demonstrated the power and performance of a Ferrari F60 around a specially-designed stree....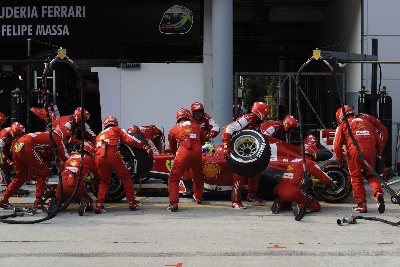 THE HORSE WHISPERER – TYRED AND EMOTIONALThese are difficult times for people with poor memories. Maybe it's because of the huge amount of information available today that people are too quick to talk, forgetting things that happened pretty much in the recent past. Or maybe the brain cells that control memory only operate selectively, depending on the results achieved on track by their owners.

A classic example of this is the current saga regarding the number of pit stops. Voices have been raised to underline the fact that various ....
2013 Monaco Grand Prix - PreviewFormula One's most famous race, the Monaco Grand Prix, takes place around the streets of the principality on Sunday 26 May for the 71st time.

◾ Just three of the past 30 Monaco Grands Prix have been won by a car starting outside the top three
◾ The race has a very high 80% risk of Safety Car intervention with a total of 14 Safety Car periods in the past ten years
◾ Last year's race featured just 25 pit stops for tyres, the second lowest figure of the entire season (after Austin, 24 stops)
....
2013 California Ferrari
---
2013 Elantra Coupe Hyundai
---
2013 Genesis Hyundai
---
2013 IPL G Convertible Infiniti
---
2013 W04 Mercedes-Benz
---
2012 A5 DTM Audi
---
2012 Zagato Coupé BMW
---
2012 458 Italia Ferrari
---
2012 458 Spider Ferrari
---
2012 458 Spider Monaco Edition Ferrari
---
blog comments powered by

Disqus