2012 Keeneland Concours d'Elegance Features Packard Automobiles
The 9th annual Keeneland Concours d'Elegance will once again bring more than 150 classic and collector automobiles and motorcycles to the grounds of the historic Keeneland Race Course on Saturday, July 21, 2012. This year's featured marque is Packard, and collectors from across the country will compete for trophies in 18 classes of classic, vintage and exotic autos and motorcycles. Packard autos will be divided into pre-war and post-war classes. Other featured classes include the Motorcycle Preservation Class and the Racing Class with historic NASCAR racers. Organizers expect this year's event to be the largest ever, with collector automobiles from across the country and thousands of visitors to the event on the lush lawn of the Keeneland Race Course. 'We're thrilled with the support we have received from Lexington and the surrounding area as more and more people visit the show and surrounding events each year,' said Tom Jones, chairman of the Keeneland Concours d'Elegance. 'We expect an even bigger year with our 2012 show.'

Packard cars were manufactured from 1899 to 1958 in Detroit and South Bend, Ind. Packards were the top luxury cars of their day, owned by celebrities and captains of industry. Packards introduced many innovations, including the first production 12-cylinder engine and the first air conditioning in a passenger car. Other collectible cars expected to be on display include: – A 1957 Chevrolet Bel Air convertible with a rain-sensing top and a cigarette-ash evacuation system. – A Muntz Jet sports car designed to compete with the early Corvettes. – A 1948 Nash Ambassador with a conditioned air system. In addition to the Concours d'Elegance, events include the Concours Preview Party and Maserati Mingle, June 15; Bourbon Tour, July 19; Hangar Bash, July 20; Car Club Paddock, Silent Auction, Sports Car Raffle and Gear Down Party July 21; and the Tour d'Elegance, July 22. The Keeneland Concours d'Elegance is a 501(c)(3) organization and all proceeds support Kentucky Children's Hospital, which serves children's healthcare needs throughout Central Kentucky. For more information, visit www.keenelandconcours.com or call 859-422-3329 or follow the Concours on Facebook.
Recent Articles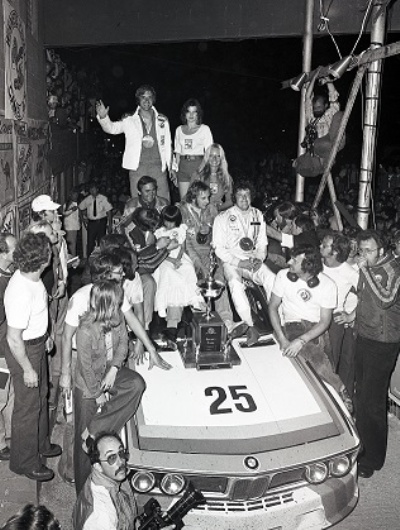 BMW's 'BATMOBILES' SET FOR 19th ANNUAL AMELIA CONCOURSScheduled to appear in the 19th Annual Amelia Concours' BMW 3.0 CSL 'batmobile class' are not only the 1975 Sebring 12 Hour and '76 Daytona 24 winners, but Alexander Calder's 1975 Le Mans 3.0 CSL with his trademark signature on the left rear fender.

BMW's 'Batmobile' racers were glorious mutants. They arrived from Europe wearing a frosting of giant wings, huge fender boxes and big spoilers, all powered by a 430 hp straight-six engine that made a glorious noise and propelled BMW's luxury cou....
400TH BUGATTI VEYRON SOLD – THE VEYRON BEGINS ITS FINAL LAPJust 50 models of the super sports car are still available

• 400th Veyron is a Grand Sport Vitesse 'Jean-Pierre Wimille' of the six-part edition 'Les Légendes de Bugatti'

• Head of Bugatti Wolfgang Schreiber, 'A unique success story about the most exclusive and luxurious super sports car brand in the world'


Molsheim, 5 December 2013. Bugatti has sold its 400th Veyron. Since the production run of the Veyron and its variants is limited to just 450 models, thi....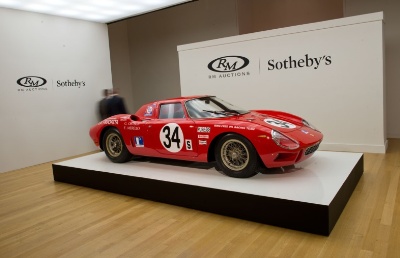 RM Auctions and Sotheby's Stun the Market with Incredible $63 Million 'Art of the Automobile' Sale in New York• RM Auctions and Sotheby's momentous Art of the Automobile auction generates $62,797,500 of sales in two hours of furious bidding
• Records tumble with the historic 1964 Ferrari 250 LM by Carrozzeria Scaglietti achieving $14,300,000 while the stunning 1938 Talbot-Lago T150-C SS Teardrop Cabriolet by Figoni et Falaschi sells for $7,150,000
• 93 percent of all lots sold to an international audience of bidders representing 17 countries
• Full results are available online at www.rmauctions.c....
Expert Symposium Delivered to Packed Room Ahead of 'Art of the Automobile' New York Sale• RM Auctions and Sotheby's deliver highly outstanding expert symposium to more than 700 people
• Six hugely influential and respected specialists set the scene in advance of truly groundbreaking Art of The Automobile sale
• Anticipation building for what is being regarded as one of the finest and most innovative collector car auctions ever held

NEW YORK, New York (November 20, 2013) – The eyes of the collector car community are firmly fixed on New York, as RM Auctions and Sotheby's,....
AMELIA ISLAND CONCOURS D'ELEGANCE WINS PRESTIGIOUSThe annual International Historic Motoring Awards, in association with EFG International and Octane magazine, announced this week that the Amelia Island Concours d'Elegance has been named the recipient of the 2013 Motoring Event of the Year award.

The Amelia Island Concours d'Elegance is the third winner of the Motoring Event of the Year Award, which honors automotive celebrations from Australia, Germany, Italy, the United States and the United Kingdom. Finalists in the 2013 events category ....
Gooding & Company Celebrates 10th Anniversary as Global Appreciation of Cars Push Markets to New High in 2013SANTA MONICA, Calif. (November 11, 2013) – The mystique of collectable cars continues to expand enthusiasm and buyer participation around the globe. In 2013, Gooding & Company, the auction house acclaimed for selling the world's most significant and valuable collector cars, celebrated its 10th anniversary and saw new and returning bidders flock to its three auctions. Demonstrating Gooding & Company's power in the marketplace is an annual auction total of $192.6 million for 286 lots with a....
Mecum's 2014 Schedule Expands To Include East Coast AuctionMecum Introduces New Auction in Harrisburg, Pennsylvania, July 24-26, 2014

Walworth, WI - November 12, 2013 -- Mecum Auctions – the largest collector car auction company in the world – will introduce a new auction to its already vast 2014 lineup extending its reach further into the East Coast. With 12 classic and collector car auctions and four vintage tractor auctions on the 2014 docket, Mecum will take the action to Harrisburg, Penn., in July for three days with an expected 1,....
'Best of Show' Named at 2013 Hilton Head Island Motoring Festival & Concours d'EleganceHILTON HEAD ISLAND, S.C. (Nov. 3, 2013) – The coveted 'Best of Show' and 'People's Choice' honors were awarded today at the prestigious Hilton Head Island Motoring Festival & Concours d'Elegance, held at the Port Royal Golf Club on Hilton Head Island, S.C.

The top honor at Sunday's Concours d'Elegance, 'Best of Show,' was awarded to a 1929 Stutz Supercharged Coupe owned by Richard and Irina Mitchell of Montgomery, Texas. This car is the only example of its kind still in existence.
....
2013 Dodge Viper GTS Launch Edition
---
2013 Ford GTR1
---
2013 McLaren MP4-12C SPIDER
---
2012 Bentley Mulsanne Convertible Concept
---
2011 Chevrolet Camaro SS Indy Pace Car
---
2011 Chevrolet Caprice Police Car
---
2006 Chevrolet Corvette Z06 Indianapolis 500 Pace Car
---
2004 Chevrolet Corvette
---
2004 Chevrolet SSR
---
2002 Chevrolet Bel Air Concept
---