Spanish GP - Alonso second in Montmelò and leading the Championship
Another two sided afternoon for Scuderia Ferrari, with one driver on the podium and one out of the points. Fernando Alonso finished second at the end of a race in which he was in contention for the win from start to finish, while Felipe Massa finished fifteenth, having been given a penalty at a crucial point. With the first quarter of the championship completed, Fernando leads the Drivers' championship equal on points with Vettel, while the Scuderia remains fourth in the Constructors. Stefano Domenicali: We came to Spain with the double objective of making progress in terms of performance and for Fernando to stay in touch with the leaders of the Drivers' classification: this afternoon we can say we achieved both our goals. It's a shame for Felipe who has been plagued with bad luck all weekend: yesterday there was traffic in qualifying and today, a penalty probably prevented him from finishing in the points after he had made up a lot of places at the start. Once again, Fernando drove an extraordinary race, fighting for the win from the first to the last lap. There were some unfortunate incidents, getting past Pic for example, but we must always admit that, in the closing stages of the final stint of the race there was no longer a margin to attack Maldonaldo. I want to take this opportunity to congratulate Pastor for his first Formula 1 win and Williams for returning to winning ways after a break of several years: yesterday, Sir Frank shared with the world of F1 a celebration for his seventieth birthday and it seems that someone up there was also aware of it and wanted to give him a present! As from tomorrow, we will return to thinking about the development of our car, because we are not yet fast enough to fight consistently for a podium finish, which is the only option if we want to be in the hunt for the title. The championship is incredibly finely balanced, as can be seen from the fact we have had five different winning teams in as many Grands Prix. Despite all the difficulties we have experienced in this first part of the season, Fernando leads the classification along with the reigning champion: this must be a boost for all our people who work at home and at the track. We expect Felipe to react and fight back after this unlucky weekend, starting in Monaco: we absolutely need his points to also fight for the Constructors' title.' Fernando Alonso: 'This second place feels like a victory. Having finished the race in Sakhir almost a minute off the winner, today we overtook one of the two Red Bulls and we fought right to the very end for the win. On top of that, we have made up a lot of points on the Red Bull and the McLaren drivers, which makes the outcome of this weekend even more positive. At the end of the second stint of the race came the key moment: maybe Maldonaldo pitted a bit early and we stayed out on track, but we lost time behind a backmarker for a whole lap, partly because there was a yellow flag on the last part of the main straight. Then, with seven laps to go, I suddenly lost grip at the rear: I asked the team if something was broken because the handling of the car changed from one moment to the next, for no apparent reason. However, in the final stages, the Williams was still very quick and, right at the end, we were also lucky to hang onto second place as Kimi was coming back at me. This championship is very hard to interpret with all the different winners and the performance of the top teams going up and down from race to race. We definitely did not do the best job when it came to designing the car – there is still much to do – but we can be proud of how we got the most out of our potential, probably over and above the limits of the car. After two Grands Prix – China and Bahrain – where we suffered a lot, to be back for the podium is very positive and gives us confidence for the rest of the Championship. We must continue to bring updates all the time for the car, because it is all very close and the slightest thing can make the difference.' Felipe Massa: 'Today my race was affected by a penalty that I had to take on lap 28. Honestly, I don't think I did anything wrong and I believe it is better to look into the detail of what happened, because I was in the middle of a group of cars and I definitely did not try to overtake anyone. It's a real shame, because up until then, the race was going well for me and a place in the top ten was comfortably within my reach. I was in the group with the Red Bulls and the McLarens and I could match their pace. I had a good opening lap when I managed to make up a lot of places. I am happy that Fernando was able to fight for the win all the way to the end, as it shows our car's potential has definitely improved: we still don't have the quickest car but it seems we are going down the right road. I want to congratulate Pastor, who is a great friend: the taste of a first Formula 1 win is something amazing and I can understand how he feels right now.'

Pat Fry: 'In the race, we again confirmed that we have made a step forward in terms of the performance of our package, but it is not yet enough. Also today, we managed to make the most of our potential with Fernando, while Felipe was definitely not lucky with the penalty that ruined what, up to that point, had been a pretty good race. We knew tyre degradation would be the key and so it turned out. The fight with Maldonaldo was very close and maybe some incidents played a deciding role, such as at the time of the second stop and in the final moments of the race, when Fernando suddenly felt a drop in performance, the causes of which are not yet clear. Second is an absolutely positive result but, to make an objective evaluation, we have to take into account all the elements over the weekend, even those outside our own operation, which produced this race result. There is still a lot of work to do to have a car that is really capable of fighting for the win at every track and in all conditions. Having said that, I am equally sure that having one of our drivers leading the classification, even if he is equal on points with Vettel, represents a reward for the work everyone has done to raise our performance level and it is also a further motivation to do even better in the near future.'
Recent Articles
Usually In The Red In MonacoMaranello, 20 May – It's been many, too many years since the roulette wheel has stopped on Red in Monte Carlo. The last time a Ferrari won the Monaco Grand Prix was back in 2001, when Michael Schumacher and Rubens Barrichello secured an amazing one-two. Since then, no Ferrari has been first past the chequered flag, even in those years when Maranello's technical superiority seemed beyond doubt, such as 2002 and 2004.

However, there have been plenty of podium finishes in the past eleven....
Felipe Massa surprises fans in a Scuderia Ferrari Formula OneTM car at the Shell V-Power Nitro+ show in WarsawFelipe Massa brought Warsaw to a standstill today as he drove a Ferrari Formula One car through the city streets as part of the Shell V-Power Nitro+ Show.

There was a fantastic atmosphere as over 30,000 Ferrari fans turned out to witness Shell's first ever street demonstration with a Ferrari Formula One car in Poland and celebrate the launch of Shell's new gasoline, Shell V-Power Nitro+.

Massa demonstrated the power and performance of a Ferrari F60 around a specially-designed stree....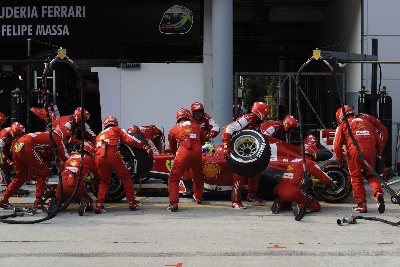 THE HORSE WHISPERER – TYRED AND EMOTIONALThese are difficult times for people with poor memories. Maybe it's because of the huge amount of information available today that people are too quick to talk, forgetting things that happened pretty much in the recent past. Or maybe the brain cells that control memory only operate selectively, depending on the results achieved on track by their owners.

A classic example of this is the current saga regarding the number of pit stops. Voices have been raised to underline the fact that various ....
Double Duties For Massa In MaranelloMaranello, 15 May – Felipe Massa was working in Maranello today. The Brazilian tackled a session in the simulator as part of the preparations for the Monaco Grand Prix, which is Felipe's second home race, as he and his family live just a stone's throw from the track. Felipe also took the opportunity to go over the F138's short and mid-term development programme with the Scuderia engineers.

Felipe also made an unexpected visit to the renovated Ferrari Store at Maranello, its new look h....
DOMENICALI: 'A WIN WITHOUT IFS OR BUTS'Maranello, 14 May – Good traditions are always upheld and there is no exception to that rule at Maranello. That's why, after yesterday's flag raising, today it was time for the buffet with the men and women of the Scuderia, who all gathered together in the Logistics building to celebrate Fernando Alonso's win and Felipe Massa's third place in the Spanish Grand Prix.

'It's always nice to come together at moments like this, but it's important not just because of the result pure and simpl....
FDA: FUOCO DOES THE DOUBLE AT IMOLAImola, 12 May –16 year old Antonio Fuoco wanted to have his say on what has been a very special Sunday for Scuderia Ferrari. On the same weekend that Fernando Alonso and Felipe Massa made it to the Barcelona podium, Fuoco did an amazing double, winning both races in the Formula Renault Alps series at the Imola circuit.

Fuoco, at only his second ever event in the category, collected the maximum points available. In qualifying, he took a peremptory pole position, setting a time no less ....
2014 LaFerrari Ferrari
---
2013 E21 Lotus
---
2012 458 Spider Ferrari
---
2012 F2012 Ferrari
---
2012 Grand Cherokee SRT8 Ferrari Red Jeep
---
2011 150° Italia Ferrari
---
2011 458 Italia Ferrari
---
2011 R31 Renault
---
2011 STR6 Scuderia Toro Rosso
---
2010 F10 Ferrari
---
blog comments powered by

Disqus