Mercedes-Benz DTM drivers comment on the third race of the season at Brands Hatch
• Mercedes-Benz has won three out of the six DTM races at Brands Hatch • David Coulthard (Scotland), Jamie Green (England), Gary Paffett (England) and Susie Wolff (Scotland) aiming to excel in their home race • Mercedes-Benz leads driver, team and constructor standings in DTM 2012 • Brands Hatch has been staging DTM races since 2006; at just 1.93km in length, it is the shortest track on the race calendar – with the obvious exception of the show event in Munich's Olympic Stadium; the drivers complete a total of 98 laps, equivalent to a total distance of 189.04 kilometres. • Facts and figures on all Mercedes-Benz drivers, teams and the C-Coupé at: www.media.daimler.com Drivers' comments on the third race of the season at Brands Hatch:

Gary Paffett (31, England, THOMAS SABO Mercedes AMG C-Coupé): • leads the 2012 DTM drivers' championship after two races with one win and one second place • started from the front row in the 2011 race at Brands Hatch 'It's great to be returning to Brands Hatch for my home race and to be showcasing DTM racing for the British fans. In the early stage of my career, I used to compete at Brands Hatch three or four times a year, so I have very fond memories of the circuit and the races there. I'm especially looking forward to welcoming my Vodafone McLaren Mercedes team-mate Jenson Button who is making a guest appearance at Brands Hatch this weekend. He'll be giving me a lift in the Mercedes 'race taxi'. It will be quite a novel experience for me sitting in the passenger seat! The track is very demanding and represents a major challenge on the calendar. A single lap is very short, but we complete almost 100 of them, so it's a tiring weekend. I aim to send the British fans home satisfied with a result that matches the first two races of the season.' Jamie Green (29, England, Mercedes AMG C-Coupé): • second and fourth places in the first two races – plus two fastest laps • currently second in the DTM drivers' standings 'It's easy to get the wrong impression about Brands Hatch; it may be short, but it's also extremely tricky. In the race, we need to stay fully focused for all 98 laps – you can't afford to slacken off for a second. Last year, I was very quick in the dry and I also posted the fastest time in Q3. I'd like a repeat of that this year and to continue the good run of results so far in 2012. Although Brands Hatch is my home race, I only drove there a couple of times before joining the Mercedes-Benz DTM line-up. That just increases my resolve to fight for the win on Sunday.' Christian Vietoris (23, Germany, Mercedes-Benz Bank AMG C-Coupé): • already has one Brands Hatch podium in the 2009 Formula 3 Euro Series • currently ranks sixth after two races in the 2012 DTM season 'Brands Hatch is a strange sort of circuit that places great demands on both the driver and the car. There are relatively few corners, and a lap is very short. Consequently, the vehicle setup and handling out on the track have to be in perfect harmony to get the most out of the car. At Brands Hatch, the starting field will be more evenly matched than at any time before in the DTM – a tenth of a second in qualifying can make a huge difference in terms of grid position.' Ralf Schumacher (36, Germany, Mercedes AMG C-Coupé): • qualified fourth at Brands Hatch in 2010 'The first two race weekends of the 2012 season haven't quite gone to plan for me, but at least I was able to score points in both races, and I feel that I've adapted well to our new Mercedes AMG C-Coupé. Brands Hatch looks deceptively simple, but it's a real driver's circuit. The corners are very tight, so your car needs to be really well balanced. This weekend, a lot will depend on getting a good grid position in qualifying. If I can do that, I should be able to grind out a decent result.' David Coulthard (41, Scotland, DHL Paket Mercedes AMG C-Coupé): • won two out of three races in the 1991 British Formula 3 Championship at Brands Hatch • is about to contest his third DTM race at the venue 'Between 1991 and 2010, I didn't drive a single race at Brands Hatch, so it's all the more gratifying to pay this annual visit with the DTM and to experience the excitement generated by the British racing fans. Brands Hatch is an unusual and difficult track that is very unforgiving if you make a mistake. Early on in my career, I won two Formula 3 races there, plus I finished third in the Formula Ford Festival. So I have a pretty good track record at Brands Hatch, and now I'm aiming to score a good result in the DTM as well.' Susie Wolff (29, Scotland, TV Spielfilm Mercedes AMG C-Coupé): • has competed in all six races at Brands Hatch since the venue made its DTM debut in 2006 • finished on the podium twice at Brands Hatch in the 2004 British Formula Renault 2.0 Series 'After two back-to back races at the start of the season, I'm looking forward to the third race weekend of 2012 at Brands Hatch. The track is just eight hours from my native Scotland, but for me it still counts as a home race, which makes for an exciting weekend. There isn't a big difference in lap times over such a short distance, and it's not easy to overtake here. This means that qualifying plays a crucial role.' Norbert Haug, Vice-President Mercedes-Benz Motorsport: 'At Brands Hatch, you can almost smell the motor racing heritage. This track is a classic. The short layout where the DTM is making its annual appearance may look straightforward, but therein lies the difficulty. The drivers are under constant pressure for all of the 98 laps. It's just one corner after another, each of which is completely different from the one before. Even the two straights don't allow time for a breather. 'The importance of qualifying in the DTM was once again illustrated in the last race at the Lausitzring: being faster than the opposition in the race is not enough to secure a win unless you also start at or near the front. That's why, at Brands Hatch this coming Saturday, we will see the biggest qualifying showdown in the history of the DTM: I'm quite sure of that. Everyone wants pole position – but only one driver can have it.'
Recent Articles
Mille Miglia, participants go across the Emilian region that was hit by the earthquakeMirandola, Medolla, Moglia, Guastalla. These are some of the Emilian city centers most affected by the 2012 earthquake. Today – almost a year away – the Red Arrow visits the places hit by a tragedy that is still so felt by the Emilian population.

Reggio Emilia, 18 May 2013 – It is the only real deviation from the traditional Mille Miglia race route, the one that the 24 historic speed editions followed from 1927 al 1957. About one year has passed since the earthquake severely hit Emilia....
FDA: FUOCO DOES THE DOUBLE AT IMOLAImola, 12 May –16 year old Antonio Fuoco wanted to have his say on what has been a very special Sunday for Scuderia Ferrari. On the same weekend that Fernando Alonso and Felipe Massa made it to the Barcelona podium, Fuoco did an amazing double, winning both races in the Formula Renault Alps series at the Imola circuit.

Fuoco, at only his second ever event in the category, collected the maximum points available. In qualifying, he took a peremptory pole position, setting a time no less ....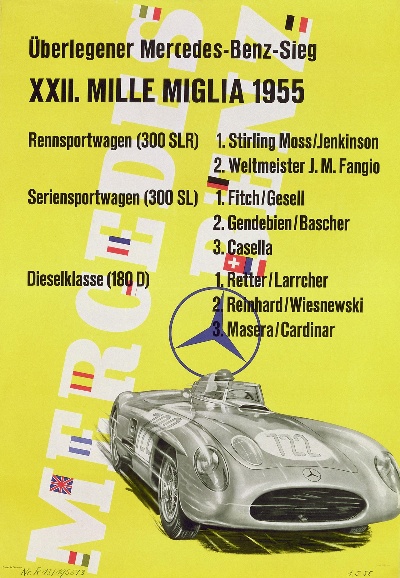 MILLE MIGLIA: MERCEDES-BENZ AS MAIN AUTOMOTIVE SPONSOR- Green light given for long-term partnership
- Another brand ambassador at Mille Miglia 2013: Marcel Tiemann

Mercedes-Benz is the main automotive sponsor of Mille Miglia. The corresponding agreement was reached between Mercedes-Benz Classic and 1000 Miglia S.R.L. in Brescia (Italy), with the aim of establishing a long-term collaboration. Mercedes-Benz Classic will be represented at this year's event with a number of vehicles, as well as five famous faces taking up their position at the star....
Vettel And Coulthard Versus The Sochi CircuitSebastian Vettel, Infiniti's Director of Performance, and David Coulthard drive much of Russia's new Sochi Circuit, which is still under construction, in a pair of Infiniti M cars and give their thoughts and comments ahead of the Krasnodar Krai region's inaugural Grand Prix in 2014.

Once complete, the 3.7 mile Sochi Olympic Park Circuit, which will host the 2014 Winter Olympic Games, will be the third longest circuit on the Formula One calendar behind Spa-Francorchamps in Belgium and Silverst....
GRC PERSONALITIES // IN THE WORDS OF SCOTT SPEED: FROM GO-KARTS TO GLORYGRC Personalities is a new series in which Global Rallycross drivers tell their stories in their own words. In the series debut, X Games Brazil gold medalist Scott Speed walks us through his career, from the very beginning to X Games glory.

In the beginning, little baby Speed used to follow his dad to the go-kart races. My dad used to race go-karts—he was a four-time national champion, he was really good. I finally talked him into letting me drive one when I was about ten years old, and after....
TEST COMPARISON BETWEEN FORMULA 1 AND MERCEDES-AMG CARS• Nico Rosberg, Bernd Schneider, Karl Wendlinger and Bernd Maylander

• Mercedes-AMG Performance Drive: Formula 1 versus Mercedes-Benz A 45 AMG, E 63 AMG, SLS AMG Black Series and SLS AMG GT3

• Nico Rosberg in Mercedes-Benz SLS AMG Black Series: 'It will be interesting to see how long Michael can delay starting before catching up with us at the finish.'


As part of the programme for the 24-hour race on 19th May 2013, Mercedes-Benz will put on a special event highlight for....
Disappointing DTM opener for Audi• Timo Scheider in sixth place best Audi driver at Hockenheim

• Two Audi RS 5 DTM cars in the points

• 87,000 spectators experience turbulent start into the season


With an Audi RS 5 DTM at the front of the field, the new DTM season started at Hockenheim with 87,000 spectators (throughout the weekend) in attendance. After 42 spectacular laps with plenty of on-track action and gripping overtaking maneuvers the opening round ended in a disappointment for Audi. With Timo ....
BMW TEAM RLL READY FOR THE NEXT ALMS ROUND AT LAGUNA SECA AFTER SUCCESS AT LONG BEACHThe 2013 American Le Mans Series is back on track this Saturday at Laguna Seca Raceway, in Monterey, California, with the four-hour American Le Mans Monterey.

The first two races of the debut season of the BMW Z4 GTE have been strong ones for BMW Team RLL, with fourth and seventh place finishes at the 12 Hours of Sebring and, thanks to excellent strategy, an outstanding 1-2 finish at Long Beach. BMW stands second in GT class manufacturer points. With the win at Long Beach in the No. 55 Z4 GTE....
2013 RS 5 DTM Audi
---
2013 M3 DTM Champion Edition BMW
---
2013 Z4 GTE BMW
---
2013 MP4-28 McLaren
---
2013 P1 Concept McLaren
---
2013 SLS AMG Electric Drive Mercedes-Benz
---
2013 SLS AMG GT3 Mercedes-Benz
---
2013 SLS AMG GT3 45th Anniversary Mercedes-Benz
---
2013 W04 Mercedes-Benz
---
2013 Twizy RS F1 Concept Renault
---
blog comments powered by

Disqus