Free Weekend Camping at Sahlen's Six Hours of The Glen
One of the most affordable and family friendly events on the Watkins Glen International schedule is just a bit more accessible. The Glen announced FREE camping is available for Sahlen's Six Hours of The Glen, where Kids and Teens 18 and under are already free. Known for its unlimited access this GRAND-AM event weekend is now even more of a not-to-be missed event. 'Value is King in this economy,' Watkins Glen International track president Michael Printup said. 'Families look for the ideal staycation and there is no better introduction to the professional world of motorsports than NASCAR's GRAND-AM Road Racing Series.' The free camping offer is good for the Gate 1 Camping section, located a short distance from the back straight and west infield tunnel, and features permanent showers and restrooms, street lighting and fresh water spigots. The unreserved camping area will expand this year as fans join the Boy Scouts of America who are in attendance for the annual Pinewood Derby Race of Champions. Anyone interested in taking advantage of this outstanding opportunity may obtain the Gate 1 camping access upon entering through Gate 2. There is no need to purchase FREE Gate 1 Camping access in advance. Admission for all who camp is required and tickets for the weekend start at just $35 for three days of GRAND-AM Road Racing at The Glen.

Tickets for the 2012 season at Watkins Glen International are on sale now! Fans can purchase their tickets and camping by phone 866.461.RACE (7223) or online at www.TheGlen.com. Gift certificates, tickets and track merchandise are available for purchase at The Shop located at 2 North Franklin Street in downtown Watkins Glen. The Shop is open 9 a.m. – 6 p.m. Monday-Friday and 9 a.m. – 5 p.m. Sunday. Keep up with The Glen on Facebook and Twitter.
Recent Articles
GRC PERSONALITIES // IN THE WORDS OF SCOTT SPEED: FROM GO-KARTS TO GLORYGRC Personalities is a new series in which Global Rallycross drivers tell their stories in their own words. In the series debut, X Games Brazil gold medalist Scott Speed walks us through his career, from the very beginning to X Games glory.

In the beginning, little baby Speed used to follow his dad to the go-kart races. My dad used to race go-karts—he was a four-time national champion, he was really good. I finally talked him into letting me drive one when I was about ten years old, and after....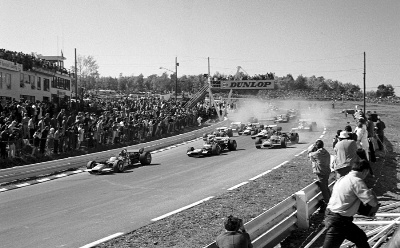 1969 United States Grand Prix: The Rise of RindtIf there was one racer in the Formula One paddock that drivers and spectators alike believed should have scored his first victory before the start of the 1969 season it would almost unanimously be Jochen Rindt. Fast and flamboyant, the Austrian exhibited car control that enthralled just about everyone it seemed, except perhaps the cars themselves. Constantly undercut by poor reliability, it seemed Rindt was to forever suffer under such an oppressive weight. However, at the 1969 United States Gra....
What were some of the best/most dominant sports cars in the premier classes at The Glen?This year's Sahlen's Six Hours of The Glen will be the final trip for the GRAND-AM Rolex Sports Car Series to Watkins Glen International. In 2014, Grand-Am and the American Le Mans Series will have fully merged, creating new classes and different machinery competing in the same class.

The Daytona Prototypes will go head-to-head with the P2s and Delta Wing in the premier class, while four other GT-based divisions will split up a myriad of different kinds of cars.

This got us to thinking: W....
KARL LUDVIGSEN SPEAKING IN WATKINS GLEN ON APRIL 13Automobile industry insider and author/historian Karl Ludvigsen will speak about his experiences in the worlds of cars and racing on April 13 at the International Motor Racing Research Center.

The free talk, part of the on-going Center Conversations speaker series, will be at 1 p.m. at the Center located at 610 S. Decatur St., Watkins Glen, N.Y. It is open to all.

'A Lifetime on Wheels' will be an illustrated presentation based on Ludvigsen's careers as an executive in the motor industry....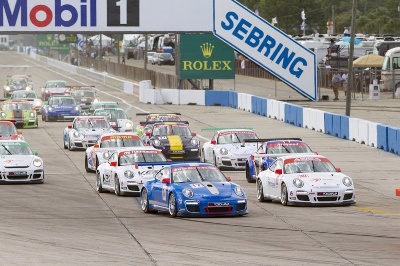 YOKOHAMA TIRE CORPORATION GEARS UP FOR THE 2013 MOTORSPORTS SEASONPlans include a new team in the ALMS GT Class and continued efforts in the GTC and GT3 Challenge series, off-road racing and drifting

FULLERTON, CA (March 7, 2013) – From desert racing to drifting, Porsche 911 GT3 to Ferrari 458, Yokohama Tire Corporation (YTC) is busy tuning up for the 2013 racing season. 'This will be an exciting year,' said Andrew Briggs, YTC director of product planning and motorsports. 'We have a new ALMS partner, a historic teaming in off-road and a strong, over....
ROD MILLEN SHOWDOWN WITH MONSTER TAJIMA IN ELECTRIC DIVISION HIGHLIGHTS THE 2013 PIKES PEAK INTERNATIONAL HILL CLIMBColorado Springs, February 11-------- A battle between two former Kings of the Mountain in the suddenly-loaded Electric Auto Division will highlight the 91st running of the Pikes Peak International Hill Climb on June 30.

Eleven new records were set last year at the second-oldest motor sports event in the USA behind the Indy 500, the first edition contested on the fully-paved 12.42 mile course with 156 turns that begins at 9,390 feet and finishes on the summit at 14,110 feet, where the....
BREAKING DAYTONA'S DAWN: CHARLES DRESSING ON DAYTONA'S MAGICOnce we raced Daytona's roval backward. Every now and then, I stumble across a photo taken when Dwight Eisenhower was President, the year Aston Martin won Le Mans and Daytona's sports cars went 'round clockwise.

Those ancient Daytona photos have a peculiar quality. The cars look dated though the track, especially the banking, looked much like it does now. But the cars are headed the wrong way – like a negative printed in reverse. It seemed unnatural. That didn't last long.

Sometimes such....
2012 United States Grand Prix - PreviewFormula One returns to the United States of America next week with the penultimate round of the 2012 Formula One World Championship to be held at the purpose-built Circuit of the Americas on Sunday 18 November.
• Austin is the 10th venue for a F1 race in the USA (after Dallas, Detroit, Indianapolis, Las Vegas, Long Beach, Phoenix, Riverside, Sebring and Watkins Glen)
• Simulations suggest the circuit has more corners over 250 kph than Spa and more below 100 kph than Hungary
• A qualifying ....
2013 Viper GTS-R SRT Dodge
---
1992 EB110 GT Bugatti
---
1990 Cutlass Oldsmobile
---
1985 288 GTO Ferrari
---
1979 935 K3 Porsche
---
1978 FW06 Williams
---
1977 Corvette Greenwood Widebody Chevrolet
---
1977 N177 Ensign
---
1974 VPJ4 Parnelli
---
1973 911 RSR Porsche
---
blog comments powered by

Disqus