Lime Rock Historic Festival, Aug 31 - Sept 3, 2012
This year's Honored Guest will be Sir Stirling Moss... No other venue in the U.S. has three days of on-track racing sandwiching a prestigious concours event – all on the same property. Since 1983, the East Coast's premier vintage racing event has been the Historic Festival and its companion 'Sunday in the Park Concours' (Sept. 2). With its famous free paddock access for all fans, Historic Festival 30 will be a feast for the senses: More than 300 vintage race cars will fill the grounds, Sir Stirling will be here for you to visit with, the Swap Meet in the Sunoco B Paddock will be packed, the Midway is always alive with activities – and the racing on the track is non-stop from 9:00 a.m. to 6:00 p.m. on Saturday and Monday. Also, there will be a very exciting Formula 1 Race Group on Saturday and Monday, thanks to Historic Grand Prix (HGP), the finest vintage racing organization for 1966 - 1983 F1 machinery. Historic Festival 30... There's nothing like it anywhere else!

More information at: http://limerock.com
Recent Articles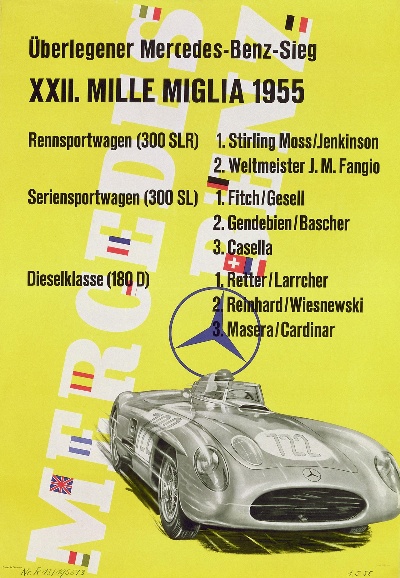 MILLE MIGLIA: MERCEDES-BENZ AS MAIN AUTOMOTIVE SPONSOR- Green light given for long-term partnership
- Another brand ambassador at Mille Miglia 2013: Marcel Tiemann

Mercedes-Benz is the main automotive sponsor of Mille Miglia. The corresponding agreement was reached between Mercedes-Benz Classic and 1000 Miglia S.R.L. in Brescia (Italy), with the aim of establishing a long-term collaboration. Mercedes-Benz Classic will be represented at this year's event with a number of vehicles, as well as five famous faces taking up their position at the star....
Stars Of Film, Fashion, Sport And Motorsport To Drive With Jaguar Heritage Racing In Mille Miglia 2013- Jaguar previews its entry into the 2013 Mille Miglia with short film featuring David Gandy, Yasmin Le Bon, Norman Dewis and Alex Buncombe: http://www.youtube.com/watch?v=eEkckuR8E-k&feature=youtu.be
- Jaguar Heritage Racing enters three C-Type and three XK120 classic cars into famous event
- Jaguar 'Bloodline' of sports cars to be celebrated with new F-TYPE joining the 1,000 mile tour

(MAHWAH, N.J.) - May 10, 2013- Jaguar has curated a unique team of drivers for its Jaguar Herita....
MOTOR SPORT'S FINEST HOURS WITH MERCEDES-BENZ CLASSIC- Jochen Mass pilots 300 SLR 'Uhlenhaut Coupé'
- Goodwood Festival of Speed: the unique motor sport festival will celebrate its twentieth anniversary

At the Goodwood Festival of Speed (11 to 14 July 2013), Mercedes-Benz Classic will draw a good deal of attention to itself by presenting legendary racing cars. There will be a taste of this at the Goodwood Press Day: racing driver Jochen Mass will be piloting the 'Uhlenhaut Coupé', the closed version of the 300 SLR (W 196 S) racing car.

'The....
KARL LUDVIGSEN SPEAKING IN WATKINS GLEN ON APRIL 13Automobile industry insider and author/historian Karl Ludvigsen will speak about his experiences in the worlds of cars and racing on April 13 at the International Motor Racing Research Center.

The free talk, part of the on-going Center Conversations speaker series, will be at 1 p.m. at the Center located at 610 S. Decatur St., Watkins Glen, N.Y. It is open to all.

'A Lifetime on Wheels' will be an illustrated presentation based on Ludvigsen's careers as an executive in the motor industry....
AUDI MAKES SEBRING THE 'HOME OF QUATTRO'First race for the Audi R18 e-tron quattro in the USA
•Farewell event for LMP1 class with historic automobile exhibition
•Dr. Wolfgang Ullrich: 'Emotional race weekend'

Ingolstadt, March 8, 2013 – It is a debut and a farewell at the same time: the Audi R18 e-tron quattro contests the 12-hour race at Sebring (Florida) in the USA for the first time on March 16 and, in doing so, makes the legendary racetrack 'home of quattro'. At the same time, it is provisionally the LMP1 sports car....
Sir Stirling Moss Returns To The Amelia ConcoursSir Stirling Moss defined the image of a professional racing driver. By the time premature retirement was forced upon him by a racing accident at Goodwood in 1962, his name meant 'racing driver'. He was every English schoolboy's hero and the inheritor of grand master and Mercedes-Benz teammate Juan Fangio's orb, scepter and crown.

In 1996 Sir Stirling was the Amelia Island Concours d'Elegance first Honorary Chairman. The cover of 'The Amelia's' 1996 collector-grade program depict....
THE UNDERDOG UPSET CHARLES DRESSING'S RETELLING OF SEBRING'S 1983 RACEAmericans love underdogs but hate losers. And we really love upsets because they turn reality inside out and generally make the mighty look weak.

So when anyone demands a prediction, I try to hide because I always remember some races that didn't quite go the way the experts reckoned: the 1954 Sebring 12 Hours, 1955 Monaco Grand Prix, the start of the 1958 Race of Two Worlds at Monza (not the whole race, but the start sure was a great moment for sports car types).

And then … there was the....
1955 Tourist Trophy: One Last VictoryThe tragedy at Le Mans on the 11th of June, 1955 would dramatically affect motor racing. For one of the manufacturers involved, Mercedes-Benz, it would be a confirmation of what it had already come to believe. Toward the end of the 1955 season it was known Mercedes-Benz would withdraw from all motor racing having achieved just about everything possible in Formula One and sportscars. However, on the 18th of September, there would be one last race in which the mighty Silver Arrows would be gunning....
2013 W04 Mercedes-Benz
---
2012 Evantra Mazzanti
---
2012 X-1 Concept McLaren
---
2011 Threewheeler Morgan
---
2010 XKR GT2 Jaguar
---
2010 GT-R Nissan
---
2009 Corvette C6.R GT2 Chevrolet
---
2009 XK Jaguar
---
2009 McLaren SLR 722 S Mercedes-Benz
---
1997 993 Turbo S Porsche
---
blog comments powered by

Disqus