Gooding & Company's Annual Pebble Beach Auctions
Gooding & Company, the acclaimed auction house celebrated for selling the world's most significant and valuable collector cars, will host its annual Pebble Beach Auctions on August 18th & 19th in association with the prestigious Pebble Beach Concours d'Elegance. Once again, Gooding & Company is poised to present an outstanding array of blue chip and concours-quality collector cars on its record-setting stage, including the elegant 1955 Maserati A6G/54 Frua Berlinetta owned by Grammy Award-winning recording artist Jay Kay, lead singer of Jamiroquai, an outstanding 1966 Shelby 427 Cobra and Prince Louis Napoleon's 1938 Bugatti Type 57C Stelvio. All three of these early consignments represent what today's savviest collectors desire most: authenticity, provenance, beauty and history. 'Our team of experts has a deep understanding of the best, the rarest, the most beautiful and the highest quality cars,' says David Gooding, President and founder. 'Therefore, we tailor all of our sales, including the Pebble Beach Auction, with exceptional consignments such as the Maserati A6G/54, Bugatti Type 57C and Shelby 427 Cobra to capture the international collecting community of buyers and sellers.' One of Gooding & Company's three annual auctions, the two-day Pebble Beach Auction sets the tone every year for the blue chip collector car market by attracting concours-quality cars of provenance and greatness in one room. Demand for the best was clear last year, when Gooding & Company realized $78 million in unprecedented overall sales with the $16.39 million 1957 Ferrari 250 Testa Rossa Prototype, a world record for a car sold at auction, and the $10.34 million Whittell Coupe Duesenberg, a world record for an American car sold at auction. 1955 Maserati A6G/54 Frua Berlinetta from the collection of Jay Kay of Jamiroquai
A car with little need for introduction, this stunning Maserati A6G/54 debuted in Paris as the 1955 Auto Show car. The Frua bodied Berlinetta with original coachwork has been the longtime property of well-known enthusiast Jay Kay, lead singer of Jamiroquai, the Grammy Award-winning, acid jazz and funk band that has sold more than 40 million albums worldwide. Under his ownership, this Maserati has won Best of Show at Salon Privé and has participated in the Mille Miglia Storica more than once. For the first time, it will be presented at auction in Pebble Beach this August. Its estimate is $1.5 - $2 million. 1966 Shelby 427 Cobra Carroll Shelby's iconic 427 Cobra is indisputably one of the most recognizable and iconic American sports cars ever created. The 1966 Shelby 427 Cobra that will be offered at the Pebble Beach Auctions is just one of 260 road cars produced. An excellent representation of what collectors look for in an authentic Cobra today, CSX 3216 has a genuine, date-coded 427 FE big block engine and has been extensively restored to its original livery of Wimbledon White over an original, beautifully-patinated, black interior. The car is equipped with a complete file of documentation dating back to its first owner. Its estimate is $750,000 - $950,000. Prince Louis Napoleon's 1938 Bugatti Type 57C Stelvio Under the pseudonym Louis De Montfort, Prince Louis Napoleon received this 1938 Bugatti Type 57C Stelvio from Molsheim on May 10, 1938. Grandson of the nephew of Emperor Napoleon I of France, the famous and highly decorated prince favored Bugattis, reputedly having owned close to three dozen in his lifetime, and this genuine, matching-numbers, black and cream Type 57C (supercharged from new) was the last one he purchased before leaving to serve in the war. From new, Napoleon specified that Bugatti add a Cotal gearbox and Houdaille shock absorbers, two rare and significant additions that remain on the car today. Its estimate is $1.3 - $1.6 million. Gooding & Company's 2012 Pebble Beach Auctions will take place on Saturday and Sunday, August 18 & 19 at the Pebble Beach Equestrian Center, located at the corner of Portola Road and Stevenson Drive. Preview days will start on Wednesday, August 15 continuing through Sunday, August 19. The auctions will commence at 5:00 p.m. on Saturday and 6:00 p.m. on Sunday. Gooding & Company's Pebble Beach Auctions catalogues are available for $100 and admit two to the viewing and the auctions. General admission tickets to the viewing and auctions may be purchased on site for $40. Auctions are broadcast live from Gooding & Company's website. Bidder registration forms, press credentials and additional auction information are also available on http://www.goodingco.com or by calling (310) 899-1960. For additional vehicle information and up-to-the-minute results, follow Gooding & Company on Facebook and Twitter @GoodingCompany. About Gooding & Company Gooding & Company, internationally celebrated for its world-class automotive auctions, provides unparalleled service in the collector car market, offering a wide range of services including private and estate sales, appraisals and collection management. In the past two years, Gooding & Company has realized the most prestigious automotive records in the world for a Car Sold at Auction with the iconic 1957 Ferrari 250 Testa Rossa Prototype at $16.39 million, an American Car at Auction with the 1931 Whittell Coupe Duesenberg Model J at $10.34 million, and the undisclosed private treaty sale of the world's Most Valuable Car with the 1936 Bugatti Type 57SC Atlantic. The auction house has realized extraordinary results thus far in 2012 at its annual Scottsdale Auctions in January with more than $39.8 million in sales and 98% sold, and its annual Amelia Island Auction in March with more than $36 million in sales and 91% sold. Renowned for its annual standing as the official auction house for the Pebble Beach Concours d'Elegance, Gooding & Company will return to Pebble Beach, California on August 18 & 19, 2012.
Recent Articles
Tom Fritz Creates The 19Th Annual Amelia Island Concours D'elegance PosterThe posters for the Amelia Island Concours d'Elegance have become collectible car art and the 2014 edition is no exception. Today the Concours revealed that the 19thannual event poster was created by famed hot rod artist Tom Fritz and honors Jochen Mass on the 25th anniversary of his victory in the 1989 24 Hours of Le Mans driving his Mercedes-Benz Sauber C9. The beautiful piece takes creative cues from the first Amelia poster in 1996, well-known for honoring the record-setting drive of Sir Stir....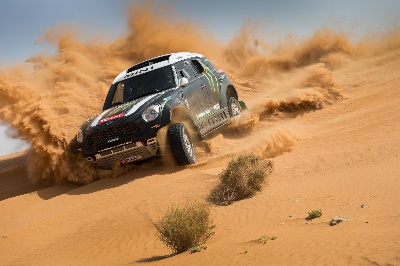 MINI AND THE X-RAID TEAM WILL LINE UP AT THE 2014 RALLY DAKAR WITH THE MINI ALL4 RACINGMunich (DE). From 5-18 January 2014, MINI will be lined up with eleven MINI ALL4 Racing, run by the X-raid Team, at the Rally Dakar. In 2012 and 2013 the MINI ALL4 Racing was the car to beat at the toughest marathon rally in the world. Frenchman Stéphane Peterhansel won the most recent two Dakar editions at the wheel of the MINI ALL4 Racing of the Monster Energy X-raid Team.

'Motorsport is in the DNA of MINI. Since its birth in the late 1950s, the MINI brand has been intrinsically associated....
1958 FERRARI 250 GT LWB CALIFORNIA SPIDER STARS AT RM'S 15TH ANNUAL ARIZONA SALE• RM Auctions announces latest highlights for its two-day Arizona auction, January 16 – 17 in Phoenix, led by a highly prized 1958 Ferrari 250 GT LWB California Spider
• Most recent blue-chip entries join a spectacular roster of more than 120 handpicked automobiles for the sale at the beautiful Arizona Biltmore Resort & Spa
• Frequently updated list of entries available online at www.rmauctions.com

BLENHEIM, Ontario (December 10, 2013) – RM Auctions, the world's largest auctio....
Maserati Celebrates 100th Anniversary as Featured Marque of the Rolex Monterey Motorsports ReunionAugust 14-17 at Mazda Raceway
MONTEREY, Calif., December 10, 2013 — The Rolex Monterey Motorsports Reunion will celebrate the rich 100-year history of Maserati, one of Italy's iconic luxury sports car brands that throughout the century has been deeply rooted in racing. The celebration will be held August 14-17, 2014 at Mazda Raceway Laguna Seca.

The Monterey Classic Car Week and Rolex Monterey Motorsports Reunion is a haven for international classic car enthusiasts. Centered a....
Recall the Auto Avio 815 at the Maranello MuseumMaranello, 9 December – On Wednesday 11 December at 17h30, the Ferrari Museum in Maranello will hold a presentation for the book, 'La Prima corsa di Enzo Ferrari,' (Enzo Ferrari's first race) written by Gian Paolo Maini. Also present apart from the author, will be the Vicepresident of the Maranello marque and son of the Founder, Piero Ferrari and Claudio Rangoni Machiavelli, grandson of the marquis Lotario, the other protagonist of the volume edited by Imprimatur.

The book tells the ....
Car Expert Hans Wurl Joins Gooding & Company's Team of Classic Automobile SpecialistsSANTA MONICA, Calif. (December 9, 2013) – Gooding & Company, the official auction house of the Pebble Beach Concours d'Elegance®, is expanding its existing team with the addition of Hans Wurl, a well-known classic car specialist with a strong technical background. Wurl has served as advisor to noted collectors and participated in some of the best collector car events around the world. Based in Seattle, Wurl joins Gooding & Company's team of respected automotive specialists David Brynan,....
2014 BMW Z4
---
2014 Ferrari LaFerrari
---
2014 Ford Mustang U.S. Air Force Thunderbirds
---
2013 BMW Z4
---
2013 Dodge Viper GTS Launch Edition
---
2013 Ford 1000 S/C
---
2013 Ford GT500 Super Snake Wide Body
---
2013 Ford GTR1
---
2013 Ford Mustang Red Tail Edition
---
2013 McLaren MP4-12C SPIDER
---