Gooding & Company's Annual Pebble Beach Auctions
Gooding & Company, the acclaimed auction house celebrated for selling the world's most significant and valuable collector cars, will host its annual Pebble Beach Auctions on August 18th & 19th in association with the prestigious Pebble Beach Concours d'Elegance. Once again, Gooding & Company is poised to present an outstanding array of blue chip and concours-quality collector cars on its record-setting stage, including the elegant 1955 Maserati A6G/54 Frua Berlinetta owned by Grammy Award-winning recording artist Jay Kay, lead singer of Jamiroquai, an outstanding 1966 Shelby 427 Cobra and Prince Louis Napoleon's 1938 Bugatti Type 57C Stelvio. All three of these early consignments represent what today's savviest collectors desire most: authenticity, provenance, beauty and history. 'Our team of experts has a deep understanding of the best, the rarest, the most beautiful and the highest quality cars,' says David Gooding, President and founder. 'Therefore, we tailor all of our sales, including the Pebble Beach Auction, with exceptional consignments such as the Maserati A6G/54, Bugatti Type 57C and Shelby 427 Cobra to capture the international collecting community of buyers and sellers.' One of Gooding & Company's three annual auctions, the two-day Pebble Beach Auction sets the tone every year for the blue chip collector car market by attracting concours-quality cars of provenance and greatness in one room. Demand for the best was clear last year, when Gooding & Company realized $78 million in unprecedented overall sales with the $16.39 million 1957 Ferrari 250 Testa Rossa Prototype, a world record for a car sold at auction, and the $10.34 million Whittell Coupe Duesenberg, a world record for an American car sold at auction. 1955 Maserati A6G/54 Frua Berlinetta from the collection of Jay Kay of Jamiroquai
A car with little need for introduction, this stunning Maserati A6G/54 debuted in Paris as the 1955 Auto Show car. The Frua bodied Berlinetta with original coachwork has been the longtime property of well-known enthusiast Jay Kay, lead singer of Jamiroquai, the Grammy Award-winning, acid jazz and funk band that has sold more than 40 million albums worldwide. Under his ownership, this Maserati has won Best of Show at Salon Privé and has participated in the Mille Miglia Storica more than once. For the first time, it will be presented at auction in Pebble Beach this August. Its estimate is $1.5 - $2 million. 1966 Shelby 427 Cobra Carroll Shelby's iconic 427 Cobra is indisputably one of the most recognizable and iconic American sports cars ever created. The 1966 Shelby 427 Cobra that will be offered at the Pebble Beach Auctions is just one of 260 road cars produced. An excellent representation of what collectors look for in an authentic Cobra today, CSX 3216 has a genuine, date-coded 427 FE big block engine and has been extensively restored to its original livery of Wimbledon White over an original, beautifully-patinated, black interior. The car is equipped with a complete file of documentation dating back to its first owner. Its estimate is $750,000 - $950,000. Prince Louis Napoleon's 1938 Bugatti Type 57C Stelvio Under the pseudonym Louis De Montfort, Prince Louis Napoleon received this 1938 Bugatti Type 57C Stelvio from Molsheim on May 10, 1938. Grandson of the nephew of Emperor Napoleon I of France, the famous and highly decorated prince favored Bugattis, reputedly having owned close to three dozen in his lifetime, and this genuine, matching-numbers, black and cream Type 57C (supercharged from new) was the last one he purchased before leaving to serve in the war. From new, Napoleon specified that Bugatti add a Cotal gearbox and Houdaille shock absorbers, two rare and significant additions that remain on the car today. Its estimate is $1.3 - $1.6 million. Gooding & Company's 2012 Pebble Beach Auctions will take place on Saturday and Sunday, August 18 & 19 at the Pebble Beach Equestrian Center, located at the corner of Portola Road and Stevenson Drive. Preview days will start on Wednesday, August 15 continuing through Sunday, August 19. The auctions will commence at 5:00 p.m. on Saturday and 6:00 p.m. on Sunday. Gooding & Company's Pebble Beach Auctions catalogues are available for $100 and admit two to the viewing and the auctions. General admission tickets to the viewing and auctions may be purchased on site for $40. Auctions are broadcast live from Gooding & Company's website. Bidder registration forms, press credentials and additional auction information are also available on http://www.goodingco.com or by calling (310) 899-1960. For additional vehicle information and up-to-the-minute results, follow Gooding & Company on Facebook and Twitter @GoodingCompany. About Gooding & Company Gooding & Company, internationally celebrated for its world-class automotive auctions, provides unparalleled service in the collector car market, offering a wide range of services including private and estate sales, appraisals and collection management. In the past two years, Gooding & Company has realized the most prestigious automotive records in the world for a Car Sold at Auction with the iconic 1957 Ferrari 250 Testa Rossa Prototype at $16.39 million, an American Car at Auction with the 1931 Whittell Coupe Duesenberg Model J at $10.34 million, and the undisclosed private treaty sale of the world's Most Valuable Car with the 1936 Bugatti Type 57SC Atlantic. The auction house has realized extraordinary results thus far in 2012 at its annual Scottsdale Auctions in January with more than $39.8 million in sales and 98% sold, and its annual Amelia Island Auction in March with more than $36 million in sales and 91% sold. Renowned for its annual standing as the official auction house for the Pebble Beach Concours d'Elegance, Gooding & Company will return to Pebble Beach, California on August 18 & 19, 2012.
Recent Articles
Spectacular 1936 Delahaye Type 135 Competition Court Coupe and 1969 Ford GT40 MKI take Best in Show at the Concours d'Elegance of TexasHouston, Texas. May 17, 2013. Last weekend, the award winning La Torretta Lake Resort & Spa in Montgomery, Texas, played host to the biggest celebration of vintage motoring in Texas, welcoming thousands of visitors through its doors for The Houston Classic Weekend and 2nd annual Concours d'Elegance of Texas. The weekend got off to a high-octane start when Concours participants took to the open road on the Texas Tour d'Elegance, led by Richard Rawlings of Fast N' Loud fame, in a newly re-s....
WHAT IS THE MILLE MIGLIA?Numerous attempts have been made to answer the question 'What exactly is the Mille Miglia?' and the responses have been carefully considered and contemplated. Many of the answers are more than valid, as they involve a Red Arrow race that encompasses a multitude of shades, facets and colors.

According to the online encyclopedia known as 'Wikipedia', the Mille Miglia is defined as the following:

'The Mille Miglia was an open-road endurance race which took place in Italy twenty-four times fro....
The BMW 328: Driving to victory for 75 years. BMW Group Classic at the 2013 Mille Miglia.BMW Group Classic is about to enter the 2013 Mille Miglia suffused with memories of a glorious premiere. It was 75 years ago that the BMW 328 sports car first lined up among the starters for this legendary long-distance event. Now BMW Group Classic is dispatching nine such models to compete in the latest edition of this historic round trip. The squad of BMW 328 models will delight classic car enthusiasts, while once again paying tribute to the tradition-steeped association between BMW and the Mi....
ICONIC BLOWER BENTLEYS PRIMED FOR MILLE MIGLIA CHALLENGEFamous, supercharged Bentleys set for 1,000 mile Italian epic
•'Bentley Boy' Tim Birkin's 1930 Le Mans racer leads charge
•Original Bentley Motors 'demonstrator' completes team

(Crewe, 14 May 2013) Bentley Motors will compete in this year's Mille Miglia with two unique 4 ½ litre Supercharged 'Blowers'; a 1930 Le Mans race car belonging to perhaps the most famous and daring of the Bentley Boys and a company demonstrator that is still going strong even after nine decades on the road.

The N....
Pinehurst Concours Economic Impact Approaches $2 MillionVILLAGE OF PINEHURST, N.C. (May 13, 2013) – The inaugural Pinehurst Concours d'Elegance and the events surrounding the vintage auto showcase attracted more than 5,000 fans, and its economic impact approached $2 million despite unseasonably cool temperatures the first weekend of May, officials said.

'Having an event the caliber of a Concours in Moore County is significant, especially as it grows in recognition and importance in the Southeast,' said Caleb Miles, president and CEO of the Pinehur....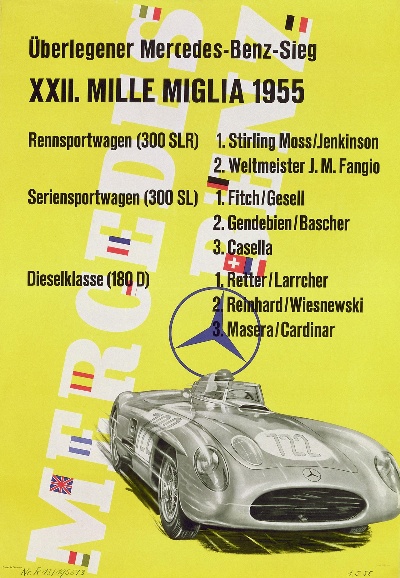 MILLE MIGLIA: MERCEDES-BENZ AS MAIN AUTOMOTIVE SPONSOR- Green light given for long-term partnership
- Another brand ambassador at Mille Miglia 2013: Marcel Tiemann

Mercedes-Benz is the main automotive sponsor of Mille Miglia. The corresponding agreement was reached between Mercedes-Benz Classic and 1000 Miglia S.R.L. in Brescia (Italy), with the aim of establishing a long-term collaboration. Mercedes-Benz Classic will be represented at this year's event with a number of vehicles, as well as five famous faces taking up their position at the star....
2014 Z4 BMW
---
2014 LaFerrari Ferrari
---
2013 Z4 BMW
---
2013 Viper GTS Launch Edition Dodge
---
2013 1000 S/C Ford
---
2013 GT500 Super Snake Wide Body Ford
---
2013 Mustang Red Tail Edition Ford
---
2013 MP4-12C SPIDER McLaren
---
2012 Mulsanne Convertible Concept Bentley
---
2012 Zagato Coupé BMW
---
blog comments powered by

Disqus