Mecum Auctions Offers Lotus Type 56 Turbine Indy Racecar At Monterey
Mecum Auctions unveiled an iconic piece of Indy 500 history owned by racing legend 'The King' Richard Petty during their auction at the Indiana State Fairgrounds in Indianapolis, Indiana. The STP-sponsored Lotus Type 56/3 Turbine Indy racecar, driven by Graham Hill at the 1968 Indianapolis 500-Mile Race was revealed in a glass case and will remain on display all week before heading to auction during Mecum at Monterey, California in August. For the 1968 Indy 500, STP boss Andy Granatelli commissioned Colin Chapman and Team Lotus to build four cars utilizing Pratt & Whitney turbine engines and Ferguson four-wheel drive systems. Chapman and his team developed the Lotus 56, which was the most technologically advanced racecar of its era. The popularity and attention that the Lotus Turbine cars received during the Indy 500 helped to turn STP into a household name, and solidified the synergy between racing and brand marketing. After the 1968 racing season concluded, chassis 56/3 made its way to First Brands (STP) corporate headquarters where it remained in their lobby until 1996, and was then acquired by Richard Petty, who owns the car to this day. This will be the first time an original, authentic Lotus Type 56 has been offered for sale at public auction. The 1968 Lotus Type 56/3 Turbine Indy racecar driven by Graham Hill and owned by Richard Petty will cross the auction block Friday, August 17, 2012 at the Hyatt Regency Monterey Hotel and Spa on Del Monte Golf Course. For complete auction information visit Mecum.com or call 262.275.5050. Schedule:
Mecum at Monterey, The Daytime Auction August 16-18, 2012 Hyatt Regency Monterey Hotel and Spa On Del Monte Golf Course One Old Golf Course Road Monterey, Calif. 93940 Gates open daily at 8:00 a.m. Thursday thru Saturday Auction will begin at 10:00 a.m. daily Live on Velocity 12:00-6:00 p.m. Thursday thru Saturday (All Times Pacific) Photo Credit: David Newhardt Courtesy of Mecum Auctions
Recent Articles
Mecum's Kansas City Spring Auction Reaches $9.6 Million in SalesApril 25-27 Auction Draws Large Crowd and Diverse Selection to Downtown K.C.

Magnificent and serene Kansas City, Mo., turns into a car collector's paradise twice a year when Mecum Auctions comes to town. Last weekend, April 25-27, the Kansas City Convention Center was transformed into that dream location with 735 cars spread across the gleaming floor of beautiful Bartle Hall. With 446 cars selling over the three-day period for a 61 percent sell-through rate, the enduring auction brough....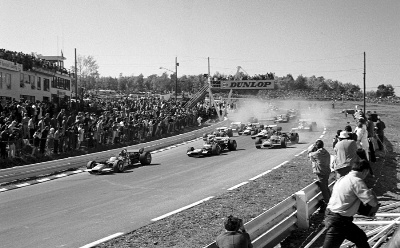 1969 United States Grand Prix: The Rise of RindtIf there was one racer in the Formula One paddock that drivers and spectators alike believed should have scored his first victory before the start of the 1969 season it would almost unanimously be Jochen Rindt. Fast and flamboyant, the Austrian exhibited car control that enthralled just about everyone it seemed, except perhaps the cars themselves. Constantly undercut by poor reliability, it seemed Rindt was to forever suffer under such an oppressive weight. However, at the 1969 United States Gra....
United States Postal Service Puts Its Stamp On Mecum In IndyMuscle Car Stamps Dedication Tour Continues at Original Spring Classic May 14-19

As the original, largest and best muscle car auction in the world, Dana Mecum's 26th Original Spring Classic has established itself as the premier venue for all things muscle and consequently the perfect place for the U.S. Postal Service to highlight its five new limited edition stamps featuring iconic muscle cars. The stamps will be featured on display and be available for purchase throughout the entirety....
Mecum Kicks Off Spring With $25 Million Auction In HoustonMore than 1,000 Cars Hit the Block during Second Annual Sale at the Reliant Center

It was not a quiet weekend for Houston's Reliant Center as Mecum Auctions brought the sounds of revving engines and falling hammers echoing through the venue packed with collector vehicles and car enthusiasts from across the nation. The three-day auction held April 4-6 saw 1,034 cars cross the block and nearly 200 pieces of Road Art and memorabilia. With a sell-through rate of 72 percent, auction sales r....
1982 Austrian Grand Prix: de Angelis Flying Through the Thin AirIt is almost impossible to predict events and just how momentous they just might be. This would certainly be the case with the 1982 Austrian Grand Prix, a truly special and memorable moment in Formula One history.

Heading into the Austrian Grand Prix in 1982 Formula One was in a bit of trouble and desperately needed a lift. All throughout the paddock there were teams that needed some good news. And then there would be others that needed some good news in order to be able to weather a storm co....
Mecum Auctions' 2013 Auction ScheduleMecum Releases Dates for Remainder of 2013 Auctions

Mecum Auctions will host 13 more auctions this calendar year with the upcoming Houston auction leading the charge this April 4-6. Dates and locations of all remaining auctions include:

Houston Auction featuring 1,000 Vehicles
April 4-6
The Reliant Center
One Reliant Park
Houston, TX 77054

Gone Farmin' Iowa featuring 150 Tractors
April 5-6
Mississippi Valley Fair Center
2815 W. Locust St.
Davenport, ....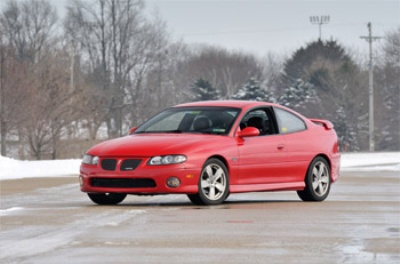 Racing Legend 'Grumpy' Jenkins To Be Remembered At Mecum's Indy AuctionPersonal Artifacts of Hall of Fame Racer to be offered May 18 at No Reserve

Hall of Fame Racing Legend Bill 'Grumpy' Jenkins may be lost, but Mecum Auctions will help keep his legacy alive this May 14-19 at Dana Mecum's 26th Original Spring Classic auction in Indianapolis with the auctioning of 'Grumpy's Stuff' featuring more than 150 personal artifacts from his estate to be offered Saturday, May 18, all at no reserve.

'Grumpy,' as he was known by most, made a name for himself in th....
blog comments powered by

Disqus