Vehicles From The Ruger Automobile Collection At RM's St. John's Sale
RM Auctions, the official auction house of the Concours d'Elegance of America, returns to the Inn at St. John's in Plymouth, July 28 for its well-established Michigan sale. A featured attraction of the Concours weekend and a longstanding summer tradition for collectors, the annual auction – formerly known as the Meadow Brook sale – boasts a reputation for including outstanding American and European classics. Highlighting this year's sale is a superb group of 12 motor cars from the distinguished Ruger Automobile Collection. The fruit of more than five decades of thoughtful acquisition by businessman and engineer William (Bill) Ruger Junior, the automobiles of the Ruger Collection present an outstanding array of American and European classics and span the gamut of automotive eras, including steam, electric and gas powered models. Collection highlights slated for the St. John's auction podium include a high-point, coachbuilt 1932 Lincoln KB Coupe by Judkins, chassis KB473, presented in an elegant two-tone Jade Mist and Birmingham Green and described by Mr. Ruger as one of the best running K-series cars he has ever owned; a well-known 1907 Locomobile Model E Roadster, chassis 1322, with exceptional provenance including Henry Austin Clark Jr. and Richard C. Paine Jr.; and an unmatched 1911 Stanley 10 HP Model 63 Touring Car, chassis 6076, restored by the renowned Paul Russell & Co. Other featured entries on offer from the Collection include an extraordinarily original 1918 Detroit Electric Model 75B Brougham, chassis 11667, with known history since WWII; and a pair of coachbuilt Phantom Rolls-Royces, including a 1933 Rolls-Royce Phantom II Brewster Sport Saloon, chassis 295AJS and a 1929 Rolls-Royce Springfield Phantom I Tilbury Saloon, chassis S123RP. 'I've known Bill for many years, and must say that he is one of the most dedicated car enthusiasts I've ever met – he loves to work on his cars, isn't afraid to get his hands dirty, and really gets a kick out of trying various methods to improve the cars he loves – usually with great success,' says Mike Fairbairn, Co-Founder RM Auctions. 'We are truly honored to present a select series of automobiles from the Ruger Collection as a featured attraction at our upcoming St. John's sale as we further build on our reputation as the specialists for private and estate collection sales,' adds Fairbairn.

The select vehicles from the Ruger Collection will be joined at the St. John's sale by a charming assortment of other important and historic collector cars, with a strong emphasis on American marques to continue the sale's tradition of celebrating America's rich automotive history. For further information or to discuss limited consignment opportunities, please call +1 519 352 4575 or visit www.rmauctions.com. Photo: 1932 Lincoln KB Coupe by Judkins (credit – Darin Schnabel © 2012 courtesy RM Auctions)
Recent Articles
Car Expert Hans Wurl Joins Gooding & Company's Team of Classic Automobile SpecialistsSANTA MONICA, Calif. (December 9, 2013) – Gooding & Company, the official auction house of the Pebble Beach Concours d'Elegance®, is expanding its existing team with the addition of Hans Wurl, a well-known classic car specialist with a strong technical background. Wurl has served as advisor to noted collectors and participated in some of the best collector car events around the world. Based in Seattle, Wurl joins Gooding & Company's team of respected automotive specialists David Brynan,....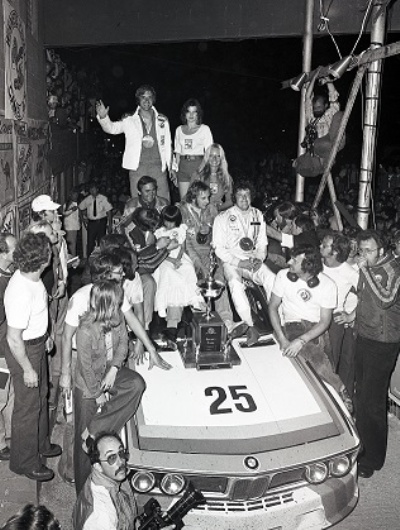 BMW's 'BATMOBILES' SET FOR 19th ANNUAL AMELIA CONCOURSScheduled to appear in the 19th Annual Amelia Concours' BMW 3.0 CSL 'batmobile class' are not only the 1975 Sebring 12 Hour and '76 Daytona 24 winners, but Alexander Calder's 1975 Le Mans 3.0 CSL with his trademark signature on the left rear fender.

BMW's 'Batmobile' racers were glorious mutants. They arrived from Europe wearing a frosting of giant wings, huge fender boxes and big spoilers, all powered by a 430 hp straight-six engine that made a glorious noise and propelled BMW's luxury cou....
LE MANS GREATS HEAD STUNNING ROSTER OF ADDITIONAL ENTRIES FOR RM'S 2014 PARIS SALE DURING RETROMOBILE WEEK• Anticipation builds ahead of RM's €25 million debut Paris sale on 5 February 2014
• More Le Mans greats join stunning competition car line-up at saleLatest highlights include a 1982 Rondeau M482 Le Mans GTP, a veteran of five Le Mans 24 hours races, and a mighty 2008 Peugeot 908 HDi FAP Le Mans Prototype, which finished 2nd at Le Mans, was driven by Jacques Villeneuve, and has been entrusted to be sold by RM by the Peugeot factory
• Other recently secured entries include a Bugatti Type 40 Ro....
400TH BUGATTI VEYRON SOLD – THE VEYRON BEGINS ITS FINAL LAPJust 50 models of the super sports car are still available

• 400th Veyron is a Grand Sport Vitesse 'Jean-Pierre Wimille' of the six-part edition 'Les Légendes de Bugatti'

• Head of Bugatti Wolfgang Schreiber, 'A unique success story about the most exclusive and luxurious super sports car brand in the world'


Molsheim, 5 December 2013. Bugatti has sold its 400th Veyron. Since the production run of the Veyron and its variants is limited to just 450 models, thi....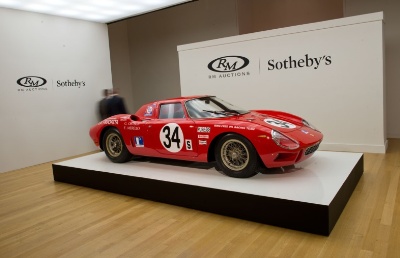 RM Auctions and Sotheby's Stun the Market with Incredible $63 Million 'Art of the Automobile' Sale in New York• RM Auctions and Sotheby's momentous Art of the Automobile auction generates $62,797,500 of sales in two hours of furious bidding
• Records tumble with the historic 1964 Ferrari 250 LM by Carrozzeria Scaglietti achieving $14,300,000 while the stunning 1938 Talbot-Lago T150-C SS Teardrop Cabriolet by Figoni et Falaschi sells for $7,150,000
• 93 percent of all lots sold to an international audience of bidders representing 17 countries
• Full results are available online at www.rmauctions.c....
Expert Symposium Delivered to Packed Room Ahead of 'Art of the Automobile' New York Sale• RM Auctions and Sotheby's deliver highly outstanding expert symposium to more than 700 people
• Six hugely influential and respected specialists set the scene in advance of truly groundbreaking Art of The Automobile sale
• Anticipation building for what is being regarded as one of the finest and most innovative collector car auctions ever held

NEW YORK, New York (November 20, 2013) – The eyes of the collector car community are firmly fixed on New York, as RM Auctions and Sotheby's,....
2013 Dodge Viper GTS Launch Edition
---
2013 Ford GTR1
---
2013 McLaren MP4-12C SPIDER
---
2012 Bentley Mulsanne Convertible Concept
---
2006 Ferrari FXX
---
1996 Bentley Azure
---
1995 Lancia Hyena
---
1994 Bugatti EB110 GT
---
1987 Ferrari F40
---
1984 Opel Manta 400 Group B Rally Car
---