Audi factory drivers look into the future with a digital rear-view mirror
• Advanced AMOLED technology provides clear vision
• Significant contribution to active safety in the Audi R18
• Three more weeks to go before the start of the Le Mans 24 Hours
Ingolstadt, May 24, 2012 – When the Audi factory drivers tackle the Le Mans 24 Hours (June 16/17, 2012) a very special technology will enhance their vision. Used for the first time in a closed LMP sports prototype, the digital rear-view mirror provides a clear view of the rear and thus substantially improves active safety. 'The work of our drivers in the cockpit is truly heavy labor,' says Head of Audi Motorsport Dr. Wolfgang Ullrich in praise of his line-up of 13 sports car drivers. Aside from the physical and mental strain in endurance racing, life for the quick racers compared with their DTM colleagues is made more difficult by the special aspect of totally different vision. The extremely low, central seating position is just one reason for this. Another one is the fact that – unlike the Audi A5 DTM – none of the closed LMP sports cars have a rear window.

The concept and structure of the monocoque plus the configuration of the mid-engine in the Audi R18 leave no room for a rear window. 'So, in the past, our drivers had to strictly rely on the outside mirrors when looking rearward,' explains Dr. Ullrich. 'Yet the rear end and the rear wings plus the vibrations that occur at high speeds significantly limit the field of vision of these mirrors.' Audi has developed a solution, which thanks to advanced technology produces an amazing effect. The digital rear-view mirror that shows what is happening behind the car on an innovative AMOLED display is better than any conventional mirror. A camera of very light weight and dimensions of just a few millimeters sits behind the antennas on the roof of the Audi R18. It captures the action at the rear on film and transmits the information to the cockpit as digitalized data. The racing situation behind the vehicle is shown on a screen that sits in the place where an inside mirror is typically located. 'This gives us a whole host of benefits,' stresses Dr. Wolfgang Ullrich. 'The operation of the mirror is weather-neutral. By contrast, when using outside mirrors, heavy water spray severely impairs the driver's field of vision when it rains. For the new digital mirror, we worked out various day and night driving modes. Even when a rival approaches from the rear with high-beam headlights the image is superb and not just a glaring light spot.' This has only been made possible by the latest diode technology. Instead of conventional light-emitting diodes an active matrix OLED (AMOLED) display is used. Its name has been derived from organic semiconductors. Their major advantage: Like displays, AMOLED screens can show multi-colored images and offer better resolution thanks to particularly small pixels with diameters of merely around 0.1 millimeters. Outstanding image quality and short response time are further positive properties of AMOLEDs. 'Therefore, even at 330 km/h we're achieving a totally fluid image flow in real-time transmission,' says a pleased Dr. Ullrich. At this speed, the Audi R18 covers a distance of 92 meters within a single second. As these new types of screens are freely programmable, Audi uses them to display other data as well. Information on the gear that is currently engaged, the slip level of the tires, and specific warning lights have been integrated into the central instrument. 'I'm pleased to see that we've managed to make another contribution to active safety through this technology,' emphasizes Dr. Wolfgang Ullrich. 'We've previously achieved major effects not only with basic concepts but also through detailed innovations. The introduction of a tire pressure warning system in the 2001 season in the Audi R8 is just one case in point. Our drivers came to highly value the digital rear-view mirror right on its premiere at Spa.' At the second round of the FIA World Endurance Championship (WEC) Audi achieved a one-two-three-four victory. The digital mirror solution is yet another example of the close meshing of volume production and motorsport. 'With respect to the screen and the programming we greatly benefited from the work of our colleagues at AUDI AG's Technical Development (TE),' says Dr. Ullrich. 'They helped us move forward with components and knowledge.' In the trial stage the racers even fully relied on an application that originated at the production side of the house. 'The system was initially installed in an Audi R8 in which we sent Marcel Fassler and Marco Bonanomi out to test it in road traffic,' recalls Dr. Ullrich. 'Today, the system functions perfectly in the Audi R18 LMP race car. I'm sure that we'll be able to return valuable findings to our colleagues in TE. We integrated the system into the vehicle package in an extremely small space and reduced the aerodynamic effects of the camera and energy consumption to a minimum. The intensity of the demands in motorsport, such as at the Le Mans 24 Hours, will cause such a system to mature at an accelerated pace. If the digital rear-view mirror is introduced in production vehicles at a future time our consumers will yet again profit from a system that has been successfully tested in motorsport as well.'
Recent Articles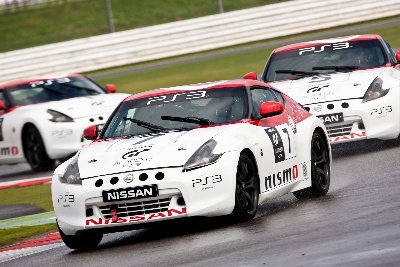 NISSAN AND PLAYSTATION ANNOUNCE BIGGEST EVER GT ACADEMY PROGRAMLONDON and PARIS - Nissan and Sony Computer Entertainment Europe have revealed that the innovative GT Academy competition will return for a fifth season. GT Academy 2013 will be the biggest yet, with more countries than ever before participating and the online gaming element of the competition set to be run in July on a demo of the hotly-anticipated Gran Turismo®6 game exclusively on PlayStation®3.

Since its inception in 2008, the highly acclaimed virtual-to-reality competition has att....
Audi Goes To Le Mans Aerodynamically Optimized◾Aerodynamic efficiency has clearly increased in 15 years
◾Micro-tube radiator optimizes airflow of Audi R18 e-tron quattro
◾Many losses caused by the regulations have been compensated for

Ingolstadt, May 16, 2013 – Five more weeks until the Le Mans 24 Hours celebrates its 90th anniversary. Over the period of 14 years, Audi has won this classic race eleven times and in doing so has consistently been delivering top performances in aerodynamics as well. They are a major reason for exce....
NISSAN REVEALS LE MANS 24 HOURS NISMO DRIVER LINE-UP• Real world of NISMO Connects with the Virtual World of GT Academy


LE MANS, France - NISMO Ambassador and Super GT racer Michael Krumm will join GT Academy winners and NISMO Athletes Lucas Ordonez and Jann Mardenborough at the Le Mans 24 Hours next month.

The three drivers will unite to race a Greaves Motorsport Zytek-Nissan in the LMP2 class. This class has an entry of 22 cars, 15 of which are powered by the NISMO-tuned Nissan VK45DE V8 engine.

LMP2 is expected to be the hardes....
Stars Of Film, Fashion, Sport And Motorsport To Drive With Jaguar Heritage Racing In Mille Miglia 2013- Jaguar previews its entry into the 2013 Mille Miglia with short film featuring David Gandy, Yasmin Le Bon, Norman Dewis and Alex Buncombe: http://www.youtube.com/watch?v=eEkckuR8E-k&feature=youtu.be
- Jaguar Heritage Racing enters three C-Type and three XK120 classic cars into famous event
- Jaguar 'Bloodline' of sports cars to be celebrated with new F-TYPE joining the 1,000 mile tour

(MAHWAH, N.J.) - May 10, 2013- Jaguar has curated a unique team of drivers for its Jaguar Herita....
Audi at Le Mans: Advantage through efficiency• 90 years of Le Mans, 15 years of Audi at the '24 Heures'

• Eleven victories at 14 runs and absolute distance record

• Head of Audi Motorsport Dr. Wolfgang Ullrich: 'Le Mans points the way to the future'


Six more weeks until the Le Mans 24 Hours celebrates its 90th anniversary. Since 1999, Audi has shaped the world's most important endurance race like no other automobile manufacturer. Eleven victories in 14 events – the technological milestones set by Ingolstadt and....
TEST COMPARISON BETWEEN FORMULA 1 AND MERCEDES-AMG CARS• Nico Rosberg, Bernd Schneider, Karl Wendlinger and Bernd Maylander

• Mercedes-AMG Performance Drive: Formula 1 versus Mercedes-Benz A 45 AMG, E 63 AMG, SLS AMG Black Series and SLS AMG GT3

• Nico Rosberg in Mercedes-Benz SLS AMG Black Series: 'It will be interesting to see how long Michael can delay starting before catching up with us at the finish.'


As part of the programme for the 24-hour race on 19th May 2013, Mercedes-Benz will put on a special event highlight for....
Disappointing DTM opener for Audi• Timo Scheider in sixth place best Audi driver at Hockenheim

• Two Audi RS 5 DTM cars in the points

• 87,000 spectators experience turbulent start into the season


With an Audi RS 5 DTM at the front of the field, the new DTM season started at Hockenheim with 87,000 spectators (throughout the weekend) in attendance. After 42 spectacular laps with plenty of on-track action and gripping overtaking maneuvers the opening round ended in a disappointment for Audi. With Timo ....
BMW TEAM RLL READY FOR THE NEXT ALMS ROUND AT LAGUNA SECA AFTER SUCCESS AT LONG BEACHThe 2013 American Le Mans Series is back on track this Saturday at Laguna Seca Raceway, in Monterey, California, with the four-hour American Le Mans Monterey.

The first two races of the debut season of the BMW Z4 GTE have been strong ones for BMW Team RLL, with fourth and seventh place finishes at the 12 Hours of Sebring and, thanks to excellent strategy, an outstanding 1-2 finish at Long Beach. BMW stands second in GT class manufacturer points. With the win at Long Beach in the No. 55 Z4 GTE....
blog comments powered by

Disqus