Bob Lutz Named as 2012 Honorary Chairman At Hilton Head Island Concours
The 11th Annual Hilton Head Island Motoring Festival & Concours d'Elegance, one of the final Concours events on the 2012 calendar, October 26 – November 4, will include participation from Bob Lutz, former Vice Chairman of General Motors and author of Car Guys vs. Bean Counters: the battle for the soul of American Business, as this year's Honorary Chairman. Lutz joins a list of past Honorary Chairmen that includes names such as Nicola Bulgari, J.W. (Bill) Marriott, Bobby Rahal and Dennis Gage, last year's Chairman. Lutz will be on-hand during the Hilton Head Island portions of the 2012 Festival at the Coastal Discovery Museum at Honey Horn. In addition to a Q&A session on-site during the event's main attractions that will be open to the public, the schedule includes a special 'Evening with Bob Lutz' at an exclusive dinner on that Saturday evening, November 3. Lutz will also participate in the Concours d'Elegance as a Guest Judge on Sunday, November 4. 'We couldn't have gotten a better fit for this year's Honorary Chairman,' said Carolyn Vanagel, the Festival's President. 'With the Model T being featured as the Honored Marque during this year's Concours d'Elegance and the overall 'Americana' focus on this year's event, who better than to have on-hand than the 'best-known auto executive of the last two decades' who helped lead every one of the major American automotive manufacturers.' Historically, many of the past Honorary Chairmen for the Hilton Head Island Motoring Festival have owned their own significant collections with Lutz being no exception. A collector of both classic automobiles and military jets, some of Lutz's most prized pieces include an Aero L-39 Albatros, an advanced Czechoslovakian jet fighter trainer, and an MD-500 helicopter, both of which he also pilots. His collection also contains a number of motorcycles including a BMW K1200RS, BMW K1200S, BMW R1100S, BMW K-1 and a BMW HP2 Sport.

Stew Brown, the Festival's Board Chairman, stated that 'with his major involvement in the automotive industry and his well known affinity for straight talk and honest answers, Lutz's involvement should raise the level of excitement for this year's attendees.' This year's Motoring Festival Partners include BMW Group of North America, Hilton Head BMW, Porsche, Porsche of Hilton Head at the New River Auto Mall, Beaufort Memorial Hospital, The Westin Hilton Head Island Resort & Spa, The Westin Savannah Harbor Golf Resort & Spa, Adventure Radio Group and Classic Party Rentals. Gate ticket prices start as low as $20 and are available (starting May 2012) at a discounted rate online through October 15. Patrons and VIP Packages are also available. Children under 12 get in free, ages 12-18 are $5 per day (with student ID) and military (with an active duty I.D.) receive half-off general admission ticket prices at the gate. Tickets will go on sale late spring. For more information, visit the Festival's official website, www.HHIMotoringFestival.com. ABOUT THE HILTON HEAD ISLAND MOTORING FESTIVAL & CONCOURS D'ELEGANCE: The Hilton Head Island Motoring Festival & Concours d'Elegance has earned the distinction of being one of the nation's signature automobile events and has been named one of the Southeast Tourism Society's 'Top 20 Events'. The eleventh annual festival will take place from October 26-November 4, 2012 with venues at both The Westin Savannah Harbor Resort on Hutchinson Island (Savannah, GA) and the Coastal Discovery Museum at Honey Horn on Hilton Head Island, SC. The multi-day Festival features four signature events: the Savannah Speed Classic (October 26 –28), the Car Club Jamboree (November 3), the Motoring Midway (November 3 & 4) and, the centerpiece, the Concours d'Elegance (November 4). For more information, please call (843) 785-SHOW (7469) or visit www.HHIMotoringFestival.com online.
Recent Articles
Car Expert Hans Wurl Joins Gooding & Company's Team of Classic Automobile SpecialistsSANTA MONICA, Calif. (December 9, 2013) – Gooding & Company, the official auction house of the Pebble Beach Concours d'Elegance®, is expanding its existing team with the addition of Hans Wurl, a well-known classic car specialist with a strong technical background. Wurl has served as advisor to noted collectors and participated in some of the best collector car events around the world. Based in Seattle, Wurl joins Gooding & Company's team of respected automotive specialists David Brynan,....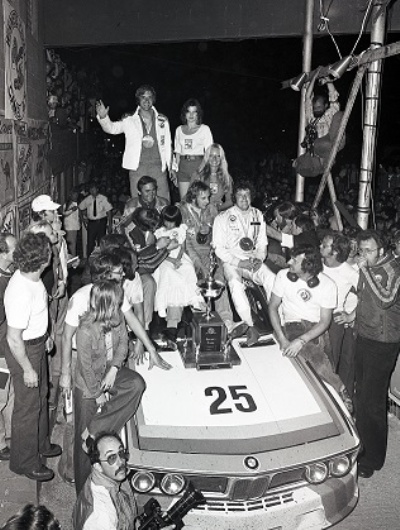 BMW's 'BATMOBILES' SET FOR 19th ANNUAL AMELIA CONCOURSScheduled to appear in the 19th Annual Amelia Concours' BMW 3.0 CSL 'batmobile class' are not only the 1975 Sebring 12 Hour and '76 Daytona 24 winners, but Alexander Calder's 1975 Le Mans 3.0 CSL with his trademark signature on the left rear fender.

BMW's 'Batmobile' racers were glorious mutants. They arrived from Europe wearing a frosting of giant wings, huge fender boxes and big spoilers, all powered by a 430 hp straight-six engine that made a glorious noise and propelled BMW's luxury cou....
400TH BUGATTI VEYRON SOLD – THE VEYRON BEGINS ITS FINAL LAPJust 50 models of the super sports car are still available

• 400th Veyron is a Grand Sport Vitesse 'Jean-Pierre Wimille' of the six-part edition 'Les Légendes de Bugatti'

• Head of Bugatti Wolfgang Schreiber, 'A unique success story about the most exclusive and luxurious super sports car brand in the world'


Molsheim, 5 December 2013. Bugatti has sold its 400th Veyron. Since the production run of the Veyron and its variants is limited to just 450 models, thi....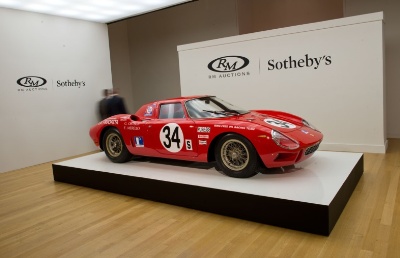 RM Auctions and Sotheby's Stun the Market with Incredible $63 Million 'Art of the Automobile' Sale in New York• RM Auctions and Sotheby's momentous Art of the Automobile auction generates $62,797,500 of sales in two hours of furious bidding
• Records tumble with the historic 1964 Ferrari 250 LM by Carrozzeria Scaglietti achieving $14,300,000 while the stunning 1938 Talbot-Lago T150-C SS Teardrop Cabriolet by Figoni et Falaschi sells for $7,150,000
• 93 percent of all lots sold to an international audience of bidders representing 17 countries
• Full results are available online at www.rmauctions.c....
Expert Symposium Delivered to Packed Room Ahead of 'Art of the Automobile' New York Sale• RM Auctions and Sotheby's deliver highly outstanding expert symposium to more than 700 people
• Six hugely influential and respected specialists set the scene in advance of truly groundbreaking Art of The Automobile sale
• Anticipation building for what is being regarded as one of the finest and most innovative collector car auctions ever held

NEW YORK, New York (November 20, 2013) – The eyes of the collector car community are firmly fixed on New York, as RM Auctions and Sotheby's,....
AMELIA ISLAND CONCOURS D'ELEGANCE WINS PRESTIGIOUSThe annual International Historic Motoring Awards, in association with EFG International and Octane magazine, announced this week that the Amelia Island Concours d'Elegance has been named the recipient of the 2013 Motoring Event of the Year award.

The Amelia Island Concours d'Elegance is the third winner of the Motoring Event of the Year Award, which honors automotive celebrations from Australia, Germany, Italy, the United States and the United Kingdom. Finalists in the 2013 events category ....
Gooding & Company Celebrates 10th Anniversary as Global Appreciation of Cars Push Markets to New High in 2013SANTA MONICA, Calif. (November 11, 2013) – The mystique of collectable cars continues to expand enthusiasm and buyer participation around the globe. In 2013, Gooding & Company, the auction house acclaimed for selling the world's most significant and valuable collector cars, celebrated its 10th anniversary and saw new and returning bidders flock to its three auctions. Demonstrating Gooding & Company's power in the marketplace is an annual auction total of $192.6 million for 286 lots with a....
Mecum's 2014 Schedule Expands To Include East Coast AuctionMecum Introduces New Auction in Harrisburg, Pennsylvania, July 24-26, 2014

Walworth, WI - November 12, 2013 -- Mecum Auctions – the largest collector car auction company in the world – will introduce a new auction to its already vast 2014 lineup extending its reach further into the East Coast. With 12 classic and collector car auctions and four vintage tractor auctions on the 2014 docket, Mecum will take the action to Harrisburg, Penn., in July for three days with an expected 1,....
2013 BMW Z4 GTE
---
2013 Dodge Viper GTS Launch Edition
---
2013 Dodge Viper GTS-R SRT
---
2013 Ford GTR1
---
2013 McLaren MP4-12C SPIDER
---
2012 Bentley Mulsanne Convertible Concept
---
2008 BMW E92 M3 GTR
---
2008 Dallara Andersen Racing IndyLights
---
2008 Dallara Rahal Letterman Racing Indycar
---
2008 Ford Limited 25th Anniversary Mustang Concept
---