Nissan Power For A Quarter Of Le Mans 24 Hours Field
Japanese manufacturer's engines will dominate round-the-clock classic, powering more than half of all LMP2 cars plus the experimental Nissan DeltaWing · Nissan engines used by 25% of the field, more than any other manufacturer · Experimental Nissan DeltaWing - which aims to use half the fuel of conventional racers - spearheads dominant entry to 24 Hours · More than half the LMP2 field - 13 out of 20 cars - choose Nissan

LE MANS, France (May 31, 2012) - Nissan will be the dominant force at this year's Le Mans 24 Hours, with a quarter of all entries running on Nismo-tuned Nissan power. Spearheading Nissan's dominant entry to the famous endurance race, on June 16/17, will be the hugely innovative, experimental racing car - the Nissan DeltaWing - which aims to change the face of motor racing by completing the Le Mans 24 Hours using half the fuel and half the tire material of a conventional LMP racer. Leading the charge in the LMP2 class, in which Nismo-produced Nissan units power more than half of the competing cars, are Nissan's partner teams, Signatech Nissan and Greaves Motorsport. Among the drivers vying for LMP2 victory this year will be two graduates of Nissan's unique GT Academy initiative, which has made motorsport careers a reality for Playstation 3 gamers; Lucas Ordonez - who will share his car with ex-Formula 1 driver Martin Brundle - and second GTA champion, Jordan Tresson. Paul Willcox, Senior Vice President, Nissan in Europe, said: 'This year's Le Mans 24 Hours will be our biggest yet and the Nissan DeltaWing shows the direction we are looking to take with motorsport technology in the future. We are already dominant in LMP2, where teams know that we can help them win, while the DeltaWing project is the kind of experiment in design and technology that only a company as forward-thinking and bold as Nissan could get behind. 'As a test bed for future road car and motorsport innovations, there is no greater, more publicly-scrutinized laboratory than the Le Mans 24 Hours for the experiment that DeltaWing represents, but the concept will prove that the technology for a vastly more efficient future is viable now, whether the car finishes the race or not.' The Nissan DeltaWing is the most revolutionary car to appear in motorsport for a generation; the aim is to show that it is possible to make huge efficiency savings by downsizing and using a truly innovative aerodynamic package. Everything about DeltaWing is designed with efficiency in mind - its unique shape has half the aerodynamic drag of a conventional racer, while all parts - including the downsized Nissan 1.6-litre DIG-Turbo engine - are smaller and weigh much less than traditional Le Mans machines. The car is so unique that it competes in the race outside the regulations of Le Mans, wearing the number '0' and running from 'Garage 56', reserved exclusively for experimental racers. Nissan's involvement in LMP2 is similarly ground-breaking, thanks to the presence of GT Academy graduates - Spaniard, Ordonez and Frenchman, Tresson. Winner of the first Nissan GT Academy in 2008, Ordonez finished second in LMP2 at Le Mans in 2011 and this year will race with the Greaves Motorsport team alongside 1990 Le Mans 24 Hour winner and former F1 racer, Martin Brundle and his son Alex. Also aiming to become the first gamer-turned-racer to win Le Mans outright, Tresson - winner of the second GT Academy in 2010 - joins 2011 Le Mans LMP2 winner, Olivier Lombard and runner-up, Franck Mailleux, at the Signatech team.
Recent Articles
EUROPEAN LE MANS SERIES 2013 – ROUND 2: 3 HOURS OF IMOLAALPINE AND NELSON PANCIATICI ON THE PODIUM

Nelson Panciatici and his co-driver, Pierre Ragues, crossed the finishing line of the 3 Hours of Imola in second place. With this first podium, the Signatech-Alpine team and their drivers are now in second place in the provisional rankings of the European Le Mans Series Championship.
For its roaring return to Imola, the Alpine marque did not pass on the opportunity to shine from first practice, with a best time for Nelson Panciatici. The perf....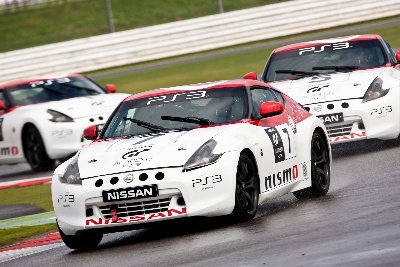 NISSAN AND PLAYSTATION ANNOUNCE BIGGEST EVER GT ACADEMY PROGRAMLONDON and PARIS - Nissan and Sony Computer Entertainment Europe have revealed that the innovative GT Academy competition will return for a fifth season. GT Academy 2013 will be the biggest yet, with more countries than ever before participating and the online gaming element of the competition set to be run in July on a demo of the hotly-anticipated Gran Turismo®6 game exclusively on PlayStation®3.

Since its inception in 2008, the highly acclaimed virtual-to-reality competition has att....
Audi Goes To Le Mans Aerodynamically Optimized◾Aerodynamic efficiency has clearly increased in 15 years
◾Micro-tube radiator optimizes airflow of Audi R18 e-tron quattro
◾Many losses caused by the regulations have been compensated for

Ingolstadt, May 16, 2013 – Five more weeks until the Le Mans 24 Hours celebrates its 90th anniversary. Over the period of 14 years, Audi has won this classic race eleven times and in doing so has consistently been delivering top performances in aerodynamics as well. They are a major reason for exce....
NISSAN REVEALS LE MANS 24 HOURS NISMO DRIVER LINE-UP• Real world of NISMO Connects with the Virtual World of GT Academy


LE MANS, France - NISMO Ambassador and Super GT racer Michael Krumm will join GT Academy winners and NISMO Athletes Lucas Ordonez and Jann Mardenborough at the Le Mans 24 Hours next month.

The three drivers will unite to race a Greaves Motorsport Zytek-Nissan in the LMP2 class. This class has an entry of 22 cars, 15 of which are powered by the NISMO-tuned Nissan VK45DE V8 engine.

LMP2 is expected to be the hardes....
Stars Of Film, Fashion, Sport And Motorsport To Drive With Jaguar Heritage Racing In Mille Miglia 2013- Jaguar previews its entry into the 2013 Mille Miglia with short film featuring David Gandy, Yasmin Le Bon, Norman Dewis and Alex Buncombe: http://www.youtube.com/watch?v=eEkckuR8E-k&feature=youtu.be
- Jaguar Heritage Racing enters three C-Type and three XK120 classic cars into famous event
- Jaguar 'Bloodline' of sports cars to be celebrated with new F-TYPE joining the 1,000 mile tour

(MAHWAH, N.J.) - May 10, 2013- Jaguar has curated a unique team of drivers for its Jaguar Herita....
Audi at Le Mans: Advantage through efficiency• 90 years of Le Mans, 15 years of Audi at the '24 Heures'

• Eleven victories at 14 runs and absolute distance record

• Head of Audi Motorsport Dr. Wolfgang Ullrich: 'Le Mans points the way to the future'


Six more weeks until the Le Mans 24 Hours celebrates its 90th anniversary. Since 1999, Audi has shaped the world's most important endurance race like no other automobile manufacturer. Eleven victories in 14 events – the technological milestones set by Ingolstadt and....
Created For the Urban World, All-New Ford EcoSport Embarks On Its Journey in India•The all-new Ford EcoSport marries the manoeuvrability and fuel economy of a compact car with the practicality and robustness of an SUV in a contemporary and stylish package
•Ford EcoSport offers a high driving position, superior water-wading capability and an array of smart features such as the segment-first Ford SYNC® connectivity system, making it the perfect vehicle for city driving and out-of-town exploring
•Ford EcoSport will be the first vehicle in India to feature the patented 1.0L E....
Max Welti Is The New Head Of Motorsport At LamborghiniLamborghini SpA has signed Max Welti as new Head of Motorsport. The 60 year old Swiss national will report directly to Lamborghini's Board Member for Research and Development, Maurizio Reggiani. He will be active in his new role for Squadra Corse for the firsttime this weekend at the Lamborghini Super Trofeo night race in Misano, ltaly.


''l'm delighted that in Max Welti we've been able to gain such a seasoned and recognised manager for our newly initiated motorsport programme,' said Maurizi....
blog comments powered by

Disqus