Last Mercer Will Compete At Pebble Beach Concours d'Elegance
When the Pebble Beach Motoring Classic commences on August 7, Johnny Crowell will don his leather cap and goggles and settle in behind the wheel of his 1925 Mercer Series 6 Raceabout -- the last Mercer ever to exit the factory. The Roebling family along with designer Finley Robertson Porter debuted the Mercer Raceabout Type 35R in 1911. The result was one of the most admired sports cars of the early era: a stripped-down, two-seat speedster designed to be driven fast. By 1925, they had perfected it; the Series 6 is the only model to be powered by a six-cylinder engine, and Crowell's car, one of just two Series 6 Raceabouts in existence, is the only Mercer to have factory-installed four-wheel brakes. 'All of the other Raceabouts went like hell but wouldn't stop,' says Crowell. It seems that Crowell has every intention of seeing just how fast the car deemed America's first race car will go, and right beside him, giving new meaning to the term 'trooper,' will be Crowell's wife, Christine. 'We are going from Seattle to Pebble Beach, touring 1,500 miles with no top, no windows and a sorry excuse for a windshield ... and I suspect we will get some rain,' jokes Crowell. 'My wife will love it.' The Pebble Beach Motoring Classic is the ultimate road trip for automotive enthusiasts. The trip begins in Seattle, Washington, and winds through the Cascade Mountains, scaling Mount Hood and circling scenic Crater Lake, then eventually crossing the Golden Gate Bridge and tracing the Pacific Coast toward its final destination-the Pebble Beach Concours d'Elegance, where Mercer is a featured marque this year.

On arrival, Crowell's Mercer, which made its way into his hands in February, will make its post-restoration debut on the Concours show field. This historic automobile was previously owned by the same family for over 70 years. 'It was driven hard and put away wet,' explains Crowell. 'It was operational but I wouldn't have wanted to drive it more than a few feet.' The car is being restored by Adams Custom Engines in Sparks, Nevada, with the goal of keeping it as original and authentic as possible while making it a sound driver. Since it was the last Mercer Raceabout built in the factory, it includes several leftover parts, and the restoration team has worked hard to identify and keep on the car those parts that ordinarily would not have been used. Lab tests have been performed on the paint, metal and wood to determine the timeline of previous maintenance and restoration efforts. And Crowell has talked with the daughter of the former owner, who graciously shared memories and information that shed some light on the car's rich history. Crowell also has a small collection of trophies won by drivers who competed in Mercer Raceabouts. One of his trophies was originally won by a gentleman who bought a Raceabout straight off the dealership lot, raced it, drove it across the finish line and kept going, setting a world record for distance. 'It was just made to race. It was the Ferrari of its day,' says Crowell. 'That's what makes it such a fun car.' This year's Concours d'Elegance will host an unprecedented assemblage of quintessential, one-of-a-kind and rarely seen Mercers. In addition to the last production Mercer brought by Crowell, Dave and Denise Sanders will be showing a rare 1931 prototype, a Mercer Merrimac Convertible Coupe that was built in a failed attempt to revive the marque. 'Visitors can expect to see cars beginning with the earliest offerings by the company and several examples of the celebrated 35J Raceabouts,' says Colin Feichtmeir, a member of the Selection Committee that determines the cars to be invited to participate in the Concours. 'The collection of racecars, the later 'L-head' cars, and the final examples from the factory make this an unprecedented mosaic of Mercer automobiles.' In addition to Mercer, the 2012 Pebble Beach Concours d'Elegance will feature Cars of the Maharajas, Saoutchik Coachwork, AC and AC (Shelby) Cobra, Fiat, Sport Customs and German Motorcycles. Information and tickets are available at www.pebblebeachconcours.net.
Recent Articles
Tom Fritz Creates The 19Th Annual Amelia Island Concours D'elegance PosterThe posters for the Amelia Island Concours d'Elegance have become collectible car art and the 2014 edition is no exception. Today the Concours revealed that the 19thannual event poster was created by famed hot rod artist Tom Fritz and honors Jochen Mass on the 25th anniversary of his victory in the 1989 24 Hours of Le Mans driving his Mercedes-Benz Sauber C9. The beautiful piece takes creative cues from the first Amelia poster in 1996, well-known for honoring the record-setting drive of Sir Stir....
1958 FERRARI 250 GT LWB CALIFORNIA SPIDER STARS AT RM'S 15TH ANNUAL ARIZONA SALE• RM Auctions announces latest highlights for its two-day Arizona auction, January 16 – 17 in Phoenix, led by a highly prized 1958 Ferrari 250 GT LWB California Spider
• Most recent blue-chip entries join a spectacular roster of more than 120 handpicked automobiles for the sale at the beautiful Arizona Biltmore Resort & Spa
• Frequently updated list of entries available online at www.rmauctions.com

BLENHEIM, Ontario (December 10, 2013) – RM Auctions, the world's largest auctio....
Maserati Celebrates 100th Anniversary as Featured Marque of the Rolex Monterey Motorsports ReunionAugust 14-17 at Mazda Raceway
MONTEREY, Calif., December 10, 2013 — The Rolex Monterey Motorsports Reunion will celebrate the rich 100-year history of Maserati, one of Italy's iconic luxury sports car brands that throughout the century has been deeply rooted in racing. The celebration will be held August 14-17, 2014 at Mazda Raceway Laguna Seca.

The Monterey Classic Car Week and Rolex Monterey Motorsports Reunion is a haven for international classic car enthusiasts. Centered a....
Car Expert Hans Wurl Joins Gooding & Company's Team of Classic Automobile SpecialistsSANTA MONICA, Calif. (December 9, 2013) – Gooding & Company, the official auction house of the Pebble Beach Concours d'Elegance®, is expanding its existing team with the addition of Hans Wurl, a well-known classic car specialist with a strong technical background. Wurl has served as advisor to noted collectors and participated in some of the best collector car events around the world. Based in Seattle, Wurl joins Gooding & Company's team of respected automotive specialists David Brynan,....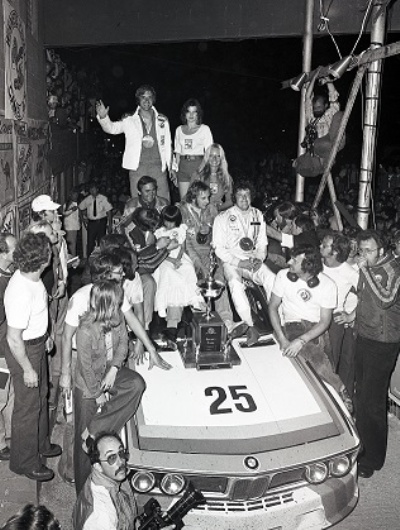 BMW's 'BATMOBILES' SET FOR 19th ANNUAL AMELIA CONCOURSScheduled to appear in the 19th Annual Amelia Concours' BMW 3.0 CSL 'batmobile class' are not only the 1975 Sebring 12 Hour and '76 Daytona 24 winners, but Alexander Calder's 1975 Le Mans 3.0 CSL with his trademark signature on the left rear fender.

BMW's 'Batmobile' racers were glorious mutants. They arrived from Europe wearing a frosting of giant wings, huge fender boxes and big spoilers, all powered by a 430 hp straight-six engine that made a glorious noise and propelled BMW's luxury cou....
400TH BUGATTI VEYRON SOLD – THE VEYRON BEGINS ITS FINAL LAPJust 50 models of the super sports car are still available

• 400th Veyron is a Grand Sport Vitesse 'Jean-Pierre Wimille' of the six-part edition 'Les Légendes de Bugatti'

• Head of Bugatti Wolfgang Schreiber, 'A unique success story about the most exclusive and luxurious super sports car brand in the world'


Molsheim, 5 December 2013. Bugatti has sold its 400th Veyron. Since the production run of the Veyron and its variants is limited to just 450 models, thi....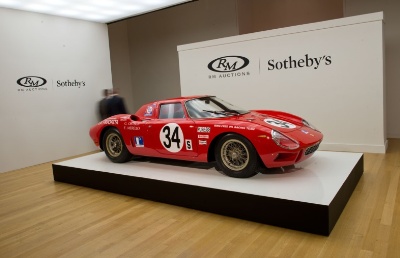 RM Auctions and Sotheby's Stun the Market with Incredible $63 Million 'Art of the Automobile' Sale in New York• RM Auctions and Sotheby's momentous Art of the Automobile auction generates $62,797,500 of sales in two hours of furious bidding
• Records tumble with the historic 1964 Ferrari 250 LM by Carrozzeria Scaglietti achieving $14,300,000 while the stunning 1938 Talbot-Lago T150-C SS Teardrop Cabriolet by Figoni et Falaschi sells for $7,150,000
• 93 percent of all lots sold to an international audience of bidders representing 17 countries
• Full results are available online at www.rmauctions.c....
Expert Symposium Delivered to Packed Room Ahead of 'Art of the Automobile' New York Sale• RM Auctions and Sotheby's deliver highly outstanding expert symposium to more than 700 people
• Six hugely influential and respected specialists set the scene in advance of truly groundbreaking Art of The Automobile sale
• Anticipation building for what is being regarded as one of the finest and most innovative collector car auctions ever held

NEW YORK, New York (November 20, 2013) – The eyes of the collector car community are firmly fixed on New York, as RM Auctions and Sotheby's,....
2013 Dodge Viper GTS Launch Edition
---
2013 Ford GTR1
---
2013 McLaren MP4-12C SPIDER
---
2012 Bentley Mulsanne Convertible Concept
---
2011 MINI Countryman WRC
---
2009 Chevrolet Corvette C6.R GT2
---
2008 Aston Martin V8 Vantage GT2
---
2008 Ford GT-R
---
2007 Dodge Viper Competition Coupe
---
2007 Rolls-Royce Phantom
---