Shelby Heritage Display Features Rarest of the Rare at Rolex Monterey Motorsports Reunion
Complementing the impressive number of authentic competition Shelby Cobras thundering around the circuit in their dedicated race group (3A) at this year's Rolex Monterey Motorsports Reunion, August 17-19, will be a collection of unequalled magnitude at Ford Motor Company's onsite Shelby Cobra Heritage Display. The Rolex Monterey Motorsports Reunion at Mazda Raceway Laguna Seca is a cornerstone, along with the famed Pebble Beach Concours d'Elegance, of Monterey Classic Car Week. The event is celebrating the 50th anniversary of the Shelby Cobra while shaping up to be a fitting remembrance of Carroll Shelby, who died May 10. According to Ford Motor Company's Group Vice President for Global Marketing, Sales and Service, Jim Farley, the weekend is going to be filled with everything and everyone that Shelby touched. 'There will never be another person like Carroll Shelby,' Farley said. 'His legacy is forever immortalized within the walls of Ford Motor Company and the hearts of millions of automotive enthusiasts. The Monterey weekend will be a very special gathering and fitting tribute to the man who accomplished the unimaginable.'
Never before, and perhaps never again, will these cars – which helped turn Carroll Shelby's dream into a reality and created the legend – be grouped together in one location. And while there will be hundreds of Shelby Cobras descending on the Monterey Peninsula for Classic Car Week and the Rolex Monterey Motorsports Reunion, none will be as historically significant as the featured cars in the Heritage Display, which include*: Daytona Coupe (CSX 2299) - The most significant of the six coupes, this is the car that won the 24 Hours of Le Mans, Daytona Continental 24 Hour, 12 Hours of Sebring and the 1965 FIA GT World Championship. It was driven by Dan Gurney, Bob Bondurant and others. (Courtesy of the Shelby American Museum) FIA Cobra Roadster (CSX 2345) - Probably the most significant Cobra. It compiled five FIA wins and was driven by Phil Hill, Bob Bondurant, Roy Salvadori, Sir John Whitmore and others. It is completely original and untouched, including tires, from its last win in 1965 at Rossfeld, Germany. (Courtesy of the Shelby American Museum) USRRC Cobra Roadster (CSX 2431) - The most recognizable Cobra roadster No. 98 was driven almost exclusively by Ken Miles. (Courtesy of the Shelby American Museum) Sebring Cobra Roadster (CSX 2128) - Known as the 'Hey Little Cobra' roadster, this was driven by Dan Gurney and Ken Miles. (Courtesy of the Shelby American Museum) Cobra Roadster (CSX 2026) - The first Cobra to ever win a race and a national championship, it was primarily driven by Dave McDonald, Lew Spencer and Bob Johnson. (Courtesy of the Shelby American Museum) Cobra Roadster (CSX 2002) - The very first Shelby factory race car and the third Cobra ever built, it was driven by Billy Krause and others. (Courtesy of the Shelby American Museum) Cobra (CSX 2128) - This was one of two Cobras built for the 1963 12 Hours of Sebring. (Courtesy of the Larry H. Miller Auto Museum) Cobra (CSX 3017) - This was a full competition 427 Cobra. (Courtesy of the Larry H. Miller Auto Museum) Cobra #1 - The very first Shelby Cobra, this car debuted at the 1962 New York Auto Show. (Courtesy of Shelby American) Cobra (CSX 4000) - This was the first re-creation of the famed Cobra, which has become the most replicated car in history. (Courtesy of Shelby American) Cobra 289 Dragonsnake (CSX 2427) - This is the only 'Stage III' factory Dragonsnake Cobra ever and is also the only original yellow and Weber-inducted Cobra sold to the public. It has undergone a meticulous, multi-year restoration that earned it a nearly perfect score at SAAC's concourse. The car cost $8,695 in 1964. (Courtesy of Steven Juliano from Pelham Manor, NY) Advance general admission tickets start at $50. A three-day ticket is only $130 and includes a complimentary souvenir magazine. Children 12 and under are free with a paying adult. Hospitality options begin at $200 per person. For more information on the Rolex Monterey Motorsports Reunion or to purchase tickets, call 800-327-7322 or visit www.MazdaRaceway.com.
Recent Articles
Tom Fritz Creates The 19Th Annual Amelia Island Concours D'elegance PosterThe posters for the Amelia Island Concours d'Elegance have become collectible car art and the 2014 edition is no exception. Today the Concours revealed that the 19thannual event poster was created by famed hot rod artist Tom Fritz and honors Jochen Mass on the 25th anniversary of his victory in the 1989 24 Hours of Le Mans driving his Mercedes-Benz Sauber C9. The beautiful piece takes creative cues from the first Amelia poster in 1996, well-known for honoring the record-setting drive of Sir Stir....
1958 FERRARI 250 GT LWB CALIFORNIA SPIDER STARS AT RM'S 15TH ANNUAL ARIZONA SALE• RM Auctions announces latest highlights for its two-day Arizona auction, January 16 – 17 in Phoenix, led by a highly prized 1958 Ferrari 250 GT LWB California Spider
• Most recent blue-chip entries join a spectacular roster of more than 120 handpicked automobiles for the sale at the beautiful Arizona Biltmore Resort & Spa
• Frequently updated list of entries available online at www.rmauctions.com

BLENHEIM, Ontario (December 10, 2013) – RM Auctions, the world's largest auctio....
Maserati Celebrates 100th Anniversary as Featured Marque of the Rolex Monterey Motorsports ReunionAugust 14-17 at Mazda Raceway
MONTEREY, Calif., December 10, 2013 — The Rolex Monterey Motorsports Reunion will celebrate the rich 100-year history of Maserati, one of Italy's iconic luxury sports car brands that throughout the century has been deeply rooted in racing. The celebration will be held August 14-17, 2014 at Mazda Raceway Laguna Seca.

The Monterey Classic Car Week and Rolex Monterey Motorsports Reunion is a haven for international classic car enthusiasts. Centered a....
MAZDA6 SKYACTIV-D CLEAN DIESEL RACECARS COMPLETE THUNDERHILL 25-HOUR DEBUTDecember 8, 2013 (WILLOWS Calif.) — The Venn diagram that best showcases Mazda Motorsports is the overlap between endurance racing and club racing. That overlap was showcased on a freezing cold weekend at the longest endurance race in America, the National Auto Sport Association (NASA)'s US Air Force 25 Hours of Thunderhill. Of the 57 cars that took the green flag on Saturday, 16 of them were Mazda-powered, more than any other brand. When the checkered flag dropped on Sunday, three of ....
PORSCHE: MOST SUCCESSFUL MANUFACTURER IN ALMS HISTORY WITH 12 CLASS CHAMPIONSHIPSAtlanta. Official testing for the new TUDOR United SportsCar Championship (TUSCC) series has already begun, and sports car fans everywhere are discussing the new classes, the new rules, the new cars, the new venues and how it will all come together on the track.

However, let's take one last look in the rear view mirror at the American Le Mans Series (ALMS), which started in March, 1999 at Sebring, and ended just weeks ago at Road Atlanta. The retrospective provides a basis for what Por....
Car Expert Hans Wurl Joins Gooding & Company's Team of Classic Automobile SpecialistsSANTA MONICA, Calif. (December 9, 2013) – Gooding & Company, the official auction house of the Pebble Beach Concours d'Elegance®, is expanding its existing team with the addition of Hans Wurl, a well-known classic car specialist with a strong technical background. Wurl has served as advisor to noted collectors and participated in some of the best collector car events around the world. Based in Seattle, Wurl joins Gooding & Company's team of respected automotive specialists David Brynan,....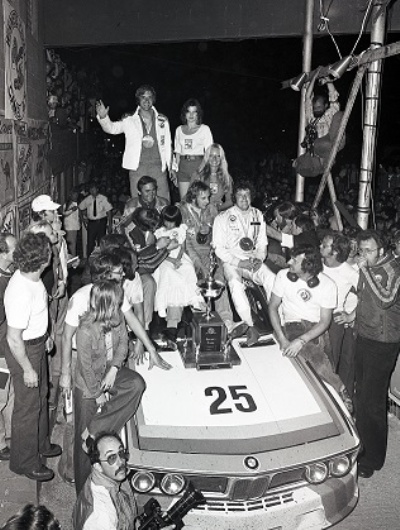 BMW's 'BATMOBILES' SET FOR 19th ANNUAL AMELIA CONCOURSScheduled to appear in the 19th Annual Amelia Concours' BMW 3.0 CSL 'batmobile class' are not only the 1975 Sebring 12 Hour and '76 Daytona 24 winners, but Alexander Calder's 1975 Le Mans 3.0 CSL with his trademark signature on the left rear fender.

BMW's 'Batmobile' racers were glorious mutants. They arrived from Europe wearing a frosting of giant wings, huge fender boxes and big spoilers, all powered by a 430 hp straight-six engine that made a glorious noise and propelled BMW's luxury cou....
2014 Ford George Follmer Edition Mustang
---
2014 Ford Mustang U.S. Air Force Thunderbirds
---
2014 Mercedes-Benz SLS AMG Black Series
---
2013 Dodge Viper GTS Launch Edition
---
2013 Ferrari 458 Italia Grand Am
---
2013 Ford 1000 S/C
---
2013 Ford GT500 Super Snake Wide Body
---
2013 Ford GTR1
---
2013 Ford Mustang Red Tail Edition
---
2013 Mazda CX-5
---