Three Toyota Models Selected as Best Family Cars of 2012
Three Toyota models have been selected as among the Best Family Cars of 2012 by Parents magazine and Edmunds.com. This is their fifth annual list, which will appear online today and on newsstands June 12. Toyota earned picks across three categories including Prius v in the high-mileage category; Camry in the sedan category and the Sienna minivan in the large vehicle category. Vehicles considered were evaluated on a number of criteria important to families including safety, fuel economy, and kid-friendly features, as well as ride comfort, styling and handling. 'We're proud to have several Toyota models on the list of best family cars for the fifth year in a row,' said Bob Carter, group vice president and general manager, Toyota Division. 'Families know they can always depend on Toyota for safety, quality and durability, but they also recognize the importance of the convenience and technology features in our vehicles that help make their lives easier.'

In the high-mileage car category, the editors chose vehicles with more than 40 miles per gallon on the highway and offering safety features and modern conveniences. As a new member of the Prius family this year, the Prius v was cited for its stable ride and ample cargo space and was praised for its versatility and standard technology features including the Entune® mulitmedia system and a hands-free smart key, which unlocks the driver's side door as you approach the door handle. The 2012 Camry was highlighted as a best pick in the sedan category. Completely redesigned for 2012, the all-new seventh generation Camry was chosen for its updated styling, convenient technology including Entune, excellent fuel economy, quiet ride and ample trunk space. The Camry is America's best-selling car, and as an IIHS Top Safety Pick for 2012 it is extremely popular with families. Rounding out the best family cars in the large vehicle category is the Sienna minivan, chosen for its flexible configurations to fit every type of trip, family and cargo combination. The Sienna was completely redesigned in 2010, catering to traditional family van needs while also meeting growing demands for more responsive driving characteristics, contemporary styling and onboard entertainment technology. With state-of-the-art features and rewarding driving dynamics, the Sienna is a vehicle that families of any size will find satisfying to drive. The Sienna is manufactured at Toyota Motor Manufacturing, Indiana, Inc. while the Camry is built at Toyota Motor Manufacturing, Kentucky, Inc. 'Toyota has a long history of satisfying the automotive needs of American families,' said Scott Oldham, editor-in-chief, Edmunds.com. 'The Sienna minivan, the redesigned Camry and the all-new Prius v hybrid are leaders in their respective segments, offering America's families the spacious, fun, fuel-efficient and reliable transportation they need.'
Recent Articles
FORD FUSION ENERGI EARNS TOP VEHICLE SAFETY RATING FROM NHTSA◾ The National Highway Traffic Safety Administration (NHTSA) awards the all-new 2013 Ford Fusion Energi a five-star Overall Vehicle Score in its New Car Assessment Program (NCAP)
◾ 2013 Ford Fusion was also named Top Safety Pick+ by the Insurance Institute for Highway Safety, the highest recommendation the organization has for vehicle safety
◾ In addition to top safety marks, Fusion Energi also achieves EPA-rated fuel economy of 100 MPGe combined, including 108 MPGe city/92 MPGe highway

....
2014 SUBARU FORESTER ACES TOUGH NEW CRASH TEST; EARNS NEW IIHS 2013 TOP SAFETY PICK+ RATING• All-new The 2014 Subaru Forester is the first vehicle to ace every aspect of the challenging small overlap front crash test conducted by the Insurance Institute for Highway Safety
• Forester is also the only small SUVs to earn an overall rating of good in the test

Cherry Hill, N.J., - Subaru of America, Inc. today announced that the all-new 2014 Forester has received a Top Safety Pick+ (TSP+) award from the Insurance Institute for Highway Safety (IIHS). The 2014 Subaru Forester is ....
2013 Mitsubishi Outlander Sport Awarded Insurance Institute for Highway Safety (IIHS) TOP SAFETY PICK+Cypress, California, May 16, 2013 --
Mitsubishi Motors North America, Inc. (MMNA) is honored to learn that the company's best-selling model – the 2013 Mitsubishi Outlander Sport compact crossover vehicle – has today been named a 2013 'Top Safety Pick+' award winner by the Insurance Institute for Highway Safety (IIHS). The Outlander Sport's 2013 IIHS 'Top Safety Pick+' award comes in addition to the two straight IIHS Top Safety Pick awards the handsome 5-passenger compact crossover has a....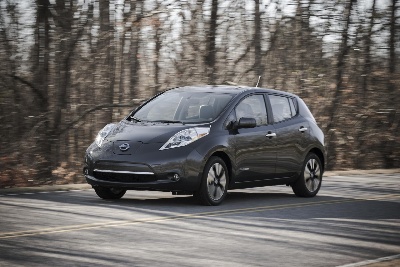 NISSAN LEAF EARNS 'TOP SAFETY PICK' FROM IIHSNow in its third model year, the highly innovative, industry-leading Nissan LEAF pure electric vehicle added another award to its trophy case with the Insurance Institute for Highway Safety (IIHS) 'Top Safety Pick' designation, which recognizes vehicles for excellent performance in four passenger safety tests.

The LEAF achieved the Institute's highest rating of 'Good' in front, side, rollover and rear crash tests. Nissan LEAF joins Nissan Altima and Infiniti M37/M56 on the list of 2013 Top Sa....
Volvo Announces April SalesROCKLEIGH, N.J. (May 1, 2013) - Volvo Cars of North America, LLC, (VCNA) reported U.S. sales of 4,464 units, a 7.9 percent decrease from April 2012. Year-to-date sales are down 8 percent over the first four months of 2012.

The S60 sports sedan was the top seller for the month with 1,547 units sold. The XC60 crossover, currently the only luxury SUV to earn IIHS' Top Safety Pick+ award, finished the month right behind with 1,455 units sold, up 15.4 percent versus April 2012.

About Volvo[/....
CHEVROLET MALIBU MAKES VEHICLE ENTRY EASIERThe 2013 Chevrolet Malibu sedan equipped with four-door passive entry makes life a little easier for those frantically searching for keys in the bottom of a deep purse or fumbling to find them when carrying a child or bags of groceries.

Chevrolet placed small buttons on all four doors allowing the driver to unlock the door with one press and all four doors and the trunk with two presses.

An option on the Malibu LTZ, four-door passive entry is a common feature on luxury vehicles, but scarce....
2013 Mitsubishi Lancer Sport Recognized By Usaa As The 'Best Value' In The Small Sedan SegmentMitsubishi Motors North America, Inc. (MMNA) is proud to announce that its well-equipped and affordably-priced 2013 Mitsubishi Lancer sport sedan has been recognized as the 'Best Value' in the small sedan vehicle segment by USAA.

USAA, a leading financial services provider to the U.S. military community and its members' families, has created its 'Best Value' list by using quantitative data to evaluate vehicles' cost, safety and reliability, among other important factors.

'The goal of the l....
2014 MAZDA6 NAMED TO WARD'S '10 BEST INTERIORS' LISTThe all-new 2014 Mazda6 today was named to WardsAuto World's 10 Best Interiors list, as chosen by the publication's editors. The redesigned mid-size sports sedan features Mazda's new design language called KODO 'Soul of Motion,' which translates muscular movement and power into agile proportions, detailed sculpting and expressive character. The Mazda6 also was recently named one of the top three vehicle designs in the world for 2013 by the World Car Awards.


'The automotive industry, regardl....
2014 RLX Acura
---
2013 Enclave Buick
---
2013 Malibu Chevrolet
---
2013 Sonic Chevrolet
---
2013 300 Chrysler
---
2013 Avenger Dodge
---
2013 Avenger Blacktop Dodge
---
2013 Charger Dodge
---
2013 Durango Dodge
---
2013 Grand Caravan Dodge
---
blog comments powered by

Disqus