See Vintage Steam Cars at this year's Glenmoor Gathering
One of the highlighted features of the 2012 Gathering will be steam-powered automobiles. At the end of the 19th century, steam was king—and proven. It powered industrial machinery, ships and railroad locomotives. It was only natural that steam was used to power early automobiles. The most famous of these was the Stanley (shown above) but another well-known steam car was built in Cleveland—the White—and Locomobile began as a steam car. In all, more than 200 vintage and classic American and European automobiles and motorcycles will be on the show field. There will be a display of Allard automobiles, 'micro cars,' early supercharged cars and 'The Trans Atlantics'—automobiles with European and U. K. coachwork and American engines. On Friday afternoon, there'll be two seminars. The first will be an automotive design seminar moderated by artist Peter Maier with automotive designers Bill Porter and Larry Turk. It will be followed by 'How to Buy a Collector Car' with Wayne Carini of 'Chasing Classic Cars' and collector car expert Ralph Marano. Other weekend activities include the Passport Transport Countryside Tour, Classic Motorcars Collector Car Auction, cocktail party and Gala Dinner, cooking demonstrations, a Junior Judges' program and other family activities. During the concours, automotive art by a variety of artists will be on display and for sale. Several automotive authors will also be in attendance to sell and autograph their books. On Sunday, there will again be a separate, special display on the club's front lawn of 'World Class Performance Cars,' including Ferraris, Lamborghinis, Maseratis, Vipers and Porsches.

For more information visit www.GlenmoorGathering.com or call (330) 966.3600.
Recent Articles
RAGAN GIVES FRONT ROW MOTORSPORTS FIRST NASCAR WIN AS FORD SWEEPS TOP THREE SPOTS AT TALLADEGAFord Racing Results:

1st – David Ragan
2nd – David Gilliland
3rd – Carl Edwards
9th – Scott Speed
10th – Aric Almirola
13th – Ricky Stenhouse Jr.
14th – Marcos Ambrose
15th – Brad Keselowski
19th – Josh Wise
21st – Michael McDowell
24th – Casey Mears
35th – Joey Logano
36th – Greg Biffle
43rd – Trevor Bayne

RAGAN WINS FIRST RACE FOR FRONT ROW MOTORSPORTS

· David Ragan registered the second NASCAR Sprint Cup Series win of his career and first at Tallade....
FULL STEAM AHEAD FOR HISTORICS• Stanley Steamer takes centre stage for spring sale


Brooklands will provide the backdrop for the ultimate MPV – built long before the category was even invented – when a 1917 20hp Stanley Mountain Wagon crosses the 'block' on Saturday March 9th for Historics' spring sale.

Having sold their dry plate photographic business to Eastman Kodak, twin brothers Francis E. Stanley and Freelan O. Stanley decided to set up the Stanley Motor Carriage Company in order to manufacture steam powe....
Red Bull Racing: 2012 Formula One World ChampionsFourth Team in History to Achieve Three Consecutive Titles Team Takes its Third World Title in Eight Years

Car 1 SEBASTIAN VETTEL, Finish Position: 2nd, Start Position: 1st
'I'm very, very happy for the team to win a third Constructors'. It's been a tough year so far and they have been pushing incredibly hard; they deserve to win, as we have been the best team. Obviously Mark and I were pushing throughout the year. It was a shame for Mark not to finish today. It was a very good....
Lamborghini Aventador Heads Stellar Line-up of World Class Performance Cars at this year's Glenmoor GatheringOne of four Lamborghini Aventadors in the United States will head an incredible line up of World Class Performance Cars on the front lawn of Glenmoor Country Club on Sunday, Sept. 16. The 700 horsepower Aventador can go from 0-62 in 2.9 seconds. Andrew Romanowski, president of the Lamorghini Club of America will attend the Gathering. This special class will include more than 20 Lamborghinis, including Murcielago, Gallardo, Countach, Diablo, Jarama, Jalpa and 400GT. Other marques on display incl....
Wayne Carini Headlines Excellent Seminar Line-up At this year's GatheringWayne Carini, who appears in 'Chasing Classic Cars' on the Velocity Channel, will headline this year's seminar line-up. Carini will appear with noted car collector Ralph Marano to discuss 'How to Buy a Collector Car' on Friday, Sept. 14 from 4 – 5:30 p.m.That seminar will be preceded by a presentation by Andrew Beckman of the Studebaker National Museum on the Avanti. That presentation will take place from 2:30 – 3:45 p.m. Tickets for each seminar at $10 each and can be purchased at Glenmoor Coun....
Seven original Tuckers on display at 2012 Glenmoor GatheringSeven 1948 Tucker automobiles will be on display at the 18th annual Glenmoor Gathering. Of the original 51 Tuckers built, 49 remain. In addition, there'll be a movie prop car used in the 1988 movie 'Tucker: The Man and his Dream.' And, there'll be a 'modern' Tucker, as well!
More than 220 vintage and classic American and European automobiles and motorcycles will be on display, including Tucker automobiles, Allard sports cars, early supercharged automobiles and steam-powered cars.

On Fri....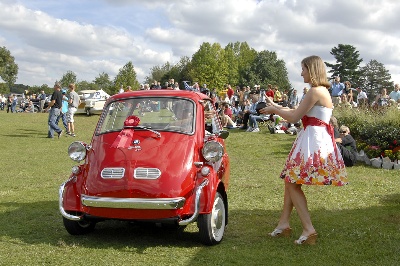 Micro cars at this year's Glenmoor GatheringOne of the fun categories of cars is the 'Micro cars,' such as the BMW Isetta cabrio owned by Michael D. McCloskey, from Finleyville, Pennsylvania pictured above. These are cars—but just a bit smaller that you'd expect! Several of them are obscure makes no longer in production such as the Peel Trident, Iambetta Innocenti, Mini Moke, BMW Isetta, Lloyd and Vespa. Three of the popular American manufacturers were Crosley, Bantam and Nash Metropolitan. They'll all be on display at
the 2012 Glen....

2012 Gathering Poster Artwork Created by AFAS Artist Jack JuratovicThe poster artwork for the 2012 Glenmoor Gathering poster was created by Jack Juratovic, a founding member of the Automotive Fine Arts Society and editor of the AFAS Journal. His work has appeared in numerous publications and at concours throughout the United States. His poster subject is the legendary 1935 Duesenberg SJ roadster known as 'the Mormon Meteor,' which was raced on the Utah salt flats in the 1930's. Today, the car is owned by collector Harry Yeaggy, who will display it at this yea....
2012 F 125! Concept Mercedes-Benz
---
2012 Dock+Go Concept Rinspeed
---
1958 Universal Kombi DKW
---
1931 Model 41 Pierce Arrow
---
1925 Model 95 Detroit Electric
---
1923 122 Miller
---
1920 Model 82 Detroit Electric
---
1920 Model 30 Dodge
---
1913 Model A Twombly
---
1912 Model 60 White
---
blog comments powered by

Disqus