Automotive Hall of Fame Inductees Named
Awards to be Presented in Conjunction with the Concours d'Elegance of America The Automotive Hall of Fame will present its annual induction and awards ceremony on Thursday, July 26, 2012 as one of the week-long Concours d'Elegance of America events. It will be held at The Inn at St. John's in Plymouth, Michigan. Both the Concours d'Elegance of America and the Automotive Hall of Fame celebrate the heritage and history of Detroit. The show highlights the evolution of the automobile's technology and styling, while the induction and awards ceremony recognizes the significant impact of the industry's men and women. 'Partnering with the Concours is a great fit for us because both events showcase the best the American automobile industry has to offer,' said William R. Chapin, president of the Automotive Hall of Fame.

This year's Automotive Hall of Fame inductees include: • James Couzens, the business brains behind Henry Ford's early successes* • Tom Gale, whose designs injected renewed energy and style into the domestic design scene** • Chuck Jordan, the legendary GM designer whose motto was 'no dull cars'*** • Albert Kahn, the foremost American industrial architect of his day**** The inductees are individuals who have had a positive influence on the industry. After nominations are submitted to an advisory panel, their recommendations and the list of all nominees are chosen by the Awards Committee. The organization's Board then makes the final decision on who will be inducted into the Automotive Hall of Fame. Located in Dearborn, Michigan, the Automotive Hall of Fame is dedicated to honoring both automotive pioneers and present-day industry leaders. The site of the induction ceremony will be at The Inn at St. John's, 44045 Five Mile Road, in Plymouth, Michigan. The annual Concours d'Elegance car show will be held there on Sunday, July 29, 2012 from 10 a.m. to 4 p.m. ABOUT THE CONCOURS d'ELEGANCE OF AMERICA: The Concours d'Elegance of America has been recognized through its longevity as the pre-eminent American-centric car show in the country. For its first 32 years, the Concours d'Elegance of America was held at Oakland University's Meadow Brook Hall. Beginning in 2011, this world-class event was held on the grounds of The Inn at St. John's in Plymouth, Michigan. ABOUT THE AUTOMOTIVE HALL OF FAME: The Automotive Hall of Fame has celebrated outstanding automotive achievement since it was founded in New York City in 1939. The Automotive Hall of Fame is located in a 25,000-square-foot building at 21400 Oakwood Boulevard, Dearborn, MI next to the world-famous Henry Ford Museum. Hours are 9 a.m. to 5 p.m. Wednesday through Sunday. Please call (313) 240-4000 or visit www.automotivehalloffame.org. *James Couzens Regarded as the business brains behind Henry Ford's early success, Couzens held the position of Ford Motor Company's general manager until 1915. It was Couzens' idea to pay workers $5 for an eight-hour day in 1914, thereby increasing workers' wages so they could buy a car. When he cashed out in 1919, his original $2,500 stake in the company was worth more than $29 million. Couzens went on to donate much of his fortune to civic causes, serving as mayor of Detroit from 1918 to 1922 and as a U.S. senator from Michigan from 1922 until his death in 1936. **Tom Gale Born in Flint, Michigan, Gale put himself through college working in auto factories and gas stations. Joining Chrysler in 1967, he moved from engineering into design and rose to design chief during his 33-year career. Among his notable designs were the original Dodge Viper concept, the company's sleek cab-forward LH sedans in 1998 and such later dramatic rear-wheel-drive sedans as the Chrysler 300 and the Dodge Charger. Gale also led teams creating such concept cars as the Chrysler's Atlantic, Chronos and Portofino and the Plymouth Prowler. Since retiring from Chrysler in 2000, he has been building hot rods, aiding start-up ventures and community-building efforts. ***Charles (Chuck) Jordan One of the most influential automotive designers of the 20th Century, Jordan first started sketching cars as a six-year-old growing up in California. A worthy successor to Harley Earl and Bill Mitchell, Jordan joined General Motors in 1949 and became chief designer of GM's special projects studio four years later. With the motto of 'no dull cars,' Jordan designed the 1959 Cadillac Eldorado, the 1963 Buick Riviera, the 1966 Oldsmobile Toronado and the 1988 Buick Reatta among others. His teams also created the Oldsmobile Aurora, the 1992 Cadillac STS, the third-generation Firebirds and Camaros and such concept cars as the Olds Aerotech. He died in 2011 at the age of 83. ****Albert Kahn Though he never designed a car or ran a car company, Kahn is forever linked to the American auto industry. As an architect, his reinforced concrete building techniques made possible the modern auto factory. After designing the Packard plant in 1907, he went on to design Ford's Highland Park plant and later, the legendary Rouge plant, the Willow Run bomber plant and the Detroit Arsenal tank plant. He also designed factories for Chrysler and such Detroit-area landmarks as the Fisher Building, the original General Motors headquarters, the Dearborn Inn, Ann Arbor's Hill Auditorium and the Edsel and Eleanor Ford House. As America's foremost industrial architect, he died in 1942.
Recent Articles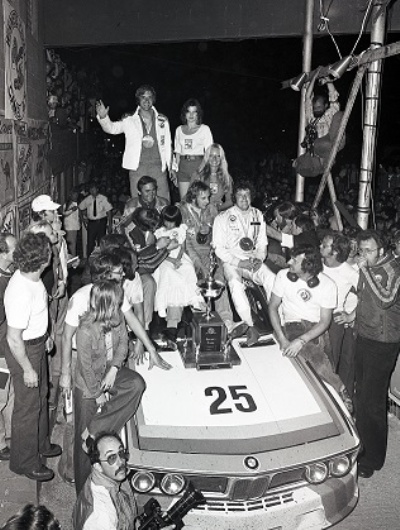 BMW's 'BATMOBILES' SET FOR 19th ANNUAL AMELIA CONCOURSScheduled to appear in the 19th Annual Amelia Concours' BMW 3.0 CSL 'batmobile class' are not only the 1975 Sebring 12 Hour and '76 Daytona 24 winners, but Alexander Calder's 1975 Le Mans 3.0 CSL with his trademark signature on the left rear fender.

BMW's 'Batmobile' racers were glorious mutants. They arrived from Europe wearing a frosting of giant wings, huge fender boxes and big spoilers, all powered by a 430 hp straight-six engine that made a glorious noise and propelled BMW's luxury cou....
400TH BUGATTI VEYRON SOLD – THE VEYRON BEGINS ITS FINAL LAPJust 50 models of the super sports car are still available

• 400th Veyron is a Grand Sport Vitesse 'Jean-Pierre Wimille' of the six-part edition 'Les Légendes de Bugatti'

• Head of Bugatti Wolfgang Schreiber, 'A unique success story about the most exclusive and luxurious super sports car brand in the world'


Molsheim, 5 December 2013. Bugatti has sold its 400th Veyron. Since the production run of the Veyron and its variants is limited to just 450 models, thi....
GM FOUNDATION GRANT SENDS 256 DETROIT CHILDREN TO PRESCHOOLDETROIT – The General Motors Foundation is making a quality preschool education possible for 256 children in Detroit's most challenged neighborhoods through a $500,000 grant in support of the Education Achievement Authority (EAA) of Michigan.

'Early education is a critical factor in the long-term success of our children. This very generous gift from the GM Foundation will make a huge difference in the lives of our children, and we are very grateful for the support,' Education Achieveme....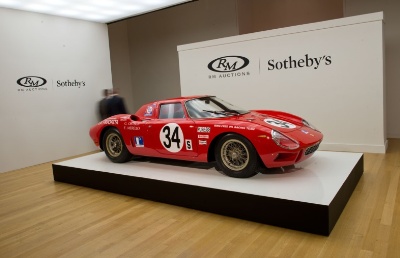 RM Auctions and Sotheby's Stun the Market with Incredible $63 Million 'Art of the Automobile' Sale in New York• RM Auctions and Sotheby's momentous Art of the Automobile auction generates $62,797,500 of sales in two hours of furious bidding
• Records tumble with the historic 1964 Ferrari 250 LM by Carrozzeria Scaglietti achieving $14,300,000 while the stunning 1938 Talbot-Lago T150-C SS Teardrop Cabriolet by Figoni et Falaschi sells for $7,150,000
• 93 percent of all lots sold to an international audience of bidders representing 17 countries
• Full results are available online at www.rmauctions.c....
Expert Symposium Delivered to Packed Room Ahead of 'Art of the Automobile' New York Sale• RM Auctions and Sotheby's deliver highly outstanding expert symposium to more than 700 people
• Six hugely influential and respected specialists set the scene in advance of truly groundbreaking Art of The Automobile sale
• Anticipation building for what is being regarded as one of the finest and most innovative collector car auctions ever held

NEW YORK, New York (November 20, 2013) – The eyes of the collector car community are firmly fixed on New York, as RM Auctions and Sotheby's,....
AMELIA ISLAND CONCOURS D'ELEGANCE WINS PRESTIGIOUSThe annual International Historic Motoring Awards, in association with EFG International and Octane magazine, announced this week that the Amelia Island Concours d'Elegance has been named the recipient of the 2013 Motoring Event of the Year award.

The Amelia Island Concours d'Elegance is the third winner of the Motoring Event of the Year Award, which honors automotive celebrations from Australia, Germany, Italy, the United States and the United Kingdom. Finalists in the 2013 events category ....
Gooding & Company Celebrates 10th Anniversary as Global Appreciation of Cars Push Markets to New High in 2013SANTA MONICA, Calif. (November 11, 2013) – The mystique of collectable cars continues to expand enthusiasm and buyer participation around the globe. In 2013, Gooding & Company, the auction house acclaimed for selling the world's most significant and valuable collector cars, celebrated its 10th anniversary and saw new and returning bidders flock to its three auctions. Demonstrating Gooding & Company's power in the marketplace is an annual auction total of $192.6 million for 286 lots with a....
Mecum's 2014 Schedule Expands To Include East Coast AuctionMecum Introduces New Auction in Harrisburg, Pennsylvania, July 24-26, 2014

Walworth, WI - November 12, 2013 -- Mecum Auctions – the largest collector car auction company in the world – will introduce a new auction to its already vast 2014 lineup extending its reach further into the East Coast. With 12 classic and collector car auctions and four vintage tractor auctions on the 2014 docket, Mecum will take the action to Harrisburg, Penn., in July for three days with an expected 1,....
2013 Dodge Viper GTS Launch Edition
---
2013 Ford GTR1
---
2013 Ford Mustang Cobra Jet Twin-Turbo Concept
---
2013 McLaren MP4-12C SPIDER
---
2012 Bentley Mulsanne Convertible Concept
---
2012 Ford Mustang Boss 302 Laguna Seca
---
2011 LaSalle C-Hawk Concept
---
2010 Ford Focus RS Le Mans Edition
---
2008 Ford Fiesta
---
2008 Ford Harley-Davidson Super Duty
---