Coveted Pair of Ford GT40's Join the Starting Grid For RM's Monterey Sale
A coveted pair of GT40s, including a remarkable 1968 Ford GT40 Gulf/Mirage Lightweight Racing Car, chassis P/1074, and a strikingly authentic, unrestored 1967 Ford GT40 MK I, chassis P/1059, are the latest star attractions confirmed for RM Auctions' highly anticipated Monterey sale, August 17–18, in California. Widely considered one of the most heroic and legendary racing automobiles ever conceived, the GT40 succeeded the Shelby Daytona coupe as Ford's standard-bearer during the infamous Ford-Ferrari wars of the 1960s. Among its many achievements, the utterly dominant GT40 stands proudly as the first American-built racing car to take victory at La Sarthe, and it scored consecutive victories at the 24 Hours of Le Mans from 1966 through 1969. Concurrent road cars featured similar mechanical specifications to its racing counterpart but with slightly less austere cockpits, which included fully upholstered interiors. In total, only 133 of all variations of the original factory GT40 were built before production ceased in 1969. Continuing its strong track record for offering the world's finest sports and racing cars in Monterey, RM is honored to present two examples of the highly revered GT40 at its upcoming August sale, representing both road and racing variations. Handpicked by RM's expert specialists for the Monterey auction, they join a superlative list of early multimillion-dollar entries. ''The legendary Ford GT40 is without doubt one of the most celebrated and sought after motor cars ever built. Both aesthetically and competitively, it remains a highpoint in the history of American racing and sports car design,' says Shelby Myers, Managing Director, RM California. 'To have the honor of offering one GT40 is a great privilege, but to present two, spanning both sides of GT40 production, is extremely exciting. We are truly honored to have been entrusted by the respective owners of these two cars to present them at our Monterey sale. Previously displayed together at the GT40 30th Anniversary Reunion in Elkhart Lake in 1994, we are thrilled to be reuniting the cars on the Monterey Peninsula in August, where we anticipate strong interest in their sale.'
Anchoring the illustrious pair is the exceptional, competition-specification 1968 Ford GT40 Gulf/Mirage Lightweight Racing Car, chassis P/1074. The first, by serial number, of several lightweight GT40s built for the J.W.A./Gulf team, this exceptional racing car was completed in 1968 and carries an incredible history from new. Finished in the Gulf team colors of Powder Blue with a Marigold stripe, it raced extensively throughout 1968 from Daytona to Le Mans, as well as the Le Mans trials at the hands of Jacky Ickx. P/1074 was then sold to Solar Productions in 1970 and used extensively as the camera car for Steve McQueen's legendary film Le Mans. Over the following years, P/1074 passed through a well-documented chain of owners, participating in various vintage racing events as well as displays, including the GT40 25th Anniversary Reunion in Watkins Glen and the 30th Anniversary Reunion in Elkhart Lake. Purchased by its current gentleman owner in 2000, it underwent a meticulous restoration before being displayed at the Goodwood Festival of Speed in 2003, where it was driven by Jackie Oliver. P/1074 returned to Goodwood the following year and remains to this day a witness and participant of the racing achievements of its era. (Estimate available upon request.) 'Authentic racing GT40s like this example only come up for auction on the rarest of occasions. Well-known in the collector car world and resplendent in its period correct Gulf team colors, P/1074 boasts a fantastic pedigree having competed on some of the world's most famous tracks. Its provenance is further elevated by its connection to the 'King of Cool' Steve McQueen and its role in his iconic film Le Mans. One cannot overstate the importance of the GT40 in automotive history and this rare opportunity for discerning collectors to become one of an elite few to be able to join the distinguished GT40 owner's club,' adds Myers. The 1967 Ford GT40 Mk I, chassis P/1059, represents a wonderfully authentic example of the first generation GT40 Mk I. One of just 31 production GT40 road cars, it was dispatched to the United States in December 1966 as one of 20 vehicles selected for the Mk I Promotion and Dispersal Program. Of this group, it was one of six vehicles consigned to Shelby American for promotional use by their field managers. In preparation for this purpose, P/1059 was re-sprayed in the striking colors of pearlescent white with blue stripes. As this paint scheme was authorized by Ford very early in the car's life and implemented prior to private ownership, it can be essentially considered the car's original finish. During the program, P/1059 was acquired by Stark Hickey Ford, a Detroit dealership, where it remained for several years before passing on to Herb Wetanson, of Long Island, New York, a dealer, restaurateur, and one-time owner of six GT40s. It was then eventually sold to its first private owner, Dr. Jack Frost, a noted collector of vintage sports cars, who retained possession of the car for more than 20 years, until it was purchased by its current owner in 2002. A recent inspection by noted GT40 authority Ronnie Spain in October 2011 reported P/1059 displayed only 4,749 miles from new, making it 'without a doubt one of, if not the lowest mileage GT40s in the world today.' (Est. $2,300,000–$2,700,000) 'A time-capsule example, P/1059 ticks all the boxes when it comes to collectability. Not only is it extraordinarily rare, it has desirable low mileage, exceptional documentation, and boasts just two private owners from new,' says Mike Fairbairn, Co-Founder, RM Auctions. 'It will no doubt command the attention of the most passionate sports car collectors, promising its next owner a warm reception at the world's top vintage touring and racing events and even concours d'elegance,' Fairbairn adds. A tradition spanning over 25 years, RM's highly anticipated Monterey, California sale, held during the same weekend as the prestigious Pebble Beach Concours d'Elegance, returns to the Portola Hotel & Spa and Monterey Conference Center, August 17–18. For further information or to view a frequently updated list of entries for the sale, visit rmauctions.com or call an RM specialist at +1 519 352 4575. Photo credits: Top: 1968 Ford GT40 Gulf/Mirage Lightweight Racing Car (credit – Mathieu Heurtault © courtesy RM Auctions) Second: 1967 Ford GT40 Mk I (credit - Jamey Price © 2012 courtesy RM Auctions)
Recent Articles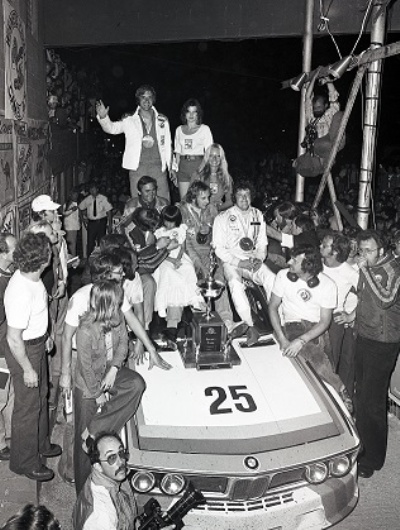 BMW's 'BATMOBILES' SET FOR 19th ANNUAL AMELIA CONCOURSScheduled to appear in the 19th Annual Amelia Concours' BMW 3.0 CSL 'batmobile class' are not only the 1975 Sebring 12 Hour and '76 Daytona 24 winners, but Alexander Calder's 1975 Le Mans 3.0 CSL with his trademark signature on the left rear fender.

BMW's 'Batmobile' racers were glorious mutants. They arrived from Europe wearing a frosting of giant wings, huge fender boxes and big spoilers, all powered by a 430 hp straight-six engine that made a glorious noise and propelled BMW's luxury cou....
LE MANS GREATS HEAD STUNNING ROSTER OF ADDITIONAL ENTRIES FOR RM'S 2014 PARIS SALE DURING RETROMOBILE WEEK• Anticipation builds ahead of RM's €25 million debut Paris sale on 5 February 2014
• More Le Mans greats join stunning competition car line-up at saleLatest highlights include a 1982 Rondeau M482 Le Mans GTP, a veteran of five Le Mans 24 hours races, and a mighty 2008 Peugeot 908 HDi FAP Le Mans Prototype, which finished 2nd at Le Mans, was driven by Jacques Villeneuve, and has been entrusted to be sold by RM by the Peugeot factory
• Other recently secured entries include a Bugatti Type 40 Ro....
McLAREN P1™ JOINS THE EXCLUSIVE SUB-SEVEN MINUTE CLUB AT THE NÜRBURGRING◾The McLaren P1™ achieves its one remaining performance target
◾An average speed in excess of 178 km/h (111 mph) necessary to achieve the required lap time around the 20.8km (13 mile) circuit
◾Short film celebrating the team's achievement at the Nürburgring is available to view and embed at: http://youtu.be/E9IWiTpWeiM

The McLaren name was born on the racetrack and, 50 years on, is the most successful name in global motorsport. That desire and determination to push for every extra tenth of....
400TH BUGATTI VEYRON SOLD – THE VEYRON BEGINS ITS FINAL LAPJust 50 models of the super sports car are still available

• 400th Veyron is a Grand Sport Vitesse 'Jean-Pierre Wimille' of the six-part edition 'Les Légendes de Bugatti'

• Head of Bugatti Wolfgang Schreiber, 'A unique success story about the most exclusive and luxurious super sports car brand in the world'


Molsheim, 5 December 2013. Bugatti has sold its 400th Veyron. Since the production run of the Veyron and its variants is limited to just 450 models, thi....
VOLUME AND VARIETY AT MECUM'S SECOND ANNUAL ANAHEIM AUCTIONWalworth, Wis. - November 27, 2013 -- Mecum Auctions returned to Anaheim, Calif., for its second annual auction at the Anaheim Convention Center and with spectators and bidders pouring in, total sales reached nearly $14 million. With 812 vehicles crossing Mecum's block Nov. 21-23, 412 hammered sold with deals continuing to be made in the Bid Goes On department.

Mecum had originally anticipated a 750-car lineup, but the consignments came in droves bringing the run total to its impressiv....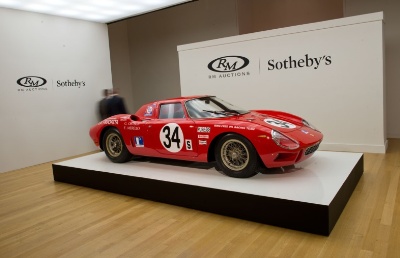 RM Auctions and Sotheby's Stun the Market with Incredible $63 Million 'Art of the Automobile' Sale in New York• RM Auctions and Sotheby's momentous Art of the Automobile auction generates $62,797,500 of sales in two hours of furious bidding
• Records tumble with the historic 1964 Ferrari 250 LM by Carrozzeria Scaglietti achieving $14,300,000 while the stunning 1938 Talbot-Lago T150-C SS Teardrop Cabriolet by Figoni et Falaschi sells for $7,150,000
• 93 percent of all lots sold to an international audience of bidders representing 17 countries
• Full results are available online at www.rmauctions.c....
Expert Symposium Delivered to Packed Room Ahead of 'Art of the Automobile' New York Sale• RM Auctions and Sotheby's deliver highly outstanding expert symposium to more than 700 people
• Six hugely influential and respected specialists set the scene in advance of truly groundbreaking Art of The Automobile sale
• Anticipation building for what is being regarded as one of the finest and most innovative collector car auctions ever held

NEW YORK, New York (November 20, 2013) – The eyes of the collector car community are firmly fixed on New York, as RM Auctions and Sotheby's,....
2014 Caterham Seven 620R
---
2014 Jaguar Project 7 Concept
---
2014 Peugeot RCZ R
---
2014 Skoda Octavia RS
---
2013 Bentley Continental GT3
---
2013 Dodge Viper GTS Launch Edition
---
2013 Dodge Viper GTS-R SRT
---
2013 Ferrari 458 Italia Grand Am
---
2013 Ford GTR1
---
2013 Infiniti FX Vettel Edition
---