An icon in Maranello: Steve McQueen's 275 GTB4
By: Ferrari S.p.A.
Ferrari Classiche recently took delivery of one of the more interesting cars ever to leave the factory - a 275 GTB4 that originally belonged to legendary American star, Steve McQueen who took delivery of the car in San Francisco when he was on the set filming Bullitt. The new owner brought the car to Ferrari Classiche for the company's authenticity certification process, knowing that at some time during the 1980s, when under previous ownership, the car had been converted to a Spider. Under the provisions of the certification process, a Ferrari can only be authenticated if it is to exactly the same specifications as when it left the factory. To this end, the new owner wisely decided to return the car to its original coupé form and Ferrari Classiche has undertaken the restoration reproducing the roof and buttresses with hand-beaten steel panels. Ferraris continue to be an excellent investment, as has shown in a recent report by Business Week on a private treaty sale for $35 million of a 250 GTO built for Stirling Moss.
A world record price that celebrates the 50th anniversary of the launch in 1962 of this homologation special (hence the designation Gran Turismo Omologata), of which just 36 examples were built, and which achieved a seemingly endless series of victories in GT racing in the early 1960s, culminating in three consecutive Manufacturers' titles in 1962, '63 and '64. The Ferrari 250 GTO has been revered in classic car circles for decades for its combination of thoroughbred looks, performance and motor sports heritage and, in 1990, a 1962 example set a then record auction price of $10,756,833. This world record was to stand for 18 years until it was beaten in 2008 by another Ferrari, a 1961 250 California sold by RM Auctions in collaboration with Sotheby's in Maranello for $10,910,592. That record was again beaten in 2011 by the sale in Pebble Beach of a 1957 250 Testa Rossa for $16.39 million. A considerable contribution to the interest for classic Ferraris in recent years has come from the company's direct involvement, with its dedicated department providing certificates of authenticity which testify to the originality of a car. Set up in 2006, Ferrari Classiche has to date processed over 3,300 certification requests using the company's exhaustive archive records and original designs.
Recent Articles
RACE TO THE RED HELMET: NICK MCMILLEN WINS NISSAN GT ACADEMY SEASON 3SILVERSTONE, UK – Nissan GT Academy has crowned a U.S. winner for its third season. In the final 60-minute episode of the popular TV show on Spike TV, 20-year-old Nick McMillen outraced the remaining three competitors with a dramatic last lap pass to earn the coveted red helmet, signifying the crowning achievement in the gamer-to-racer quest. A former motocross rider from Salem, Oregon, McMillen worked in auto sales before quitting his job to embark on his quest for a career in motorsport....
Esteemed Pray Collection To Headline RM's 16Th Annual Amelia Island Sale• RM Auctions announces exceptional estate collection of Malcolm S. Pray Jr. for its 16th annual Amelia Island sale, March 8
• Renowned businessman and philanthropist's collection features no less than 17 automobiles, headlined by a 1937 Delahaye 135 Competition Court Roadster by Figoni et Falaschi that he owned for half a century
• Held in conjunction with the famed Amelia Island Concours d'Elegance, RM's well-established single-day sale will feature a roster of more than 80 blue-chip motor c....
SEB'S WINNING PERSONALITYNASHVILLE, Tenn. – Sebastian Vettel was voted Overseas Sports Personality of the Year at the BBC's annual gala.

He's the second racing driver to win the award, following in the footsteps of Niki Lauda in 1977. He's also the third German: Boris Becker was given the award in 1985 and Steffi Graf in 1988.

Unlike the public vote, which determines the winner of the domestic award, the OSPY is voted for by a panel of 30 sports journalists. In recent times Roger Federer and Usain Bolt have....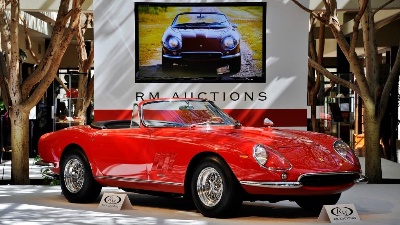 RM Group of Companies Celebrates Record-Setting 2013 With $442 Million in Sales and 'Best of Show' at Pebble Beach• RM group of companies, including RM Auctions and Auctions America, realizes an outstanding $442 million in auction sales in 2013
• RM Auctions secures 78 individual million-dollar-plus transactions and redefines the high-end collector car auction experience with record Monterey and New York sales
• Auctions America expands national footprint with highly successful California debut and live broadcasts on NBC Sports Network
• RM Auto Restoration confirms status as world's premier restorati....
Tom Fritz Creates The 19Th Annual Amelia Island Concours D'elegance PosterThe posters for the Amelia Island Concours d'Elegance have become collectible car art and the 2014 edition is no exception. Today the Concours revealed that the 19thannual event poster was created by famed hot rod artist Tom Fritz and honors Jochen Mass on the 25th anniversary of his victory in the 1989 24 Hours of Le Mans driving his Mercedes-Benz Sauber C9. The beautiful piece takes creative cues from the first Amelia poster in 1996, well-known for honoring the record-setting drive of Sir Stir....
1958 FERRARI 250 GT LWB CALIFORNIA SPIDER STARS AT RM'S 15TH ANNUAL ARIZONA SALE• RM Auctions announces latest highlights for its two-day Arizona auction, January 16 – 17 in Phoenix, led by a highly prized 1958 Ferrari 250 GT LWB California Spider
• Most recent blue-chip entries join a spectacular roster of more than 120 handpicked automobiles for the sale at the beautiful Arizona Biltmore Resort & Spa
• Frequently updated list of entries available online at www.rmauctions.com

BLENHEIM, Ontario (December 10, 2013) – RM Auctions, the world's largest auctio....
Maserati Celebrates 100th Anniversary as Featured Marque of the Rolex Monterey Motorsports ReunionAugust 14-17 at Mazda Raceway
MONTEREY, Calif., December 10, 2013 — The Rolex Monterey Motorsports Reunion will celebrate the rich 100-year history of Maserati, one of Italy's iconic luxury sports car brands that throughout the century has been deeply rooted in racing. The celebration will be held August 14-17, 2014 at Mazda Raceway Laguna Seca.

The Monterey Classic Car Week and Rolex Monterey Motorsports Reunion is a haven for international classic car enthusiasts. Centered a....
Recall the Auto Avio 815 at the Maranello MuseumMaranello, 9 December – On Wednesday 11 December at 17h30, the Ferrari Museum in Maranello will hold a presentation for the book, 'La Prima corsa di Enzo Ferrari,' (Enzo Ferrari's first race) written by Gian Paolo Maini. Also present apart from the author, will be the Vicepresident of the Maranello marque and son of the Founder, Piero Ferrari and Claudio Rangoni Machiavelli, grandson of the marquis Lotario, the other protagonist of the volume edited by Imprimatur.

The book tells the ....