Keels & Wheels Concours d'Elegance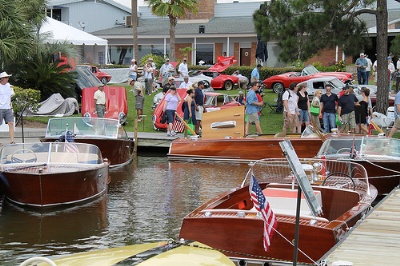 Nearly 12,000 people gathered on the lush grounds of Lakewood Yacht Club to get an up close look at some of the most pristine, classic automobiles and vintage wooden boats in the United States at the 17th Annual Keels & Wheels Concours d'Elegance. The 2012 event was co-hosted by the Antique and Classic Boat Society-Southwest Chapter. In addition, the event raised significant funds for Boys & Girls Harbor. To date, Keels & Wheels has donated more than one million dollars to charity. The 2012 event featured Pre-War American classics featuring Cadillac and LaSalle as well as Packard, Chrysler, Duesenburg, Bugatti and some classic Italian exotics. The boating displays honored the Chris Craft Capri as well as other vintage boats including Century, Hacker, Lyman, Elco, among others. Celebrity-owned cars such as Marlene Dietrich's Phantom 1 Rolls-Royce; the Little Deuce Coupe, hot rod made famous by The Beach Boys; and Hollywood's cowboy megastar Tom Mix's Supercharged Cord 812 drew large groups of onlookers. The Best in Show was awarded to an immaculate 1931 Bugatti Type 54 Roadster owned by Peter and Merle Mullin of Los Angeles and the 1929 Rolls Royce Phantom 1, owned by Richard and Irina Mitchell of Montgomery, Texas. David Watts' 1934 custom Chris-Craft Antique Runabout 'S A Gem was awarded Best of Show - Runabout. While the exquisite, one-of-a kind 36' Limousine Launch Tolka, built in Nova Scotia at the Alexander Graham Bell Laboratories and owned by Lee Anderson of Minneapolis, Minnesota took Best of Show - Cruiser.
Keels & Wheels Concours d'Elegance was made possible by the following sponsors including: the City of Seabrook, Fidelity Investments Clear Lake Investment Center, Richard and Irina Mitchell, Alex Rodriguez Mercedes-Benz, Bayway Auto Group and many other sponsors. We were honored once again this year to have the Antique and Classic Boat Society (ACBS) hold their annual meeting in conjunction with Keels & Wheels. We hope to see you all again next year! For a complete listing of sponsors and winners, visit www.keels-wheels.com.
Recent Articles
STARS, STRIPES AND VICTORY FOR 'THE AMELIA'S' AUSTIN KIMBERLY IN BRITISH ROAD RACING CHAMPIOSNHIPAmerican teenager Austin Kimberly scored his first victory in the 2013 Avon Tyres National FF1600 Championship season at the 2.1 mile Anglesey road racing circuit in Wales (UK) last weekend (May 12). After qualifying third, the young American racer led every lap of the 25.1 mile championship race for 1600cc Formula Ford racers.

A go-kart racer since the age of nine, Austin opened the British Racing Sports Car Club's 2013 national Formula Ford Championship season with two podium appearances....
Spectacular 1936 Delahaye Type 135 Competition Court Coupe and 1969 Ford GT40 MKI take Best in Show at the Concours d'Elegance of TexasHouston, Texas. May 17, 2013. Last weekend, the award winning La Torretta Lake Resort & Spa in Montgomery, Texas, played host to the biggest celebration of vintage motoring in Texas, welcoming thousands of visitors through its doors for The Houston Classic Weekend and 2nd annual Concours d'Elegance of Texas. The weekend got off to a high-octane start when Concours participants took to the open road on the Texas Tour d'Elegance, led by Richard Rawlings of Fast N' Loud fame, in a newly re-s....
ICONIC BLOWER BENTLEYS PRIMED FOR MILLE MIGLIA CHALLENGEFamous, supercharged Bentleys set for 1,000 mile Italian epic
•'Bentley Boy' Tim Birkin's 1930 Le Mans racer leads charge
•Original Bentley Motors 'demonstrator' completes team

(Crewe, 14 May 2013) Bentley Motors will compete in this year's Mille Miglia with two unique 4 ½ litre Supercharged 'Blowers'; a 1930 Le Mans race car belonging to perhaps the most famous and daring of the Bentley Boys and a company demonstrator that is still going strong even after nine decades on the road.

The N....
Pinehurst Concours Economic Impact Approaches $2 MillionVILLAGE OF PINEHURST, N.C. (May 13, 2013) – The inaugural Pinehurst Concours d'Elegance and the events surrounding the vintage auto showcase attracted more than 5,000 fans, and its economic impact approached $2 million despite unseasonably cool temperatures the first weekend of May, officials said.

'Having an event the caliber of a Concours in Moore County is significant, especially as it grows in recognition and importance in the Southeast,' said Caleb Miles, president and CEO of the Pinehur....
American Classics from the Richard and Linda Kughn Collection Featured at RM's Annual Michigan Sale• RM Auctions returns to Plymouth, Michigan, July 27, for its well-established St. John's sale
• Single-day auction in automotive heartland features more than 80 historic collector cars
• Sale headlined by a wonderful selection of automobiles from the distinguished collection of Richard and Linda Kughn
• Auction acts as prelude to the Concours d'Elegance of America at St. John's on Sunday, July 28

BLENHEIM, Ontario (May 7, 2013) – RM Auctions, the official auction house of the Conc....
Legendary Car Designer Peter Brock Named Grand Marshal Of The 2013 Palos Verdes Concours D'EleganceRANCHO PALOS VERDES,CA -- Peter Brock, the legendary designer of the Corvette Stingray, the Cobra Daytona Coupe and other iconic high-performance automobiles, has been named Grand Marshal of the 2013 Palos Verdes Concours d'Elegance, to be held at the Trump National Golf Club in Rancho Palos Verdes, CA on Sunday, September 15.

Brock will drive his Superformance Coupe, a modern version of the famed Daytona Cobra Coupe, in the Concours' Pleasure Road Rallye on September 14, and the car ....
Amelia Island Concours Video Born Of A Blue Sky Available OnlineThe 16-minute video Born of a Blue Sky, recounting the 18th Annual Amelia Island Concours d'Elegance, is available now on the web through a link at www.ameliaconcours.org or at www.bornofabluesky.com.

'Born of a Blue Sky has the same sort of visual presence as an impressionist painting,' said Bill Warner, Chairman and Founder of The Amelia Island Concours d'Elegance. 'The video captures that special quality of light Amelia Island has on an early spring morning that makes c....
1938 Steyr Roadster Wins Best in Show at Pinehurst ConcoursA rare 1938 Steyr Roadster captured the 'Best in Show' at the inaugural Pinehurst Concours d'Elegance as more than 5,000 car enthusiasts strolled the fairways at Pinehurst Resort, viewing a show field of 118 pristine vintage automobiles.

Peter Boyle of Oil City, Pa., owns the winning automobile that was entered in the American/European Classic 1925-48 Class. Boyle purchased the car two years ago, restored it in 2012 and won Second in Class at the Pebble Beach Concours last August before capt....
2013 Viper GTS Launch Edition Dodge
---
2013 Range Rover Land Rover
---
2013 Range Rover Sport Land Rover
---
2013 MP4-12C SPIDER McLaren
---
2012 A6 Avant Audi
---
2012 Mulsanne Convertible Concept Bentley
---
2012 Camaro ZL1 Chevrolet
---
2012 Mustang Cobra Jet Ford
---
2012 XJ Jaguar
---
2012 XKR Jaguar
---
blog comments powered by

Disqus