Get On Board with Nissan at Le Mans
The next best thing to being track side at Le Mans is to get a driver's eye view of all the action. Nissan is set to give internet users the ride of their life as footage of the most exciting and innovative cars at the 2012 Le Mans 24 Hours is streamed live. From 3 pm Central European Time (CET) on June 16, visitors to http://live.nissan.co.uk/uk/base/deltawinglive will experience the excitement and challenge of taking on the world's most famous endurance race. Two live streams will be broadcast - the first featuring the groundbreaking Nissan DeltaWing as it laps the Le Mans circuit from Garage 56, and the second from the LMP2 car of Greaves Motorsport, piloted by ex-F1 driver, Martin Brundle and his son, Alex, alongside the inaugural GT Academy winner, Lucas Ordonez. NISSAN DELTAWING

The experimental Nissan DeltaWing will make its race debut at the Le Mans 24 Hours on June 16/17. The most innovative and ground-breaking motorsport concept of its generation, the Nissan DeltaWing aims to complete the famous endurance race using half the fuel and half the tyre material of a conventional LMP race car.
Recent Articles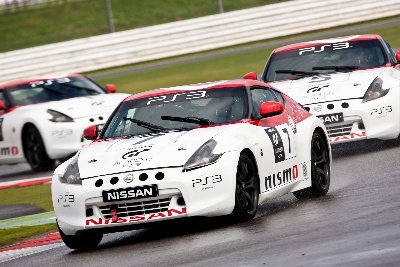 NISSAN AND PLAYSTATION ANNOUNCE BIGGEST EVER GT ACADEMY PROGRAMLONDON and PARIS - Nissan and Sony Computer Entertainment Europe have revealed that the innovative GT Academy competition will return for a fifth season. GT Academy 2013 will be the biggest yet, with more countries than ever before participating and the online gaming element of the competition set to be run in July on a demo of the hotly-anticipated Gran Turismo®6 game exclusively on PlayStation®3.

Since its inception in 2008, the highly acclaimed virtual-to-reality competition has att....
Audi Goes To Le Mans Aerodynamically Optimized◾Aerodynamic efficiency has clearly increased in 15 years
◾Micro-tube radiator optimizes airflow of Audi R18 e-tron quattro
◾Many losses caused by the regulations have been compensated for

Ingolstadt, May 16, 2013 – Five more weeks until the Le Mans 24 Hours celebrates its 90th anniversary. Over the period of 14 years, Audi has won this classic race eleven times and in doing so has consistently been delivering top performances in aerodynamics as well. They are a major reason for exce....
NISSAN REVEALS LE MANS 24 HOURS NISMO DRIVER LINE-UP• Real world of NISMO Connects with the Virtual World of GT Academy


LE MANS, France - NISMO Ambassador and Super GT racer Michael Krumm will join GT Academy winners and NISMO Athletes Lucas Ordonez and Jann Mardenborough at the Le Mans 24 Hours next month.

The three drivers will unite to race a Greaves Motorsport Zytek-Nissan in the LMP2 class. This class has an entry of 22 cars, 15 of which are powered by the NISMO-tuned Nissan VK45DE V8 engine.

LMP2 is expected to be the hardes....
Stars Of Film, Fashion, Sport And Motorsport To Drive With Jaguar Heritage Racing In Mille Miglia 2013- Jaguar previews its entry into the 2013 Mille Miglia with short film featuring David Gandy, Yasmin Le Bon, Norman Dewis and Alex Buncombe: http://www.youtube.com/watch?v=eEkckuR8E-k&feature=youtu.be
- Jaguar Heritage Racing enters three C-Type and three XK120 classic cars into famous event
- Jaguar 'Bloodline' of sports cars to be celebrated with new F-TYPE joining the 1,000 mile tour

(MAHWAH, N.J.) - May 10, 2013- Jaguar has curated a unique team of drivers for its Jaguar Herita....
Audi at Le Mans: Advantage through efficiency• 90 years of Le Mans, 15 years of Audi at the '24 Heures'

• Eleven victories at 14 runs and absolute distance record

• Head of Audi Motorsport Dr. Wolfgang Ullrich: 'Le Mans points the way to the future'


Six more weeks until the Le Mans 24 Hours celebrates its 90th anniversary. Since 1999, Audi has shaped the world's most important endurance race like no other automobile manufacturer. Eleven victories in 14 events – the technological milestones set by Ingolstadt and....
Max Welti Is The New Head Of Motorsport At LamborghiniLamborghini SpA has signed Max Welti as new Head of Motorsport. The 60 year old Swiss national will report directly to Lamborghini's Board Member for Research and Development, Maurizio Reggiani. He will be active in his new role for Squadra Corse for the firsttime this weekend at the Lamborghini Super Trofeo night race in Misano, ltaly.


''l'm delighted that in Max Welti we've been able to gain such a seasoned and recognised manager for our newly initiated motorsport programme,' said Maurizi....
Nissan Powers Through Le Mans PreparationsSPA-FRANCORCHAMPS, Belgium - Nissan-powered cars took the top six positions in the LMP2 class of Saturday's 6 Hours of Spa. The second round of the FIA World Endurance Championship is seen by the teams as the final rehearsal before next month's Le Mans 24 Hours so a Nissan-powered podium is perfect preparation for a manufacturer who will supply engines to 15 of the 22 LMP2 cars entered for Le Mans.

It was the Pecom Racing Oreca-Nissan that took the top spot at Spa, very closely follow....
G-Drive Racing's Russian Star Focuses On Le Mans RehearsalSPA-FRANCORCHAMPS, Belgium - This weekend will see Round Two of the FIA World Endurance Championship, which provides all of the WEC teams with six-hours of flat out racing that serves as a final dress rehearsal for the action that is to come at the Le Mans 24 Hours and Roman Rusinov has set his sights high.

The No.25 G-Drive Racing by Delta-ADR entry took first blood with a win at Silverstone a few weeks ago but the weather played a large part in stopping a 1-2 for G-Drive when a sudde....
blog comments powered by

Disqus