Rodeo Drive Concours Celebrated Great Britain And Aston Martin
In celebration of the Queen's Diamond Jubilee and the coming London Olympics, Rodeo Drive became decidedly British this past Sunday for the annual Rodeo Drive Concours d'Elegance on Father's Day with 'THE BRITISH ARE COMING!' theme. Aston Martin was this year's featured marque and Gearys Beverly Hills was the presenting sponsor in celebration of their new Rolex store opening on Rodeo Drive. Thousands of guests were joined by comedian Jerry Seinfeld, who stopped by Rodeo Drive for the annual event. Amid bagpipers and fanfare trumpeters, British Consul-General Dame Barbara Hay, Beverly Hills Mayor Willie Brien, Concours Chairman Bruce Meyer and Rodeo Drive President Jim Jahant presented awards to winners for their iconic and unique automobiles. 'This was an amazing tribute to all things Great Britain, particularly the long and storied history of the British automotive industry,' said British Consul-General Dame Barbara Hay. 'This event was called 'The British are coming,' but the British are here! And we are very proud to be continuing the tradition of supplying the world with truly excellent automobiles.'
As the 2012 featured marque, Aston Martin was the centerpiece of the 200 block of Rodeo Drive with both new and classic cars. Among them was a GT4 factory racecar, in British Racing Green with yellow accent. In addition, a brand new V8 Vantage Coupe in Mako Blue, which is a beautiful pearl light blue, was displayed inside the Lladró store on Rodeo Drive. Lladró also presented the Svend Ingerslev Award for 'Best of Show' to Aaron Weiss' 1929 Auburn 8-90 Boattail Speedster. The 300 block also featured British classic and racing autos including Austin Healey, Bentley, Jaguar, Land Rover, Lotus, MG, McLaren and Rolls-Royce brand. Also, a special British motorcycle area honored Triumph, Vincent, BSA and Norton. Among these beautiful classics was His Majesty King George V of England's 1910 Daimler, which was the official limousine make for the royal family through the 1950's. The 400 block featured 'The Best of the Best' with classic cars of any marque considered by the show's curators. In celebration of Cobra's 50th Anniversary, there were three Cobras, signed by Carroll Shelby himself, on display near Brooks Brothers. At the end of the Street was Ferrari Beverly Hills' display of their newest models. 'We were thrilled to honor the British automotive industry and Aston Martin as the featured marque at this year's Concours,' said Bruce Meyer, Chairman. 'Great Britain has a long and storied history in creating some of the most legendary cars and motorcycles highlighted by elegant design and spectacular performance. This annual event has been a tradition for thousands of Southern California residents, car collectors, aficionados and families and we are so pleased that everyone enjoyed their Father's Day on Rodeo Drive.' The Rodeo Drive Concours d'Elegance is produced by the Rodeo Drive Committee in association with the City of Beverly Hills. Sponsors included Gearys Beverly Hills, O'Gara Coach Company, Auto Gallery, Ferrari Beverly Hills, RM Auctions, Beverly Hills Conference & Visitors Bureau, Jaguar, Land Rover, Vertu, Brooks Brothers, Lladró, Two Rodeo and the Consulate General of Great Britain. Media sponsors included the Beverly Hills Courier and Sports Car Market Magazine. Asprey London was the official award sponsor. Hospitality sponsors included Sprinkles Cupcakes, Fat Burger, and Smart Water. The Beverly Wilshire, a Four Seasons Hotel, was the official hotel of this year's concours. Rodeo Drive, internationally recognized as the intersection of fashion and entertainment, is a unique destination for both Southern California residents, as well as visitors from around the globe. More than 100 distinguished retailers create an unparalleled atmosphere only found on the three blocks of this famed street. The Rodeo Drive Concours d'Elegance has been named one of the '300 Unmissable Events & Festivals Around the World' by top travel publisher Frommer's. For more information, please visit rodeodrive-bh.com.
Recent Articles
Car Expert Hans Wurl Joins Gooding & Company's Team of Classic Automobile SpecialistsSANTA MONICA, Calif. (December 9, 2013) – Gooding & Company, the official auction house of the Pebble Beach Concours d'Elegance®, is expanding its existing team with the addition of Hans Wurl, a well-known classic car specialist with a strong technical background. Wurl has served as advisor to noted collectors and participated in some of the best collector car events around the world. Based in Seattle, Wurl joins Gooding & Company's team of respected automotive specialists David Brynan,....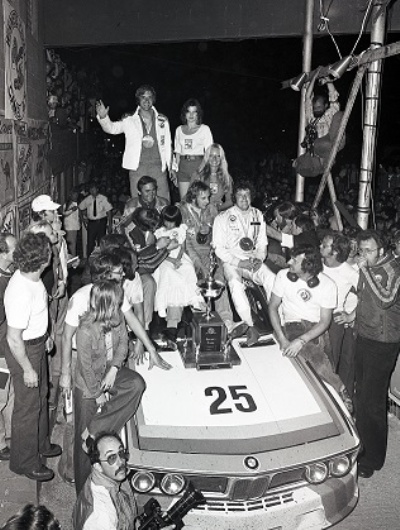 BMW's 'BATMOBILES' SET FOR 19th ANNUAL AMELIA CONCOURSScheduled to appear in the 19th Annual Amelia Concours' BMW 3.0 CSL 'batmobile class' are not only the 1975 Sebring 12 Hour and '76 Daytona 24 winners, but Alexander Calder's 1975 Le Mans 3.0 CSL with his trademark signature on the left rear fender.

BMW's 'Batmobile' racers were glorious mutants. They arrived from Europe wearing a frosting of giant wings, huge fender boxes and big spoilers, all powered by a 430 hp straight-six engine that made a glorious noise and propelled BMW's luxury cou....
LE MANS GREATS HEAD STUNNING ROSTER OF ADDITIONAL ENTRIES FOR RM'S 2014 PARIS SALE DURING RETROMOBILE WEEK• Anticipation builds ahead of RM's €25 million debut Paris sale on 5 February 2014
• More Le Mans greats join stunning competition car line-up at saleLatest highlights include a 1982 Rondeau M482 Le Mans GTP, a veteran of five Le Mans 24 hours races, and a mighty 2008 Peugeot 908 HDi FAP Le Mans Prototype, which finished 2nd at Le Mans, was driven by Jacques Villeneuve, and has been entrusted to be sold by RM by the Peugeot factory
• Other recently secured entries include a Bugatti Type 40 Ro....
400TH BUGATTI VEYRON SOLD – THE VEYRON BEGINS ITS FINAL LAPJust 50 models of the super sports car are still available

• 400th Veyron is a Grand Sport Vitesse 'Jean-Pierre Wimille' of the six-part edition 'Les Légendes de Bugatti'

• Head of Bugatti Wolfgang Schreiber, 'A unique success story about the most exclusive and luxurious super sports car brand in the world'


Molsheim, 5 December 2013. Bugatti has sold its 400th Veyron. Since the production run of the Veyron and its variants is limited to just 450 models, thi....
'GETAWAY' DVD RELEASE TO BE CELEBRATED AT DECEMBER 14TH CARROLL SHELBY FOUNDATION TOY DRIVE IN LA• 'Getaway' starring Shelby GT500 Super Snake available on Blu-Ray, DVD and digital download

• While supplies last, movie posters to be given to those bringing a toy to the Dec. 14 CSF Toy Drive

• Ford Shelby GT500 Super Snake used in the movie to be displayed

Los Angeles – Dec. 3, 2013 – Carroll Shelby Licensing, Inc. will celebrate the release by Warner Bros. Home Entertainment (WBHE) of the automotive action film 'Getaway' by displaying one of cars used in....
Aston Martin Aims For World Title Glory In Its Centenary YearGaydon, 26 November 2013 - Aston Martin Racing goes into the final round of the 2013 FIA World Endurance Championship (WEC), the Six Hours of Bahrain, this weekend (30 November) leading the highly-competitive eight-race series and looking to clinch victory and emerge as world champions in this, the marque's centenary year.

The team currently leads the LMGTE Manufacturers' World Cup on 232.5 points but, with Ferrari in second place on 215 points and Porsche in third on 199.5 points, any....
CARROLL SHELBY FOUNDATION TO COLLECT TOYS AND FUNDS FOR SO CAL CHILDREN IN NEED AT DECEMBER HOLIDAY EVENTGARDENA, Calif. – Nov. 26, 2013 – The Carroll Shelby Foundation (CSF) is revving up the spirit of giving this season by hosting a holiday celebration on Saturday, Dec. 14 at its headquarters in Gardena, Calif., from 10 a.m. to 3 p.m. The free event will feature an incredible display of cars from Carroll Shelby's personal collection, a raffle drawing and much more. CSF is encouraging people to bring an unwrapped toy for the Miller Children's Hospital in Southern California. Also, the limit....
ORGANIZERS OF THE 2014 SUBARU MT. WASHINGTON HILLCLIMB WELCOME THE RALLY AMERICA NATIONAL CHAMPIONSHIP• UP TO 20 OF RALLY AMERICA'S TOP TEAMS WILL COMPETE AT NORTH AMERICA'S OLDEST HILLCLIMB


Pinkham, Notch, NH - Sports Car Club of New Hampshire officials, working closely with representatives from Rally America, Inc., announced today that the 2014 Subaru Mt. Washington Hillclimb taking place at the Mt. Washington Auto Road in Pinkham Notch, Gorham, NH June 26-29, 2014 will also serve as a full-points round of the 2014 Rally America National Championship.

'We're excited to welc....
2014 Ford Mustang U.S. Air Force Thunderbirds
---
2013 Dodge Viper GTS Launch Edition
---
2013 Ford 1000 S/C
---
2013 Ford GT500 Super Snake Wide Body
---
2013 Ford GTR1
---
2013 Ford Mustang Red Tail Edition
---
2013 Lotus E21
---
2013 Lotus Evora Sport Racer
---
2013 McLaren MP4-12C SPIDER
---
2012 Aston Martin V12 Vantage GT3
---