Nissan Takes British Win
Jann Mardenborough, driving the No.35 Nissan GT-R Nismo GT3, crossed the finishing line at Brands Hatch today just two-hundredths of a second ahead of the No.007 Aston Martin Vantage GT3, to take his own and the GT-R's first major race victory a year to the day that he won Nissan's GT Academy competition. Since winning the competition that turns PlayStation gamers into real-life racing drivers, Mardenborough has raced with GT Academy Team RJN, primarily in the Blancpain Endurance Series and, as today, in the British GT Championship. 'What a great way to finish what has been the best year of my life so far,' said Jann after the race. 'Winning GT Academy has presented me with so many opportunities and I'm delighted that Al (Buncombe) and I could get the job done in the Nissan GT-R today.' The start of today's British GT race was tasked to Buncombe and it soon became apparent that the British racer was going to settle for nothing less than victory. Starting from 10th place on the grid, Al was up to fourth by the end of lap one and then scythed his way through to the lead on lap three, giving the crowd something to cheer about in the drizzly conditions.
'The conditions were very tough at the start of the race,' said Buncombe. 'When I took the lead the circuit was pretty dry at the start of the lap but still wet out the back so it was difficult to know how hard to push. Once I saw the Porsche I had taken the lead from start to close in on me I got my head down and worked on building up a 'comfort' gap. The car was feeling great at this stage and I could do all out qualifying pace on every lap so it was a lot of fun to drive.' The Nissan Juke-R safety car made two appearances during the first half of the race while debris and then a stranded car were cleared from the track. The supercar crossover concept has a 485bhp 3.8 litre V6 twin turbo engine that propels it from a standing start to 100kph in just 3.7 seconds, before reaching a top speed of 160 mph, so it keeps the field moving under yellow flag conditions. Its appearance however did mean that the Nissan GT-R immediately lost its advantage. This meant that Jann would be pitted against most of the 'pro' drivers from the British GT field during his run. The driver change went smoothly and the team got Jann on track in the lead without losing any time. 'For the first 10 minutes the car was great,' he said. 'But then as the fuel level got lower I started to get understeer out on the GP circuit. Bob (Neville) was on the radio telling me what the gap was to the BMW in second place and then 10 minutes before the end he said there was an Aston Martin catching the BMW at quite a rate.' Suddenly the battle for all three podium places was on. The Aston Martin made fairly light work of the BMW so Jann was under immense pressure for the remaining three laps of the race. Jann is an incredibly calm driver and this served him well today. He kept his cool and crossed the line as winner in what can only be described as a photo finish. 'Both drivers did a fantastic job today.' Said GT Academy Team RJN Team Principal Bob Neville. 'Al took advantage of the wet conditions at the start and built up a useful lead which was then lost by two safety cars. Jann had to go wheel-to-wheel with the pros and he didn't make a single mistake under huge pressure. It feels good to see him and the GT3 GT-R take their first major race wins.' 'This is a journey we began in 2008 with the first GT Academy,' said Darren Cox, General Manager of Nissan in Europe. 'In just the last seven days we have seen our first two winners race in the Le Mans 24 Hours and now Jann has taken his first major win, just one year after winning the competition. The back room team should give themselves a huge pat on the back today. This started with those who believed in the dream, including RJN's Bob and Liz Neville. I'm proud of each and every one of them.' Jann and Alex don't have much time to enjoy their win as they head off to France next week for round three of the Blancpain Endurance Series at Paul Ricard.
Recent Articles
U.S. test for new Audi R18 e-tron quattro- Audi's new LMP1 sports car is being tested
- Further details to be published before the end of December
- Head of Audi Motorsport Dr. Ullrich: 'Crucial stage has been reached'

Only a week after the World Championship winning Audi R18 e-tron quattro race car's last run in a race, its successor is ready to hit the track. Tests of the new LMP1 sports car, which has been kept under wraps up to now, commence today on the U.S. race track at Sebring (Florida).

Audi Sport in Ingolstadt and ....
MAZDA6 SKYACTIV-D CLEAN DIESEL RACECARS TO TACKLE THUNDERHILL 25-HOURDecember 3, 2013 (IRVINE, Calif.) — There have always been rivalries: Yankees versus Red Sox. Beta versus VHS. Coke versus Pepsi. Tom versus Jerry. In the automotive retail world, that rivalry is Factory Guys versus Dealers. To finally put to bed who's faster, Mazda North American Operations (MNAO) has thrown down the gauntlet, entering three specially modified-for-racing 2014 Mazda6s in the longest endurance race in America, the National Auto Sport Association (NASA)'s US Air Force....
World Champions Audi second in Bahrain• Audi achieves 15th podium place in eight races

• Fassler/Lotterer/Tréluyer finish finale as runners-up

• Retirement of Duval/Kristensen/McNish



Audi finished the year in the FIA World Endurance Championship (WEC) in Bahrain in second place. The World Championship winning team* had to admit defeat only for the second time in eight races and can look back on a highly successful sporting season.

Until shortly before the race's midpoint, Audi Sport Team Joest was in....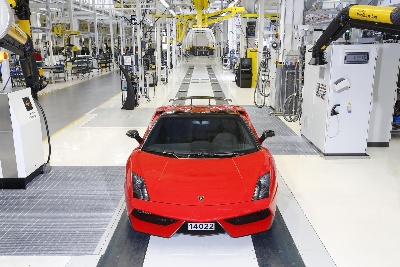 END OF PRODUCTION FOR THE LAMBORGHINI GALLARDO• Ten years of an Italian Icon

• The 'most sold' Lamborghini super sports car

• Still best in class with record lap times

Sant'Agata Bolognese, 25.11.2013 -- In the historic factory buildings of Sant'Agata Bolognese, the last Lamborghini Gallardo has left the production line. The final model is a Gallardo LP 570-4 Spyder Performante in Rosso Mars (red) and it is destined for a private collector. With a total of 14,022 units the Gallardo is not only by far the mo....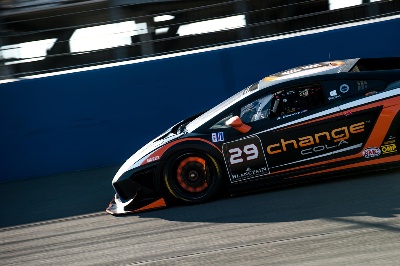 CHAMPIONS TO VIE FOR LAMBORGHINI BLANCPAIN SUPER TROFEO WORLD CROWNGlobal grid for Lamborghini World Finals

22 November 2013, Vallelunga, Campagnano Di Roma, Italy. Automobili Lamborghini today confirmed an international field for the Lamborghini Blancpain Super Trofeo World Finals at Vallelunga this weekend.

The inaugural event at the 4.085km circuit outside Rome that brings together the three Lamborghini Blancpain Super Trofeo series from Europe, Asia and North America, will deliver a World Champion following two 50 minute races on Saturd....
Grand finale for Audi: WEC season's last round in the desert• Audi travels to Bahrain as early Endurance Champions

• Parting with the current Audi R18 e-tron quattro

• Dr. Wolfgang Ullrich: 'Achieved everything there was to be achieved'


Audi's endurance race team led by Head of Audi Motorsport Dr. Wolfgang Ullrich and Chris Reinke, Head of LMP, has achieved all sporting aims in the FIA World Endurance Championship (WEC) early this season. Therefore, the finale on November 30 will be the icing on the cake for Audi Sport Team Jo....
DAYTONA INTERNATIONAL SPEEDWAY TEST: DAY 2 – NOV. 20, 2013DAYTONA BEACH, Fla. (Nov. 20, 2013) – The TUDOR United SportsCar Championship's November preseason testing concluded on Wednesday at Daytona International Speedway, with six GTLM and 19 GTD teams posting competitive laps in preparation for the season-opening Rolex 24 At Daytona on Jan. 25-26, 2014.

IMSA and Continental Tire officials decided Wednesday morning to suspend testing for Prototype (P) and Prototype Challenge (PC) race cars due to issues that came to light in Tuesday's sessio....
ASTON MARTIN AT THE GUANGZHOU AUTO SHOW - THE NEXT CENTURY OF POWER, BEAUTY AND SOUL(Guangzhou, 21 November 2013) Luxury sports car maker Aston Martin launches its most extreme sports car – the V12 Vantage S – in China today at 8.1 Hall at the 11th Guangzhou International Auto Show. The famous British brand reveals its most impressive model range ever at Guangzhou, with the exclusive and limited production Centenary Edition Vanquish, luxury four-door sports GT Rapide S, timeless GT DB9, and the iconic One-77 hypercar.

The V12 Vantage S, which is now available to order....
2015 Nissan GT-R Nismo
---
2015 Porsche 918 Spyder
---
2014 Aston Martin V12 Vantage S
---
2014 Dodge SRT Viper GT3-R
---
2014 Lamborghini Gallardo LP570-4 Squadra Corse
---
2014 McLaren P1
---
2014 Mercedes-Benz CLA 45 AMG Racing Series
---
2014 Mercedes-Benz SLS AMG GT Final Edition
---
2014 Porsche 911 GT3
---
2014 Porsche 918 Spyder
---