Formula One - European Grand Prix
Kimi Raikkonen bagged his third podium of the season in Valencia, and his second P2 finish, making the most of his race pace to finish behind 2012's first double winner, Fernando Alonso. The Finn was disappointed not to finish on the top step, however, reasserting his Barcelona claim that the Lotus E20 has had the potential to have won nearly every race of the season. Despite this, Kimi sits sixth in the Drivers' Championship, 38 points behind leader Fernando Alonso. Starting on the third row behind team-mate Romain Grosjean, Kimi was passed by Sauber's Kamui Kobayashi off the start. For the next 13 laps, the Finn found himself stuck behind first Kobayashi, then Pastor Maldonado, before he was able to pass the Williams driver on lap 13. Kimi then pitted on the next lap, emerging in P9. After losing a place on his outlap, Kimi then spent the next 14 laps on a charge up through the field, climbing to P4 before pitting under the Safety Car on lap 28. By lap 41, the Lotus driver was running in P3 while conserving his rubber. The conservation efforts paid off when Kimi slipped past the struggling Lewis Hamilton on lap 54. At the end of 57 tense laps Kimi crossed the finish line 6.4 seconds behind the Ferrari. Romain retired from the race on lap 40, parking his E20 on track after alternator failure cut power to the electronics, preventing fuel flow. Before his retirement the Frenchman was the driver most likely to steal the win from Fernando Alonso; had Romain not been held up in the first stint by the slower McLaren of Lewis Hamilton, it is likely the retirement would have happened from the lead.

Lotus have maintained their third place in the team standings; the team now moves within nine points of McLaren and 50 behind leaders Red Bull Racing in the Constructors' Championship. Kimi Raikkonen: 'Second place is okay but the win is what I really wanted. We didn't quite have the pace for it today. I got a good start but I was blocked by Pastor Maldonado at the first right-hander and lost quite a few places which put me a bit behind. We made a good recovery from that position and had quite a hard fight with a few people – overtaking and being overtaken. I couldn't get the tyres up to temperature quickly enough after the Safety Car, and I made a small mistake on the restart lap too. I was able to fight back as we had good race pace again. Today was close but the win was just out of reach.' Romain Grosjean: 'Basically the car lost power and switched off. I couldn't even call my engineer on the radio as even the radio was dead. The race was almost perfect up to that point: we had a good start and a good strategy. I don't think we were that far from our first win. The positives of this weekend are that we battled right at the front and we showed good pace. Sebastian Vettel was very strong and I don't know if we could have caught him. When he had his issue, I was in second place behind Fernando Alonso and it was then that I thought we could challenge for the lead because we knew that our tyre degradation was going to be less than his. Unfortunately fate decided otherwise…'
Recent Articles
Seb and the Team Crowned ChampionsPARIS – Sebastian Vettel and Infiniti Red Bull Racing were awarded their trophies for winning the 2013 Drivers' and Constructors' Championship titles respectively at last Friday night's FIA's annual Prize-Giving Gala in Paris.

Held at the Cité du Cinéma movie studios complex built by legendary French film director Luc Besson, the Formula One awards section of the evening kicked off with Mark receiving his trophy for finishing in third place in the Drivers' standings in his final Formul....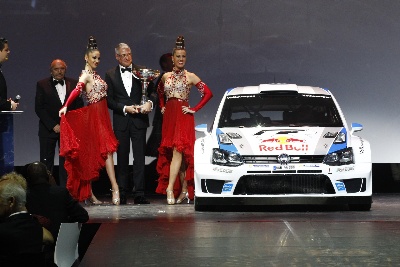 GREAT HONOUR, GRAND CELEBRATION: WORLD CHAMPIONSHIP TROPHIES PRESENTED TO VOLKSWAGENA celebratory end to an incredible season: Volkswagen Board Member for Technical Development, Dr. Heinz-Jakob Neußer, and World Rally Champions Sébastien Ogier and Julien Ingrassia were in Paris to receive their FIA World Rally Championship (WRC) trophies. Making its debut in the World Championship with the 315-hp Polo R WRC this year, Volkswagen won every title at the pinnacle of rallying. FIA President Jean Todt was on hand to personally present the trophies to the Volkswagen team at the glamo....
KATY PERRY TO PERFORM AT INFINITI BRAND FESTIVAL IN CHINA• Katy Perry's first ever performance in China

• Major public event to celebrate the Infiniti brand in China

• Infiniti retail and manufacturing business growing rapidly in China

Beijing / Hong Kong - Infiniti announced that U.S. singer, songwriter and actress, Katy Perry, will perform as a special guest at the 2014 Infiniti China Brand Festival in Beijing. Several thousand guests are expected at the Beijing indoor Olympic Stadium on Saturday, January 11, to par....
Alonso runner up with pride and styleMaranello, 7 December –Yesterday evening, Cinema City in Paris hosted the FIA Gala evening at which the traditional prize giving takes place to honour this year's world champions. For the third time in his four seasons with the Scuderia, Fernando Alonso was present as runner-up, a result that had left such a bitter taste in 2010 and 2012, when the title slipped from his grasp at the very last. This year however, the result was accepted calmly, given the clear superiority of the winners as....
2014 Ferrari LaFerrari
---
2014 Infiniti Q50
---
2013 Infiniti FX Vettel Edition
---
2013 Infiniti Q30 Concept
---
2013 Lotus E21
---
2013 McLaren MP4-12C Can-Am Edition Racing Concept
---
2013 McLaren MP4-28
---
2013 Mercedes-Benz SLS AMG Electric Drive
---
2013 Mercedes-Benz W04
---
2013 Red Bull RB9
---