Rick Hendrick Builds Custom Engine For 2010 COPO Camaro
Rick Hendrick, owner of NASCAR team Hendrick Motorsports and chairman of Hendrick Automotive Group, built the engine for his 2012 COPO Camaro at General Motors' Performance Build Center today, as part of Chevrolet's series of customer engine build experiences. In 2011, Hendrick also took part in Chevrolet's Corvette engine build experience. 'Last year's Corvette engine build was such a memorable experience that I couldn't pass up the opportunity to do it again with a COPO Camaro. As a Chevy enthusiast and collector, it's a real privilege to do something like this,' Hendrick said. 'I want to thank everyone at the Performance Build Center for having me back. It means so much to spend time with people who share my passion for cars and work so hard to produce some of the best engines in the world.' In addition to the Corvette Engine Build Experience and COPO Engine Build Experience, Chevrolet also has a Crate Engine Build Experience. These engine-building opportunities offer customers the convenience and assurance of purchasing a factory-engineered performance engine with the personal satisfaction of building one's own engine for a project vehicle.

'Building an engine is a time-honored tradition in hot rodding, and this program allows enthusiasts to enjoy that magical do-it-yourself feeling, while still enjoying the value of a GM Powertrain-engineered and factory-warrantied engine,' said Jim Campbell, GM U.S. vice president of Performance Vehicles and Motorsports. 'For hands-on hot rodders, these programs truly enable them to say they did it all when it came to building their project. There's nothing else like it in the industry.' In March, Chevroletannounced it will build 69 COPO Camaros for 2012, the brand's first purpose-built Camaro drag-racing specialty car designed to compete with the quickest in NHRA's Stock Eliminator and Super Stock classes. National records for quarter-mile times in these contests are in the nine-second range. As such, the COPO Camaros are expected to be the quickest Camaros ever offered by Chevrolet. 'The COPO Camaro is going to shake up the sportsman drag racing ranks this summer and give Chevy fans a great new reason to cheer on the Bowtie,' Campbell said. 'COPO builds off the strengths that have made the Camaro the best-selling sports car in America. And while it was developed strictly for the drag strip, the COPO Camaro is infused with the same performance pedigree that every Camaro shares.' The 69-car production for the 2012 COPO Camaro matches the number of 'ZL-1' COPO Camaros made in 1969. COPO stands for Central Office Production Order and was Chevrolet's special-order system used by dealers to build high-performance models in the 1960s. The new COPO Camaros will be built using factory 'body-in-white' body structures produced at the Oshawa, Ontario plant that manufactures regular-production Camaros. They are the same body-in-white body shells available to all racers under Chevrolet Performance part number 19243374. Founded in 1911 in Detroit, Chevrolet is now one of the world's largest car brands, doing business in more than 140 countries and selling more than 4 million cars and trucks a year. Chevrolet provides customers with fuel-efficient vehicles that feature spirited performance, expressive design, and high quality. More information on Chevrolet models can be found at www.chevrolet.com.
Recent Articles
2nd annual Concours d'Elegance of TexasEntries are rolling in for the 2nd annual Concours d'Elegance of Texas, a highlight of this year's Houston Classic Weekend, scheduled for May 3-5 at the award winning La Torretta Lake Resort & Spa in Montgomery, Texas. With 'The Cars of Carroll Shelby' as the Featured Class, organizers have confirmed the only big block DragonSnake Cobra ever built as one of the stars of the show, owned by automotive dealer, collector and philanthropist, Mr. Sam Pack of Carrollton, Texas. Alongside the cars of Ca....
Mecum 2012 Grand Finale In Kansas City Wraps Record-Breaking YearEnd-of-Year Totals Closing in on $300 Million in Sales

Mecum Auctions' most recent collector car auction in Kansas City, Mo., topped off a great year with an impressive $11.5 million in sales. The auction added to the incredible yearend total, which knocks at the door of the coveted $300 million mark. With 520 lots sold at the Kansas City Convention Center, a strong sell-through rate of 65 percent was reached.

Kansas City's crowning achievement and top-sale was a 2012 Chevrolet COP....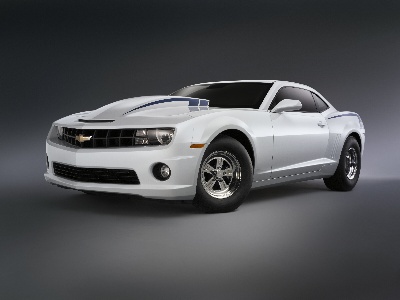 Chevy Performance Rolls with Hot Rod Magazine Power TourWeeklong drive kicks off with unprecedented access to GM's Milford Proving Ground

Road trip! It's that time of year again for the annual automotive pilgrimage known as the Hot Rod Magazine Power Tour® and Chevrolet Performance helps get it started on Saturday, June 2, at General Motors' Milford Proving Ground. The Power Tour winds up in Arlington, Texas, on June 9.

With more than 3,000 hot rods, muscle cars, classic trucks and late-model performance vehicles and approximately 12,00....
blog comments powered by

Disqus