Barbosa and Liddell Win at Sahlen's Six Hours of the Glen
As billed, the first endurance race since the season-opening Rolex 24 At Daytona last January, the 2012 edition of Sahlen's Six Hours of the Glen, delivered highly-anticipated tight competition as 11 Daytona Prototypes (DP) and 21 Grand Touring (GT) cars took on the 3.4 mile road course at Watkins Glen International. At 1100 feet elevation, the historic track offered fans panoramic views of the valley and Lake Seneca, and, on this day, a cooling breeze to offset the temperature that climbed into the high 80s as the afternoon of racing progressed. On the track, both the temperatures and the action made it challenging for teams to keep the cars running and the drivers cool. Also contributing to driver fatigue was the very fast pace of the race. Between hour one and hour five, the race was green for three hours and 25 minutes before a full course yellow was brought out when the #73 Horton Autosport Porsche GT3 Cup spun into a sand trap and had to be removed. DP pole sitter Scott Pruett (Auburn, Calif.), driving the #01 BMW Riley for Chip Ganassi Racing with Felix Sabates, looked to be in good form as he led for the first 15 laps of the race. Ultimately, the need to change the radiator and a pit stop miscommunication dropped him down to eighth, which opened the door for the #9 Action Express Racing Corvette driven by Joao Barbosa (Porto, Portugal), with co-driver Darren Law (Phoenix, Arizona), that started third on the grid. 'This was a great race,' said Barbosa after winning the race. 'The Corvette was awesome and the team did a really good job giving us a very competitive car to drive all the way to the end. I was lucky to use traffic to my advantage as I chased down the #99 car. After following him for many laps and not able to get by I suddenly saw an opportunity with traffic and I made my move and got by to take the lead. The GRAND-AM Rolex Sports car Series is such a competitive series that you have to use everything you can to take an advantage and make your move to take a position. The car worked really well and the Continental tires were so consistent during all the stints I was able to bring it home after that. I am really pleased with our win.'
Law also had compliments for the team behind the car. 'We knew we had a good car right from the first session,' said Law. 'Actually we've had a good car most weekends and it sure feels good to be back up here on the top step of the podium. I wasn't in the car when we got past the #99 car but I want to thank Alex (Gurney) for racing clean. It's super competitive out there so it isn't always the case that the car you are about to pass will race clean so I thank you Alex. I think the championship is still wide open, there are several races yet to go so we keep pushing ahead. This win is an important one for the series, but it is an important one in general because it's a famous race with a lot of history so it's great to be up here.' The race dates from 1948; since 2000 the six hour endurance classic has been part of the GRAND-AM Rolex Sports Car Series and it has been sponsored by Sahlen's since 2002. Although the #75 Stevenson Motorsports Camaro GT.R started in pole position with Jordan Taylor (Apopka, Fla.) at the wheel, midway through the race the team dropped out of the lead. A close contest ensued between the #57 Stevenson Motorsports Camaro GT.R and the #94 Turner Motorsport BMW M3. 'It was a pretty tough race,' said Robin Liddell (Newbury, England), who, with John Edwards (Cincinnati, Ohio), prevailed to take the #57 Stevenson Motorsports Camaro GT.R to the top of the podium just edging out Bill Auberlen (Redondo Beach, Calif.) in the #94 car by 1.340 seconds. 'This is probably the best track for our Camaro over the course of a season and fortunately we have two races here each year which is a big help. We had a strong car all weekend with good balance, but we did have two tire blowouts this weekend during practice and qualifying so that had us pretty nervous about the same kind of thing happening during the race. The crew made a few adjustments so we felt pretty confident that we would be alright. Unfortunately we got a stop-and-go penalty after a restart which I thought was a bit questionable on the part of the tower. We managed to fight our way back up through the field after that and worked the car very hard to get the car back up to fourth or fifth when John took over. He did a great job hanging on and gaining more positions and trying to hand over to me a decent car to take to the end of the race. It was a great job by the team running our two cars which was a big task but they did it brilliantly.' As the race wound down to its final moments, Liddell had only half a gallon of fuel left in the tank. 'Rob did an incredible job keeping the car up front in the beginning,' said Edwards. 'It was too bad we got that stop-and-go, which I don't think we deserved, but Rob just put his head down and came back from that and kept moving up in positions so when I got in the car I could try to save some fuel and ended up bringing the car back in the lead and also very close to where we needed to be on fuel. It was the first time I have ever seen a GRAND-AM Rolex Series race go so long without a caution period so I figured I would either bring the car in with the lead or run out of fuel out on the course.' For Liddell and Edwards it was their first season win in the GRAND-AM Rolex Sports Car Series, a victory which also moved the team into the lead of the inaugural GRAND-AM North American Endurance Championship. To win the North American Endurance Championship, drivers are accruing points at three races in 2012: the 50th Anniversary edition of the Rolex 24 at Daytona (held this past January), Sahlen's Six Hours of The Glen (July 1) and at GRAND-AM's debut race at Indianapolis Motor Speedway during the Super Weekend at the Brickyard on July 27. The GRAND-AM North American Endurance Championship will be awarded at the conclusion of that 2 hour and 45 minute race which starts at 4:10 p.m. Eastern Daylight Time. Photo Credit: Stephan Cooper/Rolex
Recent Articles
BMW Clubs International Council presents new Board. All change: Ian Branston succeeded by David de Bruyn after ten years at the helm – new Chairman introduces himself in 'BMW Clubs' World'.Munich. The BMW Clubs International Council will enter 2014 with a new Executive Board. David de Bruyn from South Africa has been voted the new Chairman of the International Council, the worldwide umbrella organisation of the official BMW Clubs. He succeeds Ian Branston of Australia, who has held the post for the past ten years. In the latest issue of the bilingual (German/English) club magazine 'BMW Clubs' World', which is distributed on the internet – see www.bmw-clubs-international.com....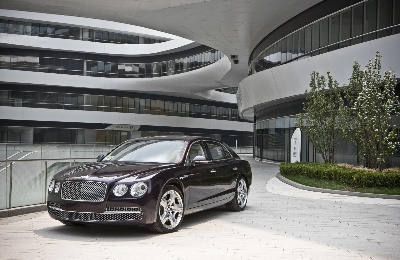 2013 Bentley News HighlightsBentley SUV confirmed
• Three new models unveiled
• Strong sales growth through first three quarters of 2013
• Company returns to motorsport with Continental GT3

(Crewe, England. 17 December 2013) 2013 has been a year of key landmarks and achievements for Bentley and its customers.

The company confirmed it will build the world's fastest and most luxurious SUV at its Crewe headquarters, creating a further 1,000 jobs at Bentley and its suppliers, as well as taking Bentley d....
PORSCHE WORKS ENGAGEMENT WITH 919 HYBRID AND 911 RSRMost Comprehensive Racing Program of All Time

Stuttgart. Porsche heads into the 2014 season with the most extensive motorsport program ever. In addition to its new LMP1 project, Porsche Motorsport sends two GT works teams to compete on race tracks around the world. Porsche AG Team Manthey again fields two Porsche 911 RSR in the Sports Car World Endurance Championship (WEC), as well as at the Le Mans 24 Hours. Porsche North America contests the new TUDOR United SportsCar Champio....
CONTINENTAL GT3 FINISHES GULF 12HR IN FOURTHOutstanding result in first test race
• Reliability combines with strong pace to achieve 4th place
• Team pushes the new car to the limit in preparation for 2014

(Abu Dhabi, 13th December 2013) Bentley's test race debut of the all-new Continental GT3 racecar with Team M-Sport achieved an impressive fourth place finish in the Gulf 12 Hours of Abu Dhabi. After completing the first six hour session of the race in third position, the second half of the race saw the team maintain that po....
CONTINENTAL GT3 MAKES STRONG START TO RACING CAREERNew Bentley racecar holds third place six hours in to first test race
• Trouble-free first half as new car shows true pace and reliability
• Second race starts at 13:45 GMT

(Abu Dhabi, 13th December 2013) The new Bentley Continental GT3 racecar holds third position after the completion of the first half of the Gulf 12 Hours at Abu Dhabi, showing promising pace and impeccable reliability in true Bentley fashion.

New Bentley Boys Steven Kane, Guy Smith and Andy Meyrick have driven two stin....
CHEVROLET RACING CLAIMS 12 CHAMPIONSHIPS IN 2013◾Chevy is winningest name in motorsport, clinching NASCAR, IndyCar, ALMS, GRAND-AM and Pirelli World Challenge titles
◾2014 season begins with debut of all-new Corvette C7.R at the North American International Auto Show and first competition at Rolex 24 At Daytona

DETROIT – Chevrolet was the most successful name in professional motorsports in the United States this year, capturing 12 manufacturer, driver and team championships in NASCAR, IndyCar, ALMS, GRAND-AM and the Pirelli World C....
2015 Nissan GT-R Nismo
---
2015 Porsche 918 Spyder
---
2014 Aston Martin V12 Vantage S
---
2014 BMW 2 Series M Performance
---
2014 BMW 4 Series Coupe
---
2014 BMW 5-Series
---
2014 BMW 5-Series Gran Turismo
---
2014 BMW ActiveHybrid 5
---
2014 BMW i3
---
2014 BMW M235i Racer
---