SUBARU ROAD RACING TEAM FINISHES IN TOP 12 AT A GRUELING WATKINS GLEN
Warm and dry weather took its toll on race cars and their drivers in this weekend's race in the GRAND-AM Continental Tire Sports Car Challenge series at the world-famous Watkins Glen International road racing course near Watkins Glen, N.Y. Challenging conditions and a recently instituted performance adjustment by the sanctioning body had their effect on the Subaru Road Racing Team's (SRRT) on-track performance. Despite the difficult circumstances, the team's pit crew plus drivers Andrew 'A. J.' Aquilante and Bret Spaude, qualified their #35 Subaru WRX STI race car 12th quickest in a field of 29 Grand Sports class competitors, and ultimately finished the 2 ½-hour race in 12th. 'The team put a great deal of effort, and our 12th place finish, though not ideal, was hard fought,' conceded Joe Aquilante, owner of Phoenix Performance in Phoenixville, Pa., which prepares the team's Subaru WRX STI race cars. 'We've finished better than that this season, but our performance wasn't representative of the true potential from our program.' 'A. J. and Bret drove smart, our enthusiastic pit crew got both drivers in and out quickly, and that was the maximum we could do today. GRAND-AM's recent re-adjustment to our Subaru's turbocharger boost pressure restricted our on-track performance this weekend. Twelfth quickest isn't where we'd like to be, but in a 29-car class, we made the best of a comprised situation.'

Spaude, of Bushnell, Fla., qualified the car at The Glen and raced the first 34 minutes before pitting for gas and tires, and slotting teammate 'AJ' Aquilante, of Chester Springs, Pa., into the seat for the cockpit for the final 44 laps. Two subsequent, efficient pit stops by the SRRT crew brought AJ to as high as second place on laps 38 and 39, before his final stop dropped him to 18th. Picking up four positions between laps 56 and 58, he worked his way back to 12th, where the team had started the race. 'Other cars caused seven full-course yellow situations that ate up 22 laps that we could have been racing. That didn't help our progress today, but we enjoyed a trouble-free Subaru to race, a much-appreciated veteran crew, and we did the best we could with our new rules parameters,' said Joe Aquilante. The race-prepped #35 SRRT WRX STI is developed to compete against rival teams fielding cars producing over 400 horsepower. The race was televised by SPEED TV to air July 14 at 1pm ET The Continental Tire Sports Car Challenge next competes at the Indianapolis Motor Speedway on Friday, July 27, as part of the 'Kroger Super Weekend at the Brickyard.' GRAND-AM has scheduled an official two-day test for competitors on Friday and Saturday, July 6-7, in preparation for GRAND-AM's first competition in Indianapolis. Sponsors for SRRT include Subaru Of America, Inc., Subaru Tecnica International (STI), Subaru Performance Tuning (SPT), Hawk Brakes, Ron Davis Racing Radiators, Automotive Racing products, VAC Motorsports, Rockland Standard Gear, Ecutek, Lista, Rotary Lifts, Cusco, Carbonetic, Hella, and Perrin. About SRRT Phoenix LLC SRRT Phoenix LLC represents the Subaru of America Inc. road racing effort in the 10-round GRAND-AM Continental Tire Sports Car Challenge series and is owned and managed by Joe Aquilante of Phoenix Performance, LLC. The team's 32,000 sq. ft. facility is in Phoenixville, Pa., 40 miles west of Philadelphia, Pa. Team drivers Andrew Aquilante and Bret Spaude race a Subaru WRX STI in the Grand Sport class. For more information about the team and the cars, call Joe Aquilante at 610-482-0141. Fans can visit the team's website at www.srrtphoenix.comand the Phoenix Performance website at www.phoenixperformance.net About Subaru of America, Inc. Subaru of America, Inc. is a wholly owned subsidiary of Fuji Heavy Industries Ltd. of Japan. Headquartered in Cherry Hill, N.J., the company markets and distributes Subaru Symmetrical All-Wheel Drive vehicles, parts and accessories through a network of more than 600 dealers across the United States. All Subaru products are manufactured in zero-landfill production plants and Subaru of Indiana Automotive Inc. is the only U.S. automobile production plant to be designated a backyard wildlife habitat by the National Wildlife Federation. For additional information visitwww.subaru.com. Follow the Subaru of America Facebook page and subaru_usa on Twitter. This press release is available at www.media.subaru.com 'Subaru', 'WRX STI', all model names, and the Subaru logo are registered trademarks of the Subaru subsidiary of Fuji Heavy Industries, Ltd, Japan. Other trademarks and trade names are those of their respective owners.
Recent Articles
BORGWARNER EXPANDS COOPERATION WITH JAGUAR LAND ROVER• BorgWarner Will Build New Production Line and Engineering Center in Bradford, UK, and Establish Master's Degree Program at Local University


AUBURN HILLS, Mich., May 15, 2013 - BorgWarner (NYSE: BWA) will provide its leading turbocharging technologies for Jaguar Land Rover's (JLR's) new family of four-cylinder gasoline and diesel engines, expected to launch in 2015. To support JLR's new Engine Manufacturing Centre near Wolverhampton, BorgWarner plans to expand on its existing p....
Audi at Le Mans: Advantage through efficiency• 90 years of Le Mans, 15 years of Audi at the '24 Heures'

• Eleven victories at 14 runs and absolute distance record

• Head of Audi Motorsport Dr. Wolfgang Ullrich: 'Le Mans points the way to the future'


Six more weeks until the Le Mans 24 Hours celebrates its 90th anniversary. Since 1999, Audi has shaped the world's most important endurance race like no other automobile manufacturer. Eleven victories in 14 events – the technological milestones set by Ingolstadt and....
GRC PERSONALITIES // IN THE WORDS OF SCOTT SPEED: FROM GO-KARTS TO GLORYGRC Personalities is a new series in which Global Rallycross drivers tell their stories in their own words. In the series debut, X Games Brazil gold medalist Scott Speed walks us through his career, from the very beginning to X Games glory.

In the beginning, little baby Speed used to follow his dad to the go-kart races. My dad used to race go-karts—he was a four-time national champion, he was really good. I finally talked him into letting me drive one when I was about ten years old, and after....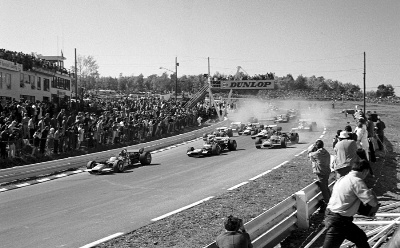 1969 United States Grand Prix: The Rise of RindtIf there was one racer in the Formula One paddock that drivers and spectators alike believed should have scored his first victory before the start of the 1969 season it would almost unanimously be Jochen Rindt. Fast and flamboyant, the Austrian exhibited car control that enthralled just about everyone it seemed, except perhaps the cars themselves. Constantly undercut by poor reliability, it seemed Rindt was to forever suffer under such an oppressive weight. However, at the 1969 United States Gra....
2013 Hyundai Santa Fe Sport Named Best Compact Cuv By NwapaCOSTA MESA, Calif., April 26, 2013 – The Northwest Automotive Press Association (NWAPA) named the all-new 2013 Hyundai Santa Fe Sport 'Best Compact CUV' during the 2013 Mudfest competition last week in Snoqualmie, Washington. More than 30 NWAPA automotive journalists participated in the event at the 300-plus acre DirtFish Rally School site in Snoqualmie, WA.

'Mudfest gives our members the ability to test the top crossovers, side-by-side, in real-world conditions,' said Ryan Douthit, ho....
BORGWARNER WINS 2013 AUTOMOTIVE NEWS PACE INNOVATION PARTNERSHIP AWARDBorgWarner's Regulated Three-Stage Turbocharging System also Receives a 2013 PACE Award

AUBURN HILLS, Mich., April 17, 2013 - During a ceremony held in Detroit, BorgWarner received a 2013 Automotive News PACE Innovation Partnership Award for its collaboration with BMW on the first regulated three-stage (R3S) turbocharging system for diesel engines. The innovative technology achieves a V8's powerful output with the fuel economy of an inline-6 engine. BorgWarner worked closely wit....
What were some of the best/most dominant sports cars in the premier classes at The Glen?This year's Sahlen's Six Hours of The Glen will be the final trip for the GRAND-AM Rolex Sports Car Series to Watkins Glen International. In 2014, Grand-Am and the American Le Mans Series will have fully merged, creating new classes and different machinery competing in the same class.

The Daytona Prototypes will go head-to-head with the P2s and Delta Wing in the premier class, while four other GT-based divisions will split up a myriad of different kinds of cars.

This got us to thinking: W....
KARL LUDVIGSEN SPEAKING IN WATKINS GLEN ON APRIL 13Automobile industry insider and author/historian Karl Ludvigsen will speak about his experiences in the worlds of cars and racing on April 13 at the International Motor Racing Research Center.

The free talk, part of the on-going Center Conversations speaker series, will be at 1 p.m. at the Center located at 610 S. Decatur St., Watkins Glen, N.Y. It is open to all.

'A Lifetime on Wheels' will be an illustrated presentation based on Ludvigsen's careers as an executive in the motor industry....
2014 Flying Spur Bentley
---
2014 Sprinter Mercedes-Benz
---
2013 4C Alfa Romeo
---
2013 4C Launch Edition Alfa Romeo
---
2013 A1 Quattro Audi
---
2013 Q5 Audi
---
2013 S3 Audi
---
2013 Continental GT Speed Convertible Bentley
---
2013 Encore Buick
---
2013 ATS Cadillac
---
blog comments powered by

Disqus