Final Countdown Underway to RM's Michigan Sale
RM Auctions, the official auction house of the Concours d'Elegance of America, has secured a wonderful selection of classic automobiles for its St. John's sale, July 28, in Plymouth, Michigan. Hosted on the beautiful grounds of the Inn at St. John's, the single-day sale is a mainstay on the auction concours circuit and boasts a reputation for including exceptional American classics. The upcoming sale, featuring more than 70 quality collector cars, presents nearly a century of American and European automotive history. 'RM Auctions is delighted to continue our partnership with the Concours d'Elegance of America as we return to the Inn at St. John's for our annual Michigan sale,' says Rob Myers, Chairman & Founder, RM Auctions. 'A long standing tradition for motoring enthusiasts, the exciting array of sought after collector cars offered at this year's sale are enhanced within the context of Michigan's rich automotive history, making this the ideal venue for American classics.' Headlining the roster of American marques is an outstanding, period-supercharged 1930 Duesenberg SJ Convertible Victoria by Rollston, J272. One of just 16 examples bodied with convertible Victoria coachwork by Rollston, J272 was delivered new to famous band leader Paul Whiteman, of 'Rhapsody in Blue' fame, in May 1930. Adding to the car's impressive power and provenance is one of the rarest and most attractive bodies, the quarter window Victoria, from the highly regarded Rollston Company (Est. $850,000–$1,200,000). Another excellent example of Classic Era styling set for RM's St. John's podium is a 1930 Packard 745 Deluxe Eight Convertible Victoria, chassis 185625, one of only five verified authentic Waterhouse convertible Victorias known to exist on the 745 chassis (Est. $275,000–$375,000).
Also expected to garner strong interest from collectors is the 1928 Cadillac V-8 'Al Capone' Town Sedan, chassis 306449. Well-known in collector circles, new information including period documentation from newspapers, the IRS, and information from the family of the second known owner, further confirms its link to the notorious American gangster by establishing the critical timeline between Capone's arrest, trial, and incarceration, as it relates to the car's subsequent ownership. Widely considered one of the most historically significant prewar American cars, at first glance, the 'Al Capone' Cadillac appears much like any other sedan, but the differences are cleverly hidden. It is liveried in green with black fenders to mirror the Cadillacs supplied to the Chicago police and city officials at the time and is also equipped with flashing lights, a regulation police siren, and the first known police-band radio receiver in a private automobile. Holding a special place in the history books as one of the earliest surviving 'bulletproof' cars, it was fitted new with heavy glass measuring nearly an inch thick and completely lined with 3,000 pounds of steel armor plating. The bulletproof windows could be raised an extra couple inches to reveal a circular part large enough for the muzzle of a gun to go through, and the rear window was rigged to drop quickly, allowing occupants to fire upon would-be pursuers. The new research recently uncovered by RM includes an eyewitness to the car's armor plating for Capone, which is shared in detail in the auction catalogue (Est. $300,000–$500,000). Additional highlights at RM's St. John's sale include: • a 1933 Packard Twelve Convertible Coupe, possibly the last example produced (Est. $250,000–$325,000); • a virtually flawless, low mileage 2005 Ford GT, equipped with all factory-available options (Est. $175,000–$215,000); • one of just three known surviving 1930 Lincoln Model L Derham Convertible Sedans, displayed and purchased new at the 1930 New York Auto Show (Est. $140,000–$170,000); • a low mileage 1948 Chrysler Town & Country Sedan, coming out of 40 years of single ownership (Est. $100,000–$125,000); and • a rare 1912 Baker Electric Special Extension Coupe, benefiting from a comprehensive restoration (Est. $75,000–$125,000). Another featured attraction of the sale will be the presentation of 15 automobiles from the distinguished private collection of William Ruger Jr., all offered without reserve. Joining the previously announced group of American and European classics from the collection, the sale will also lift the gavel on two magnificently presented Ahrens-Fox Fire Trucks, considered the 'Rolls-Royce' of fire trucks. The pair includes an outstanding 1925 Ahrens-Fox N-S-4 Triple Combination Pumper, chassis 1641, capable of pumping water at 1,100 gallons per minute and a 1930 Ahrens-Fox P-S-14 Hose & Equipment Truck, chassis 2311, featuring the largest six-cylinder Ahrens-Fox engine. They are expected to fetch between $175,000–$250,000 and $125,000–$190,000, respectively. RM's upcoming St. John's sale acts as a prelude to the Concours d'Elegance of America at St. John's, returning July 29. A longstanding summer tradition for collectors, the events combine to make for an exciting vintage car weekend for automotive enthusiasts. Full event details, including the digital catalogue, are available online at www.rmauctions.com or by calling RM Auctions at +1 519 352 4575. Photo captions: Top: 1930 Duesenberg Model SJ Convertible Victoria by the Rollston Company (credit: Darin Schnabel ©2012 courtesy of RM Auctions) Second: 1928 Cadillac V-8 'Al Capone' Town Sedan (credit: Theo Civitello © 2012 courtesy RM Auctions)
Recent Articles
Car Expert Hans Wurl Joins Gooding & Company's Team of Classic Automobile SpecialistsSANTA MONICA, Calif. (December 9, 2013) – Gooding & Company, the official auction house of the Pebble Beach Concours d'Elegance®, is expanding its existing team with the addition of Hans Wurl, a well-known classic car specialist with a strong technical background. Wurl has served as advisor to noted collectors and participated in some of the best collector car events around the world. Based in Seattle, Wurl joins Gooding & Company's team of respected automotive specialists David Brynan,....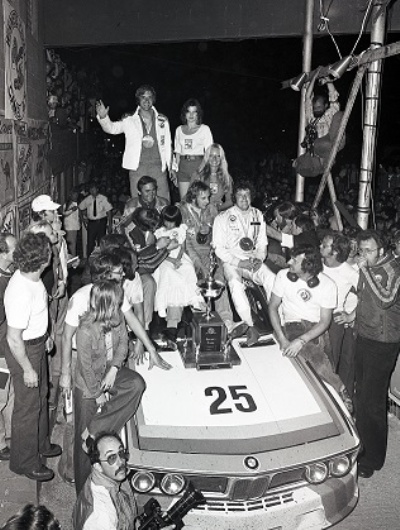 BMW's 'BATMOBILES' SET FOR 19th ANNUAL AMELIA CONCOURSScheduled to appear in the 19th Annual Amelia Concours' BMW 3.0 CSL 'batmobile class' are not only the 1975 Sebring 12 Hour and '76 Daytona 24 winners, but Alexander Calder's 1975 Le Mans 3.0 CSL with his trademark signature on the left rear fender.

BMW's 'Batmobile' racers were glorious mutants. They arrived from Europe wearing a frosting of giant wings, huge fender boxes and big spoilers, all powered by a 430 hp straight-six engine that made a glorious noise and propelled BMW's luxury cou....
LE MANS GREATS HEAD STUNNING ROSTER OF ADDITIONAL ENTRIES FOR RM'S 2014 PARIS SALE DURING RETROMOBILE WEEK• Anticipation builds ahead of RM's €25 million debut Paris sale on 5 February 2014
• More Le Mans greats join stunning competition car line-up at saleLatest highlights include a 1982 Rondeau M482 Le Mans GTP, a veteran of five Le Mans 24 hours races, and a mighty 2008 Peugeot 908 HDi FAP Le Mans Prototype, which finished 2nd at Le Mans, was driven by Jacques Villeneuve, and has been entrusted to be sold by RM by the Peugeot factory
• Other recently secured entries include a Bugatti Type 40 Ro....
400TH BUGATTI VEYRON SOLD – THE VEYRON BEGINS ITS FINAL LAPJust 50 models of the super sports car are still available

• 400th Veyron is a Grand Sport Vitesse 'Jean-Pierre Wimille' of the six-part edition 'Les Légendes de Bugatti'

• Head of Bugatti Wolfgang Schreiber, 'A unique success story about the most exclusive and luxurious super sports car brand in the world'


Molsheim, 5 December 2013. Bugatti has sold its 400th Veyron. Since the production run of the Veyron and its variants is limited to just 450 models, thi....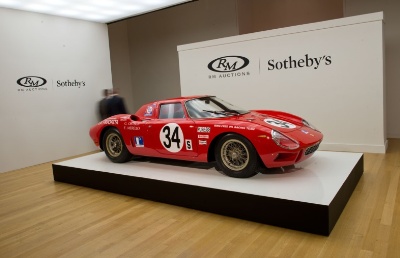 RM Auctions and Sotheby's Stun the Market with Incredible $63 Million 'Art of the Automobile' Sale in New York• RM Auctions and Sotheby's momentous Art of the Automobile auction generates $62,797,500 of sales in two hours of furious bidding
• Records tumble with the historic 1964 Ferrari 250 LM by Carrozzeria Scaglietti achieving $14,300,000 while the stunning 1938 Talbot-Lago T150-C SS Teardrop Cabriolet by Figoni et Falaschi sells for $7,150,000
• 93 percent of all lots sold to an international audience of bidders representing 17 countries
• Full results are available online at www.rmauctions.c....
Expert Symposium Delivered to Packed Room Ahead of 'Art of the Automobile' New York Sale• RM Auctions and Sotheby's deliver highly outstanding expert symposium to more than 700 people
• Six hugely influential and respected specialists set the scene in advance of truly groundbreaking Art of The Automobile sale
• Anticipation building for what is being regarded as one of the finest and most innovative collector car auctions ever held

NEW YORK, New York (November 20, 2013) – The eyes of the collector car community are firmly fixed on New York, as RM Auctions and Sotheby's,....
2013 Dodge Viper GTS Launch Edition
---
2013 Ford GTR1
---
2013 McLaren MP4-12C SPIDER
---
2012 Bentley Mulsanne Convertible Concept
---
2006 Ferrari FXX
---
1996 Bentley Azure
---
1995 Lancia Hyena
---
1994 Bugatti EB110 GT
---
1987 Ferrari F40
---
1984 Opel Manta 400 Group B Rally Car
---