2012 British Grand Prix: Race
Michael Schumacher finished the British Grand Prix in seventh place today with Nico Rosberg coming home in 15th. Michael Schumacher 'We achieved what was possible for us today, and we have to be satisfied with that. We were pretty competitive towards the end of the race, but overall we knew that the characteristics of this circuit wouldn't suit us in normal conditions - we definitely could have done better in the wet. Even so, we managed to score a few points, which can be important for the team. Our attention now turns to Hockenheim, our next home circuit, where things should look better in any case. I can only say to all motorsport fans that we are counting on your support. Like always in Germany, it will be a very special weekend, and we want to celebrate it together with them. So make sure you're there in Hockenheim!' Nico Rosberg
'The whole weekend just hasn't gone to plan for me which is a bit unexpected and really disappointing. In the race today, I had a poor start and generally we just didn't have the pace. Then a slow second pit stop held me up towards the end; so all in all, it really didn't come together. Now we need to work hard to improve the car for our next home race at Hockenheim in two weeks time. Hockenheim is a completely different circuit to here which should suit our car better, and we will hope to put on a great show for all of our fans there.' Ross Brawn 'We were the fourth best team today and that was reflected in Michael's seventh place finish on the road. Clearly, our pace in the dry didn't match our competitiveness yesterday in the wet, and we will have to take a good look at the data to find out why. Both drivers experienced graining on the option tyre this afternoon - Michael in his first stint, Nico in the final one - and that certainly compromised our performance at important parts of the race. Michael drove solidly to seventh place, defending his position against the cars around him, and he was particularly competitive in the final stint - right up to setting his fastest time on the final lap of the race. Nico's race was compromised by a bad start, which left him 15th at the end of the first lap. From then, he was fighting an uphill battle, and it was hard to find clean air for him to run in, which further complicated things. We can take positives from our weekend - including our much-improved wet weather performance - and we will work hard to learn our lessons from today before Hockenheim.' Norbert Haug 'Not a great result for us today after a good qualifying performance from Michael yesterday. We expected rain this afternoon and Michael's car was not ideally balanced during the first half of the race. Michael's lap times in the second half were much better compared to the fastest cars at the front and he finally finished 7th after 52 laps, 30 seconds behind winner Mark Webber, after overtaking Lewis Hamilton with five laps remaining. Nico started 11th and lost four places during lap one which prevented him from scoring points today. We now are looking forward to our next home race in two weeks at Hockenheim, where we will welcome the spectators with a very special, cost-free programme at the Mercedes Grandstand.'
Recent Articles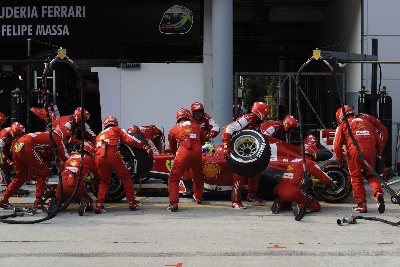 THE HORSE WHISPERER – TYRED AND EMOTIONALThese are difficult times for people with poor memories. Maybe it's because of the huge amount of information available today that people are too quick to talk, forgetting things that happened pretty much in the recent past. Or maybe the brain cells that control memory only operate selectively, depending on the results achieved on track by their owners.

A classic example of this is the current saga regarding the number of pit stops. Voices have been raised to underline the fact that various ....
2013 Monaco Grand Prix - PreviewFormula One's most famous race, the Monaco Grand Prix, takes place around the streets of the principality on Sunday 26 May for the 71st time.

◾ Just three of the past 30 Monaco Grands Prix have been won by a car starting outside the top three
◾ The race has a very high 80% risk of Safety Car intervention with a total of 14 Safety Car periods in the past ten years
◾ Last year's race featured just 25 pit stops for tyres, the second lowest figure of the entire season (after Austin, 24 stops)
....
SPANISH GP - FIRST DOUBLE PODIUM OF THE YEARMontmelo, 12 May – The Spanish crowd got what they wanted today at the Catalunya circuit, as Fernando Alonso drove brilliantly to secure his first win here in Barcelona since 2006. Adding to the delight in the Prancing Horse garage, Felipe Massa made sure that two Ferrari drivers were on the podium for the first time this season with a fantastic drive from a grid-penalised ninth place to third at the end of the 66 laps. Splitting the two men in red was the Flying Finn, Kimi Raikkonen. The....
RED BULL IS FOURTH AND FIFTH AS ALONSO REIGNS IN SPAINSebastian Vettel retained his lead in the fight for the Formula One Drivers' Championship with fourth place at the Spanish Grand Prix, while Mark Webber improved from seventh at the start to a well-deserved fifth place.

After qualifying third, Seb made a great start to pass Lewis Hamilton for second place and set about chasing down pole winner and leader Nico Rosberg. However, in his first stop Sebastian lost his position to Alonso and dropped back. Alonso soon passed Rosberg for the lead and....
TEST COMPARISON BETWEEN FORMULA 1 AND MERCEDES-AMG CARS• Nico Rosberg, Bernd Schneider, Karl Wendlinger and Bernd Maylander

• Mercedes-AMG Performance Drive: Formula 1 versus Mercedes-Benz A 45 AMG, E 63 AMG, SLS AMG Black Series and SLS AMG GT3

• Nico Rosberg in Mercedes-Benz SLS AMG Black Series: 'It will be interesting to see how long Michael can delay starting before catching up with us at the finish.'


As part of the programme for the 24-hour race on 19th May 2013, Mercedes-Benz will put on a special event highlight for....
blog comments powered by

Disqus