Inaugural Pinehurst Concours d'Elegance to Take Place in May 2013
For more than 100 years, Pinehurst has crowned champions in some of the most prestigious events in the world. The U.S. Open Championship. The PGA Championship. The Ryder Cup. Now a new champion will be named on the storied links, this time for 'Best in Show' for automobiles at the Pinehurst Concours d'Elegance on Sunday, May 5, 2013. The Pinehurst Concours d'Elegance will combine the world-class amenities of Pinehurst Resort, special experiences for all attendees, some of the greatest vehicles ever created and an opportunity to benefit and honor the men and women of the military from nearby Fort Bragg, NC. Four days of events are planned for the Pinehurst Concours d'Elegance starting on Thursday, May 2nd with an Aerodrome Party at nearby Moore County Regional Airport. On Friday, May 3rd, many of the concours-participating vehicles will take part in a road rally, with plans being finalized with Fort Bragg for a special route from Pinehurst to the base. A collector car auction will be held on Saturday, May 4th, as well as a 'Heroes' Gala event that evening at Pinehurst Resort. The inaugural Pinehurst Concours d'Elegance, featuring more than 150 of the most historic automobiles and motorcycles from around the world, including significant military vehicles, takes place on Sunday, May 5th. The Pinehurst Concours d'Elegance was created and developed by Dean Kessel, an avid auto enthusiast and 20-plus year motorsports marketing veteran. Kessel and his team of highly regarded and experienced automotive and motorsports staff, as well as an extremely knowledgeable advisory board, have spent nearly two years cultivating this initiative. The overall goal is to offer an experience at the iconic resort of Pinehurst to show-goers, entrants and corporate partners that will become a 'must-attend' for all automotive enthusiasts.

'North Carolina is recognized as the epicenter of motorsports activity in the U.S., a $6 billion industry, and is home to major corporations in banking, technology, and other prominent business sectors,' said Kessel. 'The state is also home to some of the greatest golf courses in the world, picturesque driving locales, and the best of southern hospitality and for these reasons the region is a worldwide destination. Combine these attributes with some of the best car collections and collectors – many of them located nearby - and the history and prestige of Pinehurst and Fort Bragg, and the Pinehurst Concours d'Elegance will rank among the top experiences in the automotive world.' Pinehurst is a world-class destination and an ideal locale for a Concours d'Elegance. Known as the birthplace of golf in the United States, Pinehurst has hosted more single golf championships than any other site in America, including the U.S. Open, PGA Championship, Ryder Cup Matches, PGA Tour Championship and many others. In an unprecedented decision by the USGA, it will serve as the site for both the U.S. Open and U.S. Women's Open Championships in back-to-backweeks in 2014. Pinehurst is accustomed to major events, hosting more than 40,000 people per day at the U.S. Open Championships and tens of thousands of others throughout the year. Amenities at Pinehurst abound, from the quaint Village of Pinehurst to a multitude of hotels, including the flagship Carolina Hotel and the famed Pinehurst No.2 course, all within a short walk or shuttle ride, enabling patrons, entrants and residents to easily experience most every activity scheduled from May 2nd through 5th. 'We're excited to welcome this event and its traditional loyal following of visitors to Pinehurst Resort and the Village of Pinehurst,' said Tom Pashley, Executive Vice President of Marketing for the Pinehurst Resort. 'Vintage automobiles and classic golf courses share many similarities. Both tend to be visually stunning, their architecture is studied by enthusiasts for inspiration, and they withstand the test of time. It seems a natural fit to host the event at Pinehurst.' Fort Bragg is one of the largest and most active military installations in the world and is located just a short distance from Pinehurst. From World Wars I and II through current conflicts in the Middle East, and elsewhere around the world, tens of thousands of America's sons and daughters have answered the call to duty and have lived, trained, and been deployed from Fort Bragg. Plans are currently being made between the Commands at Fort Bragg and the Pinehurst Concours d'Elegance to involve the base and military members throughout the four-day event. Tentatively, these plans may include a road rally to the base, an insider's view of Airborne and Special Operations Forces, and plenty of interaction between the Concours entrants, attendees, soldiers and their families, all geared to create memorable experiences that will last a lifetime. 'To have an event as prestigious as the Pinehurst Concours d'Elegance located so close to Fort Bragg is a win-win for all involved,' said Tommy Bolton, Civilian Aide to the Secretary of the Army. 'As these plans continue to come together, we certainly recognize there are many automotive enthusiasts at Fort Bragg that can have the opportunity to see these vehicles and get to meet the people behind them. 'The entrants will also have the great opportunity to meet some of America's greatest warriors and their family members,' Bolton continued. 'Offering entrants and attendees an opportunity to gain an active perspective of a 'soldier's experience' can only enhance the exceptional nature of this event. The mutual benefits should be quite unique for everyone.' Additional information about the Pinehurst Concours d'Elegance, including the latest news about the event, may be found at www.pinehurstconcours.com. Please also see the Pinehurst Concours d'Elegance on Facebook, Twitter, YouTube, Vimeo, Instagram and Pinterest page, all accessible via the website.
Recent Articles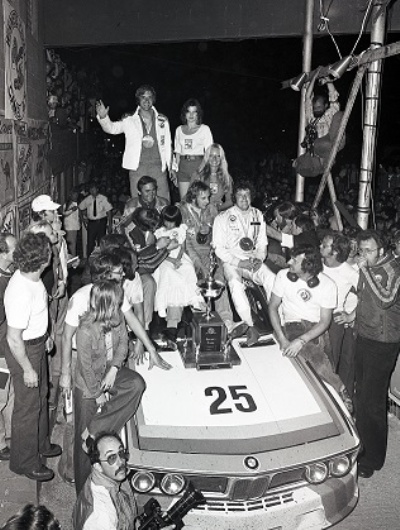 BMW's 'BATMOBILES' SET FOR 19th ANNUAL AMELIA CONCOURSScheduled to appear in the 19th Annual Amelia Concours' BMW 3.0 CSL 'batmobile class' are not only the 1975 Sebring 12 Hour and '76 Daytona 24 winners, but Alexander Calder's 1975 Le Mans 3.0 CSL with his trademark signature on the left rear fender.

BMW's 'Batmobile' racers were glorious mutants. They arrived from Europe wearing a frosting of giant wings, huge fender boxes and big spoilers, all powered by a 430 hp straight-six engine that made a glorious noise and propelled BMW's luxury cou....
400TH BUGATTI VEYRON SOLD – THE VEYRON BEGINS ITS FINAL LAPJust 50 models of the super sports car are still available

• 400th Veyron is a Grand Sport Vitesse 'Jean-Pierre Wimille' of the six-part edition 'Les Légendes de Bugatti'

• Head of Bugatti Wolfgang Schreiber, 'A unique success story about the most exclusive and luxurious super sports car brand in the world'


Molsheim, 5 December 2013. Bugatti has sold its 400th Veyron. Since the production run of the Veyron and its variants is limited to just 450 models, thi....
Worldwide breaks another record at home in Auburn and puts The Classic Car Capital of the World back on the mapWorldwide Auctioneers' premier event at home in Auburn proved a resounding success last weekend, with an impressive number of high quality motorcars realizing significant sums and a record number of bidders in attendance from across the globe. The Auburn Auction closed with an overall sale of $8.2 million, high sales going to a stately 1935 Auburn 851 SC Boattail Speedster at $396,000 and an iconic and 'blisteringly fast' 1968 Lamborghini Miura P400 Coupe which hammered sold for $385,000. Worldw....
MINI further widens its global sales network: first MINI showroom launches in Jordan.Premium small car brand MINI has stepped up its involvement in the Middle East sales area in geographical terms as well: the brand's market entry into the Kingdom of Jordan brings a further boost to MINI's presence in this growth-intensive economic region. In 2011, MINI posted a 77 per cent increase in sales in the Middle East. Worldwide, the British premium carmaker is now represented in more than 100 countries.

The new MINI branch will open in the centre of the capital Amman – a bustling c....
SELECT MAZDASPEED RACES TO BE BROADCAST ON ESPN INTERNATIONALThe Star Mazda Championship Presented by Goodyear and the Cooper Tires USF2000 Championship Powered by Mazda includes racers from around the world. Both series are a part of the Mazda Road to Indy and have attracted the best young racers from not just from North America, but Europe, South America, and all parts of the globe.

Mazda has teamed up with ESPN International to allow their home fans to follow them better with a total of 13 hours of racing scheduled to be broadcast in 2012. ESPN'....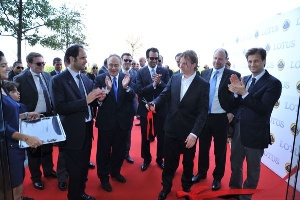 Kimi Raikkonen Launches Lotus In LebanonFresh from the Malaysian Grand Prix, Kimi Räikkönen joined Group Lotus CEO Dany Bahar in Beirut last night to celebrate the return of Lotus to Lebanon.

The legendary marque is opening a new dealership in Beirut in partnership with leading Lebanese automotive dealer RYMCO and luxury real estate and management company Zardman. Lotus' acclaimed Evora, Elise and Exige are set to quicken the heartbeat of one of the most exciting cities in the Middle East.

Lotus Cars Lebanon welcomed the 2007 Fo....
SEAT improves results thanks to exports• Operating result improved almost 100 million euros

• Benchmark employer, more than 1,000 new employees in 2011

• Sales leader in Spain for second year running

• Product offensive in 2012 – one new model per quarter

• Over 2.6 billion euros invested since onset of crisis to consolidate future


Internationalisation enabled SEAT to weather the storm affecting the Spanish market in 2011, and forge ahead with its plans for growth and profitability. SEA....
2014 Chevrolet Corvette Stingray Convertible
---
2014 Holden VF Commodore Sportwagon
---
2014 Holden VF Commodore Ute
---
2014 Infiniti Q50
---
2014 Land Rover Discovery
---
2014 Mercedes-Benz S-Class
---
2014 Rolls-Royce Phantom
---
2013 Alfa Romeo 4C Launch Edition
---
2013 Chevrolet Trailblazer
---
2013 Chevrolet TrailBlazer
---