1984 Brazilian Grand Prix: An Overshadowed Overachievement
By: Jeremy McMullen
In 1983, a little-known Belgian driver by the name of Thierry Boutsen would buy his way into a drive with the Arrows Racing Team in time to take part in the Belgian Grand Prix. Though he would retire early in the race, he would follow the performance up with two-straight near misses of the points, beating his teammate in the process. He had been close with a car that was already overreaching. One year later, competing with an older and underdeveloped car, championship points couldn't have seemed any further away. Even when Thierry Boutsen joined the Arrows team in time for the Belgian Grand Prix in 1983, it was well known the team was not one of the more competitive teams up and down the paddock. Filled with talented people, but thin in budget, the team's engineers and designers had a lot of ideas of how to improve their cars but didn't have the capital to see it done. Nonetheless, the team managed to hang around the midfield and would seem to come away with a point or two when others faltered. For a young driver, struggling teams are often the first stop in their Formula One journey. Whether meant to teach humility, or, just to give the driver experience, such moments are rarely opportunities for great results. But when those opportunities present themselves, it is incumbent upon the young drivers to take advantage of them if they have a desire to earn a better ride. The problem Boutsen had is that Belgium was a small racing market. He had no money to buy a better seat. Therefore, a drive with Arrows would be the best he could get, unless he could work with the team and the car to get it to do more than it was truly capable. Unfortunately, that often meant doing so with older equipment. But if there was a man equal to such a task it would be Boutsen.

Having trained at university as an engineer, and also possessing a love for aviation, Boutsen was very much interested in the technical aspects of racing and it would help him to work with his engineers to do what they could with what they had. And what they had, heading into the 1984 season, would not be the most advanced, cutting-edge, piece of machinery. While most teams were transitioning to turbo-powered cars, Arrows would be forced to make due with its year-old A6 chassis. Powered by a Cosworth DFV V8, the Arrows A6 would remain competitive amongst its fellow normally-aspirated cars but really had nothing to offer the turbo-powered cars. Still, this is what Boutsen had to make due with, and so, he would get on with doing what he could to help make the car even better. On Sunday, March 25th, the first round of the 1984 Formula One season was preparing to get underway under incredibly oppressive conditions. The sun would be out and the circuit would be dry, but it would be incredibly hot at the Autodromo Internacional do Rio de Janeiro. But if the conditions were oppressive enough, the fact the circuit was dry would also make things depressing for the normally-aspirated cars in the field as the turbo-powered cars would be able to run free in such conditions. Sure enough, in qualifying around the 3.11 mile circuit, it would be Elio de Angelis that would set the pace in his Lotus-Renault. His lap time of 1:28.392 would give him the pole by a full half a second over the Ferrari of Michele Alboreto. The divide between the turbo and normally-aspirated power would be more than evident when looking down the timesheets from qualifying. A clear eight seconds would be the difference in the field down where Boutsen would qualify. However, Theirry would manage to out-qualify his teammate Marc Surer. Posting a time of 1:36.312, Boutsen would be eight seconds slower than de Angelis but would be nearly a second faster than his Arrows teammate. This would give the Belgian a 20th starting position, which would be the outside of the tenth row. In a race that would be remembered for being Senna's Formula One debut, he would hardly be a player in the results of the race when he retired after just 8 laps with boost pressure problems. While he departed the proceedings, it would be Alboreto that would take the lead at the very start of the race. He would be followed by Derek Warwick, Nigel Mansell, Niki Lauda and a slow escaping de Angelis. Though 61 laps, the battle was well joined very early on and Niki Lauda and Warwick would have a coming together as they battle for 2nd place behind Alboreto. Despite the coming together, Lauda would keep his foot on it and would soon take over the lead from Alboreto when the Italian spun on the circuit due to a brake problem. Lauda would hold onto the lead ahead of Warwick and Nigel Mansell. However, Alain Prost would be on a charge and Mansell would soon be overtaken by Prost for 3rd place. All of this action up at the front of the field would distract from what was happening at the backend. Boutsen has started well but was severely punished driving a normally-aspirated Arrows. He would fight amongst the few normally-aspirated cars left in the field and would have to trust in Providence to help him move up the order. As he would prove in his victories later on in his Formula One career, Boutsen would make no mistakes and would drive a perfect and flawless race, not putting a wheel wrong throughout the whole of the event. He would let the mistakes and misfortunes of others propel him forward. And in the incredible heat that day, he would get a lot of help. Besides Senna, Stefan Bellof, Michele Alboreto, Jacques Laffite and Rene Arnoux would all retire from the race, but that was just by the halfway mark of the race. There was still plenty of time left for more to depart the scene, and that is exactly what would happen. The two Brabhams would retire on the very same lap with engine and turbo problems. Some three laps later, Nigel Mansell would be out of the running after suffering an accident. Niki Lauda would fall out of contention due to an electrical problem. And then there would be Derek Warwick. Lauda's electrical problem would happen right around the time of scheduled pitstops. As the events unfolded, the team would become distracted by Lauda's problems and would cause Prost to be delayed greatly during his pitstop. This would hand the lead of the race over to Derek Warwick. Over the course of the next 11 laps Warwick seemed in absolute control and appeared well on his way to victory. However, after completing the 50th lap, and with just 11 laps remaining, the suspension on Warwick's Renault would suddenly collapse causing Warwick to spin off the course out of the race. This would hand the lead back to Prost. But the drama wouldn't end there. Heading into the season, new regulations would be introduced that would limit the total amount of fuel that could be used over the course of a race. Driving a normally-aspirated car, Boutsen would not be affected by this and could keep his foot firmly to the floor. However, there would be those that would not be so fortunate. One of those that would run into trouble before the end would be Patrick Tambay. It was clear, heading into the final few laps of the race, that Tambay had spent a little too much fuel throughout the race. Therefore, in the closing laps of the race he would slow down in an effort to save enough to get to the end. This would allow Keke Rosberg to get by and take over 2nd place in the order. Then, just 2 laps from the end, the Renault would be totally out of fuel. The running order would be shuffled once again in the final stages and it would all benefit Boutsen who was driving a conservative, but flawless race in the underfunded Arrows. On a day when the heat and the conditions on the track were causing cars to drop out of the running left and right, Boutsen would show a maturity beyond his years and would be one of the few still there at the end. Unfortunately, he would not be close enough to challenge Prost. Nobody would be close enough to challenge Prost. He would storm to the victory taking the win by a mere forty seconds over Rosberg. Elio de Angelis would come through to finish in 3rd place but would be fifty-nine seconds in arrears. Being two laps down at the end, it seemed Boutsen had finished the race in 7th place since Martin Brundle had finished ahead of him. However, Brundle would later be disqualified. Even at the last moment Boutsen would find himself being promoted. Unfortunately, he just would not be promoted over Tambay, despite the fact he had run out of fuel with 2 laps remaining. It was determined that Tambay had covered a greater distance than Boutsen and would end up being awarded 5th. Still, Boutsen would come away with 6th place and would end up coming away with his first World Championship point as a result. In spite of the fact there would only be eight cars still running at the end of the race, Boutsen would, nonetheless, prove himself over the course of the race. In extremely difficult conditions, and with a car incapable of really challenging for any points, he would manage to bring the car home in the points. This would be the first glimpse of the genius of Thierry Boutsen. He may not have been the fastest out on the circuit but he was as cool as they came. Unflappable and flawless, he would use his ability to avoid mistakes to carry him through to top results. It would be this ability to call that little bit extra out of his car that would see him go on to drive for such teams as Benetton and Williams. Though he may not have been as flashy as some about it, Boutsen certainly had that ability to make up for whatever deficiencies his cars had. Unfortunately, he would have to do that quite a lot throughout his racing career. And so, while Prost would go on to a storming victory in the Brazilian Grand Prix in 1984, one would be remiss not to draw attention to a certain Belgian driver that handled the heat and the pressure of inexperience and would come away with a performance nearly as noteworthy as Prost's win. But, to the victor goes the spoils, and that includes much, if not all, of the attention. Sources:
'Grands Prix/1984/Brazil', (http://www.manipef1.com/grandprix/1984/brazil/). ManipeF1. http://www.manipef1.com/grandprix/1984/brazil/. Retrieved 3 July 2012.

'Grand Prix Results: Brazilian GP, 1984', (http://www.grandprix.com/gpe/rr389.html). GrandPrix.com. http://www.grandprix.com/gpe/rr389.html. Retrieved 3 July 2012.

'1984 World Drivers Championship', (http://www.silhouet.com/motorsport/archive/f1/1984/f184.html). 1984 World Drivers Championship. http://www.silhouet.com/motorsport/archive/f1/1984/f184.html. Retrieved 3 July 2012.

Wikipedia contributors, 'Thierry Boutsen', Wikipedia, The Free Encyclopedia, 14 June 2012, 11:08 UTC, http://en.wikipedia.org/w/index.php?title=Thierry_Boutsen&oldid=497534680 accessed 3 July 2012
Recent Articles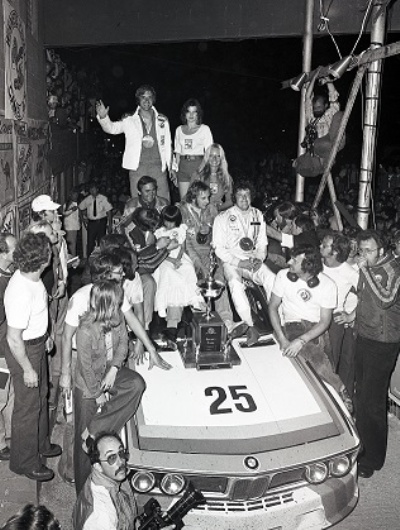 BMW's 'BATMOBILES' SET FOR 19th ANNUAL AMELIA CONCOURSScheduled to appear in the 19th Annual Amelia Concours' BMW 3.0 CSL 'batmobile class' are not only the 1975 Sebring 12 Hour and '76 Daytona 24 winners, but Alexander Calder's 1975 Le Mans 3.0 CSL with his trademark signature on the left rear fender.

BMW's 'Batmobile' racers were glorious mutants. They arrived from Europe wearing a frosting of giant wings, huge fender boxes and big spoilers, all powered by a 430 hp straight-six engine that made a glorious noise and propelled BMW's luxury cou....
LE MANS GREATS HEAD STUNNING ROSTER OF ADDITIONAL ENTRIES FOR RM'S 2014 PARIS SALE DURING RETROMOBILE WEEK• Anticipation builds ahead of RM's €25 million debut Paris sale on 5 February 2014
• More Le Mans greats join stunning competition car line-up at saleLatest highlights include a 1982 Rondeau M482 Le Mans GTP, a veteran of five Le Mans 24 hours races, and a mighty 2008 Peugeot 908 HDi FAP Le Mans Prototype, which finished 2nd at Le Mans, was driven by Jacques Villeneuve, and has been entrusted to be sold by RM by the Peugeot factory
• Other recently secured entries include a Bugatti Type 40 Ro....
McLAREN P1™ JOINS THE EXCLUSIVE SUB-SEVEN MINUTE CLUB AT THE NÜRBURGRING◾The McLaren P1™ achieves its one remaining performance target
◾An average speed in excess of 178 km/h (111 mph) necessary to achieve the required lap time around the 20.8km (13 mile) circuit
◾Short film celebrating the team's achievement at the Nürburgring is available to view and embed at: http://youtu.be/E9IWiTpWeiM

The McLaren name was born on the racetrack and, 50 years on, is the most successful name in global motorsport. That desire and determination to push for every extra tenth of....
Infiniti To Reveal Formula One Inspired Concept At Detroit ShowHong Kong – Infiniti will reveal a Formula One inspired concept car based on the Q50 premium sports sedan at the North American International Auto Show in Detroit.

The concept car represents Infiniti's design vision of a high performance variant of Q50. Called 'Q50 Eau Rouge,' the car is named after the world-famous corner at the Formula One track in Spa-Francorchamps, a corner which requires extraordinary strength, courage and commitment; it has seen some of the most incredible drivin....
SEB AND THE RB9: AN AWARD-WINNING COMBINATIONLONDON – Sebastian Vettel has been named International Racing Driver of the Year and the RB9 handed the prize for Racing Car of the Year at this year's Autosport Awards in the UK, the fourth year in a row driver and team have been honored in the categories.

Seb, who took a record-equaling 13 grand prix wins in a single season in 2013 to win his fourth world title in a row, entered the auditorium in the company of dominant WRC champion Sébastien Ogier of the Red Bull VW team; later in t....
INFINITI U.S. SALES INCREASE 10.5 PERCENT IN NOVEMBER– Best November in the Luxury Automaker's History –

NASHVILLE, Tenn. – Infiniti today reported the best November in its 24-year history, with U.S. sales of 13,152 units, an increase of 10.5 percent versus 11,897 units a year earlier.

The all-new Infiniti Q50 saw deliveries of 5,891 units in November, one of the strongest ever monthly sales of a single Infiniti model. Overall sales of Infiniti sports sedans, which include the Infiniti G37, rose more than 85 percent to a total ....
Avoiding accidents, optimum protection, summoning help quickly: The integral safety concept of the BMW i3. The BMW Group's first series production electric car earns top ratings for occupant protection and child protection in Euro NCAP crash testing.Munich. The BMW i3 achieved the highest rating of five stars in the Euro NCAP crash tests governing occupant protection and child protection that coincided with its market launch. As expected, the electric car matches the performance of the best conventionally powered vehicles in its segment in the area of passive safety. The Integral safety concept covers everything from collision avoidance to Intelligent Emergency Call and also meets requirements above and beyond Euro NCAP.
Its revolut....
MASERATI GHIBLI SEDAN NAMED IIHS TOP SAFETY PICKNovember 26, 2013, Englewood Cliffs, NJ - The Insurance Institute of Highway Safety today named the all-new 2014 Maserati Ghibli a 2013 Top Safety Pick.

Heralding a new era of accessibility for the legendary Italian brand while maintaining the iconic Maserati pedigree, the highly anticipated Ghibli starting at just $65,600, has just begun deliveries to the vastly expanding Maserati retail network across North America. The Ghibli features a twin-turbo V6 produced by Ferrari with up to 4....
2014 Acura RLX
---
2014 Alfa Romeo Giulietta
---
2014 Alfa Romeo MiTo
---
2014 Bentley Flying Spur
---
2014 BMW 5-Series
---
2014 BMW 5-Series Gran Turismo
---
2014 BMW ActiveHybrid 5
---
2014 Ferrari 458 Speciale
---
2014 Holden Cruze
---
2014 Infiniti Q50
---