Pebble Beach Concours d'Elegance Introduces Its First Sport Customs Class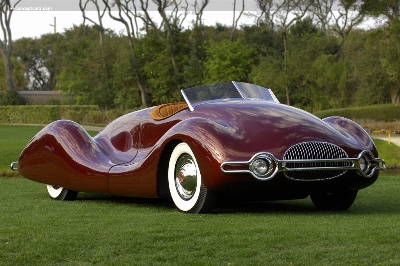 One-off Sport Customs designed to turn heads while tooling down Main Street USA will roll onto the 18th fairway of Pebble Beach Golf Links for the 2012 Pebble Beach Concours d'Elegance on August 19. This year, for the very first time, the Pebble Beach Concours d'Elegance is hosting an entire class dedicated to Sport Customs. 'These are one-of-a-kind cars built in the US, on modified American production chassis with American engines by individuals, designers and craftsmen,' explains automotive historian Ken Gross, a member of the committee that vets and selects the Concours entries. 'Although the word sport connotes adroit handling, for the most part these cars were stylish boulevard cruisers, designed to be seen and admired, not to win races.' 'The Pebble Beach Concours d'Elegance continues to expand alongside the growing interests of enthusiasts,' says Concours Chairman Sandra Button. 'It is important for us to stay in tune with the interests of the people who create, love, and care for these special cars, and it is always interesting to host something new and different.'

Each car competing in the new Sport Customs class comes with a personal story and history like no other. Take, for example, the story of Seward Allen's 1940 Coachcraft Roadster. Seward Allen was just a high school student when he dreamed up this car. He developed the idea while in auto shop class, where the chassis and running gear were constructed with the help of his classmates. Unbeknownst to his parents, Allen later commissioned Coachcraft, Ltd., to complete his vision. The result was a sleek and modern design paired with shiny navy blue paint and an orange pigskin interior. With low doors, no top and no side windows, this car is the definition of a California Roadster. 'It's a very beautifully designed car,' says Martin Cousineau, who, with his wife Michelle, is its current owner. 'There isn't a sharp corner on it. It has integrated curves and compound curves, which are all the more remarkable because this is an all power-hammered and hand-hammered steel construction.' To complement its innovative look, the Roadster included features far ahead of its time. The body was welded to the chassis to form a strong and rigid unibody. With a Ford flathead V8 engine installed in its light sports roadster body, it was a forerunner of designs like the famous Shelby Cobra that appeared many years later. Celebrated in its own right, this Roadster soon appeared on the cover of Trend Book 101, Custom Cars. In November 1950 -- the very same month that the inaugural Pebble Beach Concours d'Elegance took place -- this sport custom strutted its stuff at the first Petersen Motorama in Los Angeles. Now things come full circle as Seward Allen's 1940 Coachcraft Roadster competes with eight other Sport Customs at the forthcoming Pebble Beach Concours d'Elegance. The class also includes the very first Coachcraft creations, the Vince Gardner Special, the Paul Omohundro Special, the Norman Timbs Special, another Emil Diedt Roadster made for Eddie 'Rochester' Anderson, the Templeton Saturn Special, the Maverick Sportster and the Bentas 'Raven' Convertible. In addition to Sport Customs, the 2012 Pebble Beach Concours d'Elegance will feature Cars of the Maharajas, Mercer, Fiat, Saoutchik Coachwork, AC and AC (Shelby) Cobra and German Motorcycles. Information and tickets are available at www.pebblebeachconcours.net.
Recent Articles
Italian Sports And Racing Exotics Head To RM's Eagerly Anticipated Monterey Sale• RM Auctions announces stunning early roster of blue-chip Italian exotics for its flagship Monterey sale, August 16–17 in California
• No less than 21 Ferraris already consigned alongside two spectacular Maseratis
• Eight Ferraris offered without reserve from the Estate of William H. Tilley
• Additional early highlights include a fabulous 1931 Duesenberg Model SJ Murphy Convertible Coupe and a 1935 Hispano-Suiza K6 Brandone Cabriolet
• Frequently updated list of entries available online a....
STARS, STRIPES AND VICTORY FOR 'THE AMELIA'S' AUSTIN KIMBERLY IN BRITISH ROAD RACING CHAMPIOSNHIPAmerican teenager Austin Kimberly scored his first victory in the 2013 Avon Tyres National FF1600 Championship season at the 2.1 mile Anglesey road racing circuit in Wales (UK) last weekend (May 12). After qualifying third, the young American racer led every lap of the 25.1 mile championship race for 1600cc Formula Ford racers.

A go-kart racer since the age of nine, Austin opened the British Racing Sports Car Club's 2013 national Formula Ford Championship season with two podium appearances....
Spectacular 1936 Delahaye Type 135 Competition Court Coupe and 1969 Ford GT40 MKI take Best in Show at the Concours d'Elegance of TexasHouston, Texas. May 17, 2013. Last weekend, the award winning La Torretta Lake Resort & Spa in Montgomery, Texas, played host to the biggest celebration of vintage motoring in Texas, welcoming thousands of visitors through its doors for The Houston Classic Weekend and 2nd annual Concours d'Elegance of Texas. The weekend got off to a high-octane start when Concours participants took to the open road on the Texas Tour d'Elegance, led by Richard Rawlings of Fast N' Loud fame, in a newly re-s....
Pinehurst Concours Economic Impact Approaches $2 MillionVILLAGE OF PINEHURST, N.C. (May 13, 2013) – The inaugural Pinehurst Concours d'Elegance and the events surrounding the vintage auto showcase attracted more than 5,000 fans, and its economic impact approached $2 million despite unseasonably cool temperatures the first weekend of May, officials said.

'Having an event the caliber of a Concours in Moore County is significant, especially as it grows in recognition and importance in the Southeast,' said Caleb Miles, president and CEO of the Pinehur....
American Classics from the Richard and Linda Kughn Collection Featured at RM's Annual Michigan Sale• RM Auctions returns to Plymouth, Michigan, July 27, for its well-established St. John's sale
• Single-day auction in automotive heartland features more than 80 historic collector cars
• Sale headlined by a wonderful selection of automobiles from the distinguished collection of Richard and Linda Kughn
• Auction acts as prelude to the Concours d'Elegance of America at St. John's on Sunday, July 28

BLENHEIM, Ontario (May 7, 2013) – RM Auctions, the official auction house of the Conc....
Legendary Car Designer Peter Brock Named Grand Marshal Of The 2013 Palos Verdes Concours D'EleganceRANCHO PALOS VERDES,CA -- Peter Brock, the legendary designer of the Corvette Stingray, the Cobra Daytona Coupe and other iconic high-performance automobiles, has been named Grand Marshal of the 2013 Palos Verdes Concours d'Elegance, to be held at the Trump National Golf Club in Rancho Palos Verdes, CA on Sunday, September 15.

Brock will drive his Superformance Coupe, a modern version of the famed Daytona Cobra Coupe, in the Concours' Pleasure Road Rallye on September 14, and the car ....
Amelia Island Concours Video Born Of A Blue Sky Available OnlineThe 16-minute video Born of a Blue Sky, recounting the 18th Annual Amelia Island Concours d'Elegance, is available now on the web through a link at www.ameliaconcours.org or at www.bornofabluesky.com.

'Born of a Blue Sky has the same sort of visual presence as an impressionist painting,' said Bill Warner, Chairman and Founder of The Amelia Island Concours d'Elegance. 'The video captures that special quality of light Amelia Island has on an early spring morning that makes c....
1938 Steyr Roadster Wins Best in Show at Pinehurst ConcoursA rare 1938 Steyr Roadster captured the 'Best in Show' at the inaugural Pinehurst Concours d'Elegance as more than 5,000 car enthusiasts strolled the fairways at Pinehurst Resort, viewing a show field of 118 pristine vintage automobiles.

Peter Boyle of Oil City, Pa., owns the winning automobile that was entered in the American/European Classic 1925-48 Class. Boyle purchased the car two years ago, restored it in 2012 and won Second in Class at the Pebble Beach Concours last August before capt....
2013 Viper GTS Launch Edition Dodge
---
2013 MP4-12C SPIDER McLaren
---
2012 Mulsanne Convertible Concept Bentley
---
2001 DeVille Cadillac
---
1988 Corvette C4 Chevrolet
---
1987 Corvette C4 Chevrolet
---
1985 XJR-7 Jaguar
---
1983 J2X Allard
---
1981 Corvette C3 Chevrolet
---
1980 Corvette C3 Chevrolet
---
blog comments powered by

Disqus