Gooding & Company Announces the distinguished Sherman M. Wolf Ferrari Collection for its Pebble Beach Auctions
Gooding & Company, the acclaimed auction house celebrated for selling the world's most significant and valuable collector cars, is proud to announce that it will present the extraordinary Ferrari collection of Sherman M. Wolf at its Pebble Beach Auctions on August 18 & 19. The renowned Sherman M. Wolf Collection is comprised of a rare, alloy-bodied 1960 Ferrari 250 GT LWB California Spider Competizione, a 1953 Ferrari 340 MM Spider, a 1957 Ferrari 500 TRC and a 1985 Ferrari 288 GTO, four exceptional and important Ferraris that the prominent and beloved collector worked hard to acquire and maintain throughout his life. 'Sherman Wolf was one of the most earnest and generous Ferrari enthusiasts I've ever known and he is dearly missed by many friends in the collecting community,' says David Gooding, President and founder of Gooding & Company. 'We are honored to offer his stunning collection for the next generation to continue his legacy of passion and admiration for these extraordinary Ferraris.' A lifelong Ferrari devotee who passed away earlier this year, Sherman Wolf was revered and loved by his friends in the car community for his enthusiasm and dedication to the hobby. He had a passion for collecting and repairing antique radios, clocks and cars, driven by his natural engineering talents and business innovation with two-way radios. When it came to cars, he was often the enthusiastic participant in road rallies – such as the Mille Miglia, Colorado Grand and Tour Auto – who helped repair other drivers' cars out of good will. The Ferraris of Sherman M. Wolf 1960 Ferrari 250 GT LWB Alloy California Spider Competizione (Chassis 1639 GT)
Ferrari's California Spider is widely recognized as one of the greatest sports cars of all time and thus an important inclusion in any premier post-war collection. This 1960 Ferrari 250 GT LWB Alloy California Spider, chassis 1639 GT, is one of only nine alloy-bodied LWB California Spiders ever built and with ultra-desirable covered headlights and full race specifications, this beautiful sports car is even more rare. When new, this car was delivered to the prestigious Illinois-based Ferrari dealer and racer George Reed and displayed at the 1960 Chicago Auto Show. In the late 1970s, Sherman Wolf purchased the California Spider, a significant acquisition for the first-time Ferrari owner who later drove it on the inaugural Colorado Grand. In addition to its lightweight alloy body, it is equipped with full competition specifications including an outside plug motor with TR heads, disc brakes, velocity stacks and a ribbed gearbox. Restored by Ferrari specialist David Carte, this alloy-bodied California Spider remains in show condition and is among the most desirable 250 Ferraris in existence. Its estimate is $7–$9 million. 1953 Ferrari 340 MM Competition Spider by Vignale (Chassis 0350 AM) The 340 MM was the ultimate variant of the 340 series, which began in 1950 with the 340 America. A rare Ferrari indeed, Sherman Wolf's 0350 AM is the last of ten 340 MMs as well as the last of five 340 MM Spiders bodied by Vignale. This car was sold new, in a two-tone American racing scheme, to Sterling Edwards, a famous California sportsman and chairman of the Pebble Beach Road Races Committee. After picking up the car in Italy while on his honeymoon, Edwards returned to the US and raced it throughout 1953 and 1954, winning at Pebble Beach, Palm Springs, Stead AFB and Seafair. In 1955, Los Angeles race car driver Tom Bamford purchased the 340 MM, which he drove in local races through 1955. Sherman Wolf gained ownership of the Ferrari in 1984 and enjoyed taking it on long-distance tours, including the Mille Miglia Storica and Colorado Grand. Gooding & Company is offering the 340 MM at auction with its unrestored, matching-numbers engine. Its estimate is $4.5–$6.5 million. 1957 Ferrari 500 TRC by Scaglietti (Chassis 0662 MDTR) Ferrari's 500 TRC is widely recognized as one of the most beautiful Ferrari sports racing cars ever built. One of nineteen 500 TRC's built, this 1957 example was delivered new to sports racing pioneer John von Neumann. Von Neumann raced it briefly before he sold the car to Dr. Frank Becker of Washington, who competed with the 500 TRC successfully throughout the US in the 1950s. Eventually the Ferrari was sold to Thor Thorson and then Sherman Wolf, who has since owned it for 20 years. A Monterey Historics and Colorado Grand participant, this rare, matching-numbers vintage racer remains an exquisite example of one of Ferrari's most celebrated race cars. Its estimate is $3.75–$4.5 million. 1985 Ferrari 288 GTO (Chassis 52469) Designed by Pininfarina and coachbuilt by Scaglietti, the 1985 Ferrari 288 GTO being offered was first sold to Ferrari collector Ronald Stern of London just before Sherman Wolf acquired it the same year. Only 272 examples of Ferrari's first limited-production supercar were built, and this 288 GTO is a US Federalized example equipped with its original books and tools, as well as air-conditioning and power windows, which were the only options available at the time. With just 6,000 miles from new, Sherman Wolf's original, two-owner 288 GTO has an estimate of $750,000–$900,000. Gooding & Company's 2012 Pebble Beach Auctions will take place on Saturday and Sunday, August 18 and 19 at the Pebble Beach Equestrian Center, located at the corner of Portola Road and Stevenson Drive. Preview days will start on Wednesday, August 15, and continue through Sunday, August 19. The auctions will commence at 5:00 p.m. on Saturday and 6:00 p.m. on Sunday. Gooding & Company's Pebble Beach Auctions catalogues are available for $100 and admit two to the viewing and the auctions. General admission tickets to the viewing and auctions may be purchased on-site for $40. Auctions are broadcast live from Gooding & Company's website. Bidder registration forms, press credentials and additional auction information are also available on http://www.goodingco.com or by calling (310) 899-1960. For additional vehicle information and up-to-the-minute results, follow Gooding & Company on Facebook and Twitter @GoodingCompany.
Recent Articles
400TH BUGATTI VEYRON SOLD – THE VEYRON BEGINS ITS FINAL LAPJust 50 models of the super sports car are still available

• 400th Veyron is a Grand Sport Vitesse 'Jean-Pierre Wimille' of the six-part edition 'Les Légendes de Bugatti'

• Head of Bugatti Wolfgang Schreiber, 'A unique success story about the most exclusive and luxurious super sports car brand in the world'


Molsheim, 5 December 2013. Bugatti has sold its 400th Veyron. Since the production run of the Veyron and its variants is limited to just 450 models, thi....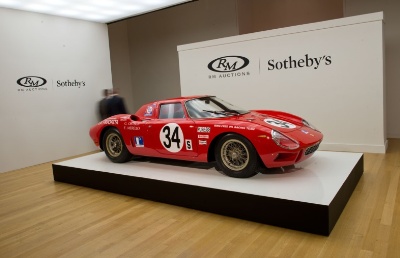 RM Auctions and Sotheby's Stun the Market with Incredible $63 Million 'Art of the Automobile' Sale in New York• RM Auctions and Sotheby's momentous Art of the Automobile auction generates $62,797,500 of sales in two hours of furious bidding
• Records tumble with the historic 1964 Ferrari 250 LM by Carrozzeria Scaglietti achieving $14,300,000 while the stunning 1938 Talbot-Lago T150-C SS Teardrop Cabriolet by Figoni et Falaschi sells for $7,150,000
• 93 percent of all lots sold to an international audience of bidders representing 17 countries
• Full results are available online at www.rmauctions.c....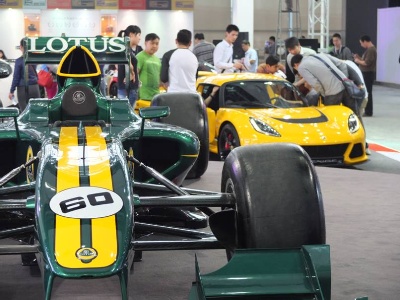 Lotus Gets Supercharged for Guangzhou MotorshowBritish sports car manufacturer Lotus showcases the jewels from its product line-up at the 2013 Guangzhou International Automobile Exhibition, further asserting its presence in the Chinese market as its popularity grows amongst China's fashion-conscious elite.

Chinese trend-setters looking for the ultimate in exclusivity and style, are warmly invited to the Guangzhou International Automobile Exhibition, where from 21 November, the iconic British sports car brand Lotus, affirms its commitment ....
Expert Symposium Delivered to Packed Room Ahead of 'Art of the Automobile' New York Sale• RM Auctions and Sotheby's deliver highly outstanding expert symposium to more than 700 people
• Six hugely influential and respected specialists set the scene in advance of truly groundbreaking Art of The Automobile sale
• Anticipation building for what is being regarded as one of the finest and most innovative collector car auctions ever held

NEW YORK, New York (November 20, 2013) – The eyes of the collector car community are firmly fixed on New York, as RM Auctions and Sotheby's,....
1955 Targa Florio: Two Brits Run Wild Over the Sicilian CountrysideThe 1955 season for Mercedes-Benz had been filled with great joy, but it would also be muted by great tragedy. Now, with one final race to run, a pair of British drivers prepared to take on an impressive array of cars and drivers. Talented and young, these two would face an experienced field and a formidable course. They would certainly be battered over the course of the race. The question would be if they could rise above it all to stand at the top.

Founded in 1906 by Vincenzo Florio, the Ta....
AMELIA ISLAND CONCOURS D'ELEGANCE WINS PRESTIGIOUSThe annual International Historic Motoring Awards, in association with EFG International and Octane magazine, announced this week that the Amelia Island Concours d'Elegance has been named the recipient of the 2013 Motoring Event of the Year award.

The Amelia Island Concours d'Elegance is the third winner of the Motoring Event of the Year Award, which honors automotive celebrations from Australia, Germany, Italy, the United States and the United Kingdom. Finalists in the 2013 events category ....
Gooding & Company Celebrates 10th Anniversary as Global Appreciation of Cars Push Markets to New High in 2013SANTA MONICA, Calif. (November 11, 2013) – The mystique of collectable cars continues to expand enthusiasm and buyer participation around the globe. In 2013, Gooding & Company, the auction house acclaimed for selling the world's most significant and valuable collector cars, celebrated its 10th anniversary and saw new and returning bidders flock to its three auctions. Demonstrating Gooding & Company's power in the marketplace is an annual auction total of $192.6 million for 286 lots with a....
2014 BMW Z4
---
2014 Ferrari California
---
2014 Ferrari LaFerrari
---
2013 Alfa Romeo 4C
---
2013 Alfa Romeo Disco Volante Touring
---
2013 Aston Martin Vanquish Volante Neiman Marcus Edition
---
2013 BMW Concept M4 Coupe
---
2013 BMW Z4
---
2013 BMW Zagato Roadster
---
2013 Bugatti Veyron Grand Sport Vitesse Legend Jean-Pierre Wimille
---