Gooding & Company Announces the distinguished Sherman M. Wolf Ferrari Collection for its Pebble Beach Auctions
Gooding & Company, the acclaimed auction house celebrated for selling the world's most significant and valuable collector cars, is proud to announce that it will present the extraordinary Ferrari collection of Sherman M. Wolf at its Pebble Beach Auctions on August 18 & 19. The renowned Sherman M. Wolf Collection is comprised of a rare, alloy-bodied 1960 Ferrari 250 GT LWB California Spider Competizione, a 1953 Ferrari 340 MM Spider, a 1957 Ferrari 500 TRC and a 1985 Ferrari 288 GTO, four exceptional and important Ferraris that the prominent and beloved collector worked hard to acquire and maintain throughout his life. 'Sherman Wolf was one of the most earnest and generous Ferrari enthusiasts I've ever known and he is dearly missed by many friends in the collecting community,' says David Gooding, President and founder of Gooding & Company. 'We are honored to offer his stunning collection for the next generation to continue his legacy of passion and admiration for these extraordinary Ferraris.' A lifelong Ferrari devotee who passed away earlier this year, Sherman Wolf was revered and loved by his friends in the car community for his enthusiasm and dedication to the hobby. He had a passion for collecting and repairing antique radios, clocks and cars, driven by his natural engineering talents and business innovation with two-way radios. When it came to cars, he was often the enthusiastic participant in road rallies – such as the Mille Miglia, Colorado Grand and Tour Auto – who helped repair other drivers' cars out of good will. The Ferraris of Sherman M. Wolf 1960 Ferrari 250 GT LWB Alloy California Spider Competizione (Chassis 1639 GT)
Ferrari's California Spider is widely recognized as one of the greatest sports cars of all time and thus an important inclusion in any premier post-war collection. This 1960 Ferrari 250 GT LWB Alloy California Spider, chassis 1639 GT, is one of only nine alloy-bodied LWB California Spiders ever built and with ultra-desirable covered headlights and full race specifications, this beautiful sports car is even more rare. When new, this car was delivered to the prestigious Illinois-based Ferrari dealer and racer George Reed and displayed at the 1960 Chicago Auto Show. In the late 1970s, Sherman Wolf purchased the California Spider, a significant acquisition for the first-time Ferrari owner who later drove it on the inaugural Colorado Grand. In addition to its lightweight alloy body, it is equipped with full competition specifications including an outside plug motor with TR heads, disc brakes, velocity stacks and a ribbed gearbox. Restored by Ferrari specialist David Carte, this alloy-bodied California Spider remains in show condition and is among the most desirable 250 Ferraris in existence. Its estimate is $7–$9 million. 1953 Ferrari 340 MM Competition Spider by Vignale (Chassis 0350 AM) The 340 MM was the ultimate variant of the 340 series, which began in 1950 with the 340 America. A rare Ferrari indeed, Sherman Wolf's 0350 AM is the last of ten 340 MMs as well as the last of five 340 MM Spiders bodied by Vignale. This car was sold new, in a two-tone American racing scheme, to Sterling Edwards, a famous California sportsman and chairman of the Pebble Beach Road Races Committee. After picking up the car in Italy while on his honeymoon, Edwards returned to the US and raced it throughout 1953 and 1954, winning at Pebble Beach, Palm Springs, Stead AFB and Seafair. In 1955, Los Angeles race car driver Tom Bamford purchased the 340 MM, which he drove in local races through 1955. Sherman Wolf gained ownership of the Ferrari in 1984 and enjoyed taking it on long-distance tours, including the Mille Miglia Storica and Colorado Grand. Gooding & Company is offering the 340 MM at auction with its unrestored, matching-numbers engine. Its estimate is $4.5–$6.5 million. 1957 Ferrari 500 TRC by Scaglietti (Chassis 0662 MDTR) Ferrari's 500 TRC is widely recognized as one of the most beautiful Ferrari sports racing cars ever built. One of nineteen 500 TRC's built, this 1957 example was delivered new to sports racing pioneer John von Neumann. Von Neumann raced it briefly before he sold the car to Dr. Frank Becker of Washington, who competed with the 500 TRC successfully throughout the US in the 1950s. Eventually the Ferrari was sold to Thor Thorson and then Sherman Wolf, who has since owned it for 20 years. A Monterey Historics and Colorado Grand participant, this rare, matching-numbers vintage racer remains an exquisite example of one of Ferrari's most celebrated race cars. Its estimate is $3.75–$4.5 million. 1985 Ferrari 288 GTO (Chassis 52469) Designed by Pininfarina and coachbuilt by Scaglietti, the 1985 Ferrari 288 GTO being offered was first sold to Ferrari collector Ronald Stern of London just before Sherman Wolf acquired it the same year. Only 272 examples of Ferrari's first limited-production supercar were built, and this 288 GTO is a US Federalized example equipped with its original books and tools, as well as air-conditioning and power windows, which were the only options available at the time. With just 6,000 miles from new, Sherman Wolf's original, two-owner 288 GTO has an estimate of $750,000–$900,000. Gooding & Company's 2012 Pebble Beach Auctions will take place on Saturday and Sunday, August 18 and 19 at the Pebble Beach Equestrian Center, located at the corner of Portola Road and Stevenson Drive. Preview days will start on Wednesday, August 15, and continue through Sunday, August 19. The auctions will commence at 5:00 p.m. on Saturday and 6:00 p.m. on Sunday. Gooding & Company's Pebble Beach Auctions catalogues are available for $100 and admit two to the viewing and the auctions. General admission tickets to the viewing and auctions may be purchased on-site for $40. Auctions are broadcast live from Gooding & Company's website. Bidder registration forms, press credentials and additional auction information are also available on http://www.goodingco.com or by calling (310) 899-1960. For additional vehicle information and up-to-the-minute results, follow Gooding & Company on Facebook and Twitter @GoodingCompany.
Recent Articles
Mille Miglia – The Argentinian couple Tonconogy-Berisso triumphs• Great turnout and successful organization of the 2013 edition


Brescia, 19 May 2013 – The 31st reenactment of 'most beautiful race in the world', officially ended today, with the awards ceremony at the Grand Theatre. It was the first race organized by 1000 Miglia Srl

The crews in the theatre audience were refreshed after their arrival last night. Rain has become part of the Mille Miglia tradition but never before has it been so heavy as it was in this edition.

The Argent....
Mille Miglia, participants go across the Emilian region that was hit by the earthquakeMirandola, Medolla, Moglia, Guastalla. These are some of the Emilian city centers most affected by the 2012 earthquake. Today – almost a year away – the Red Arrow visits the places hit by a tragedy that is still so felt by the Emilian population.

Reggio Emilia, 18 May 2013 – It is the only real deviation from the traditional Mille Miglia race route, the one that the 24 historic speed editions followed from 1927 al 1957. About one year has passed since the earthquake severely hit Emilia....
WHAT IS THE MILLE MIGLIA?Numerous attempts have been made to answer the question 'What exactly is the Mille Miglia?' and the responses have been carefully considered and contemplated. Many of the answers are more than valid, as they involve a Red Arrow race that encompasses a multitude of shades, facets and colors.

According to the online encyclopedia known as 'Wikipedia', the Mille Miglia is defined as the following:

'The Mille Miglia was an open-road endurance race which took place in Italy twenty-four times fro....
The BMW 328: Driving to victory for 75 years. BMW Group Classic at the 2013 Mille Miglia.BMW Group Classic is about to enter the 2013 Mille Miglia suffused with memories of a glorious premiere. It was 75 years ago that the BMW 328 sports car first lined up among the starters for this legendary long-distance event. Now BMW Group Classic is dispatching nine such models to compete in the latest edition of this historic round trip. The squad of BMW 328 models will delight classic car enthusiasts, while once again paying tribute to the tradition-steeped association between BMW and the Mi....
ICONIC BLOWER BENTLEYS PRIMED FOR MILLE MIGLIA CHALLENGEFamous, supercharged Bentleys set for 1,000 mile Italian epic
•'Bentley Boy' Tim Birkin's 1930 Le Mans racer leads charge
•Original Bentley Motors 'demonstrator' completes team

(Crewe, 14 May 2013) Bentley Motors will compete in this year's Mille Miglia with two unique 4 ½ litre Supercharged 'Blowers'; a 1930 Le Mans race car belonging to perhaps the most famous and daring of the Bentley Boys and a company demonstrator that is still going strong even after nine decades on the road.

The N....
Pinehurst Concours Economic Impact Approaches $2 MillionVILLAGE OF PINEHURST, N.C. (May 13, 2013) – The inaugural Pinehurst Concours d'Elegance and the events surrounding the vintage auto showcase attracted more than 5,000 fans, and its economic impact approached $2 million despite unseasonably cool temperatures the first weekend of May, officials said.

'Having an event the caliber of a Concours in Moore County is significant, especially as it grows in recognition and importance in the Southeast,' said Caleb Miles, president and CEO of the Pinehur....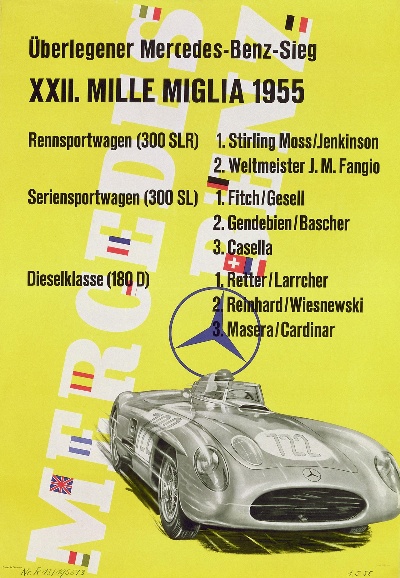 MILLE MIGLIA: MERCEDES-BENZ AS MAIN AUTOMOTIVE SPONSOR- Green light given for long-term partnership
- Another brand ambassador at Mille Miglia 2013: Marcel Tiemann

Mercedes-Benz is the main automotive sponsor of Mille Miglia. The corresponding agreement was reached between Mercedes-Benz Classic and 1000 Miglia S.R.L. in Brescia (Italy), with the aim of establishing a long-term collaboration. Mercedes-Benz Classic will be represented at this year's event with a number of vehicles, as well as five famous faces taking up their position at the star....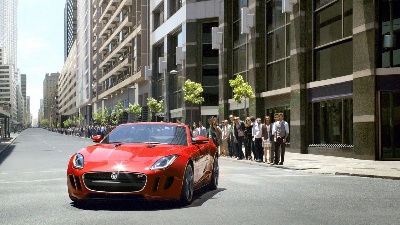 JAGUAR UNVEILS GLOBAL ADVERTISING CAMPAIGN TO LAUNCH THE F-TYPE- Jaguar F-TYPE arrives in U.S. retailers this month, starting at $69,000*
- Primary spots focus on F-TYPE's visceral impact
- Jaguar North America launches social media campaign, #MyTurnToJag, engaging consumers with the opportunity to experience the all-new F-TYPE
- U.S. campaign extensions include driving features with San Francisco 49er Colin Kaepernick; ESPN's Stuart Scott, and an initiative with ABC's 'Jimmy Kimmel Live'

(MAHWAH, N.J.) – May 13, 2013 – Today, Jaguar announced ....
2014 Z4 BMW
---
2014 LaFerrari Ferrari
---
2013 4C Alfa Romeo
---
2013 Disco Volante Touring Alfa Romeo
---
2013 Z4 BMW
---
2013 Zagato Roadster BMW
---
2013 Viper GTS Launch Edition Dodge
---
2013 California Ferrari
---
2013 695 Fuori Serie Fiat
---
2013 MP4-12C Can-Am Edition Racing Concept McLaren
---
blog comments powered by

Disqus