EXCEPTIONAL ROSTER OF PORSCHE RACE CARS JOIN THE STARTING GRID FOR RM'S EAGERLY AWAITED MONTEREY SALE
RM Auctions, the world's largest collector car auction house for investment-quality automobiles, has announced more star consignments for its highly anticipated Monterey sale, August 17–18, in California, this time a remarkable group of Porsches. Comprising twelve examples in total and spanning 48 years of production, the offering is headlined by an exceptional group of racing greats from the sixties, seventies, and eighties. Continuing RM's commitment to present the world's finest automobiles, each represents the ultimate in design, engineering, and performance and showcases Porsche's magnificent racing prowess over the years. 'Whether they're looking for road or racing cars, Porsche enthusiasts are always extremely discerning as they look for quality cars with good history and authenticity,' says Rob Myers, Chairman & Founder, RM Auctions. 'Our annual Monterey auction is a perfect venue for us to showcase the best and we're delighted to present the ex-Jo Siffert 917/10 along with the tremendously successful 935 and 962 to our clients. The 911 GT1 alongside a number of outstanding road-going cars makes this offering all the more special.' Leading the exceptional roster of 'Rennsport' Porsches consigned to the RM sale is an extraordinary, well-documented 1971 Porsche 917/10 Spyder Can-Am Race Car, chassis 917/10-002. Raced in period by Jo Siffert, the car on offer is widely considered one of the greatest sports racing cars ever built. Initially tested at the Can-Am course in Weissach, Germany, 917/10-002 made its official racing debut at Watkins Glen. Siffert raced the car in six out of the ten Can-Am races that season, enjoying strong results before his life was tragically cut short. 917/10-002 returned to the factory race department shortly thereafter, where it was rebuilt and modified for the 1972 European Interserie. This time with Willi Kauhsen behind the wheel, 917/10-002 further built on its strong race record, scoring an impressive seven podium finishes from nine starts. The car remained in the care of Willi Kauhsen's family for the next 25 years, before being treated to a professional rebuild and restoration, which returned the car to its original Can-Am specification. The work was completed by the very same individuals who were in charge of its original development at Porsche in the early-1970s and was blessed by Porsche, as evidenced by a letter on file from Mr. Klaus Bishof, a long-time Porsche professional and current head of the Porsche Rolling Museum. Today, with just five owners from new, it has since participated in various demonstration events, including Goodwood and the Oldtimer GP at the Nürburgring (Est. $2,900,000–$3,500,000). 'The Porsche 917/10 is unquestionably one of the most desirable Porsches ever built and is certainly on a very short list of the marque's most legendary racing cars,' says Annette Abaci, Car Specialist, RM Germany. 'With its unique history that includes none other than Swiss racing great Jo Siffert and a professional restoration carried out to the most exacting standards, we expect this Porsche to garner strong interest from 'Rennsport' aficionados at our upcoming Monterey sale.'
The 917/10 will be surrounded by a terrific roster of other competition bred Porsches at the RM sale, including the stunning, fully-documented 1963 Porsche 904/6 Carrera GTS Factory Works Prototype, chassis number 906-002. The second of Porsche's 904/6 factory team cars, of which just five survive, it is not only one of the limited few developmental prototypes built in 1963, but also one of the few 904/6s to retain its original 906 six-cylinder engine with which it was delivered to its first owner. After its use by the factory, it was acquired by gentleman driver Michel Weber, who went on to race the car extensively, scoring two victories along with multiple podium finishes in the 1966 season. Weber loaned the car to Swiss driving team Scuderia Basilea for the 1967 season before selling it to U.S. Air Force Major Berny Barns. Today, it is offered in completely restored condition, race prepared, and accompanied by numerous spare parts and extensive records. (Est. $1,800,000–$2,200,000) The evolution of Porsche's racing endeavors through the years will be further illustrated at RM's Monterey sale via a magnificent pair of 1980s era IMSA racing cars—the dominant 1981 Porsche 935 JLP-3 IMSA Racing Car and the championship-winning 1987 Porsche 962 IMSA Camel GT Racing Car. The ex- John Paul Sr. and Jr. and Derek Bell 1981 Porsche 935 JLP-3 IMSA Racing Car, chassis number JLP-3, is considered by many experts to be the 'definitive Porsche 935,' holding a place in history books as the most successful of all Porsche 935 race cars. Specially commissioned by father and son driving team, John L. Paul Sr. and Jr. for endurance racing, this 1982 IMSA Camel GT Championship winner is the only car to have won both the Daytona 24 Hours and the Sebring 12 Hours in the same year (1982). Adding to its exceptional racing pedigree, it racked up an unprecedented seven consecutive victories from Pocono in September of 1981 through Charlotte in May of 1982. Furthermore, from Sebring 1981 through Daytona 1983, it recorded an impressive nine wins and sixteen podium finishes out of a total of twenty-seven races. It is eligible for participation in all foreign and domestic IMSA GT vintage events, including the Monterey Historics (Est. $1,300,000–$1,800,000). The 1987 Porsche 962 IMSA Camel GT Racing Car, chassis number 962DR1(RLR 202), also boasts a superlative racing pedigree. Powered by a turbocharged 3.2-liter engine and specially prepared for IMSA sprint events, it quickly affirmed its place as the fastest of the 962s when it finished third overall at the fifth round of the 1988 Championship at West Palm Beach. Throughout the remainder of the 1988 season, DR1, as it was known, took two more podiums, including Porsche's final win of the season at San Antonio, breaking Nissan's eight-race winning streak. As the points-leading 962 of the 1988 season, DR1 is largely credited with clinching Porsche's final IMSA Manufacturer's Championship, beating Nissan by one point. DR1 was retired at the end of the 1988 season before later being campaigned in selected IMSA events during the 1990 and 1991 seasons. It has since been entered in several exhibition events, including Two Rennsport Reunions. Restored and well-maintained, its upcoming sale represents a special opportunity to purchase the last IMSA Championship winning Porsche 962 (Est. $1,200,000–$1,600,000). In addition to the racing Porsches, RM's Monterey sale will also lift the gavel on an remarkable series of road-going cars from the German manufacturer, including an outstanding 1998 Porsche 911 GT1 'Straßenversion', chassis number WP0ZZZ99ZWS396005. The homologated road-going street version of the 1997 GT1 race car, the Straßenversion's extraordinary performance potential with zero-to-sixty times of 3.6 seconds and a top speed of 194 mph, led Automobile Magazine to describe it as 'a racing car tuned for road use.' One of approximately 25 built, the example on offer was completed in January 1998 and delivered to its first owner in Germany before becoming the only example known to be imported into the United States. Displaying approximately 7,180 kilometers, it is presented in pristine condition, having passed through the care of very few fastidious collectors (Est. $1,250,000–$1,400,000). RM's Monterey Porsche offering is rounded out by • a low mileage, matching numbers 1973 Porsche 911 Carrera RS Lightweight, a truly exceptional example of one of Porsche's greatest road cars of all time (Est. $350,000–$450,000); • a fastidiously maintained 2004 Porsche Carrera GT, just two owners from new (Est. $320,000–$360,000); • a nut-and-bolt restored, matching-numbers 1960 Porsche 356 Roadster (Est. $200,000 - $250,000); • a matching numbers 1963 Porsche 356B 1600 S Cabriolet, restored in original Slate Gray with red leather (Est. $125,000–$165,000); • a 1971 Porsche 911 'R/T' Coupe, a carefully-executed recreation of the 911 R, Porsche's first purpose-built 911 racer (Est. $90,000–$110,000); and, • a terrific pair of Porsche's legendary 356 speedsters, including a matching numbers 1957 Porsche 356A 1600 Speedster (Est. $120,000–$150,000), and an award-winning, concours quality 1956 Porsche 356A 1600 Speedster, handsomely finished in Stone Gray with green upholstery (Est. $190,000–$250,000). A tradition spanning over 25 years, RM's highly anticipated Monterey, California sale, held during the same weekend as the prestigious Pebble Beach Concours d'Elegance, returns to the Portola Hotel & Spa and Monterey Conference Center, August 17–18. In 2011, RM once again achieved the highest results of the Monterey week, generating more than $80 million in sales, the highest auction tally ever achieved on the Monterey Peninsula. The upcoming 2012 sale is set to continue the momentum, lifting the gavel on an exceptional roster of 120 blue-chip automobiles. For further information or to view a frequently updated list of entries, please visit rmauctions.com or contact an RM specialist at +1 519 352 4575. Image Credits: Top- 1971 Porsche 917/10 Spyder Can-Am Race Car (credit – Tim Scott Fluid Images © 2012 courtesy RM Auctions) Second– 1987 Porsche 962 IMSA Camel GT Racing Car (credit – Pawel Litwinski © 2012 courtesy RM Auctions)
Recent Articles
GT LE MANS, GT DAYTONA TEAMS SELECTED FOR 2014 TUDOR UNITED SPORTSCAR CHAMPIONSHIP• 12 GTLM Entries Representing Six Manufacturers

• 28 Entries From 18 Different Teams Accepted in GTD


DAYTONA BEACH, Fla. (Dec. 6, 2013) – International Motor Sports Association (IMSA) officials today revealed a total of 40 production-based race cars from eight world-class manufacturers that will compete in the 2014 TUDOR United SportsCar Championship in the GT Le Mans (GTLM) and GT Daytona (GTD) classes.

The GTLM category will include 12 entries from eight differe....
INAUGURAL TUDOR UNITED SPORTSCAR CHAMPIONSHIP TO FEATURE 29 PROTOTYPES• Premier Prototype Class Includes Diverse Mix of 17 Race Cars

• Prototype Challenge Capacity Expanded to 12 Entries


DAYTONA BEACH, Fla. (Dec. 6, 2013) – The debut season of the TUDOR United SportsCar Championship in 2014 will include 29 prototype race cars across the Prototype (P) and Prototype Challenge (PC) categories as International Motor Sports Association (IMSA) officials today unveiled approved entries for all four TUDOR Championship classes.

The P class wil....
Car Expert Hans Wurl Joins Gooding & Company's Team of Classic Automobile SpecialistsSANTA MONICA, Calif. (December 9, 2013) – Gooding & Company, the official auction house of the Pebble Beach Concours d'Elegance®, is expanding its existing team with the addition of Hans Wurl, a well-known classic car specialist with a strong technical background. Wurl has served as advisor to noted collectors and participated in some of the best collector car events around the world. Based in Seattle, Wurl joins Gooding & Company's team of respected automotive specialists David Brynan,....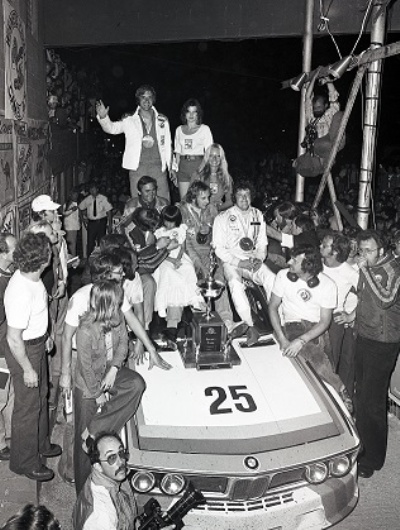 BMW's 'BATMOBILES' SET FOR 19th ANNUAL AMELIA CONCOURSScheduled to appear in the 19th Annual Amelia Concours' BMW 3.0 CSL 'batmobile class' are not only the 1975 Sebring 12 Hour and '76 Daytona 24 winners, but Alexander Calder's 1975 Le Mans 3.0 CSL with his trademark signature on the left rear fender.

BMW's 'Batmobile' racers were glorious mutants. They arrived from Europe wearing a frosting of giant wings, huge fender boxes and big spoilers, all powered by a 430 hp straight-six engine that made a glorious noise and propelled BMW's luxury cou....
LE MANS GREATS HEAD STUNNING ROSTER OF ADDITIONAL ENTRIES FOR RM'S 2014 PARIS SALE DURING RETROMOBILE WEEK• Anticipation builds ahead of RM's €25 million debut Paris sale on 5 February 2014
• More Le Mans greats join stunning competition car line-up at saleLatest highlights include a 1982 Rondeau M482 Le Mans GTP, a veteran of five Le Mans 24 hours races, and a mighty 2008 Peugeot 908 HDi FAP Le Mans Prototype, which finished 2nd at Le Mans, was driven by Jacques Villeneuve, and has been entrusted to be sold by RM by the Peugeot factory
• Other recently secured entries include a Bugatti Type 40 Ro....
400TH BUGATTI VEYRON SOLD – THE VEYRON BEGINS ITS FINAL LAPJust 50 models of the super sports car are still available

• 400th Veyron is a Grand Sport Vitesse 'Jean-Pierre Wimille' of the six-part edition 'Les Légendes de Bugatti'

• Head of Bugatti Wolfgang Schreiber, 'A unique success story about the most exclusive and luxurious super sports car brand in the world'


Molsheim, 5 December 2013. Bugatti has sold its 400th Veyron. Since the production run of the Veyron and its variants is limited to just 450 models, thi....
2014 Ferrari LaFerrari
---
2014 Ford Transit
---
2014 Jeep Cherokee
---
2014 Jeep Cherokee Trail Carver
---
2013 Aston Martin Vanquish Volante Neiman Marcus Edition
---
2013 Audi Q5
---
2013 BMW B3 Bi-Turbo
---
2013 BMW Concept M4 Coupe
---
2013 BMW M5 Competition Package
---
2013 BMW Zagato Roadster
---