Nine 12C GT3s To Start In Blancpain Endurance Series Headline Race: Total 24 Hours of SPA
•McLaren GT customer teams head to Spa- Francorchamps following 12C GT3 victory for ART Grand Prix at Magny-Cours •High quality short film previews the challenges facing the six McLaren GT customer teams – http://youtu.be/WyT9gyscshQ •Live updates available at the interactive McLaren GT Pitwall http://media.mclarenautomotive.com/pitwall Nine examples of the stunning McLaren 12C GT3 will line up on the grid of the famous Circuit de Spa-Francorchamps next weekend, 27-29 July to contest the Total 24 Hours of Spa. The gruelling 24-hour race is the headline event in the 2012 Blancpain Endurance Series, and one of the most demanding events on the motorsport calendar. With the 12C GT3 still in its competitive debut season, McLaren Automotive Chief Test Driver Chris Goodwin is pleased with the progress made by the McLaren GT customer teams in 2012.
Goodwin said: 'With wins recorded in FIA GT1 World by Hexis Racing and, more recently, by ART GP in the French GT series, it is very satisfying to see that the potential of the 12C GT3 is beginning to be realised at this early stage of its life. Spa 24-hour is unlike any other GT race. It is a spectacular, but incredibly challenging, circuit and efficiency and reliability will be vital to all competitors as well as being able to react to the often changeable track conditions. 'All teams racing a 12C GT3 feature top drivers in their line-ups and, with more than 60 cars on the grid, so too do our competitors. McLaren has put in a big effort to test and prepare for this great event and we hope the 12C GT3 will be very competitive in the hands of our customers. 'McLaren has strong links to the famous Belgian circuit. It was here that Bruce McLaren scored the first Formula 1 victory for the team and, during last year's British GT round, it was where the 12C GT3 secured a maiden pole position.' The event, Round Four of the Series, will see the 12C GT3s on track wearing the distinctive liveries of six McLaren GT customer teams. Chris Goodwin will be part of the driver line-up in one of Von Ryan Racing's two 12C GT3s. The French-based ART Grand Prix team, fresh from victory with the 12C GT3 in last weekend's FFSA French GT round at Magny-Cours, will line up alongside Portuguese team ASM, with patriotic livery featuring green and red accents, and the Lapidus Racing car finished in white and McLaren Orange. Belgium's Boutsen-Ginion Racing team head to headline event of the Blancpain calendar, and their home event, running two cars both finished in a striking black and orange design. Gulf Racing completes the McLaren line-up with two cars wearing the famous blue and orange livery. Ahead of the race, a high-quality short film has been produced in which McLaren GT 'works' driver Rob Bell previews the challenging 4.35 mile (7.004km) Spa-Francorchamps circuit, highlighting the challenges facing the teams and what it is that makes the 24 hours of Spa so appealing. This preview film can be viewed or embedded at the official McLaren Automotive YouTube channel: http://youtu.be/WyT9gyscshQ. Total 24 Hours of Spa gets underway at 16.00 (CEST) on Saturday, 28 July and will see more than 60 cars line up on the grid. Follow the action live, and track the progress of the 12C GT3s through the McLaren GT Pitwall (http://media.mclarenautomotive.com/pitwall) or @McLaren_GT on Twitter.
Recent Articles
Audi Customers Pass Tough Eifel Test◾Race interruption and high retirement rate due to extreme weather
◾G-Drive Racing by Phoenix best Audi customer team in fifth place
◾Three Audi R8 LMS ultra cars among the top ten

Ingolstadt/Nürburg, May 20, 2013 – The customer teams of last year's winner Audi experienced one of the toughest events of the Nürburgring 24 Hours this year. Heavy rain forced race control during the night to interrupt the race for more than nine hours. Numerous accidents caused a treacherous mix of oil, ....
Aston Martin Celebrates Centenary At Nürburgring 24 HoursNürburgring, 20 May 2013 – Aston Martin's weekend of centenary celebrations at the ADAC Zurich Nürburgring 24 Hours (N24) concluded this evening (Monday 20 May) with a thrilling top-ten result for its Bilstein-liveried V12 Vantage GT3 and a historic finish for its unique Hybrid Hydrogen Rapide S in one of the most grueling 24-hour races in recent years.

In a weekend that started with the British luxury sports car maker entering the history books with a zero CO2 emissions hydrogen-power....
Ferrari Challenge Europe Rolls Into The Czech Republic For Round TwoFerrari Challenge Czech's in to Brno

Brno, - The Ferrari Challenge Europe rolls into Brno in the Czech republic this weekend for the second round of the championship.

Local interest will be provided by Scuderia Praha lead driver and dealer principal Robert Pergl (No.11), who will compete in the Trofeo Pirelli category. The team will also enter 2 cars in the Coppa Shell category for Slovakian drivers Jakubik (No.188) and Kukacka (no.190).

Pergl is a highly experienced Ferrari race....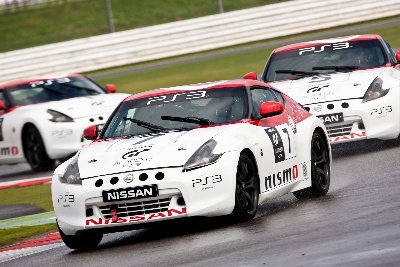 NISSAN AND PLAYSTATION ANNOUNCE BIGGEST EVER GT ACADEMY PROGRAMLONDON and PARIS - Nissan and Sony Computer Entertainment Europe have revealed that the innovative GT Academy competition will return for a fifth season. GT Academy 2013 will be the biggest yet, with more countries than ever before participating and the online gaming element of the competition set to be run in July on a demo of the hotly-anticipated Gran Turismo®6 game exclusively on PlayStation®3.

Since its inception in 2008, the highly acclaimed virtual-to-reality competition has att....
ELMS - 9 FERRARI'S HEAD FOR HOME RACE IN IMOLAMaranello 16 May - The second round of the European Le Mans Series (ELMS) arrives at Imola this weekend and nine Ferrari 458 will take to the grid.

By far the most popular car in the GTE category is the 458, Ram Racing have entered two cars for Silverstone pole sitters Johnny Mowlem and Matt Griffin and a second for American hot shots Gunnar Jeanette and Franck Montecalvo. JMW have one car for Andrea Bertolini and Joël Camathias. After a difficult round at Silverstone, AF Corse return with t....
Aston Martin Set To Take Nürburgring 24 Hours By Storm◾Debut of Aston Martin Bilstein Vantage GT3 at the Nordschleife
◾Hybrid Hydrogen Rapide S set to make history with zero CO2 emission lap
◾Close-to-production V12 Vantage targets class honours

Aston Martin heads to the ADAC Zurich 24 Hours of Nürburgring (N24) in Germany this weekend (18-20 May) with three very different race cars – an international championship-winning V12 Vantage GT3, a record-breaking Hybrid Hydrogen Rapide S and a close-to-production specification V12 Vantage.

Aston M....
Sony Computer Entertainment Inc. announces new version of the gaming classic Gran Turismo®: Three of the latest AMG vehicles celebrate their digital premiere in Gran Turismo® 6With the combined power of more than 1400 hp, Mercedes-Benz is taking to the starting grid of Gran Turismo® 6 with three of its latest models. All set to provide pure excitement and fascination in the new version of the gaming classic for the PlayStation®3 are three high-performance vehicles from AMG: the SLS AMG GT3 producing over 367 kW (more than 500 hp), the E63 AMG producing 410 kW (557 hp) and the A45 AMG producing 265 kW (360 hp). In addition to the three new vehicles, no fewer than 21 fu....
Af Corse To Take Part In Asian Le Mans Series With 458GtMaranello, 14 May – AF Corse will tackle a quartet of races in Asia, as the team is to compete in the 2013 Asian Le Mans Series. The 458 GT3 from the Amato Ferrari-run team will be entrusted to an Italo-Australian team made up of Andrea Bertolini, Michele Rugolo and Steve Wyatt, who will race in the GTC category.

There are four rounds on the calendar in this series, which gets underway in South Korea at the new Autopia circuit, near Inje on 4 August. It then moves to Japan (Fuji, 22 Septembe....
blog comments powered by

Disqus