Nine 12C GT3s To Start In Blancpain Endurance Series Headline Race: Total 24 Hours of SPA
•McLaren GT customer teams head to Spa- Francorchamps following 12C GT3 victory for ART Grand Prix at Magny-Cours •High quality short film previews the challenges facing the six McLaren GT customer teams – http://youtu.be/WyT9gyscshQ •Live updates available at the interactive McLaren GT Pitwall http://media.mclarenautomotive.com/pitwall Nine examples of the stunning McLaren 12C GT3 will line up on the grid of the famous Circuit de Spa-Francorchamps next weekend, 27-29 July to contest the Total 24 Hours of Spa. The gruelling 24-hour race is the headline event in the 2012 Blancpain Endurance Series, and one of the most demanding events on the motorsport calendar. With the 12C GT3 still in its competitive debut season, McLaren Automotive Chief Test Driver Chris Goodwin is pleased with the progress made by the McLaren GT customer teams in 2012.
Goodwin said: 'With wins recorded in FIA GT1 World by Hexis Racing and, more recently, by ART GP in the French GT series, it is very satisfying to see that the potential of the 12C GT3 is beginning to be realised at this early stage of its life. Spa 24-hour is unlike any other GT race. It is a spectacular, but incredibly challenging, circuit and efficiency and reliability will be vital to all competitors as well as being able to react to the often changeable track conditions. 'All teams racing a 12C GT3 feature top drivers in their line-ups and, with more than 60 cars on the grid, so too do our competitors. McLaren has put in a big effort to test and prepare for this great event and we hope the 12C GT3 will be very competitive in the hands of our customers. 'McLaren has strong links to the famous Belgian circuit. It was here that Bruce McLaren scored the first Formula 1 victory for the team and, during last year's British GT round, it was where the 12C GT3 secured a maiden pole position.' The event, Round Four of the Series, will see the 12C GT3s on track wearing the distinctive liveries of six McLaren GT customer teams. Chris Goodwin will be part of the driver line-up in one of Von Ryan Racing's two 12C GT3s. The French-based ART Grand Prix team, fresh from victory with the 12C GT3 in last weekend's FFSA French GT round at Magny-Cours, will line up alongside Portuguese team ASM, with patriotic livery featuring green and red accents, and the Lapidus Racing car finished in white and McLaren Orange. Belgium's Boutsen-Ginion Racing team head to headline event of the Blancpain calendar, and their home event, running two cars both finished in a striking black and orange design. Gulf Racing completes the McLaren line-up with two cars wearing the famous blue and orange livery. Ahead of the race, a high-quality short film has been produced in which McLaren GT 'works' driver Rob Bell previews the challenging 4.35 mile (7.004km) Spa-Francorchamps circuit, highlighting the challenges facing the teams and what it is that makes the 24 hours of Spa so appealing. This preview film can be viewed or embedded at the official McLaren Automotive YouTube channel: http://youtu.be/WyT9gyscshQ. Total 24 Hours of Spa gets underway at 16.00 (CEST) on Saturday, 28 July and will see more than 60 cars line up on the grid. Follow the action live, and track the progress of the 12C GT3s through the McLaren GT Pitwall (http://media.mclarenautomotive.com/pitwall) or @McLaren_GT on Twitter.
Recent Articles
FEBRUARY DATES SET FOR IMSA WINTER TEST AT SEBRING INTERNATIONAL RACEWAYDAYTONA BEACH, Fla. (Dec. 10, 2013) – Sebring International Raceway and International Motor Sports Association (IMSA) officials today confirmed dates for open testing for the TUDOR United SportsCar Championship and other IMSA-sanctioned series.

In preparation for the first TUDOR Championship and Continental Tire SportsCar Challenge races on the grueling, 3.74-mile Sebring circuit, two days of IMSA-sanctioned testing have been scheduled for Thursday, Feb. 20 and Friday, Feb. 21, 2014. ....
CONTINENTAL GT3 READY TO RACE IN ABU DHABI• Gulf 12 Hours in Abu Dhabi features as the car's first test race
• Team M-Sport Bentley in the starting blocks for exciting race
• First racing action for Bentley since Le Mans win in 2003

(Crewe / Abu Dhabi, 11th December 2013) The new Bentley Continental GT3 racecar makes its eagerly-anticipated competition debut this Friday1 in its first test race at the Gulf 12 Hours, held at the famous Yas Marina circuit in Abu Dhabi. Racing as part of a comprehensive development programme ahe....
GENERATION BENTLEY RACING BECOMES FIRST BENTLEY CONTINENTAL GT3 CUSTOMERBanbury, Oxfordshire, Tuesday 10th December 2013. David Appleby Engineering is pleased to announce that it will become the first Bentley Continental GT3 customer team when it takes delivery of the new racecar in January. The team, which will race under the Generation Bentley Racing banner, has been formed to develop young talent in motorsport for drivers, engineers and mechanics and will compete in the British GT Championship in 2014.

Drivers James Appleby (GB) and Steve Tandy (GB) wil....
GT LE MANS, GT DAYTONA TEAMS SELECTED FOR 2014 TUDOR UNITED SPORTSCAR CHAMPIONSHIP• 12 GTLM Entries Representing Six Manufacturers

• 28 Entries From 18 Different Teams Accepted in GTD


DAYTONA BEACH, Fla. (Dec. 6, 2013) – International Motor Sports Association (IMSA) officials today revealed a total of 40 production-based race cars from eight world-class manufacturers that will compete in the 2014 TUDOR United SportsCar Championship in the GT Le Mans (GTLM) and GT Daytona (GTD) classes.

The GTLM category will include 12 entries from eight differe....
PORSCHE: MOST SUCCESSFUL MANUFACTURER IN ALMS HISTORY WITH 12 CLASS CHAMPIONSHIPSAtlanta. Official testing for the new TUDOR United SportsCar Championship (TUSCC) series has already begun, and sports car fans everywhere are discussing the new classes, the new rules, the new cars, the new venues and how it will all come together on the track.

However, let's take one last look in the rear view mirror at the American Le Mans Series (ALMS), which started in March, 1999 at Sebring, and ended just weeks ago at Road Atlanta. The retrospective provides a basis for what Por....
McLAREN P1™ JOINS THE EXCLUSIVE SUB-SEVEN MINUTE CLUB AT THE NÜRBURGRING◾The McLaren P1™ achieves its one remaining performance target
◾An average speed in excess of 178 km/h (111 mph) necessary to achieve the required lap time around the 20.8km (13 mile) circuit
◾Short film celebrating the team's achievement at the Nürburgring is available to view and embed at: http://youtu.be/E9IWiTpWeiM

The McLaren name was born on the racetrack and, 50 years on, is the most successful name in global motorsport. That desire and determination to push for every extra tenth of....
MAZDA6 SKYACTIV-D CLEAN DIESEL RACECARS TO TACKLE THUNDERHILL 25-HOURDecember 3, 2013 (IRVINE, Calif.) — There have always been rivalries: Yankees versus Red Sox. Beta versus VHS. Coke versus Pepsi. Tom versus Jerry. In the automotive retail world, that rivalry is Factory Guys versus Dealers. To finally put to bed who's faster, Mazda North American Operations (MNAO) has thrown down the gauntlet, entering three specially modified-for-racing 2014 Mazda6s in the longest endurance race in America, the National Auto Sport Association (NASA)'s US Air Force....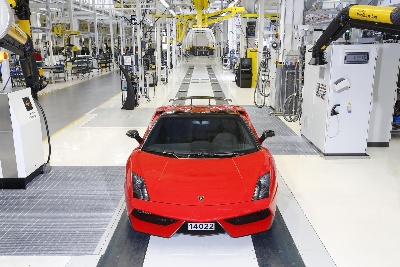 END OF PRODUCTION FOR THE LAMBORGHINI GALLARDO• Ten years of an Italian Icon

• The 'most sold' Lamborghini super sports car

• Still best in class with record lap times

Sant'Agata Bolognese, 25.11.2013 -- In the historic factory buildings of Sant'Agata Bolognese, the last Lamborghini Gallardo has left the production line. The final model is a Gallardo LP 570-4 Spyder Performante in Rosso Mars (red) and it is destined for a private collector. With a total of 14,022 units the Gallardo is not only by far the mo....