Classic Motorcar Auctions to Offer Vehicles, Memorabilia From William A.C. Pettit III Collection
Classic Motorcar Auctions LLC announces it will offer select vehicles and the memorabilia collection from the William A.C. Pettit, III Collection during their 3rd annual Grande Salon Auction Sept. 15, 2012 during the Glenmoor Gathering of Significant Automobiles Concours d'Elegance at the historic Glenmoor Country Club in North Canton, Ohio. A lifelong automotive enthusiast, William 'Bill' Pettit owned the Pettit Brothers Chrysler-Plymouth-Dodge-Jeep dealership in Louisa, Va. for many years with his father, W.A. 'Claude' Pettit, Jr. The Pettits also operated the Museum of Motoring Memories in Natural Bridge, Va. from 1954-1967, operating for 13 years as a leading travel destination with more than 150 collector cars, memorabilia and over 4,000 license plates on display from their private family collection. All vehicles and other items from the Pettit Collection will be sold without reserve. This selection includes three American Bantam cars: a 1939 Bantam Model 60 coupe believed to have just over 15,000 original miles; a 1940 Bantam Hollywood convertible with just over 500 miles following a comprehensive restoration; and a very rare 1940 Bantam Speedster featuring coachwork by Count Alexis de Sakhnoffsky. In addition, Classic Motorcar Auctions will sell four collectible Mopars: a 1967 Plymouth Barracuda convertible with the high-performance 273 cubic-inch 230 horsepower V8 'Power Pack' engine; a 1968 Plymouth Sport Satellite convertible; a 1970 Chrysler Newport convertible - one of 1,124 examples from the last year of Chrysler's full-size convertible production; and a 1984 Chrysler LeBaron Town & Country convertible.
The high-quality memorabilia from the Pettit Collection includes an original Charles Sykes Rolls-Royce Flying Lady bronze sculpture from an early Rolls dealer showroom; original porcelain enamel signs; an abundance of classic car sales literature; many Boyce Moto-Meters; and a generous selection of rare, original radiator mascots, among many other one-of-a-kind items. Classic Motorcar Auctions will also offer four classic car engines on display stands. The Pettit engines comprise a 1929 Rolls-Royce Phantom I six-cylinder with all ancillaries and accessories; a 1922 Duesenberg Model A inline eight with ancillary components and three speed manual transmission; a 1931 Stutz DV-32 dual overhead cam inline eight with ancillaries and transmission; and a 1934 Packard Twelve V-12 engine, ancillaries and transmission. 'I am amazed at the quality and quantity of memorabilia items from the William A.C. Pettit, III Collection, many of which dates back to his childhood in the 1930s,' said Bob Lichty, president of Classic Motorcar Auctions, LLC. 'The cars also represent an important time in our history, as the Bantams were America's first economy car and the Chryslers are indelibly linked to the Pettit family legacy in the Chrysler business. The engines have been preserved for many years in a climate-controlled environment, making them ideal for a vintage car restorer or a museum display.' The William A.C. Pettit, III Collection will be open for preview on Friday, Sept. 14 from 1-8 p.m. The auction will start with memorabilia at 10 a.m. Saturday, followed by cars at 11 a.m. As requested by the former owner, who was dedicated to supporting developments in children's healthcare, estate proceeds will be donated to the Shriners Hospital for Children(r), which Bill Pettit believed offered the best care. General admission is $10. The Glenmoor Country Club is located at 4191 Glenmoor Road NW, Canton, Ohio 44718. Classic Motorcar Auctions LLC is currently accepting consignments for the event. For more information, visit www.classicmotorcarauctions.com, email info@classicmotorcarauctions.com or call 866.653.8900.
Recent Articles
Tom Fritz Creates The 19Th Annual Amelia Island Concours D'elegance PosterThe posters for the Amelia Island Concours d'Elegance have become collectible car art and the 2014 edition is no exception. Today the Concours revealed that the 19thannual event poster was created by famed hot rod artist Tom Fritz and honors Jochen Mass on the 25th anniversary of his victory in the 1989 24 Hours of Le Mans driving his Mercedes-Benz Sauber C9. The beautiful piece takes creative cues from the first Amelia poster in 1996, well-known for honoring the record-setting drive of Sir Stir....
1958 FERRARI 250 GT LWB CALIFORNIA SPIDER STARS AT RM'S 15TH ANNUAL ARIZONA SALE• RM Auctions announces latest highlights for its two-day Arizona auction, January 16 – 17 in Phoenix, led by a highly prized 1958 Ferrari 250 GT LWB California Spider
• Most recent blue-chip entries join a spectacular roster of more than 120 handpicked automobiles for the sale at the beautiful Arizona Biltmore Resort & Spa
• Frequently updated list of entries available online at www.rmauctions.com

BLENHEIM, Ontario (December 10, 2013) – RM Auctions, the world's largest auctio....
Maserati Celebrates 100th Anniversary as Featured Marque of the Rolex Monterey Motorsports ReunionAugust 14-17 at Mazda Raceway
MONTEREY, Calif., December 10, 2013 — The Rolex Monterey Motorsports Reunion will celebrate the rich 100-year history of Maserati, one of Italy's iconic luxury sports car brands that throughout the century has been deeply rooted in racing. The celebration will be held August 14-17, 2014 at Mazda Raceway Laguna Seca.

The Monterey Classic Car Week and Rolex Monterey Motorsports Reunion is a haven for international classic car enthusiasts. Centered a....
Car Expert Hans Wurl Joins Gooding & Company's Team of Classic Automobile SpecialistsSANTA MONICA, Calif. (December 9, 2013) – Gooding & Company, the official auction house of the Pebble Beach Concours d'Elegance®, is expanding its existing team with the addition of Hans Wurl, a well-known classic car specialist with a strong technical background. Wurl has served as advisor to noted collectors and participated in some of the best collector car events around the world. Based in Seattle, Wurl joins Gooding & Company's team of respected automotive specialists David Brynan,....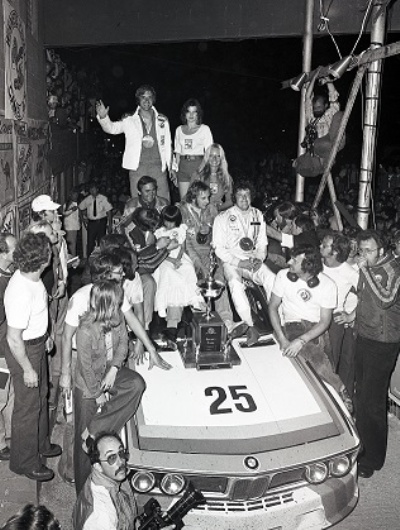 BMW's 'BATMOBILES' SET FOR 19th ANNUAL AMELIA CONCOURSScheduled to appear in the 19th Annual Amelia Concours' BMW 3.0 CSL 'batmobile class' are not only the 1975 Sebring 12 Hour and '76 Daytona 24 winners, but Alexander Calder's 1975 Le Mans 3.0 CSL with his trademark signature on the left rear fender.

BMW's 'Batmobile' racers were glorious mutants. They arrived from Europe wearing a frosting of giant wings, huge fender boxes and big spoilers, all powered by a 430 hp straight-six engine that made a glorious noise and propelled BMW's luxury cou....
400TH BUGATTI VEYRON SOLD – THE VEYRON BEGINS ITS FINAL LAPJust 50 models of the super sports car are still available

• 400th Veyron is a Grand Sport Vitesse 'Jean-Pierre Wimille' of the six-part edition 'Les Légendes de Bugatti'

• Head of Bugatti Wolfgang Schreiber, 'A unique success story about the most exclusive and luxurious super sports car brand in the world'


Molsheim, 5 December 2013. Bugatti has sold its 400th Veyron. Since the production run of the Veyron and its variants is limited to just 450 models, thi....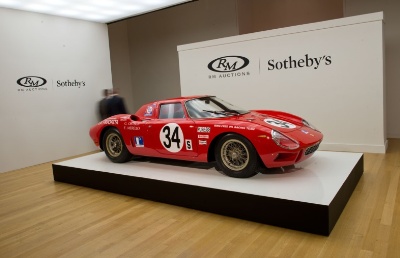 RM Auctions and Sotheby's Stun the Market with Incredible $63 Million 'Art of the Automobile' Sale in New York• RM Auctions and Sotheby's momentous Art of the Automobile auction generates $62,797,500 of sales in two hours of furious bidding
• Records tumble with the historic 1964 Ferrari 250 LM by Carrozzeria Scaglietti achieving $14,300,000 while the stunning 1938 Talbot-Lago T150-C SS Teardrop Cabriolet by Figoni et Falaschi sells for $7,150,000
• 93 percent of all lots sold to an international audience of bidders representing 17 countries
• Full results are available online at www.rmauctions.c....
Expert Symposium Delivered to Packed Room Ahead of 'Art of the Automobile' New York Sale• RM Auctions and Sotheby's deliver highly outstanding expert symposium to more than 700 people
• Six hugely influential and respected specialists set the scene in advance of truly groundbreaking Art of The Automobile sale
• Anticipation building for what is being regarded as one of the finest and most innovative collector car auctions ever held

NEW YORK, New York (November 20, 2013) – The eyes of the collector car community are firmly fixed on New York, as RM Auctions and Sotheby's,....
2014 Mercedes-Benz C63 AMG Edition 507
---
2013 Dodge Viper GTS Launch Edition
---
2013 Ford GTR1
---
2013 McLaren MP4-12C SPIDER
---
2013 Mercedes-Benz CLS Shooting Brake
---
2013 Mercedes-Benz SLS AMG GT
---
2013 Rolls-Royce Celestial Phantom
---
2012 Bentley Mulsanne Convertible Concept
---
2012 Bugatti Veyron 16.4 Grand Sport Brown Carbon Fiber and Aluminum
---
2012 Bugatti Veyron Grand Sport Vitesse Black and Red
---