American Classics Top RM's $6.8 Million Michigan Sale
A majestic 1930 Duesenberg Model SJ Convertible Victoria, J272, formerly owned by noted band leader Paul Whiteman of 'Rhapsody in Blue' fame, garnered top dollar at RM's Michigan sale yesterday, selling for a strong $957,000 before a packed house. One of just 16 examples bodied with convertible Victoria coachwork by Rollston, the stunning Duesenberg led a magnificent group of top-selling American classics at the single-day sale, held in conjunction with the famed Concours d'Elegance of America at St. John's. In total, the three-and-a-half hour auction lifted the gavel on a total of 74 automobiles, generating more than $6.8 million in sales* with a solid 82 percent of all lots sold. 'RM Auctions is proud of our association with the Concours d'Elegance of America and to be the longest running sponsor of the event. Once again, this weekend's event provided a wonderful celebration of the America's rich automotive history and the passion that drives the collector car hobby. We are pleased with the results from our sale and look forward to building on them at our Aalholm and Monterey events in the coming weeks,' said Rob Myers, Chairman & Founder, RM Auctions. In addition to the Duesenberg, other great American classics achieving strong results were a stunning 1933 Packard Twelve Convertible Coupe, believed to be the last 1933 Packard Twelve Convertible Coupe produced for $385,000, and the famed 1928 Cadillac V-8 'Al Capone' Town Sedan, one of the earliest surviving 'bulletproof' vehicles for $341,000.
Building on RM's reputation as the specialists for private and estate collections, the St. John's sale also presented a fine selection of 15 automobiles from the distinguished private collection of William Ruger Jr. Headlined by a 1937 Packard Twelve Coupe Roadster for $352,000, the collection achieved a total $1.8 million. Other notable sales from the Ruger Collection included a concours-quality 1925 Ahrens-Fox N-S-4 Triple Combination Pumper for $198,000, and a 1911 Stanley Model 63 Toy Tonneau for $165,000. 'We were honored to have been chosen to represent the Ruger Collection at our St. John's sale and extend our thanks to Mr. Ruger for putting his trust in RM,' adds Mike Fairbairn, Co-Founder, RM Auctions. The sale also included a fascinating series of early electric cars, including a 1914 Detroit Electric Model 46 Cape Top Roadster which sold for $99,000. RM at St. John's Top Five Sales 1. 1930 Duesenberg Model SJ Convertible Victoria - $957,000 (pictured top) 2. 1933 Packard Twelve Convertible Coupe - $385,000 3. 1931 Cord L-29 La Grand Boattail Speedster Recreation - $368,500 4. 1937 Packard Twelve Coupe Roadster - $352,000 5. 1928 Cadillac V-8 'Al Capone' Town Sedan - $341,000 (pictured second top) RM Auctions continues its busy summer events calendar, August 12 in Southern Denmark with the presentation of the Aalholm Automobile Collection, closely followed by the company's highly anticipated Monterey sale, August 17-18 in Monterey, California. Full event details, including digital catalogues for both events, are available online at www.rmauctions.com. Full results from the RM St. John's sale are available online at www.rmauctions.com.
Recent Articles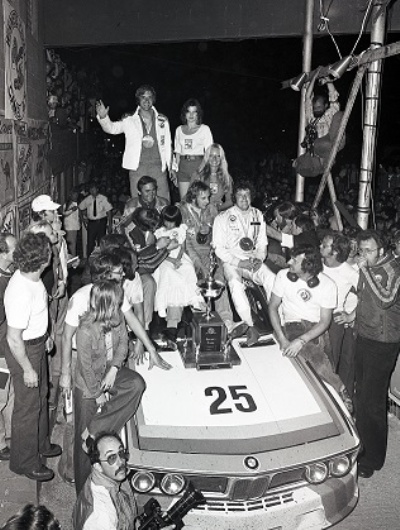 BMW's 'BATMOBILES' SET FOR 19th ANNUAL AMELIA CONCOURSScheduled to appear in the 19th Annual Amelia Concours' BMW 3.0 CSL 'batmobile class' are not only the 1975 Sebring 12 Hour and '76 Daytona 24 winners, but Alexander Calder's 1975 Le Mans 3.0 CSL with his trademark signature on the left rear fender.

BMW's 'Batmobile' racers were glorious mutants. They arrived from Europe wearing a frosting of giant wings, huge fender boxes and big spoilers, all powered by a 430 hp straight-six engine that made a glorious noise and propelled BMW's luxury cou....
LE MANS GREATS HEAD STUNNING ROSTER OF ADDITIONAL ENTRIES FOR RM'S 2014 PARIS SALE DURING RETROMOBILE WEEK• Anticipation builds ahead of RM's €25 million debut Paris sale on 5 February 2014
• More Le Mans greats join stunning competition car line-up at saleLatest highlights include a 1982 Rondeau M482 Le Mans GTP, a veteran of five Le Mans 24 hours races, and a mighty 2008 Peugeot 908 HDi FAP Le Mans Prototype, which finished 2nd at Le Mans, was driven by Jacques Villeneuve, and has been entrusted to be sold by RM by the Peugeot factory
• Other recently secured entries include a Bugatti Type 40 Ro....
VIRGIN TO ENTER FIA FORMULA E CHAMPIONSHIPBritish-based team becomes ninth entry as 2014/2015 grid nears completion

LONDON, UK (5 December, 2013) - Virgin, one of the world's most recognised and respected brands, have today announced it will be entering a team in the new fully-electric FIA Formula E Championship after signing an agreement with series promoters Formula E Holdings.

Based in the UK, the Virgin Racing Formula E Team will be headed by Team Principal Alex Tai and has the backing of Virgin founder Sir Richa....
400TH BUGATTI VEYRON SOLD – THE VEYRON BEGINS ITS FINAL LAPJust 50 models of the super sports car are still available

• 400th Veyron is a Grand Sport Vitesse 'Jean-Pierre Wimille' of the six-part edition 'Les Légendes de Bugatti'

• Head of Bugatti Wolfgang Schreiber, 'A unique success story about the most exclusive and luxurious super sports car brand in the world'


Molsheim, 5 December 2013. Bugatti has sold its 400th Veyron. Since the production run of the Veyron and its variants is limited to just 450 models, thi....
FIA FORMULA E CHAMPIONSHIP CONFIRMS 2014/2015 CALENDAR• Rio de Janeiro returns as one of 10 host cities for spectacular inaugural season


PARIS, FRANCE (4 December 2013) – Formula E Holdings, promoters of the new FIA Formula E Championship, today confirmed its 2014/2015 calendar featuring 10 city-centre events spanning four continents.

The calendar was submitted to the FIA during its World Motor Sport Council in Paris, France, and will run from September 2014 to June 2015. Beijing will remain as the host venue for the world's fi....
Avoiding accidents, optimum protection, summoning help quickly: The integral safety concept of the BMW i3. The BMW Group's first series production electric car earns top ratings for occupant protection and child protection in Euro NCAP crash testing.Munich. The BMW i3 achieved the highest rating of five stars in the Euro NCAP crash tests governing occupant protection and child protection that coincided with its market launch. As expected, the electric car matches the performance of the best conventionally powered vehicles in its segment in the area of passive safety. The Integral safety concept covers everything from collision avoidance to Intelligent Emergency Call and also meets requirements above and beyond Euro NCAP.
Its revolut....
SMART ELECTRIC DRIVE ARRIVES ON THE STREETS OF CHINA• smart becomes the first European importer to bring an all-electric vehicle to the Chinese market

• Following on from Europe, the USA, Canada and Japan, the electric smart reaches its 14th market with its launch in China

• With a market share of around 40 percent, the smart fortwo electric drive is the frontrunner in Germany

Stuttgart. The new smart fortwo electric drive is now available to buy from dealerships in China. The smart brand celebrated this market l....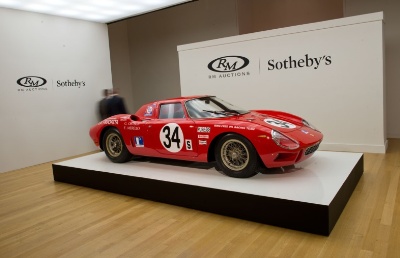 RM Auctions and Sotheby's Stun the Market with Incredible $63 Million 'Art of the Automobile' Sale in New York• RM Auctions and Sotheby's momentous Art of the Automobile auction generates $62,797,500 of sales in two hours of furious bidding
• Records tumble with the historic 1964 Ferrari 250 LM by Carrozzeria Scaglietti achieving $14,300,000 while the stunning 1938 Talbot-Lago T150-C SS Teardrop Cabriolet by Figoni et Falaschi sells for $7,150,000
• 93 percent of all lots sold to an international audience of bidders representing 17 countries
• Full results are available online at www.rmauctions.c....
2014 BMW i3
---
2014 Mercedes-Benz B-Class Electric Drive
---
2014 Volkswagen Touareg
---
2014 Volvo V60 Plug-in Hybrid
---
2013 BMW i3 Concept Coupe
---
2013 Chevrolet Malibu
---
2013 Chevrolet Malibu ECO
---
2013 Citroen C4 Picasso
---
2013 Detroit Electric SP:01
---
2013 Dodge Viper GTS Launch Edition
---