INFINITI SALES INCREASE 56.8 PERCENT IN JULY
Luxury automaker's best July since 2005, Infiniti G Sedan sets new July record while all-new Infiniti JX luxury crossover continues strong sales - FRANKLIN, Tenn., Aug. 1, 2012 - Infiniti today reported U.S. sales of 11,619 units for July, an increase of 56.8 percent versus 7,410 units a year earlier. Calendar year-to-date Infiniti sales of 65,996 are up 20.7 percent compared to the 54,678 units sold during the same period last year. Highlights of Infiniti's sales for July 2012 include: •The Infiniti G Sedan, with sales of 6,078, had an increase of 88.8 percent versus last year, making it the best July in the sport sedan's history. •The brand's all-new 7-passenger luxury crossover, the Infiniti JX, saw sales of 1,999 in July and a total of 9,724 units since it went on sale in late March.

•Overall, Infiniti had its best July in seven years. 'The all-new Infiniti JX continues to bring new buyers into our showrooms, and the Infiniti G Line remains a strong contender in the luxury sport segment,' said Ben Poore, vice president, Infiniti Americas. 'With our 'Limited Engagement Summer Event' in full swing, we are confident our string of month-to-month sales increases will continue.' Later this month at the Pebble Beach Concours d'Elegance, Infiniti will have the North American debut of the Infiniti EMERG-E Concept, a mid-engine sports car with twin electric motors that was recently named the winner in the Concepts category of the German Brand Council's Automotive Brand Contest 2012. The automaker will also show the Infiniti LE Concept, which previews a zero-emission luxury sedan that will join its line in 2014.
Recent Articles
NISSAN SETS NOVEMBER U.S. SALES RECORD WITH 10.7% INCREASENASHVILLE, Tenn. – Nissan established a November U.S. sales record with 106,528 total deliveries, marking an increase of 10.7 percent over last year's total of 96,197. Nissan Division set a November record with 93,376 deliveries, a 10.8 percent increase over the prior year. Sales of Infiniti vehicles also set a November record with 13,152 deliveries, up 10.5 percent.

Nissan Division has sold 1,035,439 vehicles so far in 2013, up 10.7 percent and exceeding the total for all of 2012.

....
JEFF KOONS' BMW ART CAR CELEBRATES NORTH AMERICAN PREMIEREBMW is a partner of Art Basel in Miami Beach 2013

Miami /Munich. The BMW Art Car by Jeff Koons will celebrate its North American premiere and will be exhibited in a pavilion in the Botanical Garden next to the fair. American artist Jeff Koons created the 17th car of BMW's Art Car collection by using a BMW M3 GT2 as his canvas. The Koons car features the number '79' which pays tribute to the 1979 Andy Warhol car. This legendary 'rolling sculpture' of Andy Warhol will be on displa....
NISSAN ANNOUNCES U.S. PRICING FOR 2014 CUBE®NASHVILLE, Tenn. - Nissan today announced U.S. pricing for the 2014 Nissan cube®, which is on sale now at Nissan dealers nationwide. Prices remain unchanged from 2013, with a starting M.S.R.P.* of $16,760 USD. One new exterior color is offered for 2014 - Caspian Sea, which replaces the previous Bitter Chocolate. A bold palette of eight colors is offered, along with Black or Light Gray interiors.

The cube continues to stand out in a crowd with unique design elements such as the wraparou....
VOLKSWAGEN GROUP FURTHER STRENGTHENS INNOVATION AND TECHNOLOGY LEADERSHIPThe Volkswagen Group will invest a total of €84.2 billion in its Automotive Division over the coming five years. Over two-thirds of the total investment amount will continue to flow into increasingly efficient vehicles, drives and technologies, as well as environmentally friendly production. This is the result of the Group's investment planning for 2014 to 2018 discussed by the Supervisory Board of Volkswagen Aktiengesellschaft at its meeting on Friday. 'We will continue to invest strongly in ou....
SMART ELECTRIC DRIVE ARRIVES ON THE STREETS OF CHINA• smart becomes the first European importer to bring an all-electric vehicle to the Chinese market

• Following on from Europe, the USA, Canada and Japan, the electric smart reaches its 14th market with its launch in China

• With a market share of around 40 percent, the smart fortwo electric drive is the frontrunner in Germany

Stuttgart. The new smart fortwo electric drive is now available to buy from dealerships in China. The smart brand celebrated this market l....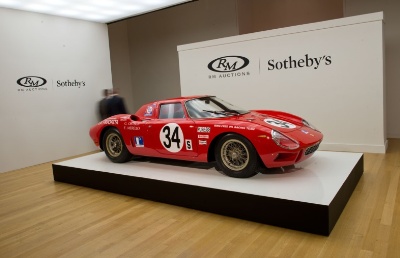 RM Auctions and Sotheby's Stun the Market with Incredible $63 Million 'Art of the Automobile' Sale in New York• RM Auctions and Sotheby's momentous Art of the Automobile auction generates $62,797,500 of sales in two hours of furious bidding
• Records tumble with the historic 1964 Ferrari 250 LM by Carrozzeria Scaglietti achieving $14,300,000 while the stunning 1938 Talbot-Lago T150-C SS Teardrop Cabriolet by Figoni et Falaschi sells for $7,150,000
• 93 percent of all lots sold to an international audience of bidders representing 17 countries
• Full results are available online at www.rmauctions.c....
FORMULA E CAR COMPLETES SUCCESSFUL TEST DEBUT• Fully-electric Spark-Renault SRT_01E breaks cover at La Ferte Gaucher circuit


LA FERTÉ GAUCHER, FRANCE, (21 November, 2013) – Formula E's new fully-electric race car, the Spark-Renault SRT_01E, completed is successful test debut recently at the La Ferté Gaucher circuit near Choisy-le-Roi, France.

Unveiled earlier this year (September) at the Frankfurt Motor Show, the new single-seater was driven by Lucas di Grassi who will be undertaking the early test and development work....
2015 Audi A8
---
2015 Nissan GT-R
---
2015 Porsche 918 Spyder
---
2014 Audi A3 Sportback e-tron
---
2014 BMW Concept X5 eDrive
---
2014 Chevrolet Spark EV
---
2014 Dodge Dart
---
2014 Ferrari LaFerrari
---
2014 GMC Sierra
---
2014 Honda Accord PHEV
---