Factory Certified Short Wheelbase California spyder Latest Star Attraction For RM's Monterey Auction
RM Auctions, the world's largest collector car auction house for investment-quality automobiles, is honored to announce the addition of a stunning 1962 Ferrari 250 GT SWB California Spyder, chassis 3119 GT, to its Monterey sale, August 17–18 in California. Considered one of the most beautiful and desirable Ferraris in existence, the California Spyder is the epitome of prestige and magnificent styling, featuring stunning bodywork designed by Pininfarina and masterfully executed by Scaglietti, all married to Ferrari's iconic 3-liter Colombo V-12. In total, just over 100 California Spyders were produced between 1958 and 1963. The example on offer is one of only 37 short wheelbase variants completed in the highly desirable covered headlight configuration, ranking it among the most attractive and desirable of all. 'A true dual-purpose automobile, the 250 GT SWB California Spyder remains one of the world's most coveted automobiles,' says Rob Myers, Chairman and Founder, RM Auctions. 'As one of only a very small group of covered headlamp versions produced, the example on offer is emphatically one of the most desirable open GT cars ever made, combining all of Ferrari's finest work: perfect design with tremendous performance.' Ferrari Classiche certified and finished in the attractive color combination of Rosso Corsa over a tan leather interior, chassis 3119 GT was sold new in March 1962 through Jacques Swaters' Garage Francorchamps SA in Belgium, before being imported into the United States in 1970. The recipient of an award-winning restoration, it enjoyed a successful showing at the 40th annual Pebble Beach Concours d'Elegance in 1990, where a class award confirmed its authenticity, extraordinary desirability, and the high quality of its restoration. A matching-numbers example and professionally maintained over its known ownership, it is offered for auction ready to be toured or shown at the most exclusive venues around the world (Estimate: $7,500,000–$9,000,000).

Myers adds, 'The opportunity to acquire a short wheelbase California Spyder rarely comes along, particularly one of this pedigree and exceptional rarity. We are truly delighted to present this stunning automobile on behalf of its owner at our upcoming Monterey sale. A magnificent example of one of the world's most revered Ferraris, we expect it to garner strong interest when it crosses the podium on August 18th.' Continuing RM's global leadership in the presentation of important and historic Ferraris at auction, chassis 3119 GT is joined by no less than 13 other investment-quality Ferraris in Monterey, including the extraordinarily rare 1956 Ferrari 250 GT LWB Berlinetta 'Tour de France,' chassis 0585 GT, the very first 14-louver Tour de France built of a total of nine units and featured in the Hollywood classic The Love Bug, and the hugely valuable 1955 Ferrari 410 S Berlinetta, chassis 0594 CM, featuring striking, one-off Scaglietti Berlinetta coachwork. A full list of Ferraris on offer is available online at www.rmauctions.com/monterey/ferrari. A tradition spanning over 25 years, RM's highly anticipated Monterey, California sale, held during the same weekend as the prestigious Pebble Beach Concours d'Elegance, returns to the Portola Hotel & Spa and Monterey Conference Center, August 17–18. In 2011, RM once again achieved the highest results of the Monterey week, generating more than $80 million in sales, the highest auction tally ever achieved on the Monterey Peninsula. For further information on the 2012 sale, including a full list of entries and RM's digital Monterey catalogue, please visit www.rmauctions.com or contact RM Auctions at +1 519 352 4575. 1962 Ferrari 250 GT SWB California Spyder (credit: Shooterz.biz © courtesy RM Auctions)
Recent Articles
400TH BUGATTI VEYRON SOLD – THE VEYRON BEGINS ITS FINAL LAPJust 50 models of the super sports car are still available

• 400th Veyron is a Grand Sport Vitesse 'Jean-Pierre Wimille' of the six-part edition 'Les Légendes de Bugatti'

• Head of Bugatti Wolfgang Schreiber, 'A unique success story about the most exclusive and luxurious super sports car brand in the world'


Molsheim, 5 December 2013. Bugatti has sold its 400th Veyron. Since the production run of the Veyron and its variants is limited to just 450 models, thi....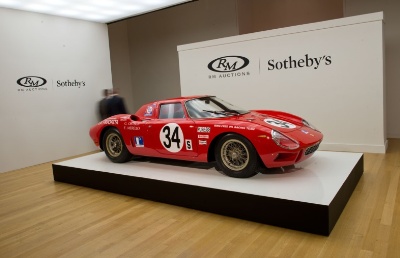 RM Auctions and Sotheby's Stun the Market with Incredible $63 Million 'Art of the Automobile' Sale in New York• RM Auctions and Sotheby's momentous Art of the Automobile auction generates $62,797,500 of sales in two hours of furious bidding
• Records tumble with the historic 1964 Ferrari 250 LM by Carrozzeria Scaglietti achieving $14,300,000 while the stunning 1938 Talbot-Lago T150-C SS Teardrop Cabriolet by Figoni et Falaschi sells for $7,150,000
• 93 percent of all lots sold to an international audience of bidders representing 17 countries
• Full results are available online at www.rmauctions.c....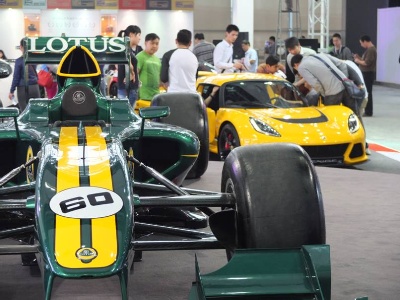 Lotus Gets Supercharged for Guangzhou MotorshowBritish sports car manufacturer Lotus showcases the jewels from its product line-up at the 2013 Guangzhou International Automobile Exhibition, further asserting its presence in the Chinese market as its popularity grows amongst China's fashion-conscious elite.

Chinese trend-setters looking for the ultimate in exclusivity and style, are warmly invited to the Guangzhou International Automobile Exhibition, where from 21 November, the iconic British sports car brand Lotus, affirms its commitment ....
Expert Symposium Delivered to Packed Room Ahead of 'Art of the Automobile' New York Sale• RM Auctions and Sotheby's deliver highly outstanding expert symposium to more than 700 people
• Six hugely influential and respected specialists set the scene in advance of truly groundbreaking Art of The Automobile sale
• Anticipation building for what is being regarded as one of the finest and most innovative collector car auctions ever held

NEW YORK, New York (November 20, 2013) – The eyes of the collector car community are firmly fixed on New York, as RM Auctions and Sotheby's,....
2014 Ferrari California
---
2014 Ferrari LaFerrari
---
2013 Aston Martin Vanquish Volante Neiman Marcus Edition
---
2013 BMW Concept M4 Coupe
---
2013 BMW Zagato Roadster
---
2013 Bugatti Veyron Grand Sport Vitesse Legend Jean-Pierre Wimille
---
2013 Bugatti Veyron Jean Bugatti
---
2013 Dodge Viper GTS Launch Edition
---
2013 Ferrari California
---
2013 Ford GTR1
---