Four more legends join Gooding & Company's 2012 Pebble Beach Auctions, its greatest collection of automobiles ever assembled
Gooding & Company, the official auction house of the Pebble Beach Concours d'Elegance acclaimed for selling the world's most significant and valuable collector cars, is thrilled to present four automotive icons at its Pebble Beach Auctions on August 18 & 19: the Clark Gable 1935 Duesenberg Model JN Convertible Coupe; the 'Green Hornet,' a 1931 Bentley 4 1/2 Litre SC 'Blower' Sports 2/3 Seater Boattail; the 1957 Ferrari 250 GT LWB California Spider Prototype and a 1932 Bugatti Type 55 Cabriolet. These extraordinary automobiles, four of the 124 total lots offered, possess exceptional provenance and historical significance, and round out what has become an unparalleled presentation of the finest collector cars ever offered. 'What's incredible about these four cars is that since day one, they have been the ultimate models of sport and luxury for their marques as well as for their time,' says David Gooding, President and Founder of Gooding & Company. 'These are the cars that connoisseurs dream about and we're honored to have the opportunity to present them to the international collecting community later this month.' Clark Gable's 1935 Duesenberg Model JN Convertible Coupe • Originally the property of 'The King of Hollywood,' actor Clark Gable • In 1935, Gable drove his new Duesenberg to the White Mayfair Ball in Beverly Hills, where he spent a great deal of time with actress Carole Lombard; this was the beginning of one of the most legendary and widely-publicized Hollywood love stories in history that tragically ended six years later with Lombard's death in an airplane crash
• One of only 10 JNs built – an elegant and luxurious development from Duesenberg's original model J – and one of only four examples bodied as a convertible coupe • Following an amusing exchange between Gable and Lombard during a winter rainstorm, Gable took the Rollston-bodied cream over cognac Duesenberg to famed Pasadena-based coachbuilder Bohman & Schwartz for additional bespoke upgrades including a dramatically raked windscreen, scooped and V'd hood ventilators, rear-fender spats, 'Continental-style' dual rear spares and a full-length hood that stretches past the firewall • Throughout their passionate six-year relationship Gable and Lombard enjoyed many adventures in this famous Duesenberg, including a long drive up the West Coast to Vancouver, British Columbia • Featured in the 1938 film Merrily We Live • Special Award Winner at the 2007 Pebble Beach Concours d'Elegance • Lot 118, Sunday Auction • Estimate Available Upon Request 1931 Bentley 4 ½ Litre SC 'Blower' Sports 2/3 Seater Boattail • Formerly the property of renowned Bentley enthusiast and collector E. Ann Klein • Klein nicknamed this car the 'Green Hornet,' a fitting name considering the car's appearance and performance • Among the finest of the 50 Bentley Factory Blowers and one of the most iconic and sought after pre-war sports cars in existence • Arguably the most original Blower Bentley in existence • Exceptional matching-numbers, original-bodied example with rare, original green fabric covering • Superb provenance including a 54-year stewardship • Coachwork by Gurney Nutting • Chassis No. SM3916/Engine No. SM3922 • Lot 134, Sunday Auction • Estimate: $8 million–$10 million 1957 Ferrari 250 GT LWB California Spider Prototype • The first pre-production California Spider ever built, launching the most iconic series of sports cars in history • This car is one of the finest, most collectible blue chip automobiles of the post-war era • As the prototype California Spider, this car has many unique one-off features that never carried over into any of the production models • Winner of the 1961 De Diego Trophy in Puerto Rico • Matching-numbers, Ferrari Classiche certified • Coachwork by Scaglietti, finished in rosso • Chassis No. 0769 GT/Engine No. 0769 GT • Lot 137, Sunday Auction • Estimate: $6 million–$8 million 1932 Bugatti Type 55 Cabriolet • One of the greatest extant examples of the Bugatti Type 55, an exceptional limited-edition sports car created by the great French marque during its legendary Grand Prix racing era • Matching-numbers, original-bodied example • Coachwork by famous Lyon-based coachbuilder Billeter & Cartier, designed in a two-tone black over green color scheme • A participant in the 1933 Rallye des Alpes, one of the most prestigious rallies in the world in the early to mid-century • Formerly the property of Dr. Jacques Kocher, a well-known Bugatti enthusiast and client from Valence, France • Upon completion of its restoration, this car was selected by Bugatti to be the sole exhibit at the prestigious 2012 Retromobile in Paris • Chassis No. 55206/Engine No. 6 • Lot 130, Sunday Auction • Estimate $5 million–$6.5 million Gooding & Company's 2012 Pebble Beach Auctions will take place on Saturday and Sunday, August 18 & 19 at the Pebble Beach Equestrian Center, located at the corner of Portola Road and Stevenson Drive. Preview days will start on Wednesday, August 15, and continue through Sunday, August 19. The auctions will commence at 5:00 p.m. on Saturday and 6:00 p.m. on Sunday. Gooding & Company's Pebble Beach Auctions catalogues are available for $100 and admit two to the viewing and the auctions. General admission tickets to the viewing and auctions may be purchased on site for $40. Auctions are broadcast live on Gooding & Company's website. Bidder registration forms, press credentials and additional auction information are also available at http://www.goodingco.com or by calling (310) 899-1960. For additional vehicle information and up-to-the-minute results, follow Gooding & Company on Facebook and Twitter @GoodingCompany. 1st Image: The 1935 Duesenberg Model JN Convertible Coupe: Image copyright and courtesy of Gooding & Company. Photo by Mathieu Heurtault. 2nd Image: The 'Green Hornet,' a 1931 Bentley 4 1/2 Litre SC 'Blower' Boattail, will be auctioned at Gooding & Company's Pebble Beach Auctions on August 18 & 19. Image copyright and courtesy of Gooding & Company. Photo by Mathieu Heurtault.
Recent Articles
STARS, STRIPES AND VICTORY FOR 'THE AMELIA'S' AUSTIN KIMBERLY IN BRITISH ROAD RACING CHAMPIOSNHIPAmerican teenager Austin Kimberly scored his first victory in the 2013 Avon Tyres National FF1600 Championship season at the 2.1 mile Anglesey road racing circuit in Wales (UK) last weekend (May 12). After qualifying third, the young American racer led every lap of the 25.1 mile championship race for 1600cc Formula Ford racers.

A go-kart racer since the age of nine, Austin opened the British Racing Sports Car Club's 2013 national Formula Ford Championship season with two podium appearances....
McLAREN AUTOMOTIVE RETURNS TO SALON PRIVÉ AS PART OF 50-YEARS ANNIVERSARY CELEBRATIONSSalon Privé 2013: from Wednesday to Friday the 4th to 6th September

Syon Park, London, 20 May 2013 – Salon Privé is delighted to confirm McLaren Automotive will be returning this September as part the marque's 50-years anniversary celebrations.

This is the second year McLaren Automotive has featured on the Super Car Lawn at Salon Privé, with the 12C and 12C Spider sure to be amongst the highlights.

September 2nd marks McLaren's 50th birthday, just two days before Salon Privé 20....
Spectacular 1936 Delahaye Type 135 Competition Court Coupe and 1969 Ford GT40 MKI take Best in Show at the Concours d'Elegance of TexasHouston, Texas. May 17, 2013. Last weekend, the award winning La Torretta Lake Resort & Spa in Montgomery, Texas, played host to the biggest celebration of vintage motoring in Texas, welcoming thousands of visitors through its doors for The Houston Classic Weekend and 2nd annual Concours d'Elegance of Texas. The weekend got off to a high-octane start when Concours participants took to the open road on the Texas Tour d'Elegance, led by Richard Rawlings of Fast N' Loud fame, in a newly re-s....
Pinehurst Concours Economic Impact Approaches $2 MillionVILLAGE OF PINEHURST, N.C. (May 13, 2013) – The inaugural Pinehurst Concours d'Elegance and the events surrounding the vintage auto showcase attracted more than 5,000 fans, and its economic impact approached $2 million despite unseasonably cool temperatures the first weekend of May, officials said.

'Having an event the caliber of a Concours in Moore County is significant, especially as it grows in recognition and importance in the Southeast,' said Caleb Miles, president and CEO of the Pinehur....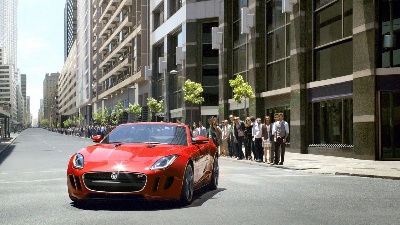 JAGUAR UNVEILS GLOBAL ADVERTISING CAMPAIGN TO LAUNCH THE F-TYPE- Jaguar F-TYPE arrives in U.S. retailers this month, starting at $69,000*
- Primary spots focus on F-TYPE's visceral impact
- Jaguar North America launches social media campaign, #MyTurnToJag, engaging consumers with the opportunity to experience the all-new F-TYPE
- U.S. campaign extensions include driving features with San Francisco 49er Colin Kaepernick; ESPN's Stuart Scott, and an initiative with ABC's 'Jimmy Kimmel Live'

(MAHWAH, N.J.) – May 13, 2013 – Today, Jaguar announced ....
Auction Executive Jannelle Grigsby Joins Gooding & Company to Manage Strategic Communications and PublicitySANTA MONICA, Calif. (May 7, 2013) – Gooding & Company is pleased to announce its new Publicist, auction executive Jannelle Grigsby, who will manage strategic communications, media relations and brand building. Jannelle has assumed the full-time position immediately and has begun working on the company's annual Pebble Beach Auctions taking place on August 17 and 18. Gooding & Company is pleased to celebrate its 10th Anniversary as the official auction house of the Pebble Beach Concours d'Elegan....
American Classics from the Richard and Linda Kughn Collection Featured at RM's Annual Michigan Sale• RM Auctions returns to Plymouth, Michigan, July 27, for its well-established St. John's sale
• Single-day auction in automotive heartland features more than 80 historic collector cars
• Sale headlined by a wonderful selection of automobiles from the distinguished collection of Richard and Linda Kughn
• Auction acts as prelude to the Concours d'Elegance of America at St. John's on Sunday, July 28

BLENHEIM, Ontario (May 7, 2013) – RM Auctions, the official auction house of the Conc....
2014 LaFerrari Ferrari
---
2014 Captur Renault
---
2013 i3 Concept Coupe BMW
---
2013 Zagato Roadster BMW
---
2013 Viper GTS Launch Edition Dodge
---
2013 LF-CC Concept Lexus
---
2013 MP4-12C Can-Am Edition Racing Concept McLaren
---
2013 MP4-12C SPIDER McLaren
---
2013 Clio Renault
---
2013 Auris Touring Sports Toyota
---
blog comments powered by

Disqus