Six Decades Of Ferrari At Mecum's Daytime Auction
1954 Ferrari 750 Monza Headlines Select Offering of Italian Illuminati Mecum Auctions will present its 4th annual Monterey Daytime Auction, Aug. 16-18, 2012 at the Hyatt Regency Monterey Hotel and Spa on Del Monte Golf course, featuring some of finest machines Ferrari has ever produced headlined by a 1954 750 Monza Spyder Scaglietti. By turns part of the Engelbert Stieger, Brando Wang, Walter Burani and Roberto Crippa collections, 1954 Ferrari 750 Monza Spyder Scaglietti S/N 0462MD (Lot S97) has been campaigned extensively for many years at the Historic Grand Prix of Monaco, the Ferrari Maserati Historic Challenge, the Monterey Historic Races and the Mille Miglia rally. This great Ferrari sports racer has been maintained for years by GTO Engineering in the UK and displays a charming patina that serves as testament to its extensive racing career. It is always welcome at prestigious events around the world and remains very competitive in its vintage class. A fully-documented factory alloy Longnose version retaining its original matching-numbers three-carburetor V-12 engine and drivetrain, the 1966 275 GTB Alloy Berlinetta S/N 08143 (Lot S95) was sold new in Rome, Italy. Reconditioned and detailed in 2011, its original V-12 engine was completely rebuilt by Ferrari expert John Hajduk, with final sorting and chassis detailing by Chris Campbell of Vintage Connection in Oklahoma City. Their combined talents were rewarded with Best in Class in the Sports Cars 1960-1973 category at the Concours d'Elegance of Texas.

A premium example of the exceptionally rare 1972 Daytona Spyder, S/N 14857 (Lot S151) was previously owned by noted Ferrari Daytona expert Steve Hill. Wrapped in a gorgeous Pininfarina-styled body and bestowed with 4-wheel independent suspension, four-wheel Dunlop vented disc brakes and a race-bred four-cam V-12 engine, this brilliantly detailed Daytona Spyder is perfectly completed with chromed Borrani wire wheels fitted with correct high speed Michelin radials. The lithe and athletic Ferrari 512BBi Berlinetta Boxer, S/N 046117 was the pre-eminent supercar of its time, combining a race-proven Bosch K-Jetronic fuel injected flat-12 engine with purposeful Pininfarina styling and 4-wheel independent suspension. Finished in beautiful Rosso Corsa with a gleaming Tan interior, the low-mileage (35,370) example offered as Lot F121 is one of only 1,007 very desirable fuel-injected Boxers produced. Mecum's Daytime Monterey Auction will also offer pristine low-mileage examples of more contemporary Prancing Horse classics. Lot S175 is a premium all-matching-numbers 1990 Testarossa S/N 082987 retaining its original 5.0 liter flat-12 engine and 5-speed manual transmission. Finished in its original White with Tan leather interior, it received a fresh major service, including an engine-out belt replacement, in June 2012. Lot S154, a 4,600-mile 1999 Ferrari 355 Spider S/N 115352, is powered by the original 3.5 L/375 HP V-8 driving a 6-speed transaxle. Well equipped with factory air conditioning, power steering and brakes, power windows, locks, seats and top and the original Ferrari sound system with CD player, it has just had a $9,000 engine-out belt service completed in June 2012. There is no mistaking the Ferrari F430 Spider's Formula 1 pedigree, which is evident in every aspect from its howling 4.3 L V-8 and electronically-controlled F1 gearbox, awe-inspiring handling and power to its aerodynamic shape and Sharknose-inspired elliptical front air intakes. Lot S89 is a highly optioned 2007 Ferrari F430 Spider S/N 154061 showing just 1,788 original miles, a fact reflected in its excellent overall condition. Mecum will offer a total of twelve outstanding collector Ferraris over the course of the three-day Monterey Daytime Auction, during which 750 specialty and collector vehicles will cross the block. The Mecum Monterey Daytime Auction is open to the public with complimentary general admission. Gates open daily at 8 a.m. Pacific Time. Discovery's Velocity Network will broadcast 18 hours of live coverage from the Del Monte Golf Course. For more information, and to learn how to become a registered bidder go to www.MECUM.com or call 262.275.5050. Monterey, CA The Daytime Auction August 16-18, 2012 Hyatt Regency Monterey Hotel and Spa on Del Monte Golf Course 1 Old Golf Course Road Monterey, CA 93940 Preview: Gates open at 8 a.m. Thursday through Saturday Auction: Thursday through Saturday 10 a.m. Live TV Times: Thursday thru Saturday 12-6 PM (All Times Pacific)
Recent Articles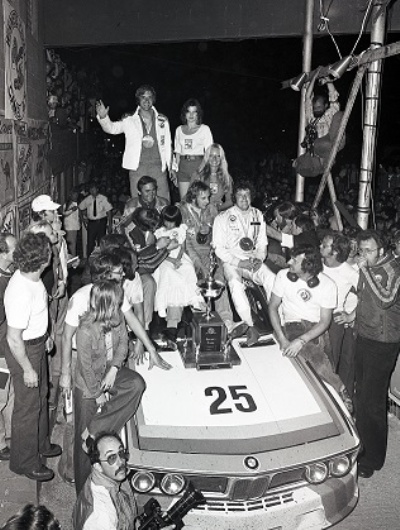 BMW's 'BATMOBILES' SET FOR 19th ANNUAL AMELIA CONCOURSScheduled to appear in the 19th Annual Amelia Concours' BMW 3.0 CSL 'batmobile class' are not only the 1975 Sebring 12 Hour and '76 Daytona 24 winners, but Alexander Calder's 1975 Le Mans 3.0 CSL with his trademark signature on the left rear fender.

BMW's 'Batmobile' racers were glorious mutants. They arrived from Europe wearing a frosting of giant wings, huge fender boxes and big spoilers, all powered by a 430 hp straight-six engine that made a glorious noise and propelled BMW's luxury cou....
400TH BUGATTI VEYRON SOLD – THE VEYRON BEGINS ITS FINAL LAPJust 50 models of the super sports car are still available

• 400th Veyron is a Grand Sport Vitesse 'Jean-Pierre Wimille' of the six-part edition 'Les Légendes de Bugatti'

• Head of Bugatti Wolfgang Schreiber, 'A unique success story about the most exclusive and luxurious super sports car brand in the world'


Molsheim, 5 December 2013. Bugatti has sold its 400th Veyron. Since the production run of the Veyron and its variants is limited to just 450 models, thi....
JAGUAR LAND ROVER REPORTS U.S. SALES FOR NOVEMBER 2013• Jaguar Land Rover North America increases 37 percent in November, for its best November sales result since 2005

• Jaguar continues industry-leading growth streak with 103 percent growth in November on new XF and XJ All Wheel Drive models and F-TYPE sales

• Land Rover brand has its best ever November sales increasing 25 percent on strong Range Rover and Range Rover Evoque demand

(MAHWAH, NJ) - December 3, 2013 - Jaguar Land Rover North America today reported No....
VOLUME AND VARIETY AT MECUM'S SECOND ANNUAL ANAHEIM AUCTIONWalworth, Wis. - November 27, 2013 -- Mecum Auctions returned to Anaheim, Calif., for its second annual auction at the Anaheim Convention Center and with spectators and bidders pouring in, total sales reached nearly $14 million. With 812 vehicles crossing Mecum's block Nov. 21-23, 412 hammered sold with deals continuing to be made in the Bid Goes On department.

Mecum had originally anticipated a 750-car lineup, but the consignments came in droves bringing the run total to its impressiv....
AUDI STARTS FROM SECOND ROW IN BAHRAIN• Fassler/Lotterer/Tréluyer fastest Audi driver team
• In qualifying, Audi was in front of Toyota five times in the 2013 season
• Optimum use of tires will be decisive in Saturday's finale

Ingolstadt/Bahrain, November 29, 2013 – In the last qualifying session of the 2013 FIA World Endurance Championship (WEC), Audi had to admit defeat in Bahrain. The World Championship winning squad will start the race from positions three and four.

In the final qualifying session in Bahrai....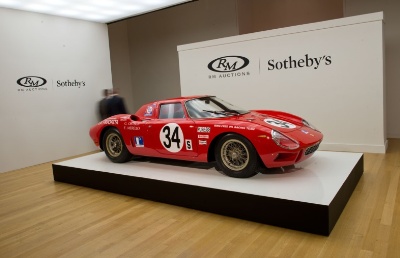 RM Auctions and Sotheby's Stun the Market with Incredible $63 Million 'Art of the Automobile' Sale in New York• RM Auctions and Sotheby's momentous Art of the Automobile auction generates $62,797,500 of sales in two hours of furious bidding
• Records tumble with the historic 1964 Ferrari 250 LM by Carrozzeria Scaglietti achieving $14,300,000 while the stunning 1938 Talbot-Lago T150-C SS Teardrop Cabriolet by Figoni et Falaschi sells for $7,150,000
• 93 percent of all lots sold to an international audience of bidders representing 17 countries
• Full results are available online at www.rmauctions.c....
VOLKSWAGEN TO ROLL-OUT 'BUMPER-TO-BUMPER' STRATEGY FOR ALTERNATIVE POWERTRAIN CARS• Carmaker to electrify vehicles in all segments; up to 40 models in line-up as demand rises

• Think Blue. Factory. program ahead of schedule

Los Angeles - The Volkswagen Group has outlined its global strategy for the launch of vehicles with alternative powertrains. The Group's Commissioner for Electric Drive Systems, Dr. Rudolf Krebs, said at a sustainability workshop at the Los Angeles Auto Show on Wednesday: 'We are going to electrify all segments. In plants equipped ....