Mercedes-Benz at Pebble Beach: An Expression of Fascinating Design and Innovation
• Historical Tribute to SL: W194 Chassis No. 2, 7 and 11 among 300SL vehicles on display • The Concept Style Coupé opens a new chapter and generation of Mercedes-Benz vehicles • AMG 45 year anniversary highlights the pinnacle of performance and style A tribute to Mercedes-Benz SL Roadsters is set for Pebble Beach weekend with three 1952 W194 vehicles among a mix of vintage and new vehicles bearing the three-pointed star that express the marque's breadth and depth of fascinating design and innovation. The legendary SL, over the past six decades, continues to be one of most iconic vehicles among car collectors and six significant variations from the 1950's will be displayed at the Mercedes-Benz Star Lounge located on third fairway at the Lodge at Pebble Beach. These vintage SL treasures will be placed next to the 2013 SL63 AMG, contrasting the technical innovations from sixty years ago with today's advanced roadster that embodies the 'Super Light' namesake with its new aluminum body. In addition to honoring the SL anniversary at the Star Lounge, new and vintage SL Roadsters will lead the Pebble Beach Tour d'Elegance presented by Rolex on August 16, 2012.

The SL63 AMG will also be on display next to the SLS AMG Coupe and the C63 AMG Black Series – a collection of cars that represent the high performance, style and dynamic driving excitement that are core characteristics of the AMG brand. The grouping of exclusive AMG cars signify the performance brand's 45th anniversary and the growth of its model range, which is now larger and more diverse than ever before, and tailored to exceed the unique wishes of passionate AMG customers. In the U.S., the MY2013 range will include 17 AMG high-performance vehicles with power outputs ranging from 415hp to 621 hp. The selection of models available includes coupes, sedans, SUVs, roadsters as well as the SLS GT AMG super sports car. Mercedes-AMG will provide exclusive test drives and display for the 2013 SL63 AMG at the Quail Motorsports Gathering on August 16th and 17th. Those car enthusiasts imagining what the future holds for Mercedes-Benz can view the Concept Style Coupé, a 4-door coupe that is expressive and powerful in its design. Technical highlights include striking headlamps featuring innovative indicators, a new four-cylinder turbocharged gas engine with 211 hp and 4MATIC all-wheel drive system. Overall, the Concept Style Coupé is a rebel with its sporty breathtaking proportions and aggressive stance that are unique in many ways to give this coupé its unmistakable look. Throughout Pebble Beach weekend, the Concept Style Coupé will be on display at the Mercedes-Benz Star Lounge. In addition to the popular auctions including RM and Gooding & Company that serve as an avenue for collectors to secure rolling gems, the Mercedes-Benz Classic Center will showcase a number of cars for sale at the Star Lounge throughout the weekend including a 1936 540K Cabriolet B. In addition, further celebrating 60 years of the Mercedes-Benz SL, several vintage SL models are up for sale ranging from two 1955 300SL Coupes to several classics restored by the Mercedes-Benz Classic Center in Irvine, CA - a 1963 190SL, a 1968 280SL and a 1969 280SL. By offering customers hard to find parts or meticulous repair and restorations to the prime condition of factory standards of originality and preservation, the Mercedes-Benz Classic Center continues to be in a unique position within the auto industry. Several significant vehicles from the Mercedes-Benz Museum collection in Stuttgart, Germany will share the field on the famed Pebble Beach Concours d'Elegance 18th Fairway on Sunday, August 19, 2012, including an exquisitely restored 1930 Mercedes-Benz 27/140/200 Type SS which was originally commissioned by a Maharaja and an 1885 Daimler Reitwagen, the world's first actual motorcycle. Beyond the cars themselves which often steal the show, one event that rises above is the annual exclusive Mercedes-Benz gala dinner at the Beach Club, which will honor car collector Mr. Arturo Keller with its coveted Star Driver Award. Past recipients include Jesse Alexander, Keith Crain, John Fitch, Denise McCluggage, Jochen Mass, Sir Stirling Moss and Roger Penske.
Recent Articles
STARS, STRIPES AND VICTORY FOR 'THE AMELIA'S' AUSTIN KIMBERLY IN BRITISH ROAD RACING CHAMPIOSNHIPAmerican teenager Austin Kimberly scored his first victory in the 2013 Avon Tyres National FF1600 Championship season at the 2.1 mile Anglesey road racing circuit in Wales (UK) last weekend (May 12). After qualifying third, the young American racer led every lap of the 25.1 mile championship race for 1600cc Formula Ford racers.

A go-kart racer since the age of nine, Austin opened the British Racing Sports Car Club's 2013 national Formula Ford Championship season with two podium appearances....
Aston Martin Celebrates Centenary At Nürburgring 24 HoursNürburgring, 20 May 2013 – Aston Martin's weekend of centenary celebrations at the ADAC Zurich Nürburgring 24 Hours (N24) concluded this evening (Monday 20 May) with a thrilling top-ten result for its Bilstein-liveried V12 Vantage GT3 and a historic finish for its unique Hybrid Hydrogen Rapide S in one of the most grueling 24-hour races in recent years.

In a weekend that started with the British luxury sports car maker entering the history books with a zero CO2 emissions hydrogen-power....
McLAREN AUTOMOTIVE RETURNS TO SALON PRIVÉ AS PART OF 50-YEARS ANNIVERSARY CELEBRATIONSSalon Privé 2013: from Wednesday to Friday the 4th to 6th September

Syon Park, London, 20 May 2013 – Salon Privé is delighted to confirm McLaren Automotive will be returning this September as part the marque's 50-years anniversary celebrations.

This is the second year McLaren Automotive has featured on the Super Car Lawn at Salon Privé, with the 12C and 12C Spider sure to be amongst the highlights.

September 2nd marks McLaren's 50th birthday, just two days before Salon Privé 20....
Aston Martin Wows The Crowds At Nürburgring 24 HoursAston Martin's global centenary celebration programme powered into Germany yesterday (Sunday 19 May) as the great British sports car maker marked its first 100 years with a 100-plus car parade at the Nordschleife.

Just ahead of the start of the 41st ADAC Zurich Nürburgring 24 Hours a cavalcade of more than 100 Aston Martin sports cars took to the infamous road circuit for a celebratory parade lap.

Led by Aston Martin CEO Dr Ulrich Bez at the wheel of the stunning new CC100 Speedster Concep....
Spectacular 1936 Delahaye Type 135 Competition Court Coupe and 1969 Ford GT40 MKI take Best in Show at the Concours d'Elegance of TexasHouston, Texas. May 17, 2013. Last weekend, the award winning La Torretta Lake Resort & Spa in Montgomery, Texas, played host to the biggest celebration of vintage motoring in Texas, welcoming thousands of visitors through its doors for The Houston Classic Weekend and 2nd annual Concours d'Elegance of Texas. The weekend got off to a high-octane start when Concours participants took to the open road on the Texas Tour d'Elegance, led by Richard Rawlings of Fast N' Loud fame, in a newly re-s....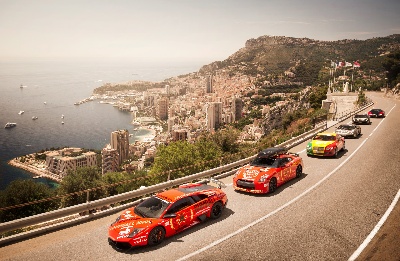 Gumball 3000 Makes History By Going Carbon NeutralLondon, 16 May 2013 – One of the world's most famous and glamorous super car rallies, Gumball 3000, makes history this weekend by going 'carbon neutral' in what is its 15th anniversary year.

CNI UK has partnered with Gumball 3000 to offset the organisation's green house gas emissions for the vehicles taking part in the rally, making what is famously among the world's most fun and outrageous super car celebrations, also one of the most environmentally responsible.

CNI UK is enterin....
Celebrating A Milestone At Porsche: 100,000Th Panamera Leaves The FactorySuccess story based on innovative power and teamwork

Stuttgart / Leipzig. The Porsche plant in Leipzig, Germany, is producing the 100,000th Panamera today. Back in 2009, the decision to produce this new Porsche model series and manufacture the first customer vehicle started a success story.

'In over 120 countries, Panamera customers drive a Porsche that is 'Made in Leipzig' and sport this quality seal around the globe. The team and I are very proud of this,' said Siegfried B....
ACURA NSX PRODUCTION SITE SELECTED IN OHIO05/14/2013 - MARYSVILLE, Ohio
Acura today announced that the all-new NSX supercar will be produced at a new Performance Manufacturing Center in Ohio, a $70 million advanced production facility encompassing 184,000 square feet to be housed inside Honda's former North American Logistics facility and located in the midst of Honda's existing R&D and production engineering operations.

The site for the new production facility, which will be Honda's third auto plant in Ohio, is only a few mi....
2014 R8 V8 Audi
---
2014 LaFerrari Ferrari
---
2014 C63 AMG Edition 507 Mercedes-Benz
---
2014 CLA 45 AMG Mercedes-Benz
---
2014 CLA-Class Mercedes-Benz
---
2014 CLS 63 AMG S-Model Mercedes-Benz
---
2014 E-Class Mercedes-Benz
---
2014 E-Class Wagon Mercedes-Benz
---
2014 E63 AMG S-Model Mercedes-Benz
---
2013 CC100 Speedster Concept Aston Martin
---
blog comments powered by

Disqus