Famous Bentley 4¼-Litre 'Embiricos' Special Makes Star Appearance At Crewe Factory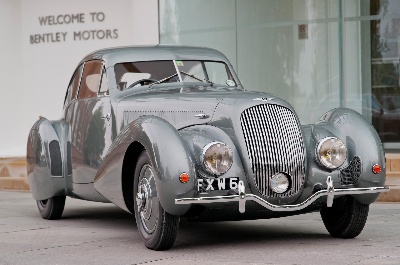 One of the rarest and most valuable Bentleys in the world, the 4¼-Litre 'Embiricos' special, is making an historic appearance at the marque's home in Crewe. Fresh from taking part in the Louis Vuitton 'Serenissima Run' in Venice and featuring at the Le Mans Classic as part of the Bentley lineup, this magnificent car takes pride of place in the Lineage Showroom at the firm's Pyms Lane factory until September. Throughout the 1930s Bentley Motors, then owned by Rolls-Royce, was producing fast, refined and well-built Grand Tourers from its Derby factory. While many customers sent their chassis to traditional coachbuilders such as Vanden Plas, H.J. Mulliner or Park Ward for elegant bodywork, enthusiasts from across the Channel, where the roads were longer and faster, were eager to explore the new world of aerodynamics. With the support of the factory, one such owner decided to investigate the possibility of a streamlined high-performance Bentley. The result was the most famous Bentley of the Derby era. André Embiricos was a wealthy Greek racing driver living in Paris. Walter Sleator, the company's Paris agent, put him in touch with Georges Paulin, a designer working for coachbuilders Pourtout Carrossier. Under Paulin's guidance Pourtout produced a strikingly sleek, aerodynamic body for a 4¼-Litre Derby Bentley that would be suitable for fast touring and track records alike. To keep weight down the fastback body with split rear window was crafted in Duralumin, an age-hardenable aluminium alloy. The 'Embiricos' Bentley fulfilled all the criteria for a Bentley high performance grand tourer, achieving a timed 114.64 mph (184.5 km/h) over an hour at Brooklands, yet being civilised enough for Embiricos to use as a road car. Embiricos sold his unique Bentley late in 1939 to H.S.F. Hay who raced it in three post-war Le Mans 24-hour races, achieving a commendable 6th place in 1949.
Although a one-off, reaction to the Embiricos Bentley encouraged the company to explore more streamlined styles for future production models. In 1939 Bentley designer Ivan Evernden worked with Paulin on a sleek Mark V prototype called Corniche. Unfortunately it was in France when WWII broke out and destroyed during a bombing raid on Dieppe while awaiting shipment to Britain. Post-war, many of the lessons of the Embiricos Bentley reached fruition in the glorious lines of the 1952 R Type Continental, and as such continue to be reflected in the iconic shape of today's Continental GT coupe. Richard Charlesworth, Director of Royal and VIP Relations and Head of the Bentley Heritage Collection, commented: 'It is an honour for Bentley to exhibit this unique Bentley for the first time, thanks to the generosity of its esteemed owner. Its sleek form was extremely advanced for the time, and its DNA can still be seen in modern Bentley coupes today. We are looking forward to showing the Embiricos to our factory visitors, and to the public at the upcoming Windsor Castle Concours of Elegance.'
Recent Articles
Land Rover Celebrates 65 Years Of Technology And InnovationSIXTY-FIVE YEARS OF LAND ROVER

From our earliest days, the desire to create a vehicle that will tackle any terrain has made Land Rover famous around the world. Over the past 65 years, the Land Rover family has grown into the highly respected range of vehicles that are sold in record numbers today. As Land Rover continues to go from strength to strength, we thought it was time to look back at the milestones in our history that have got us here. The last 65 years have been an adventure. ....
RM Auctions' Don Davis Collection Attracts Texas-Size Bids• RM Auctions posts over $21.2 million at the record-breaking sale of the distinguished Don Davis Collection, April 27 in Fort Worth, Texas
• Top seller: a rare 1967 Ferrari 330 GTS sold for $1,936,000, to establish a new auction record
• Five lots achieve million-dollar-plus results, with numerous auction records shattered
• Toyota 2000GT enters history books with seven-figure sales price
• Exceptional collection attracts bidders from 14 countries around the world

FORT WORTH, Texas (A....
TOPLINE COLLECTORS PLACE SPOTLIGHT on SPEED'S BARRETT-JACKSON BROADCAST FROM SCOTTSDALE• TOPLINE COLLECTORS PLACE SPOTLIGHT on SPEED'S BARRETT-JACKSON BROADCAST FROM SCOTTSDALE

• 'LOST' SHELBY DUAL PROTOTYPE, HAGERTY GIVEAWAY & SALON COLLECTION HIGHLIGHT 39 HOURS OF LIVE COVERAGE


The 42nd annual Barrett-Jackson Scottsdale (Ariz.) Collector Car Event, the first of four set for live coverage in 2013, kicks off the auction season in grand style as some of the world's most sought-after machines cross the block starting Tuesday, Jan. 15 at 7 p.m. ET/4 p.m. PT.

SP....
A Series One 'Batmobile' Offered at Russo and Steele ScottsdaleBMW designed the 3.0 CSL as a special build to make the car racing eligible in the ETCC. With an overall weight of 1,092kg the 'L' in the designation meant 'leicht' (light), unlike in other BMW designations, where it meant 'lang' (long). The lightness was achieved by using thinner steel to build the unit body, deleting the trim and soundproofing, using aluminium alloy doors, bonnets, and boot lids, and using Perspex side windows. Powered initially with a six-cylinder engine that produced 340hp....
Bentley Sales Leap By A Third•Six month results up 32%
•US overtakes China to re-emerge as largest market
•Sales of Bentley's flagship Mulsanne up 30%

Bentley's half year results for 2012 show continued strong growth. Sales are up in every region leading to a global increase of 32% (3,929 cars delivered to customers).

The US has re-emerged as Bentley's number one market with deliveries up by 25.7% (1,140 cars delivered to customers). Sales in China also remain extremely strong with results up 55.7% (1,059 car....
Cherished Classics From The Pettit Collection Will Be Offered Without Reserve• The 1929 Duesenberg 'Blue J' and 11 collector cars from the William A. C. Pettit, III Collection will be sold at Gooding & Company's Pebble Beach Auctions

• Estate Proceeds will benefit the Shriners Hospital for Children®-Tampa


Gooding & Company, the acclaimed auction house celebrated for selling the world's most significant and valuable collector cars, is honored to present the finest automobiles of the William A.C. Pettit, III Collection at its Pebble Beach Auctions on Aug....
blog comments powered by

Disqus