Mercedes-Benz at Pebble Beach Automotive Week: An Expression of Fascinating Design and Innovation
•Historical Tribute to SL: W194 Chassis No. 2, 7 and 11 among 300SL vehicles on display •The Concept Style Coupé opens a new chapter and generation of Mercedes-Benz vehicles •AMG 45 year anniversary highlights the pinnacle of performance and style A tribute to Mercedes-Benz SL Roadsters is set for Pebble Beach Automotive Week with three 1952 W194 vehicles among a mix of vintage and new vehicles bearing the three-pointed star that express the marque's breadth and depth of fascinating design and innovation. The legendary SL, over the past six decades, continues to be one of most iconic vehicles among car collectors and six significant variations from the 1950s will be displayed at the Mercedes-Benz Star Lounge located on third fairway of Pebble Beach Golf Links at The Lodge at Pebble Beach. These vintage SL treasures will be placed next to the 2013 SL63 AMG, contrasting the technical innovations from sixty years ago with today's advanced roadster that embodies the 'Super Light' namesake with its new aluminum body. In addition to honoring the SL anniversary at the Star Lounge, new and vintage SL Roadsters will lead the Pebble Beach Tour d'Elegance presented by Rolex on August 16, 2012.

The SL63 AMG will also be on display next to the SLS AMG Coupe and the C63 AMG Black Series – a collection of cars that represent the high performance, style and dynamic driving excitement that are core characteristics of the AMG brand. The grouping of exclusive AMG cars signify the performance brand's 45th anniversary and the growth of its model range, which is now larger and more diverse than ever before, and tailored to exceed the unique wishes of passionate AMG customers. In the U.S., the MY2013 range will include 17 AMG high-performance vehicles with power outputs ranging from 415hp to 621 hp. The selection of models available includes coupes, sedans, SUVs, roadsters as well as the SLS GT AMG super sports car. Mercedes-AMG will provide exclusive test drives and display for the 2013 SL63 AMG at the Quail Motorsports Gathering on August 16th and 17th. Those car enthusiasts imagining what the future holds for Mercedes-Benz can view the Concept Style Coupé, a 4-door coupe that is expressive and powerful in its design. Technical highlights include striking headlamps featuring innovative indicators, a new four-cylinder turbocharged gas engine with 211 hp and 4MATIC all-wheel drive system. Overall, the Concept Style Coupé is a rebel with its sporty breathtaking proportions and aggressive stance that are unique in many ways to give this coupé its unmistakable look. Throughout Pebble Beach weekend, the Concept Style Coupé will be on display at the Mercedes-Benz Star Lounge. In addition to the popular auctions including RM and Gooding & Company that serve as an avenue for collectors to secure rolling gems, the Mercedes-Benz Classic Center will showcase a number of cars for sale at the Star Lounge throughout the weekend including a 1936 540K Cabriolet B. In addition, further celebrating 60 years of the Mercedes-Benz SL, several vintage SL models are up for sale ranging from two 1955 300SL Coupes to several classics restored by the Mercedes-Benz Classic Center in Irvine, CA - a 1963 190SL, a 1968 280SL and a 1969 280SL. By offering customers hard to find parts or meticulous repair and restorations to the prime condition of factory standards of originality and preservation, the Mercedes-Benz Classic Center continues to be in a unique position within the auto industry. Several significant vehicles from the Mercedes-Benz Museum collection in Stuttgart, Germany will share the field on the famed Pebble Beach Concours d'Elegance 18th Fairway on Sunday, August 19, 2012, including an exquisitely restored 1930 Mercedes-Benz 27/140/200 Type SS which was originally commissioned by a Maharaja and an 1885 Daimler Reitwagen, the world's first actual motorcycle. Beyond the cars themselves which often steal the show, one event that rises above is the annual exclusive Mercedes-Benz gala dinner at the Beach Club, which will honor car collector Mr. Arturo Keller with its coveted Star Driver Award. Past recipients include Jesse Alexander, Keith Crain, John Fitch, Denise McCluggage, Jochen Mass, Sir Stirling Moss and Roger Penske.
Recent Articles
400TH BUGATTI VEYRON SOLD – THE VEYRON BEGINS ITS FINAL LAPJust 50 models of the super sports car are still available

• 400th Veyron is a Grand Sport Vitesse 'Jean-Pierre Wimille' of the six-part edition 'Les Légendes de Bugatti'

• Head of Bugatti Wolfgang Schreiber, 'A unique success story about the most exclusive and luxurious super sports car brand in the world'


Molsheim, 5 December 2013. Bugatti has sold its 400th Veyron. Since the production run of the Veyron and its variants is limited to just 450 models, thi....
SEB AND THE RB9: AN AWARD-WINNING COMBINATIONLONDON – Sebastian Vettel has been named International Racing Driver of the Year and the RB9 handed the prize for Racing Car of the Year at this year's Autosport Awards in the UK, the fourth year in a row driver and team have been honored in the categories.

Seb, who took a record-equaling 13 grand prix wins in a single season in 2013 to win his fourth world title in a row, entered the auditorium in the company of dominant WRC champion Sébastien Ogier of the Red Bull VW team; later in t....
Aston Martin Aims For World Title Glory In Its Centenary YearGaydon, 26 November 2013 - Aston Martin Racing goes into the final round of the 2013 FIA World Endurance Championship (WEC), the Six Hours of Bahrain, this weekend (30 November) leading the highly-competitive eight-race series and looking to clinch victory and emerge as world champions in this, the marque's centenary year.

The team currently leads the LMGTE Manufacturers' World Cup on 232.5 points but, with Ferrari in second place on 215 points and Porsche in third on 199.5 points, any....
1956 24 Hours of Le Mans: Collins and Moss Come CloseThe 1955 24 Hours of Le Mans would be forever remembered, not for the 24 hours of racing, but for the tragic and terrible events that would take place after just two. The consequences would be dire and would send shockwaves throughout the racing world. Peter Collins would witness the events and would find it very hard to continue. However, he would do just that and would end up a very strong 2nd, practically handed the result by Mercedes. One year later, the mood would be lighter and Collins wou....
Cars As Art – Aston Martin Centenary Celebrations On CanvasAs luxury British sports car maker Aston Martin's centenary year draws towards its close the company is unveiling a collection of unique artworks created to celebrate and document its 100 years in business.

More than 150 of the sport car maker's owners, enthusiasts and advocates last night (21 November) joined key figures from the London art world at the brand's unique central London showcase – W-One – for the unveiling of the paintings created by Aston Martin's centenary artist-in-residence,....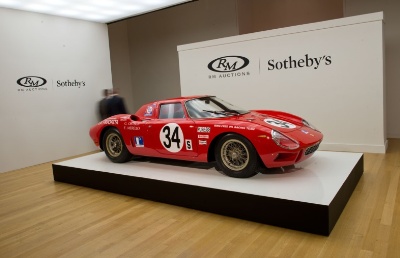 RM Auctions and Sotheby's Stun the Market with Incredible $63 Million 'Art of the Automobile' Sale in New York• RM Auctions and Sotheby's momentous Art of the Automobile auction generates $62,797,500 of sales in two hours of furious bidding
• Records tumble with the historic 1964 Ferrari 250 LM by Carrozzeria Scaglietti achieving $14,300,000 while the stunning 1938 Talbot-Lago T150-C SS Teardrop Cabriolet by Figoni et Falaschi sells for $7,150,000
• 93 percent of all lots sold to an international audience of bidders representing 17 countries
• Full results are available online at www.rmauctions.c....
2015 Mercedes-Benz GLA-Class
---
2014 Audi A6
---
2014 Audi R8 V8
---
2014 Ferrari LaFerrari
---
2014 Mercedes-Benz C63 AMG Edition 507
---
2014 Mercedes-Benz CLA 45 AMG
---
2014 Mercedes-Benz CLA-Class
---
2014 Mercedes-Benz CLS 63 AMG S-Model
---
2014 Mercedes-Benz E-Class
---
2014 Mercedes-Benz E-Class Wagon
---